The Warm Pulse of Nguzunguzu
Asma Maroof and Daniel Pineda form Nguzunguzu, the LA-based duo who've helped changed the way we look at dance music. They've returned to give us another beautifully produced EP, seasoned with distant drums, smoke alarms, police sirens, space-like choirs, snappy percussion and an obvious melodic allusion to the X-files theme. Undoubtedly, the five tracks on Warm Pulse tell an engaging story from beginning to end.
There are lots of drifting synths and beautiful, spaced out, vocal manipulations which, combined with the tuned bass drums, up-tempo hihats, whip-like hits and almost juke-styled snare patterns (as on 'Delirium'), make the music strangely danceable in that inimitable style only Nguzunguzu seem to be able to weave so expertly. Compared to their last EP Timesup (released on Kingdom's Fade To Mind label) their sound has become even more crisp, the percussion sharper, the sounds more layered and the material more thematically developed. It looks like there are no limits to the artistic intensity of this duo. Needless to say, I can't wait to see what they do next.
Warm Pulse drops tomorrow via Hippos In Tanks.
Tracklisting:
1. Warm Pulse
2. Delirium
3. Smoke Alarm
4. Drop Cage
5. No Longer
10 x 4 – Prince of Tennis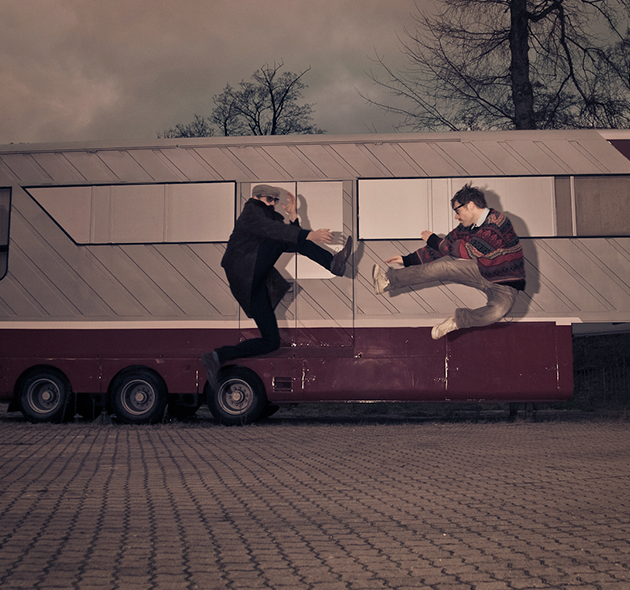 Even though Prince of Tennis is a fairly new band on the Czech sonic cosmos, the members of this electropop outfit David Volenec and Jan ?echtický are seasoned musicians, having been in the famous Czech '90s bands Colorfactory, Sebastians and Ohm Square. They debuted in 2010 with the plaintive Camping in North Ikea EP, which includes songs with titles like 'MILF Island'. This was followed by their LP Urbi and Orbi, released on vinyl this year by the local label Starcastic Records.
Prince of Tennis play the now sold-out Electronic Beats Festival in Prague this Saturday, 5 May 2012, alongside Grimes, The Whitest Boy Alive, Woodkid and Mike Skinner.
1. Is any aspect of fame important and if yes, why's that?
I think it's important not to succumb to it.
2. If you were still in high school, which clique would you belong to?
Honestly, I wouldn't want to be back in high school.
3. An album that changed the way you thought?
It's really hard to answer. I guess there's been some but what comes to my mind right now is Velvet Underground. Not a particular record of theirs, but I remember, when I've first listened to them, it really put things into a different perspective.
4. What does underground and mainstream mean to you?
Too much attachment?
5. Should music be free?
Some of it.
6. Better show: Buffy or X-Files?
X-Files.
7. Do you believe in the paranormal?
I believe that despite that label, such phenomena are often totally normal.
8. Raging or chilling out?
Chilling in the rage.
9. One thing you can't live without?
No such thing.
10. Together, or alone?
Forever.
If my last column didn't tip you off, I like to write about TV shows. Obviously I love sitting in front of the computer or TV for hours or sometimes even for days, while characters evolve, stories gain momentum and I get sucked deeper and deeper into a fictional world. But hey (and this may come as a surprise) I also like reading books. For this reason, I'd like to dedicate this post to the common ground between the written word and TV shows. Not so much television which is based on books, such as Dexter, Gossip Girl, The Walking Dead and last weeks topic: Game of Thrones. Rather, I wanna focus on programs that have nothing to do with actual literature, but become something close to it… or at least try to.
My first encounter with extraterrestrial bad literature was based on Fox Mulder and Dana Scully's X-Files. Back in the days it was much easier for me to get my hands on the books than to watch the actual TV show. All I can remember is one story about – no joke – cows and sheep that were mysteriously killed in a small rural county. I also had this 'non fiction' book which was called something like 'The Truth Behind the Truth is Out There' and pretended to contain scientific proof of alien life on earth.
Throughout the following years the X-Files books worked like a vaccine against producers' aims to squeeze another buck out of me, the loyal customer. I didn't even notice written offshoots of TV shows – with two exceptions: the book The Bro Code is written by a the fictitious character called Barney from How I Met Your Mother and it'ss some kind of guidebook on how to get women, but alas, I've neither watched the TV show nor read the book. I have to admit though I was tempted to buy a book that, similar to The Bro Code, was written by another character from one of my favorite shows from back in the day: God Hates Us All by Hank Moody. In the Showtime series Californication, David Duchovny plays an author who suffers from writer's block after the success of his first book (the above mentioned). But then the show turned into shit after the second season and, expecting the same from the book, I chose to forget about it.
So it took approximately eighteen years until I bought a book from a TV show and I promise you, it's worth every dime. It's called How To Archer, and it's based on the FX show Archer about a secret agency called ISOS in New York – and it's just as funny as the TV show. So the conclusion could be: creators that are responsible for great pieces of TV probably come up with good books. Who would have thunk it?