The History of Harmonia with Famed Krautrocker Roedelius
Hans-Joachim Roedelius's discography reads like a dazzling, uncompromising vector that traverses one of the most important eras of cultural and musical history in post-war Germany. His most prominent projects include working in famous Kraut bands with Conrad Schnitzler and Dieter Moebius—the short-lived Kluster trio, its Schnitzlerless incarnation, Cluster, and later Harmonia—and he also produced many solo records and a fascinating constellation of collaborative albums with artists like music polymath Brian Eno. Moebius's death in July of this year gave us an opportunity for proper reflection on the import of his records. The Harmonia box-set recently released by Grönland Records is one such timely touch stone, and it coincided with Hans-Joachim Roedelius' recent retrospective series of concerts at Berlin's Haus der Kulturen der Welt. We sat down with the man and let him walk us through the records himself.
Harmonia – 'Musik von Harmonia' (1974)
"Having Michael [Rother] in the studio changed the focus automatically. For us, the place where we were recording was also a big influence. The surroundings were beautiful: trees, the river passing by, chicken and geese. It was a nucleus. It influenced us to move away from industrial music to real songwriting. It was not only the landscape, but also the friendship and the community that was happening there. You had to work, you had to go to the forest to cut wood, you had to bake your own bread. You really had to get in contact with the earth.
It was the first time that I could settle down from my hectic life. I had to leave Berlin in 1943 as a child because of the bombings, so for us there was nothing. We were always changing places, always on the road. And this was really exhausting! So I was really happy to get my feet on the earth. We had our own little utopia there and could do what we wanted to do. No one was there to make something out of us.
It was the music itself which brought on titles like 'Sehr Kosmisch'. It was structured music in that it had melodies, but it was also open and somewhat visionary. And tracks like 'Hausmusik' reflected the role of the community in our records. The song was born when we really connected to this house which we had to build. We had to do everything ourselves: build our toilets, make the mortar for the house. It was the most beautiful record we made, I think.
The cover was also really funny. It was Moebius' idea because he was a graphic designer, and perhaps the track title 'Sehr Kosmisch' was humorous as well. It was a way to describe how we felt and also the cover itself, which was totally different to the record. It was an attempt to catch the eyes of people who didn't know us at the time." 
Harmonia – 'Deluxe' (1975)
"We toured Musik von Harmonia, and during the performances we discovered certain structures that we enjoyed revisiting. The shows helped us discover some models for real songs, which we then worked on for Deluxe. After two years of touring together, it was evident that we should record something else. Michael [Rother], of course, also had new ideas to be developed. Mani Neumeier [frontman of Guru Guru] also joined us and brought some new ideas and influence.
We also recorded with Conny Plank for this record. He came in with his mobile studio and most of the material was done with Conny recording and Mani drumming. It was the first time we recorded with Conny as Harmonia, although we had worked with him previously as both Kluster and Cluster. Conny had great humanity. He was a dear friend, and he didn't seek to make money. He saw recording and producing as the key challenges, which was unusual for producers: they are always looking at how to market and manipulate music so people buy it. I've worked with many producers, but Conny was just different. His techniques and abilities were superlative and he was a musician as well, so he had a great sensibility.
'Immer Wieder' was the first time we used vocals in Harmonia. Kluster had worked before with poetry, but at that time text was introduced after the music was written. In Harmonia, it was just fun to sing, and we all sang together. 'Immer Wieder' was a philosophical message, a feeling of attempting to form a New German Wave—although perhaps we didn't know it at the time."
Harmonia 76 – 'Tracks & Traces' (1997)
"When Brian Eno arrived in 1976, Harmonia wasn't a band anymore. Michael was there, Cluster was there, but we were no longer making music. We first met Brian at a Harmonia concert. He suddenly appeared one day after we invited him in 1974. It took him two years to finally work with us. So while Harmonia didn't exist anymore, it reformed for this one project. Tracks & Traces was the swan song for Harmonia. 
With Harmonia and Eno, the music was produced in the moment. There wasn't so much elaboration. There wasn't time to sit down and work thoroughly on music because we had to work on the house. It was not 'purposed-music,' but 'happened-music.' Brian played bass and brought his ARP synthesizer. I had a cello, Moebius a violin and Michael a guitar, of course. I also had a prepared guitar, an organ and a whole collection of small homemade machines. We had no synthesizers, only keyboards. But when we went into the studio later to make Cluster & Eno and After The Heat, we began to use synthesizers as well."
Harmonia – 'Live 1974' (2007)
"These are unreleased recordings from two concerts. These performances were a mix of attempts at structured songs and longform improvisation. We weren't able to perfectly recreate the records on stage, so we always had to improvise. Yet in general, there were basic structures that we always played, and then we would form our jams around them. By the time we had released the Harmonia studio records and were touring again, you could see that people were beginning to become more aware of German music. It took a while for Cluster to be accepted because it took time to recognize the industrial qualities of the music; there was not much rhythm and it was quite abstract. For Harmonia it was easier because there was structure, guitar and melody. These live shows were definitely still part of the time where we were in the process of learning-by-doing."
Harmonia – 'Documents 1975' (2015)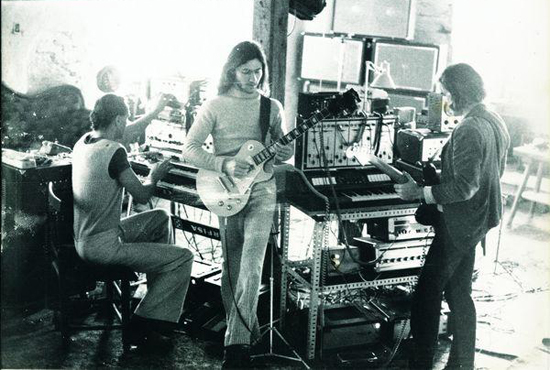 "Michael has done a lot of work to find these historical remnants of Harmonia. He really took a lot of care to collect everything: photos, old tapes and so on. Michael kept a lot of the old recordings we made and these are the happy accidents that have been forgotten for so long. I'm really so happy that people get to know this music. This music is part of my history, and an authentic experience in a time where a lot of stuff happened. And this is probably the most important thing: it's authenticity."
http://www.singhalamusic.com/wp-content/uploads/2011/12/Harmonia-1973-1.jpg
Published October 27, 2015.