25 Legendary Clubs That Made German Techno Party Culture What It Is Today
From Bunker in Berlin to Ultraschall in Munich, these now-closed clubs are the places where Germany's electronic dance music scene developed.
In the aftermath of the acid house and techno booms in the late 1980s and early 1990s, Berlin and Frankfurt have dominated conversations about Germany in the international club culture cannon. But the truth is that the first coming of electronic dance music was so strong throughout the country that it spawned and spurred scenes all over. Virtually every small city had its own special nightclub with a packed dance floor and an interesting vibe—and that's exactly why we compiled an ode to German techno culture and the now-defunct venues where it took place. Of course, this sort of project never really feels complete, so don't be offended if your cherished temple from years gone by isn't included. As we wrapped research and production on this mammoth run-down, we remembered a few more spaces that deserve an honorable mention: Düsseldorf's Poison Club; Tribehouse in Neuss; Nürnberg's Das Boot; Münster's Cosmic Club. And we're sure there are many more.
Omen (Frankfurt)
If you don't know about Omen, then you don't know much about German techno. This was the sweatbox where Sven Väth held court; his living room where he became known as "Baba" and established himself as one of the biggest DJs in the world. For years Omen was the nucleus of the Frankfurt scene when it was still considered one of the leading forces on the electronic music map and the "sound of Frankfurt" was a highly successful international export. When they had to close after ten years in 1998, so many ravers flocked to party one last time that the street out front became packed with dancing bodies that couldn't fit into the building. A sound system was erected, the police agreed to block the street from cars and a spontaneous open-air ensued. After that day, Frankfurt's famous club scene started to bleed out, and it still hasn't fully recovered. Despite the influential presence of the respected sound gallery Robert Johnson, the Frankfurt area still lacks a club whose star shines as bright as Omen's did back in the day.
Bar25 (Berlin)
The most mythologized Berlin club had modest beginnings. It all started with an old DDR Nagetusch trailer-turned-bar that operated at illegal parties on the banks of the Spree. The idea for a "real" bar and a playground for friends took hold soon thereafter. Bar25 eventually evolved into a multifaceted wonderland that offered a spa, a hostel, a restaurant, a cinema, various dance floors and the longest, most excessive parties one could imagine—but only between May and October. Those endless weekends inspired many an urban legend, from the convoluted demands that the door staff aimed at incoming clubbers to much darker rumors that illustrated the dangers of radically liberal club cultures. It was a hotbed for the distinctly German version of minimal house and techno that dominated the early 2000s—and yes, it was the club featured in the film Berlin Calling. Due to complaints from nearby neighbors, the sound system on the main floor was notoriously shitty and the music mostly played below the 100 dB margin. But nobody seemed to care.
Ultraschall (Munich)
In 1994, a former kitchen of the then-closed airport Munich Riem became the first bona fide techno club in southern Germany. The responsible crew already had three years of experience throwing parties and raves in off-locations, but turning their successful event series into a club proved more difficult than they had anticipated. Nevertheless, Ultraschall became an internationally renowned address by one year after its grand opening in the summer of 1994. One of the founders, Upstart, also operated the label Disko B and the record shop Optimal, thereby creating a three-pronged axis for what Ultraschall resident DJ Hell deemed the "new sound of Munich." That sonic identity set itself apart with the addition of a second floor dedicated to all things ambient and experimental. Although the club was forced to move when the airport was finally demolished in 1996, the second coming of Ultraschall proved to be a success story in its own right. It was a bigger space in a former factory for the potato-mix producer Pfanni, and the owners' more professional handling of Ultraschall 2 kept it going until 2003.
E-Werk (Berlin)
Planet's successor opened in 1993 with a series of semi-legal construction parties in a former power station just across the street from Tresor's original location at Leipziger Straße. It hosted the after-show party for MTV's Music Video Awards at a time when the station and its events really meant something (1994). The queues to get in were so long that the parking lot raves in front of E-Werk became about as legendary as the club itself. Between 1994 and 1997 it also hosted the annual exhibition and fair Chromapark, which showcased Berlin's burgeoning club art, visuals and installation scene. Due to its fame and its promotion of all things music and art, it feels safe to classify E-Werk as "the Berghain of the '90s."
Rave Club (Cologne)
If you wanted to get down to the new dance craze called "house music" in Cologne back in 1988, there was only one destination: Rave Club. Resident DJs Roland Casper and Claus Bachor delivered an eclectic mix of sounds to a euphoric crowd. However, it was short-lived, as the owner of the space grew skeptical of the longevity of the acid house boom and sold the property. Rave Club lived on thanks to the efforts of Bachor, who went on to start nights at different clubs that purportedly evoked the spirit of his former DJ home.
Milk! (Mannheim)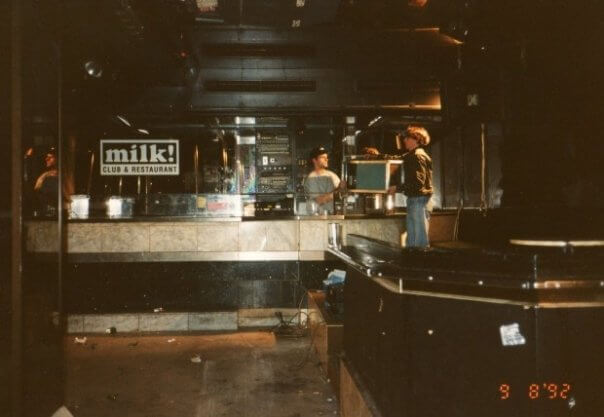 We couldn't phrase a summary of the short-lived but influential Milk! club better than Finn Johannsen, who wrote about the club's three-year stint for an Electronic Beats column with one of the resident DJs. "Considering the pervasive presence of the US army in Mannheim after World War II and the corresponding influence of American pop culture in the region, it might come as a bit of a surprise that Milk!'s sound turned out to be quite Anglophile," he wrote. "When it opened in 1990, its genres of choice were still a joyous, chaotic mass of many different sounds, and its resident DJs Holger 'Groover' Klein (who reminisced about the club in a previous Rewind column) and Bassface Sascha took what fit their purposes best. But soon most German clubbers started stomping to a techno beat, while a fiercely loyal crowd—known as the notorious 'Milk! Posse'—liked their beats broken, their bass heavy, their pianos anthemic and their hands in the air. Thus the club embarked on a mission that laid the foundation for drum & bass and other breakbeat styles in Germany." Read the full column here.
WMF (Berlin)
WMF club is the unsung hero of Berlin's most influential early clubs. Its first incarnation opened in 1991 in the abandoned headquarters of the tableware manufacturer Württembergische Metallwarenfabrik (hence the name WMF) right at Potsdamer Platz, where Tresor had opened its doors just a few weeks earlier. Contrary to the soon-to-be techno institution on Leipziger Straße, WMF's musical program originally concentrated on hip-hop, reggae and house. In its nomadic 19 years of existence, WMF made a home in seven different repurposed buildings and embodied what would become known as the quintessential Berlin club. Around 1994, its musical focus shifted to house and techno, and later it incorporated defining drum & bass via the Hard:Edged nights and broken-beat with Jazzanova's Kaleidoskop parties. Other accolades: Dixon was a long-time resident, and Ben Klock released his first hit, "I Love U", on WMF Records. VJing was an integral part of the WMF experience; now-famous design and motion graphics studios like Pfadfinderei and Visomat Inc. regularly provided installations and videos.
Dorian Gray (Frankfurt)
Dorian Gray was among the most famous German discotheques to draw inspiration—like so many of its contemporaries—from New York's nightlife, especially Studio 54. In keeping with the NYC tradition, the club installed a massive Richard Long sound system, which was the same kind that served famous American venues like The Music Box and The Warehouse in Chicago as well as Studio 54 itself. Dorian Gray opened inside the Frankfurt airport before the advent of house and techno in 1978, and once those styles reached a certain level of acclaim in Europe, it went head-to-head with Omen for the title of the best club in town and beyond. Local heros like Sven Väth, Marc Spoon, DJ Dag, Pascal F.E.O.S., Talla 2XLC and the late Torsten Fenslau all played regularily there before it closed in 2000.
Base (Dresden)
After the fall of the Wall, east Germany experienced a creative boom that propelled Dresden to the status of "techno hotspot" throughout the '90s. Its healthy club scene included the institutions Fabrik, Straße E, Flugzeugwerft and Base. In a soon-to-be released documentary about Dresden's techno and clubbing history called Rauschen Im Tal, DJ Gunjah (one of the people behind Dresden's new Klub Neu) remembers Base, a techno club opened by punks and squatters in 1992 that quickly became one of the city's major attractions. The original rough-and-ready location was closed in 1994, but the Base team managed to reopen shortly after in a new location and began to add international talent to its bookings. For two more years, Base's second incarnation shaped many a musical taste.
Aufschwung Ost/Stammheim (Kassel)
One of the most notorious '90s clubs was located in—you guessed it!—a former factory. In 1994 it opened under the banner Aufschwung Ost but took on the name Stammheim in 1996. The club's artwork and flyer, which were designed by comic artists Bringmann & Kopetzki, gave it one of the most recognizable visual brands. As for its sonic identity, the dirty and rambunctious style of UK techno all-stars like Cristian Vogel and Neil Landstrumm became an especially strong force. Apart from local heroes DJ Pierre, Marky, Norman or Stefan Küchenmeister, the list of residents also included Chris Liebing and DJ Rush.
Planet (Berlin)
A lot of people would award Planet the somewhat hyperbolic title of The Holy Grail Of Early-'90s Berlin Clubs. It opened in March of 1991 and quickly became the center of the still small-but-burgeoning clubland. The resident DJs—Dr. Motte, Jonzon, Terrible and, later, Disko and Heideglühen co-founder Woody—played everything from smooth New York house à la Nu Groove to futuristic Detroit techno, jacking Chi-town rhythm tracks, UK breakbeats and hardcore and Dutch and Belgian variations on Motor City techno. Like most clubs in Berlin back then, it operated illegally at the beginning of its two-year run in two different locations.The Planet crew then went on to create another chapter of Berlin techno history: E-Werk.
Planet (Bochum)
Berlin wasn't the only city that had a massively influential nightclub called Planet. Bochum's opened in 1992, and its version was one of the first clubs in the Ruhr area to focus on house and techno. People from all over Germany flocked there to see international guests like Derrick May, Juan Atkins and Jeff Mills and German heroes like Sven Väth. In 1997 one of Planet's founders, Ralf Odermann, resigned from his post as an organizer and owner, and although the club stayed open under different leadership (and different names), it was never the same.
Front (Hamburg)
For a very long time, Hamburg's Front club didn't get the credit it deserved for shaping Germany's early club culture. Over the past few years, thanks in part to the resurfacing of a multitude of old recordings from the club, interest in one of the first German clubs to play house in the mid-'80s has gained momentum. Klaus Stockhausen became Front's resident in 1984, and he (and later Boris Dlugosch) shaped a whole generation of predominantly gay clubbers with his adventurously eclectic mixes. Star photographer Wolfgang Tillmans had one of his first exhibitions at the club back in the late '80s.  A unique feature of Front was the fact that you couldn't see the DJ from the dance floor, as the selector stood in a dark elevated box.
Bunker (Berlin)
When Werner Vollert rented the above-ground World War II-era bunker on Albrechtstraße in Mitte, he planned to use it for art projects and rehearsal spaces. But things worked out quite a bit differently. You could still hear house music at the first parties at the "hardest club on earth," which was, of course, illegal. The sound took a harder turn when Wolle XDP started throwing his Hartcore parties in the labyrinthine building in 1992. Soon thereafter, Bunker became a sanctuary for gabber kids the world over. The Sunday after-hours were popular, too, and the gay scene celebrated the Snax parties—yes, those Snax parties. They were organized by Michael Teufele and Norbert Thormann, who later went on to create Ostgut and Berghain, where Snax still takes place today. After various legal battles with the authorities and a big raid, the club finally had to close in 1997. Today, the building houses Christian Boros' famous art collection, and visitors can still see the day-glo paintings on the walls from its former rave days. For more information, see the oral history book Der Klang Der Familie.
Click (Hamburg)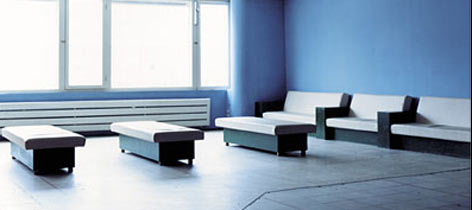 In 2002, Click opened in the same building as Unit's second incarnation in an old department store. Rather than pounding techno, Click focused on the slick and often pop-infused style of minimal house and techno developed by labels like Kompakt, Poker Flat, Italic, Playhouse, Ladomat, Perlon, Dial or BPitch Control. Perhaps this was a sign that the techno zeitgeist that defined the '90s had finally come to an end, and something new was taking over. Within months after the club opened, it became one of the most cherished destinations on the German circuit. It took design cues from Offenbach's Robert Johnson and Berlin's WMF, as the photos above suggest. The infamous Reeperbahn was visible through the club's panoramic windows, which also allowed sunlight to light the dance floor during tipsy wee hours of the morning.
OPERA Dancehall (Leipzig)
When plans to build a nightlife venue called "TableDance" in a 19th-century ballroom in Leipzig's eastern Stötteritz district didn't work out, the owners of the building decided to feed the booming techno hype in the early '90s, former Opera resident DJ and booker Mad Max told us. Leipzig already had two established but small techno venues—Basis and Distillery, the latter of which is still open today—but the frenzy proved strong enough to fill a third. Saturday was resident night with Mad Max and Reiner Meskalin. On Fridays you could see big guns from all over the world like Sven Väth, Laurent Garnier, Dr. Motte or Joey Beltram.
Elektro (Berlin)
Living in the shadows of two colossal and internationally recognized techno strongholds, Tresor and E-Werk, allowed Elektro to offer a way more intimate and non-conformist clubbing experience. The tiny club hosted huge acts in its small space, which was once a store for electronic devices, including Jeff Mills, Mika Vainio, Electric Indigo and Robert Hood. Bass Dee, who hosted parties at Elektro, told us that such acts would often even show up for surprise sets on Sundays. The Elektro Music Department label was also birthed there by some of the club's main forces like Mo, Daniel Pflumm and Kotai. Like many other Berlin clubs back then, Elektro was a petri dish for all kinds of activities that ran from art to music—though the scene's increasing commercialization didn't play a big role there. It was a meeting place for like-minded people with an open invitation to participate.
Rote Liebe (Essen)
"House, house and more fucking house," could've been the motto of Essen's Rote Liebe. Opened in 1992, the small club was, along with Bochum's Planet, one of the focal points of the Ruhr area until it had to close in 1997. According to longtime club aficionado and former Record Loft proprietor Christian Pannenborg, US house dominated the nights.
Gerberei Schwerin
Gerberei Schwerin accomplished the feat of becoming a known hotspot throughout Germany despite its humble location in a town not known for its techno scene. The club even managed to last for 19 years—from 1994 until 2013—in Schwerin and survived an initial closure in 1999, when the owner of its original space reclaimed the venue and kicked the clubbers out. Gerberei reopened in a new location in early 2001, and throughout its years of service it hosted the likes of Anja Schneider, Ricardo Villalobos, Heiko MSO, Paul Kalkbrenner, DJ Koze and more at monthly and then bi-monthly parties that often lasted well into the morning hours. Its legacy lives on through Ron Albrecht, a Dystopian ally who served as a resident DJ and organizer at the Gerberei from its start.
Unit (Hamburg)
While Front was mostly dedicated to house, Hamburg's Unit was all about techno and, later, trance. As Marc Schneider and Finn Johannsen remember, it opened in March 1989 and spent the next 10 years partying in three different locations. Residents were DJ Henry and Tobias Lampe (who were in control of Friday's Pure Energy Club events), as well as Gary 138 D and DJ Nicole. Saturday's parties were dubbed United Nations In Trance. In 1993 the club closed and moved into a former C&A department store, where it stayed for two years before it opened again in their final and largest location in 1996. A few recordings that were distributed on tape back in the day are now listed on Discogs. The Unit Discogs page also lists the most famous guests of the club, which reportedly included David Bowie, Ice T, Martin Gore and Dave Gahan.
Babalu (Munich)
Like many other early clubs in west Germany, Babalu had a life as a non-techno venue—that is, it booked live music—before the four-to-the-floor kick drum swept away the nightlife of old. The club opened in 1990, and by the following year it was marked red on the techno map as one of the main venues in Germany. According to DJ Woody, who later moved to Berlin to become resident at Planet and E-Werk (and now co-runs the popular underground Heideglühen), and who cut his teeth as a resident at Babalu, the club was also home to Munich's first after-hours parties.
U60311 (Frankfurt)
This was the place where "schranz," a German form of distorted and percussive techno coined by Chris Liebing, became a fully-fledged and distinct sub-genre thanks to the club's Friday night schranz extravaganzas. U60311 was the Schranz temple, if you will, and Liebing even hosted his own party series there. After Omen closed, the club became Techno Central for the whole Rhine-Main area for a couple of years—until things turned dark. Eventually the club's security made headlines with violent behavior when they killed a guest out front.
Cyberhouse/Hanomag Tor 1 (Hannover)
The area of the old Hanomag factory in Hannover was easily one of the biggest locations in northern Germany for rave sounds from techno to jungle. The club Cyberhouse, often known as Hanomag Tor 1, was built in a big hall where submarines were assembled during World War II. Over the years the huge area housed a number of clubs as the parties grew bigger and bigger. It all peaked in the mid-'90s, when up to 15,000 ravers attended the after-party for the Reincarnation Parade, a Love Parade-style open-air procession. Unfortunately, the huge space encountered problems with violence and drugs, so the city shut it down in 1998. To top it all off there are rumors that the labyrinthine basement of the factory was also home to a massive drug laboratory.
Prag (Stuttgart)
Stuttgart also had a very steady run of great clubs that started with OZ in 1992, which laid the techno foundation in Germany's "motor city." But we've selected Prag because, as Lehmann Club booker Raphael Dincsoy told us, it established a reliable network with other cities, sounds and clubs, which had a lasting effect on the region. The most important connection was with Berlin's Tresor and the purveyors of its associated Brighton wonky techno sound. Many of the champions of that movement (Cristian Vogel, Neil Landstrumm and Tobias Schmidt) served as resident DJs of Prag's most well-known party series, Neue Heimat. The full list of DJs who appeared there is a long who's-who of all-stars that includes including Jeff Mills and Adam Beyer.
Warehouse (Cologne)
In the early '90s, Warehouse was Cologne's techno temple supreme. Native Instrument's recent CEO Mate Galic was a resident, as were Roland Casper, Oliver Bondzio and Paul Cooper.The Warehouse team also co-promoted the second Mayday rave in 1992. After the closing of the original location, the club moved before eventually closing for good and then resurfacing as a successful party series that runs until today.
Published June 02, 2017. Words by EB Team, photos by Various.