Inside The Semi-Legal Croatian Club Scene Growing In Zagreb
The Croatian electronic music scene has been concentrated in its capital city, Zagreb, since the early '90s. The relief that accompanied the end of the country's harrowing war for independence—which occurred between 1991 and 1995—helped to catalyze the party culture that grew from its debris. In the wake of Croatia's communist collapse and the period of transition to capitalism that followed, however, the city's few nightlife venues became more tightly regulated and heavily policed, a phenomenon that pushed the nascent house and techno scene into underground spaces. Today, electronic music continues to thrive in these clandestine venues with the support of Zagreb's small promoter groups, DIY record labels and dedicated local producers. We've compiled a list of everything you need to know about those who have rejuvenated the scene.
Ekstrakt
Ekstrakt is a four-person DJ collective that has been active in Zagreb's electronic music scene since at least 2010. Compared to many other local promoters, they focus on techno with the music they play and the artists that they invite to perform at their parties. In the cooler months, it's not uncommon for their events to take place in an abandoned house at Zagreb's outskirts or various venues across the city. But in the spring and summer, Ekstrakt takes advantage of the region's lush landscape and hosts open-air events on Mount Medvednica just north of the capital city. Its members—Ganik, Labud, Mimi and Novell—play regularly at parties around the city, so it's worth keeping your eyes peeled for their names on local lineups.
Confusion (CFSN)
Confusion, also known as CFSN, is a multi-faceted music collective that's thrown insane parties and festivals for 15 years—and shows no sign of slowing down. These DJs, producers, club promoters and festival organizers have played major roles in Zagreb's alternative electronic music scene since the early 2000s. Though historically their parties have varied in sound, the group aligns itself thematically with juke, footwork, grime, IDM and rave and has hosted acts such as Kode9, Autechre, The Bug, Machinedrum and Pearson Sound at their regular events, as well as at their annual festival, Illectricity, which they launched in 2005.
Živa Muzika
Živa Muzika is an integral part of the queer-oriented scene that has taken root in Zagreb's underground. They've booked the likes of Elysia Crampton, Cakes Da Killa, James Ferraro, Mykki Blanco, Planningtorock and Visionist, many of whom represent a unique cross-section of experimental queer artists pushing the boundaries of deconstructed club sounds. Despite its popularity, Živa Muzika operates on a small budget and hosts intimate shows in bars, performance art theaters and modest club spaces. Their shows are a must-see for anyone interested in more cutting-edge audiovisual performances.
Burek
Burek is a record label that has demonstrated a staunch commitment to house, soul and disco over the course of its 14 releases. Since its inaugural record in 2011, it has provided an outlet for an impressive roster of established Croatian artists and underground stalwarts like Ilija Rudman. In 2014 it also gave birth to its sister sublabel, Barba Records, in an effort to cloister its interest in firmer electro and techno-oriented sounds with releases from Alex Cortex and DJ Stingray. In 2016, the label owners launched a second sublabel, Pomalo, which has so far issued one vinyl release. All three branches of the Burek family feature original graphic illustrations by visual artists close to the crew, and those beautiful vinyl sleeves alone are reason enough to add these to your collection.
low income $quad
low income $quad's churning lo-fi compilations are unconventional outliers in Zagreb's more traditional house and techno scene. Since its launch two years ago by producers Filip Šćekić, Igor Cvitkovic and Strahinja Arbutina, the digital and cassette label has released a handful of hard-hitting compilations that spotlight industrial noise artists who toe the line between dark techno and grizzly experimentalism. Pan Daijing, Drvg Culture and Steve Summers are among the label's contributors, as are lesser known—but equally thrilling—artists from the local scene. LI$003 is perhaps most representative of the label's diverse style, ranging from the house-y panache of Octo Octa to the super-fast hip-hop beats of Arbutina.
Zarkoff
Zarkoff is a dark synth producer from Sisak, an industrial city southeast of Zagreb. His solo projects offer darker techno and electro stylings redolent of the city's bleak landscape as well as broader, more melodic synth lines that are often accompanied by solo vocals. He is also a member of the EBM-oriented project Sumerian Fleet with Alden Tyrell and Ingmar Pauli. His local claim to fame is his synth project Florence Foster Fan Club, a duo that he plays in with fellow Croatian producer Le Chocolat Noir. They both perform regularly in Zagreb's underground club circuit, and they're definitely worth checking out.
Popsimonova
Popsimonova has crafted a unique catalog known for raw, industrial techno leanings and haunting vocal lines. She's released on a number of labels including Electronic Emergencies, which put out her debut solo LP Brokedown Palace in 2015. She's also contributed to notable collaborations, such as Drexciya's affiliated project NRSB-11; she received vocal credits on the outfit's album Commodified. Jastrevski is recognized for championing a bold aesthetic style that complements her super-dynamic performances.
Petar Dundov
Petar Dundov has been the Croatian electronic scene's father figure since the early '90s. He was critical in recontextualizing the ruins left over from wartime by composing a record as Unreal as an homage to the first Under City Rave in Zagreb in 1993, a party which took place in an underground tunnel that once served as a bomb shelter in World War II. He also went on to form the techno outfit Brother's Yard in 1996 and later released more adventurous sound with his album Sculptures 1-3 on Jeff Mills' imprint Tomorrow. Dundov's cumulative work has put him at the forefront of the eastern European minimal sound that originated in the early '00s and has acquired a cult following in Croatia—and abroad—in the last 20 years.
Masters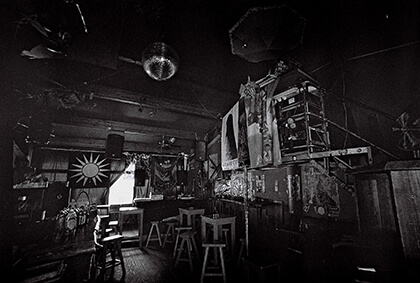 Electronic music venues are sparse in Zagreb, especially since the city center is often reserved for more commercial forms of entertainment. One of the few legal dance music clubs is Masters, an unassuming bar situated next to Croatia's largest confectionary factory, Kraš. The clubbing playground also has a rooftop terrace overlooking nearby tennis courts. The venue is home to a few noteworthy electronic music nights, including Freilauf, Cycle and bRave, as well as myriad events that span non-electronic genres. The ongoing challenge for many of the city's musicians is to plan shows without the benefit of having a permanent address.
Stereotip
Stereotip announcements are usually met with hysteria from its local cult following. The bi-annual Sunday afternoon event is organized and operated by DJ Marijan Felver, and locals told us that in its three years of existence, it has taken over a defunct socialist cinema hall, in an old gymnasium and in the city's contemporary art museum in Zagreb's industrial outskirts—all of which have been packed. The lineups often showcase slow-burning tech house from local DJs as well as a headlining sets by artists like Innervisions label boss Dixon.
Cover photo via Ziva Muzika's Facebook.