Totally Enormous Extinct Dinosaurs – Interview
We sure do love Totally Enormous Extinct Dinosaurs and we were very excited to see him play in Zagreb a couple of weeks ago. Propulsive beats covered in sticky audio jam, the music of Orlando Higginbottom is almost impossible to resist. He also was kind enough to give us five minutes of his time, just before he hit the stage in Zagreb to answer our questions.
What were you doing before becoming a Totally Enormous Extinct Dinosaur?
I was DJ'ing and making music, but quite different music. I was making Drum'n'Bass and Hip Hop and I got bored of that and wanted to do something, that wasn't being a DJ. I wanted to do something rediculous, so I decided to become a Totally Enormous Extinct Dinosaur.
Is TEED a festival or a club person?
At the end of summer I've had enough of festivals, but I'm looking forward to next year. It's like I couldn't do them all year, but I like both.
What is worse – not getting payed for the gig or having a lousy soundsystem?
They're both pretty bad, but bad soundsystem is just terrible. You just don't wanna be there at all.
What's the story behind new track Dream On?
It was something I wrote just at the end of the main period, when I was writing my album, it was one of the last tracks I wrote and I just wanted to put out a track without any release schedule, without any press, nothing. I didn't tell anyone about it, just put it out for free. It was just nice, it was refreshing and easy, and I enjoyed doing that. In fact I'll sing that song tonight.
And what should we expect from a TEED show?
All my singles, that I've released, and lots of new stuff from my album. The whole variety of the music, that I've made.
Totally Enormous Extinct Dinosaurs' 4Play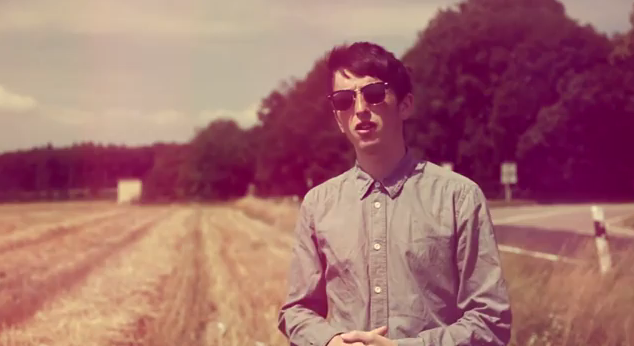 Just a couple of weeks to go before the Electronic Beats Festival rolls into Zagreb for a party of epic proportions. Alongside a headline slot by Digitalism, Róisín Murphy's DJ turn and the Scandi power-pop of When Saints Go Machine there will be a live set from Totally Enormous Extinct Dinosaurs who is one of our favourite young producers. First releasing music though Greco Roman – an imprint tenuously connected to Hot Chip, 2011 has been the year when this jungle loving, fancy dressing Englishman has really blown up – as amply demonstrated on this short Channel Four film that follows T.E.E.D from his Oxford home to gigs in Germany and beyond.
You can pick up tickets and more information to the festival here.
Electronic Beats Festival Vienna 2011 in review
The cavernous Vienna Arena was the setting last night for an epic night of music and dancing. The old factory complex was the perfect venue for the latest edition of our beloved Electronic Beats Festival.
As soon as the doors were open, Austrian euro dancer Wolfram was behind the decks and laying down discoid beats and shimmering synths in a DJ set that eased the crowd into the first part of evening. Before we knew it first act Bon Homme was on stage and ready for action. He opened his gig with a very special version of his stand-out track 'Ray Ban' from his latest self-titled album.
With his set over, and after the shortest of breaks, it was time to welcome The Brandt Brauer Frick Ensemble to their first Electronic Beats event. From the first moments of their set, it was clear the band meant business and live rococo-techno was clearly what the crowd wanted to hear as BBF composed their dance tracks live with pianos, drums, glockenspiels and even a rainstick.
With the first half of the evening over, it was time to have a tiny break outside, to cool down a bit with our friends.
Appearing out of the shadows next were Crystal Fighters with their mesmerising, unique and very catchy Basque power-pop that amazed and delighted Electronic Beats fans in equal measure. Crystal Fighters pulled off a unique show continued the party vibe, and kept the crowd rocking.
Finally, it was time for the set that many people in the arena had been waiting for – an epic, genre busting, high octane DJ show from Peaches and her DJ MCextrvaganza who almost tore the roof of the arena. Wearing a crazy outfit of what appeared to be breasts, the electro punktress Peaches still knows the strongest force in the world lies beneath a woman's panties. One moment she was behind the DJ booth and in the next moment she was sitting on that booth, plus both of her dancer were very cool and after a while they went, of course, completely crazy…
With the show over and the lights going up, we took a moment to catch our breath and went in search of somewhere quiet for a stiff drink, before we headed off to the after-party to catch Wolfram one more time djing the night away. We danced till dawn and have the hangovers to prove it. All in all – an unforgettable evening. Which was just the beginning: Make sure you check out the next Electronic Beats Festival below.
Dates for your European diary are October, 15th for the Bratislava experience with Karlsson & Winnberg of Miike Snow. October 28th to enjoy our Hungarian treatment with Buraka Som Sistema in Budapest. November, 25th when our Electronic Beats Festival gonna hit the Tvornica Kulture venue in Zagreb and finally December 2nd we're playing Warsaw's Soho Factory.