James Holden joins the Electronic Beats Budapest Lineup!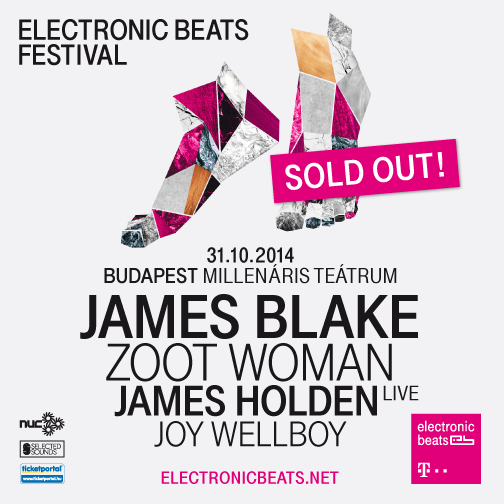 As you know, the globetrotting EB Festival hits Budapest on October 31st with James Blake, Zoot Woman, and Joy Wellboy in tow, but you didn't know that we had another ace up our sleeve: the prodigious James Holden. The UK producer made a name for himself at the turn of the century, when he was just 19 years old, with a surprise hit titled "Horizons." Since then, he has earned international acclaim with a string of impeccable releases, including two albums on his own Border Community imprint. To get a sense of his ethereal and detailed take on club music, feat your ears on the goodies below.
As you may remember, tickets for the festival are on sale now at electronicbeats.net, Ticketportal, the Ticketportal offices, and at Központ. (5 Madach Imre str., 1075 Budapest). You can also grab some via the Ntry form embedded on the left. And, of course, if you're chatting it up about the festival via social media, don't forget to hashtag #ElectronicBeats.

EB Listening: Stream Ricardo Tobar's debut album <i>Treillis</i> and read a track by track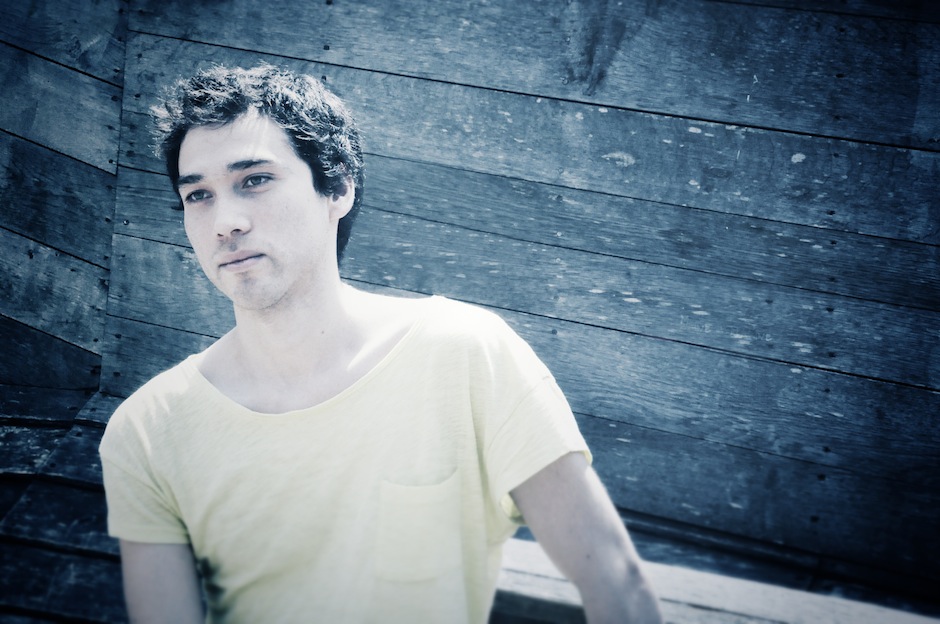 Ricardo Tobar may not be the most prolific of producers—he all but disappeared after his brilliant Boy Love Girl EP was released on Border Community at the height of their florid techno pomp in 2008. However, last year Tobar released Betweener on Dutch label Knopje; fittingly titled, it collated the music lurking on his hard drive from the intervening years and was followed swiftly by brand new material in the form of EP Esoteric Carnaval. The Chilean producer was back on the radar and, as if to seal the deal, his debut album Treillis is dropping next week on French label desire. We're hyped to be exclusively hosting the stream right here.
Like his earlier work for Border Community, the music on Treillis displays his nose for melancholy, for detailed, humid textures and careening melodies. However, this time around those buzzing synths and spry rhythms come caked in noise and distortion—a taste for busted drum machines and creaky gear has given a dark heft to a sound that is now defiantly off-grid and intuitive. We landed a track-by-track with the man himself to explain all, below.
"Sleepy"
Ricardo Tobar: This is one of the first songs I had for the album, along with "If I Love You", "Back Home" and "Essen". I remember listening to this over and over thinking it would be a good intro for something. I like the digital distortion in it, though I usually don't like digital clicks.
"Organza"
RT: This song is all about the arpeggio and the progression. It seems like an easy melody but I remember it wasn't so easy to make. It's kind of an "emo" song, though, so I wasn't sure if it would make it into the album. In the end I thought it had enough roughness and I liked the wow-flutter effect, which reminds me of an old tape.
"Garden"
RT: One of the new songs. I was really into doing the album every day like a day job, not going out of the house and just listening to the same beat over and over again. That's when I decided to do the most melodic thing I could do. I think the album is that really, just me trying to put all the melodies on the table to get rid of them and move on.
"Hundreds"
RT: I can make this kind of poppy melody really easily, and I have loads of songs that I never finish because of that. I decided to put something like that on the album just for the sake of it. I think the only reason why it made the cut is because of the sound—I like the tape saturation and even though it sounds pop it will never be a hit because of that distortion. The name explains the song too: I have hundreds of songs like this one.
"Straight Line in the Water"
RT: This song puts pictures in my mind. I just see someone jumping into the water, going down and down. I wanted to put more distortion into the bassline though. Listening to it now I don't know why I didn't add that.
"Otte's Denial"
RT: This is the last song that I did. It's one of the more melodic ones along with "Garden", I think they are quite related with all the modulation going on the synths. The mix is not the best one and everything melts together in the end, which I like. It also has an epic feeling for me and it's probably one of my favorites in the album. I wanted to push everything on it.
"Essen"
RT: Another one of the old songs. I kept it in the vault for years because I thought it was special, like a mini world…
"If I Love You"
RT: I can understand why people think this is the highlight of the album. It's a really direct song, with a tight structure. I like the detune in it and I love to play it live. The last bit started as another song, but I wanted to put it as an outro here. I think they go well together.
"Mirror"
RT: This song is a loop going through a tape. It has a schmaltzy and corny melody and maybe it's a filler, but in the end I like it and thought it was a good intro to "Back Home".
"Back Home"
RT: I wrote this when I was leaving Berlin for the first time. It was the worst winter I had ever seen and I was prepared to see my friends and family in Chile. I was using my roommate's monitors and I couldn't believe how good they were! I was going back home the next day and it was a weird feeling.
"Le Quartier du Quatrième"
RT: This is one of the last songs I made for the album and it's my homage to Paris. We were living in a tiny apartment and I was fighting with all the insecurity that comes with making an album. This is one of the songs I wasn't sure of at the beginning, but after a few tweaks it turned into this seventies tribute which I thought was cool. Paris is like that to me: it takes you to the past but in the present, and even though the present is hard, it's also the most beautiful and fragile thing you can have. The present is over in one second. ~
Treillis by Ricardo Tobar is released October 28th via desire.
Border Patrol: An Interview with James Holden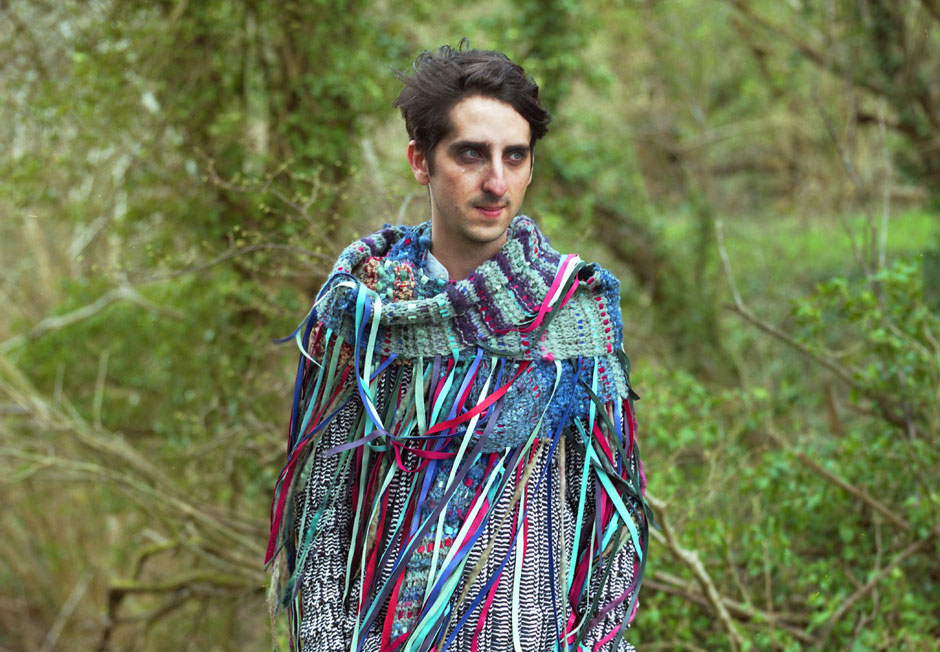 The British DJ/producer and his Border Community label set the tone for a swathe of European techno in the noughties, but found success to be a double-edged sword. We get his reflections and hear about the label's new boundaries.
Think of James Holden and his label Border Community, and you may call to mind a quite specific strain of sweeping, melodious techno. If so, Holden's soon-to-be-released The Inheritors—his first album in seven years—might come as something of a shock. It's a knotty, sonically uncompromising record, owing far more to English folklore and the primal hypnotism of kosmische music than it does to dancefloor techno. And it seems to represent the beginning of a new chapter, both for Holden and for Border Community.
The timing is neat, coming at the end of ten years of success for the label. Holden founded Border Community in 2003 alongside his partner Gemma Sheppard, after the producer managed to extricate himself from a suffocating record contract which had blighted him since his production debut at the age of 19. In response to Holden's experiences, Border Community set out to be as open and free as possible, serving as a mutually encouraging platform for a handful of producers who stood resolutely on the fringes of dance music—among them Nathan Fake and Petter, and later Luke Abbott and Wesley Matsell. However, in spite of the label's self-styled outsider status, it quickly became something of an institution in its own right. In fact, the beginning of the label's meteoric rise can more or less be traced back to a single track—Nathan Fake's 2004 single "The Sky Was Pink"—or more specifically Holden's remix of it, whose majestic, euphoric melodies spawned a legion of imitators, and seemed to set the agenda for certain portions of the European techno scene for much of the 2000s.
Holden, it transpires, didn't take kindly to all this success. 2013 finds the label at a turning point, with Holden resolving from now on only to work with a handful of core artists from the BC roster. Angus Finlayson caught up with him to discuss the label's past and future, the burden of success, and why, in the best tradition of Factory Records, Border Community artists "have the freedom… to fuck off."
The Inheritors is your first album in seven years, and you haven't put out much of anything, in terms of original work, in that time. Why the gap?
It wasn't really deliberate. Between DJing and the label, that was basically most of my time gone. When you're listening to someone's 50 demo mp3s because they really want a release and you're trying to give them a fair chance, that's a lot of time gone. I realized a couple of years of go that it was—not quite ruining my life, but it was getting in the way. In the last year, Gemma and I have worked out not just who's our friend, but who's really contributing—who, musically, is really going somewhere, and who's just trying to hang onto the back of us and see how much money they can scrape up.
Do you find the bureaucratic side of running a label is harmful to your creativity?
When you know that Companies House want some bullshit form that they're not even going to look at, but they're threatening to take you to court for not sending it, you can't really concentrate on getting high in the studio! And some artists like to manufacture dramas, and that takes a lot of energy out of you. It's not just the business side, or the pressing records, or the paperwork. The social side of it was draining. And, I have to say, it's kind of my own fault. I spent a year teaching myself Max/MSP, building things that in the end I didn't use. So, goodbye to a year but… it was worth it.
Your motivation for starting the label, as I understand it, came out of your own bad experiences with the industry.
Yes, I had this terrible experience, and I happened to have a bunch of friends who were all finding their feet and about to get really good. At the start, it was amazing because we were all friends—we were all bouncing off each other and learning so fast. That first couple of years was a really magical time. We'd watched 24 Hour Party People, so we'd seen this Factory Records model. It's a funny thing—every time I have a sort of music industry life crisis, Channel 4 re-screen that film. And that quote about the wheel—the number of times Gemma and I have sat there with a glass of wine and thought, "Oh, that's so true—it's going to be alright." [laughs] It happened a couple of months ago, something big happened and it was on again. And we realized, with this scene when he's going over the contract written in blood. At the start we'd put the emphasis on the first part—"[The label owns nothing]. Our bands have the freedom." Because what had happened to me had been the record company thinking it owned everything. But we'd forgotten the last bit of the sentence, which is, "Our bands have the freedom… to fuck off." When we re-watched it two months ago, it was like, "Aha, we should have paid more attention [to that part] ten years ago."
We were always trying to get away from being stuck in a cliche. These people who've made rip-offs of "The Sky Was Pink" for a career—that sounds like a punishment that happens in Greek hell, being one of these cunts who has to re-manufacture the same thing over and over again. I kind of feel sorry for those people, thinking about it [laughs]. Though for a while I would have happily run them over if I'd seen them crossing the road. So we were trying to get away from the cliches, but the people who come to a label that's successful kind of want to ride on that cliche, to mop up some success. So that middle period—there aren't any records that I'm not happy with… maybe one, I don't know. And the whole thing, I'm happy with how it stands. But I don't want to carry on like that.
So this period when Border Community was quite influential. I get the feeling you didn't enjoy that?
That whole period was really depressing. My aim with making music was never to be the biggest, or to have everyone copying me. When you have a success, you get a different kind of person coming to your shows who expects that you're going to play your hit. You just have to fight it, because the world's not going to change. It's my own fault to some extent; maybe if I'd put out more records, I wouldn't have had to deal with so many people thinking that I was still in 2004.
Where do you think the label stands now? Are you outsiders again?
Yeah, we're back to where we started. And we're happiest being outsiders, definitely. 99 and a half percent of what coalesced around us, I just hated it, and it made me realize what was wrong with what we were doing. We perceived it one way, and then for other people to turn it into this emo schmaltz trance bullshit, they hadn't got it. But then looking back, was it obvious enough? Do we have to be more aggressive? You could hear that in the remixes I was doing in that period, as I found my feet trying to find a new way of doing what I wanted to do, having the same effect but without having any of those elements which would lead to sort of… neo-trance.
So where is the label headed next?
It's going to be focused down. It's only Wesley [Matsell], Luke [Abbott] and Nathan [Fake] that we're even thinking about working with in the future. It's not going stop—I still feel like it's quite an important part of our life. But having done my album, I realized that I want to give more time to myself again. And do another one quicker, obviously.
In his own words, James Holden on key Border Community artists.
Nathan Fake "Outhouse" (Fake's 2003 debut single)
Nathan and I were friends on the internet [before the label started]. I remember Christmas at my mum and dad's house, listening on my laptop to half an MP3 of "Outhouse" and thinking, "Wow, this guy's a genius." He's kind of in a good place again now. Going from 20 to 30 isn't easy, and being a touring musician isn't easy. But he's found his feet, I think. Nathan is a bit like me, being open and trusting. I'm less so now—you can't get older and not get more cynical. So we felt really strongly [when starting the label], we have to be really careful about this, we can't do to him what was done to me. Having Nathan, that was another thing stopping us from settling into the music industry average.
In some ways he can come across as quite rural or something [laughs]. But then you see him sit down in front of a computer, his musical abilities are just… There's a story about—I forget which composer—I think Mozart. There was some piece of music [Allegri's Miserere] that the Catholic Church wouldn't let anyone write down. There was just one copy kept in the Vatican. Mozart, as a child, went and heard a performance, went home and wrote it down—the whole thing, just transcribed it. A similar thing happened with Nathan. I was playing a party in London. Nathan was battered—he had a really, really good night. The next day I picked up my phone and there was an email from him with an mp3 attached: "You played a song which went a bit like this, what was it?" And he'd done a perfect cover—the beats were right, it was in the right key; it was fucking insane. My reply was, "It was this one Nathan, but you don't need it because you've done it better."
Luke Abbott "Brazil" (lead single from Abbott's debut album, Holkham Drones)
We found Luke from a demo CD. The demo box, especially after "The Sky Was Pink", became really depressing. Gemma keeps this meticulous log. You open this book on a random page and it'll say, ""The Sky Was Pink" rip-off. "The Sky Was Pink" rip-off. Fucking terrible, why do people make this music?" Another random page: ""The Sky Was Pink" rip-off." But quite a lot of the people who would get the most hate ended up releasing something on Traum [Schallplatten] or Kompakt or something. So we felt not only depressed at the demos, but really angry at these labels, thinking, "This has no worth, you don't need to release it." And then Luke's demo turns up, it's screen-printed in thick fluorescent paint. Normally Gemma filters stuff first, but I thought, "That looks interesting, I'll take that." And luckily it was interesting! He didn't really like techno at all before a friend played him [Holden's 2006 album] The Idiots Are Winning, so he sent a demo to us as a sort of thank you.
Meeting Luke was a bit of a catalyst for thinking, "Ah, this is what a relationship with an artist should be like." He gives a lot. He went to art school, and if he has an idea it comes out of his mouth. That's the good thing about art school… and the bad thing about art school [laughs]. But yeah, he kicked the whole thing off a bit, kicked me into another gear competing with him, and the same with Nathan, I think. He's quite a bullish personality, he butts heads with things. And him butting heads with this expectation of functionality that club crowds have really set us thinking about where that line is drawn—what functions, what delivers, whether you're delivering too much or too little. At the moment, his live set is amazing. He's found this improvisational space where it works and it's different every night—completely different. It can be really wild and free, but it works.
We're definitely going to have something from Luke next [on the label]. He's been beavering away since the last album. There's a period [after an album] where you're kind of in the desert trying to find something new. Then there was this moment where he flipped and everything became brilliant. It's exciting to work with people like that, because he's doing things that I wish I could do myself, in a way.
Petter "Some Polyphony" (from 2006 single of the same name)
Petter is so unambitious for himself, he never seems to finish anything. But at the time when we were trying to get away from the "Border Community sound", he realized the best way of doing it was just to stop and start again, with Studio Barnhus [the label Petter now co-runs with Kornel Kovacs and Axel Boman]. I respect him for doing that, because he wasn't going to be happy playing to the people who want "The Sky Was Pink" every night. So all credit to him—he kept his self-respect, he didn't want to do something he didn't like just for the sake of making money, or sucking what money was available out of us. I have a lot of respect for that.
Wesley Matsell "Diffusion27" (from 2008 single Bernwerk)
You should follow Wesley's Twitter, that tells you about everything you can know about him. He's a mystic, he's a polytheist. He's Christian, but he also believes in, you know, aliens, everything—he has this sort of open belief. I've never really questioned—I don't want to question him. I'm an atheist, but I don't want to be a boring atheist who has fights with Christians, because that's retarded [laughs]. I found him on MySpace. He looked like a hipster, he had colored sunglasses with fluorescent sides—this was a while ago—his music was this ironic happy hardcore rave, and his MySpace was all pyramids and aliens, flashing backgrounds and stuff. I thought, "This guy might be too hipster for us to be friends with." But when you start talking to him he's completely the opposite. He went to art school but didn't really get on with the whole hipster art school thing. And now his day job is as an insurance analyst, or something like that.
He's a totally unique person—super nice. The way he built up a friendship with Nathan—being really nice to Nathan when other people around Nathan at that time, some of them were a bit vampire-y. That was kind of a revelation: "Oh, this is what a nice person is." We'd maybe forgotten how decent people treated each other. In the music industry, you forget what normal behavior is sometimes. So he's inspiring on a social level. And then his musical influences—he's into a lot of this tape-y American stuff, and a lot of old, proper techno. He's introduced me to some good modern techno that I think otherwise I might've been too sick of it all to discover. As well as some Xenakis that I hadn't found.~
Holden's The Inheritors is out today via Border Community. 
Ellen Allien remixes Telefon Tel Aviv and plays friendly with James Holden
After touring in South America in November, Bpitch Control owner Ellen Allien hasn't stopped to rest before revealing the next release of her label coming out February 2012. On BPC247 Telefon Tel Aviv's The Birds got remixed by her, and you can check out a preview here.
On December 3rd Ellen Allien represents Bpitch Control on a friendly VS match with Border Community's founder James Holden. The two legendary producers will be headliners at an exclusive double label night in Budapest, presented by Electronic Beats. We're giving away three pairs of tickets! Simply fill in the form below and keep your fingers crossed! The competition ends on December 2nd, 11am, and winners will be notified via email.
– – – Competition is closed, winners have been notified – – –
ELECTRONIC BEATS PRESENTS
Border Community vs Bpitch Control Double Label Night
Ellen Allien & James Holden
EB Listening: Kate Wax – Dust Collision exclusive stream + Interview
Kate Wax aka Aisha Devi Enz, is a Swiss-born, half-Tibetan Über talented producer, singer and performer who has just released an album on Border Community, the (almost) anything goes label from James Holden. Dust Collision is a natural fit for the label, with freak-out noir electronics and Wax's narcotically soulful voice guiding you through dreamy, hazy universes of sound where post-gothic torch songs morphing into tense EBM soul. The album was also Inspired by the Large Hadron Collider where her Grandfather once worked and themes of collision permeate the record. You can stream the whole album, exclusively on Electronic Beats, below. Hit play and read the interview with that follows.
Hey Kate, for our readers who may not have met you before, please can you introduce yourself?
Bonjour, I'm a modern hermit that doesn't fit in this world. I sometimes see ghosts and get harassed by my alter-egos.
I can only escape in a ritualistic creation process. I think my music is my healer and a mysterious, nice battlefield too.
What was the first piece of music you created?
The first tracks I did were during my Front242 compulsive obsession; industrial music pushed me into creation. I produced a melody and needed to sing, instantly. At that time I did not know I wanted to or even could write, I grabbed
a book and sung Sylvia Plath's cold wave words. The track is called 'Beetles and Spider', it was released on my first EP on Viking Music.
What was the last piece of music you created?
A remix for Harald Björk. It is the first remix I ever did. I always thought it was blasphemy to disintegrate someone's music and give it birth through a different formula. But I ended up having some sadistic thrills with this destruction-reconstruction concept.
what happened in between?
Collisions.
Your new album is released on Border community – how did you first meet James Holden?
I was walking along a beach in Barcelona, during Sonar Festival, he came to me and we talked about PJ Harvey.
And what assistance did he bring to the record?
I produced the album by myself in my tiny home studio in Geneva. I hid and spent 2 years digging in my childhood, fragmenting and trying to understand my own fucked-up history. I spat it out through words and sounds in a long initiatic process, c When the album was finished, we entered James' studio and mixed it.
How did you find the process of working with someone else?
Fundamental. It was like opening the gate of my maze, and giving life to a music that was elaborated in the dark. James was a sound revelator, like a subtle lighting on a secret music. We excavated some "live" and abrupt sides of my music, underlined its martial atmosphere. James has a mystic science in exalting my chaos.
Was this the first time you have worked with someone else in the studio? You seem quite independently minded.
Yes. As my production process is an introspective process, I would never want someone else enter my dysfunctional world.
It would be better to die naked.
You have recently taken time off to have a baby – did that effect your approach to music?
I never took time off from doing music, I'm composing or singing every day, it is a discipline close to a vital breath. When I had my baby, she took place in this process. I don't dissociate music and life, it is a whole same cosmos. There is a song in the album where you can hear her crying. I kept her in the mix as a snapshot.
What comes first words or music?
Writing and singing is the vital move, music follows and feeds that need. Words are the bones and core, music is the blood and skin.
Does a background in design influence your music?
Being a graphic designer is being an observer, finding your own language and building your message. I approached music in a similar way, experimenting, dissecting and twisting noises, finding my own territory of sound, as a proper identity. Computers were the only way to produce music in an independent way. I had no band, I was the band.I learnt to use music software at the same time as I was learning programming and design software, it basically works the same.
Your new album Dust Collision is inspired in part by the Large Hadron Collider. What is it about science that interests you?
I have been surrounded by physics since I was a child, my grandfather was an experimental physicist at the CERN, the centre that developed the LHC. His writings were intense abstraction and it seemed an alternative solid way to explore our world. While writing, I realized I was talking about crashes, collision and accidents obsessively. That theme became the nucleus of the album. The album embeds many concepts of collisions, starting from its personal aspect that could be the "infiniment petit" of Blaise Pascal until reaching its universal perspective, the "infiniment grand". Collision is the matrice of the universe from the atomic to the astronomic.
What connection do you make between science and music?
They are both complementary ways of taming the world.
There are many conflicting emotions and feeling on the album – is this a conscious or is it representative of your personality?
My music reveals every schizophrenic part of me. Each part speaks as a prophet in his own truth. I'm in a quest, with constant opposite feelings. The confrontation of concepts is fertile, it is my motivation.
What music do you listen to in the morning?
Godspeed You Black Emperor.
And finally, what it your most exiting recent discovery?
Gaffer tape, it can stick and close everything.