A Guide to Tijuana's Eccentric Electronic Underground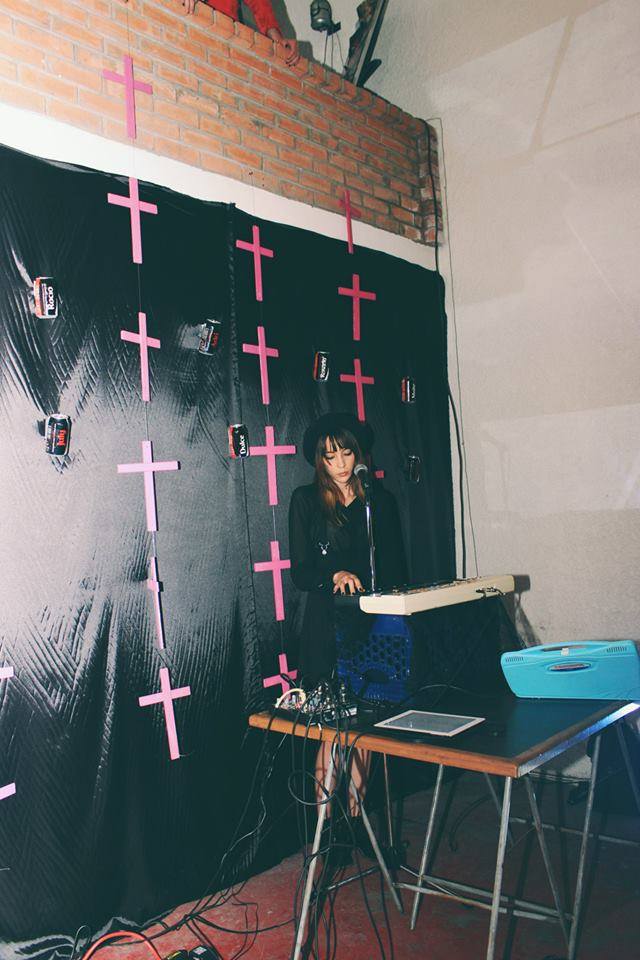 When Tijuana ends up in the international news, it isn't usually for it's local music scene.
"In Mexico, everything is organized around Mexico City," explains Ejival, co-manager and founder of the longstanding local label Static Discos. He says that, while the Baja California border town is a "great place for experimenting," it's seen as provincial, so Mexico City functions like a giant black hole for the city's creative types.
Brain drain notwithstanding, Tijuana's small electronic underground has generated a disproportionately large number of visionary artists in recent years. The city even has its own regional sound, ruidoson ("ruidoso" means "noisy"), which merges Mexican traditional music with punk aesthetics and techno tools. I compiled the selections you'll find here—a combination of people who were born there, lived there for a period of time and/or still call the city home—through recommendations from friends and contacts on the ground, and together they suggest a strong goth streak in the region's musical tastes. Perhaps that penchant reflects the rather dark history of the city itself: the savage violence that flared up in the late '00s due to conflicts between rival drug cartels and authorities, rampant addiction and the violent effects of the militarized U.S. border that stands at the city's northern edge.
But its seedy reputation constitutes only one of the many faces of Tijuana, says Ejival. "There's the dangerous Tijuana," he admits, but there's also "the vanguardist Tijuana, the entrepreneurial, the commercial, the normal." As the brutal cartel conflicts have more or less subsided in the last few years, the city has begun to draw renewed international interest in its audacious contemporary art world. It's also become home to a booming craft beer brewing industry. "In that sense it's full of contradictions. It's an ugly city, but its border dynamic makes it feel really sexy too."
Thanks to Conejito Colvin of Los Macuanos, as well as Paulina Méndez from Dealer's Brand clothing in Chihuahua for their help in researching this guide.
Braulio Lam and Rodrigo Luviano make droning, shamanic industrial music that leaves the listener with a lingering and unshakeable paranoia. Their five-track ISO EP from last year is the perfect soundtrack for a little bit of dark magic, so press play, light three black candles, and wait for the storm clouds to cast evil shadows across your bedroom.
When it comes to ominous, lo-fi bedroom pop made with malfunctioning toys, Dani Shivers is at the top of the heap. Her discography's predominant themes include dark alleyways, night terrors, ghosts, death, magic and candy, which should give you a better idea of what you're in for. The singer, producer and performer was selected to participate in the next Red Bull Music Academy program in Paris this fall, and is preparing her forthcoming album, Syzygy, due out on the France's Cranes label.
Benfika
Benfika is one of the newest signees to Infinite Machine, a broad-minded bass music label anchored in Montreal and Mexico City. His debut EP for the imprint, 121214, reveals a knack for scalpel-sharp sound design as well as a deeply haunting sense of melody. What would trance arpeggios sound like at the bottom of a frozen ocean? Click to find out.
Santos brings the techno hammer down on Northern Mexico's regional pop music. The result is ruidoson, the aforementioned local movement that he helped build alongside other Tijuana acts like Maria y José and Los Macuanos. It's a wonderfully chaotic micro-genre that cannibalizes many of the iconic sounds of the US-Mexico border, feeding cumbia rhythms and banda brass sections through a warped, surrealist filter.
Five years ago Los Macuanos dropped El Fin, a groundbreaking and loosely conceptual debut LP that weaves together samples and live instrumentation to channel Tijuana's strange psychic energy. Like Santos, the three-piece band's early catalog draws upon the tinny whispers of the Mexican radio dial, offering distorted reflections of old and scratchy cumbia records—though their sound is unmistakably more sinister. However, band member Conejito Colvin says the group has turned toward a more industrial and overtly political aesthetic on its forthcoming album. "El Último Desafío" more closely resembles what you'll hear on their long-awaited follow-up LP, which is due out this year.
This Tijuana-based imprint was founded in 2002 by the mononymous Ejival, who offered his take on the Tijuana music scene in the introduction. The label's wide-reaching catalog emphasizes Latin American artists and charts a course around the outer reaches of house, techno, avant-garde pop and sound collage. Macario's Topure LP from last year is a crowd favorite, and a great introduction to the label sound.
Ejival recommended that I check out Hidhawk, the noisiest artist on this list. The Tijuana native makes glitchy, zero-fidelity sound collages with what sounds like damaged or circuit-bent instruments and occasionally veers into more rhythmic or dance floor-oriented territory. She also recently launched Mundotheque, a blog that archives field recordings of traditional music from various countries for remixing purposes.
Marco Antonio Jiménez Gallardo first rose to prominence as a pioneer of the regional ruidoson style under the name María y José. However, his newer releases have moved towards a sound that straddles electro-pop and raw acid techno. His 2009 debut LP as María y Jose, Espiritu Invisible, is a kaleidoscopic journey through electrified folk sounds, and it's absolutely worth visiting for those who haven't yet. He also recorded a 50-minute mixtape of the rambunctious Mexican party music known as tribal guarachero that serves as a great primer for the genre.
If you live in Tijuana, you've probably seen El Muerto—The Dead Man—posted up in the park, singing along to chintzy drum loops from his vintage keyboard. He's very likely dressed in a leather trench coat, with his bleached shoulder-length coif, Gene Simmons-style face paint and a heavy silver crucifix dangling from around his neck. I was first introduced to him by the semi-fictional triple-X mockumentary Navajazo, which paints a sordid picture of the communities living on Tijuana's fringes. Book him for your next party!
No guide to Tijuana music is complete without a mention of the Nortec Collective, a group of local producers and performers that formed in the late '90s and quickly rose to legendary status across Mexico. Today, plenty of Latin American artists merge regional or traditional music with electronic textures and tools, but at the time, Nortec's fusion of techno rhythms with border town pop called norteño was revolutionary. Bostich and Fussible are two of the most accomplished members of the now dissolved unit, and last year's video for their track "Camino Verde" is a hallucinogenic tour of the Baja California coast.
Cover photo from Dani Shivers' Facebook.
A Guide to Mexico City's Thriving Electronic Music Scene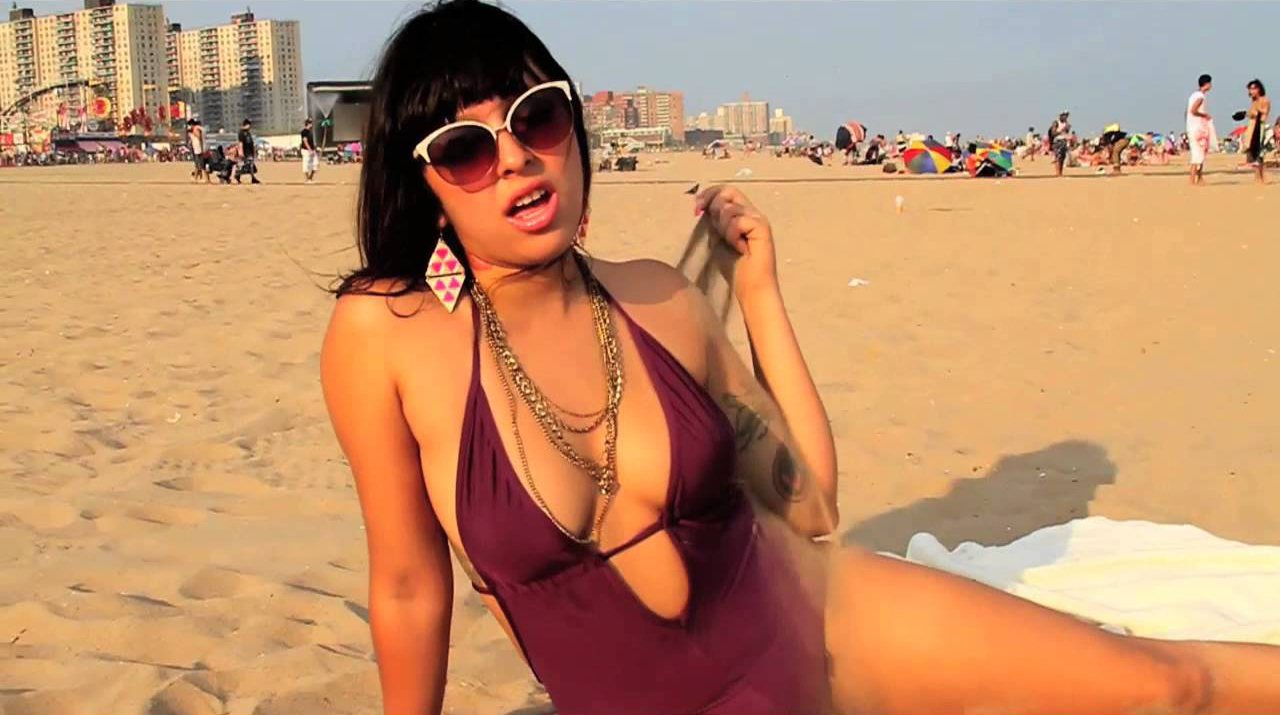 Mexico City locals like to joke that they live in "a small city of 20 million people" because it's easy to run into familiar faces even in the western hemisphere's largest metropolitan area.
The sprawling megalopolis—usually referred to as D.F., or Distrito Federal—boasts as wide an array of musical cliques as any other global city, and within the world of electronic music the same rule holds. House tends to have the strongest presence in the city, and there are plenty of ultra-classy and exclusive nightclubs scattered across its glitzier districts, but you can find crews dedicated to everything from industrial techno to ambient music and drum and bass, as well as patently Latin genres inspired by regional party sounds like cumbia.
D.F.'s more underground pockets tend to be small and tightly knit, and sporadic parties take place in sweaty, DIY basement venues, rugged warehouses and nondescript bars in and around the Downtown area. Each boasts an enormous wealth of artists who are deeply committed to their craft, and since—at least compared to New York or London—less money gets thrown at out-of-town headliners, the movement depends heavily on its homegrown talent. I learned all this during a recent six-month stay in the Mexican capital, during which time I encountered the ten compelling artists I'll introduce below. This list is by no means comprehensive, and despite my best efforts it skews toward male representatives from the scene, but it's enough to get you started if you're interested in digging deeper.
Smurphy is a producer, singer and performer who lives somewhere between Mexico City, Los Angeles and the Internet. On a Friday night out you might see her floating around a rave wearing face jewels or four-inch platform boots and a bright orange bob cut. Her live audio/visual show connects the dots between her music's warped, hyper-surreal textures and the glossy, post-Internet aesthetic that's all over her much-loved Tumblr page. Her second album, A Shapeless Pool of Lovely Pale Colours Suspended in the Darkness, touches on trip-hop, techno, noise, and trippy astrological motifs, and it's out now via Leaving Records, although she previously released records with the local NAAFI collective.
Vaasdna EP by schez
Jorge Sanchez technically lives in Guadalajara, though I first encountered him during Mexico City's MUTEK festival in October, where he shared a lineup with Smurphy. As Schez, he makes melancholic music with beautifully textured hi-fidelity field recordings and arranges whispers and rustles into abstract rhythms that tickle at the nape of your neck. His new five-track EP, Vaasdna, emerged in March via the Tijuana-based label Static Discos, and it'll make you feel like you're wrapped in a warm blanket.
If you feel like striking a pose to some chunky post-disco '80s sounds, then these synth-y throwback tracks are for you. The Disco Ruido trio dropped their newest 12″, Vox Humana Vol. II, in March via the Electrique Music imprint. They've been kicking around Mexico City's electronic music scene for a decade in various iterations, and you can still find them representing the home team at major festival lineups across the country.
White Visitation, born Nicolas Guerrero, is one of Mexico City's top (and one of its most famous) techno selectors. His DJ sets skew towards no-nonsense, muscular machine music, while his own productions tend a little more towards the ethereal, with subtle broken beat rhythms and occasional moments of soft dissonance littered throughout. I once saw him play a 5 a.m. set on a Monday morning at a house party in a rented summer bungalow just north of Mexico City that had a drained swimming pool and vines creeping over everything. He kept the dance floor going until 7 and the living room was trashed when we drove home at 8.
AAAA
AAAA has a way with synths; you can hear it in his chord progressions, arpeggios, lead melodies, and basslines. I first encountered the young modular synth wiz rocking an impressive hardware-based set at Boiler Room Mexico in December, where he shared the bill with Ñaka Ñaka at a derelict, crumbling mansion in the city's uber-rich neighborhood of Las Lomas. He's been in high demand since then and recently returned home from an eight-stop tour of Germany sponsored by the Goethe Institut. Check out the music video for his recent single "Blackfish" here.
Alan Aguilar is a new face on the Mexico City scene, and his music, which touches equally on mutant strains of UK bass, ambient music and avant-garde techno, proves that he's paying careful attention to current events. He's also one-half of the project And The End Of Everything, who dropped their first four-tracker on the Mexican imprint Finesse Records.
Mexico City has a heavy-duty goth presence, and like Tijuana, which has its own thriving and deeply experimental electronic movement, many of the city's dance acts crawled out of industrial and darkwave circles. Selma Oxor makes DIY goth pop with raw bedroom electronics. She sings mostly about sex and death, and cites Miss Kittin, Three 6 Mafia, and cheeseball Euro pop as her primary influences. "Goma de Mascar" is a single from her album Fantasias de Tocador.
Siete Catorce is a former star of the NAAFI collective, and they pretty much run shit when it comes to the artsier side of Mexico City nightlife. He was born in the US/Mexico border town of Mexicali, raised in Oakland, California, and recently relocated to the capital, where he has become something of a local celebrity. His music tends to warp typically triumphant Latin-influenced party rhythms into something more sparse, paranoid, creepy. I recently caught him DJing a parking lot rave in a dark, industrial neighborhood just outside of Downtown Mexico City, and it all made sense hearing it in that context.
I saw AntiGravity at the one-year anniversary party for the local promotion crew Ensamble, which took place in a classy basement club Downtown called Salon Bach, where many of the city's best electronic events go down. Though his tracks vary widely in terms of genre, his set at Salon Bach touched on the new hybrid jungle sound associated with artists like Om Unit, Machine Drum and Etch. The hard-hitting "Ronin" fits into that continuum, though I recommend checking his Soundcloud page because his extensive discography varies widely.
Ñaka Ñaka
https://soundcloud.com/pacificpsychedeliatapes/va-right-sound-right-place-ii
Ñaka Ñaka, real name Jerónimo Jiménez, trades in far far-out, fuzzy techno and cosmic synth music. Hailing from Mexico City and now based in Brooklyn, he's best known for releases on the cultish Opal Tapes imprint, and if you live in New York you might be lucky enough to see one of his hefty live hardware sets in a mold-encrusted basement with a bunch of techno punks. He's also about to embark on a European tour put on by the Brooklyn-based Bánh Mì Verlag label, so Europeans should check for updates about September and October dates.
Umor Rex is a record label from Mexico City, but admittedly little (if any) of its discography comes courtesy of Mexican musicians. Focusing on the continuum of noise, ambient, contemporary classical and musique concrete, the label's roster includes the LA-based psychedelic explorer M. Geddes Genras as well German duo Driftmachine and French sound artist Félicia Atkinson. They're famous for the lovingly designed packaging on their cassette tapes and CDs.
Cover photo taken from Selma Oxor's "Do It" video. Watch it here.