Now More Heroes: Daniel Jones recommends Dracula Lewis' <i>U$e Your Illu$ion$</i>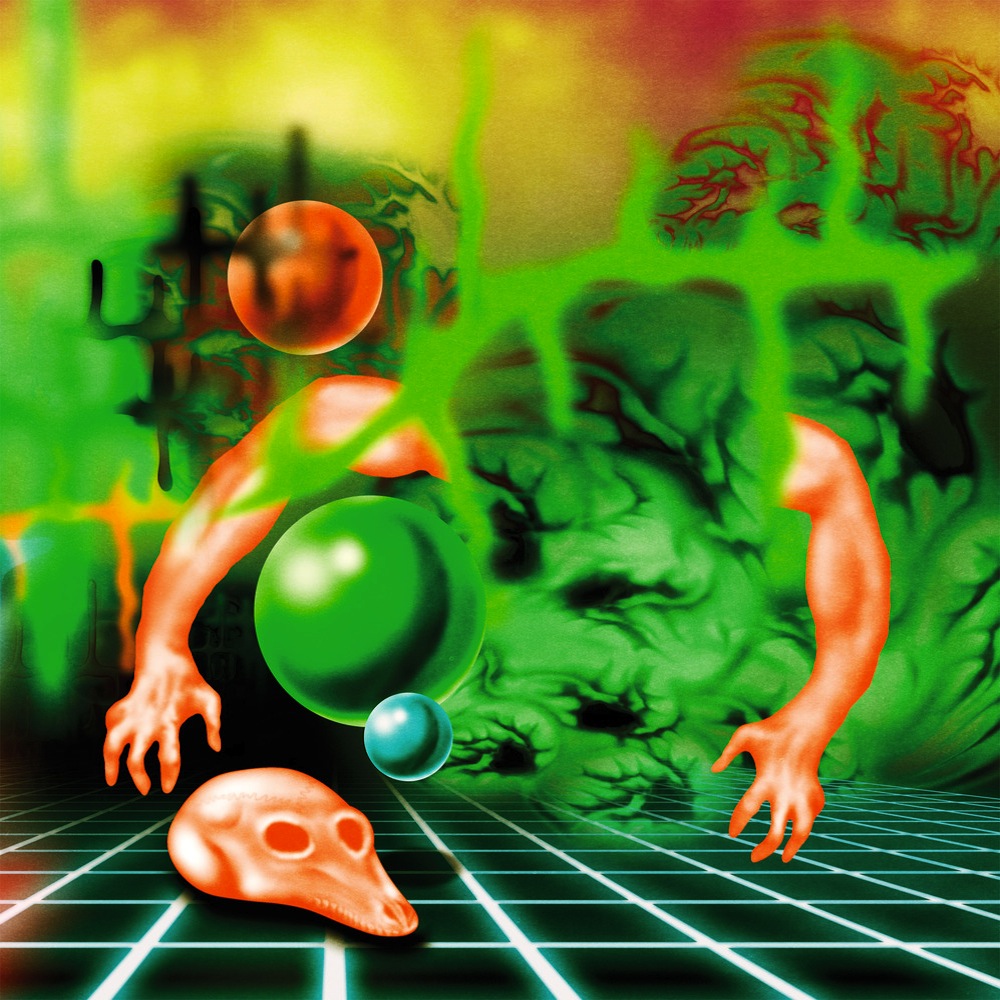 The idea of "punk heroes" might seem laughable in 2013, but if such a term ever carried meaning then Dracula Lewis certainly deserves it, says Daniel Jones.
In an industrial area of Berlin's Neukölln district, the windows of a concrete warehouse are being shaken from their frames. It's three in the morning. An industrial fog machine is being blasted like a cannon into the faces of 200 sweaty weirdos, all encircled by four Funktion-Ones. In the center stands a long-haired man, battering his synthesizer and spitting his voice out like poison. Welcome to the place where graves are in style and raves are defiled, the sound of a world where every day is heat, smoke, and thrashing blissed-out weirdness. This is the world of Dracula Lewis.
As the man behind DIY record label Hundebiss, Simone Trabucchi has been propagating his uniquely synthpunkian tastes into shattered ears since 2007, providing outlets for the voices of Sewn Leather, JAWS, Angels In America and other titillating bits of oddness. His debut U$e Your Illu$ion$ has many of the elements present in so many Hundebiss releases—heavy vibes, throbbing bass, and a shattered sort of neutral nastiness about it, like an apathetic switchblade contemplating a vein. What makes it stand out is not only its weirdly cheeky humor, but also its surprisingly addictive compositions.
The album opens with a quote from the X-Files classic episode "Jose Chung's 'From Outer Space'", a bit of eye-twinkle beneath the black shades and one of the defining moments in the career of Jesse 'The Body' Ventura. From there, it's relentless, a nonstop blast of noisiness… yet it never crosses the line into abrasive. It's this factor that makes U$e Your Illu$ion$ such a perfect record. It's highly listenable not only as a showcase of aural oddity, but as actual songs. Anyone can put out "weird" music these days; just toggle the Garageband setting to "Ariel Pink", punch a keyboard and sign up for Soundcloud. When you can make it memorable, then you know you have something. Halfway through the album's third track "Cheetah", I realized I was singing the chorus quite a bit louder than the other people on the train would have appreciated. Even more, it manages to capture how powerful Dracula Lewis is live; there's an intensity in every one of the 11 tracks here that a lesser artist couldn't convey over a decade-long discography. I daresay you could even drop a few on an open-minded dance floor; the cosmic-tinged hip-hop influence of "Gleaming Dis Cube", the blown-out collapse of "Sparkle Flesh", and the chugging bass of "Working Class Hell-Hole" in particular are exactly the sort of things I'd love to slip in to a set.
U$e Your Illu$ion$ is the modern equivalent to all the experimental albums of my childhood. It's sick and rad and a bunch of other phrases that I liked to say when I was fourteen and still say, sometimes, when things just deserve it. Embedded within, you'll find traces of Public Image Ltd.'s revolutionary dub-punk, the asexual artdustrial of Virgin Prunes, and the sleazy, lurching electronics of Suicide, yet these are merely reference points for the initiated. Imagine the kid who picks this up without prior knowledge of these sorts of things. I'm imagining it now, and wishing I was him again. The idea of "punk heroes" might seem laughable in 2013, but if such a term ever carried meaning then Trabucchi certainly deserves it. From the work he's done with Hundebiss and leading up to this excellent release, he's proof that DIY or DIE is more than just a phrase to be painted on a jacket.
U$e Your Illu$ion$ is out now; order it and stream it in full.
Keeping the Faith: Berlin Fashion Week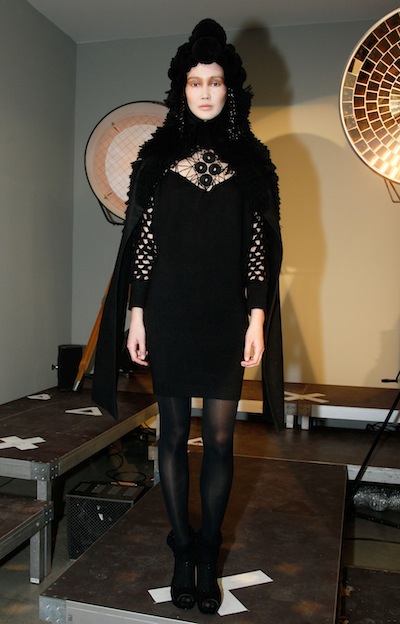 With Mercedes-Benz Fashion Week Berlin officially over and Paris just a strut and a skip away, what better time to reflect on some of the collections witnessed from the past week.
There was some good, some bad, and just some downright U-G-L-Y, and whilst our Berlin Fashion Week may not be running with the big boys just yet, there are still some designers causing quite the stir in and out of this city.  So without further ado, let's take a look at some of the best from our budding Fashion Week.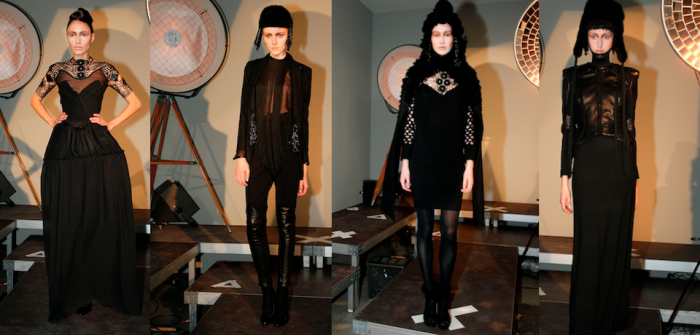 Augustin Teboul
These Neukölln residents have been a favorite on the Berlin Fashion Week scene for the past few seasons, with their intricate leather and lace designs boarding on the more haute-couture side of the spectrum. However, their AW13 collection presented a different side to these queens of darkness, with many of these new items being separate, more wearable pieces, putting aside (but hopefully not forgetting) the more dramatic creations which we have grown to love. Saying that, the hand-made headpieces are absolute stand out items and hopefully it's only a matter of time before one is spotted, turning heads, on the grey streets of this city.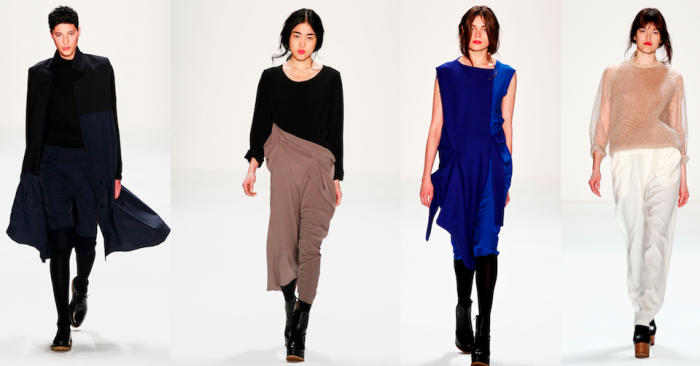 Arguably the master of the simplistic, "look, I'm not trying hard but this outfit cost more than your rent for the entire month (2012 rent of course)", style that Berlin has become all too familiar with recently, Karaleev's AW13 men and womenswear presentation was one of the strongest that this season has to offer. Coherent, clean, and 100% translatable for any style, Karaleev is clearly still moving forwards with his vision, playing with the mix matching of tones and fabrics, leaving us with a collection that will be a must have for any admirer of good taste in fashion, far beyond the parameters of Berlin.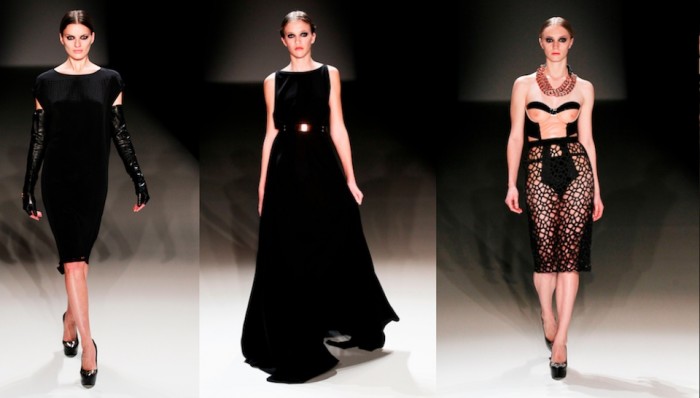 A personal favorite on the Fashion Week circuit, Tomaszewski's AW13 collection once again proved that this man knows how to mix the most extravagantly avant-garde with wearable day/night wear. Almost an entirely black collection, apart from the nude bodice and subtle peeks of skin, it was made up from lace, knitwear, heavy bead-work, sheers, leather, feathers, oh my! A truly breathtaking exhibition of good taste and innovative design, Tomaszeski was the perfect way to close the week and damn, those leather gloves with the shards of glass need to be a part of my life, like, now.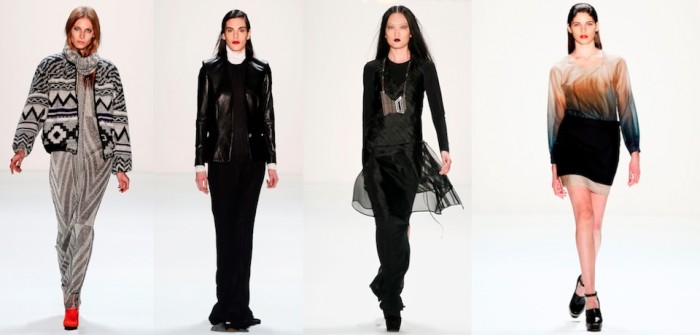 Best of the rest
Also putting their stamp on the week was Lala Berlin and the use of her prints, with the welcomed injections of color popping up throughout the show. We also loved the Bowie track to close the show, making it virtually impossible for you to sit still in your front row seat. Issever Bahri's use of leather and crochet, Irina Schrotter's attention to the darker side of design with layering of sheer and those fantstic wooly mammoth platforms, and Hien Le's elegant and sophisticated opening show, were just some of the other shining examples of why we keep the faith for Mercedes-Benz Fashion Week Berlin.
All images copyright Mercedes-Benz Fashion Week Berlin.
Feel Berlins subbass with Tiefdruckgebiet
Pretty much everyone likes bass, right? That deep, grumbling and vibrating feel around the stomach area you experience standing in the middle of a club. Electronic music without a bassdrum would be a mistake, right? So what happens if you leave away the music and start focusing on just the subbass, on the frequencies beyond 60 hertz? You won't be hearing very much then, but the physical experience would be overwhelming. So you'd be pretty set to experience Tiefdruckgebiet, Berlin's first mobile subbass orchestra.
This Sunday, Berlin's district of Neukölln will see a subwoofer installation with ten souped-up cars each blasting an individual twenty minute sinusoidal tone between 50 and 30 Hertz, creating a complex waveform of modulating sounds on the streets. Besides the cars individual sound, the performance venue near Schillerpromenade as well as the audience have an influence on the sound and feel of Tiefdruckgebiet – you won't come much closer to the phrase 'the sound of the streets.'
Tiefdruckgebiet was created by Berlin-based sound designers (respectively: sound artists) Carl Schilde and Anselm Nehls as a project for the city's culture festival 48 Hours Neukölln, and as a reminiscence to Neukölln's typical streetscape with sports car trunks packed with bass speakers. If you're able to read some German (or know how to get along with Google translations) you can read a longer interview I did on Tiefdruckgebiet over here. In case you'd like to come along, make sure to be at Schillerpromenade between Kienitzer Straße and Herrfurthplatz on Sunday, three pm sharp. The performance will start on time and will last only 20 minutes, without any reruns.
Get ready for this physical performance, and don't even think about recording this with your phone – it won't capture a thing anyway.