"Waiting for a moment that will never come": Max Dax recommends Tobias Zielony's <i>Story/No Story</i>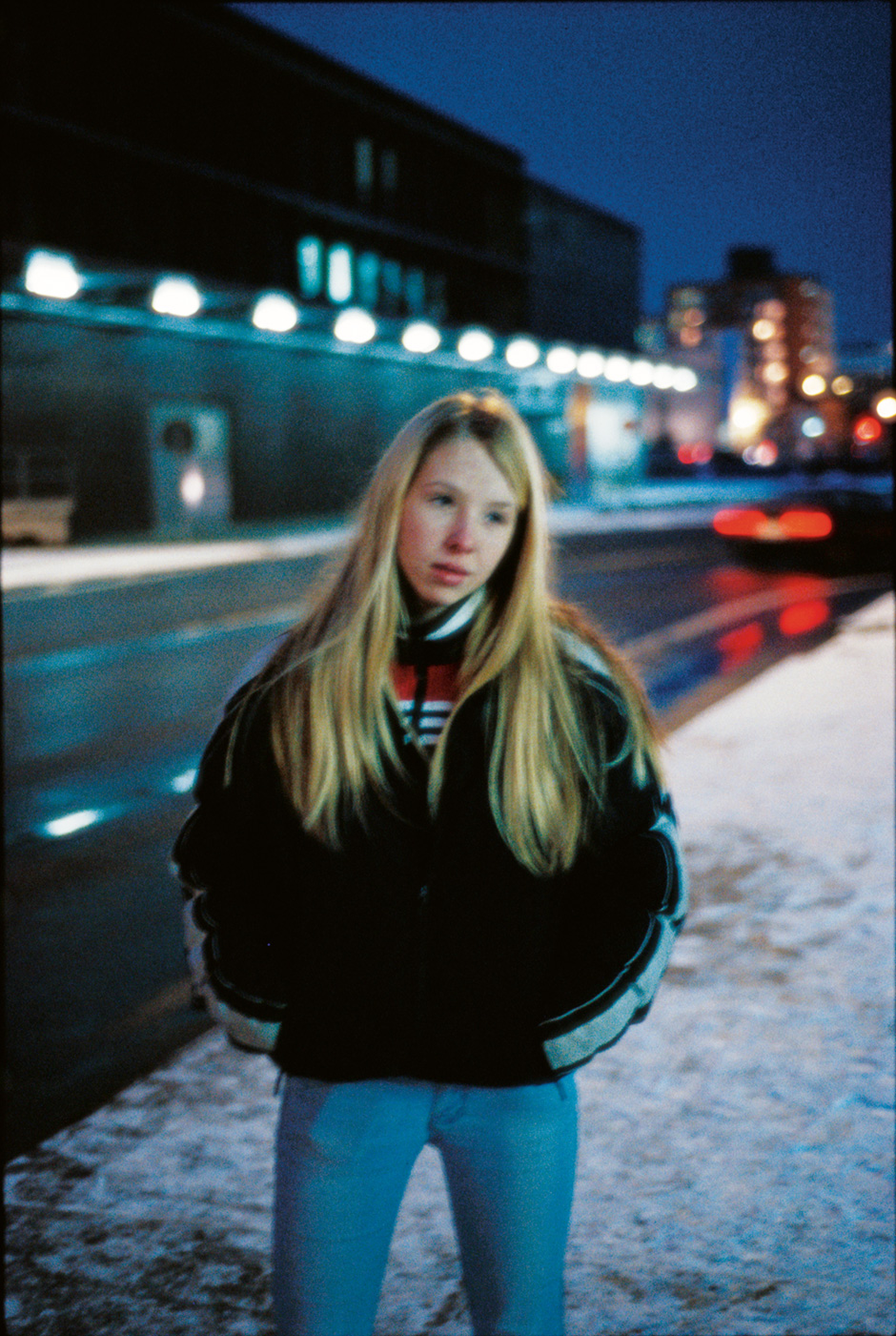 As the much-discussed, German photographer's solo exhibition at Berlinische Galerie draws to a close, we revisit our editor-in-chief's recommendation—originally published in our Spring, 2013 print magazine—of Zielony's photo book Story/No Story. Above: Tobias Zielony, Mädchen, 2003 (courtesy of Tobias Zielony and KOW Berlin).
In John Carpenter's 1976 film Assault on Precinct 13, an ultra-violent street gang lays siege to a remote police station in a vast Los Angeles wasteland of neon and streetlights. In somewhat dialectical fashion, this low budget classic focuses on the tension between angry teenagers and society, and between darkness and glow. The same can be said of German photographer Tobias Zielony's haunting, cinematic photo series, The Cast, shot at night in The City of Angels (and lights). Bookended by two images of palm trees and the Pacific Ocean, you can't tell for sure if the teenagers Zielony recurrently portrays are posing for him as if they were being cast, or if posing is simply an important part of figuring out teenage identity. There they stand, they can do no other. Zielony's young subjects seem drawn to sources of light like moths and, in the artificial glow of gas station signage or out on the streets, seem reminiscent of characters from Carpenter's film. But unlike the nameless gang members, these kids seem to be waiting for a moment that never will come.
Before his Los Angeles series, Zielony, had set out to portray young people all over the world, from Bristol, England and the eastern German city of Halle to Marseille on the French Mediterranean. What's fascinating is that the results, compiled in the photo book Story/No Story, begin to blur together, with the protagonists becoming a global community of nocturnal youth, searching for meaning on the geographical and social fringes of their respective urban environments. Indeed, Zielony is highly aware of the cinematic quality of his images, though he insists that they evoke numerous possible narratives. As he explains to German director Christian Petzold in a conversation featured in the catalogue: "There's a latent narrative. It's in the situations, in the youths' imaginations. You can't say that nothing is happening."
But you can say nothing would be captured without the artificial light. He has credited everything from classic film noir to Walter Hill's The Warriors to Richard C. Sarafian's almost forgotten 1971 thriller Vanishing Point as artistic points of reference in that regard. These alternately shadowy and glaring atmospheres are particularly present in the series shot in Halle-Neustadt, one of the most impressive and prominent sections of Story/No Story. Unquestionably, the sense of "plot" in these images is heightened by the gigantic housing projects and oversized Stalinist avenues, which resemble the abandoned set of a dystopian science fiction movie. Or, more accurately, manifestations of an abandoned political reality.
Nevertheless, the center of Zielony's focus is always the teenager: lighting a cigarette, hanging out in a car, balancing on a skateboard, surrounded by friends, or staring into the night and waiting for something to happen. Story/No Story is a brilliant and comprehensive collection of a decade's worth of portraits, and was originally the accompanying catalogue for an exhibition at the Kunstverein Hamburg held in 2010. In light of the Berlinische Galerie's upcoming Zielony retrospective in June, I thought I'd take the chance to recommend a book that is important—and, thankfully, still available. ~
This text first appeared first in Electronic Beats Magazine N° 33 (1, 2013). Read the full issue on issuu.com or in the embed below. You can view more of Zielony's work here. 
"Today everything exists to end in a photograph," proclaimed the eminent cultural theorist Susan Sontag. With the ever increasing visual onslaught, the proliferation of tumblrs and fashion blogs, we might be nearing that stage in the near future. It is harder and harder to spot a visual gem amongst the plethora of trashy imagery (even though trashiness also has its allure).
Thus, competitions like FRAME, a photography contest for up-and-coming artists from the V4 countries (Czech Republic, Slovakia, Poland and Hungary), might take up the role of the visual filters. "It offers unlimited freedom to free art in the broadest spectrum from realism through visual-art imagination to conceptual creation."
Finalists were selected from 104 artists. The winners' works, including Anna Gutová and Gabriel Fragner who scooped the first prize for their classical approach, are on display at the Prague Leica gallery until 4 March 2012.
Prague's nineties clubbing images
Following the tumultuous transformation at the end of eighties in post-communist countries – the so-called Ost Block – the newly democratic region was suddenly in a state of flux. Everything was changing rapidly, and an anything goes attitude was in the air. Prague, as some say, was at its best in the 90ties with its never-ending impromptu parties, DJs coming from Belgium and squatting the stately houses in the Old Town.
The burgeoning dance scene also found its way to the Czech capital. Its haven was the Radost FX club where the likes of Jeff Mills would play on any given Friday and Malcolm MacLaren would drop by. Robert Carrithers, a Prague-based New York photographer, has been a fixture on the Prague underground arts scene of that era (and for that matter, also the New York one a decade earlier, see his photos of Big Apple's 80ties creative scene here) and managed to document the ephemeral nature of the times.
To view more images, visit the website of Robert Carrithers.
Czechoslovakia may have finished on December 31, 1992, but the name still bears credibility in the world of film, architecture and applied art. Products, buildings and various ephemera created in the former Central European country between its establishment in 1918 until its demise in the early nineties can be seen in the budding online archive of this era.
Divided in various categories – be it advertising, posters, photography, fashion or matchbox labels, the archive presents a noteworthy compendium of visual stimuli remarkable not only for their sentimental value but also its prevailing aesthetic qualities. Whether you are into Meopta cameras, cubist architecture, socialist realist propaganda posters or bakelite table lamps, this is the place to start to investigate. The archive is open to user submissions, so if you have some visual treasures from this period, you can make it become a part of the archive.
And here is something for those interested in the music officially made in the former Czechoslovakia.
City Surfer Office launches with a bang
City Surfer are a force to be reckoned with in the Prague club scene. Established in 2007 as a spontaneous idea of like-minded music-makers, the collective has since expanded and currently encompasses graphic designers, illustrators or fashion designers who collaborate between each other. Music, however, remains at the core of City Surfer. Last year they released a vinyl EP under the City Surfer label featuring tracks by projects affiliated with the collective – from Detroit techno and house oriented live act Popper-C, to inane funk combo Fremeni to electronics-inflected Ticho De Beige.
Their new gallery-cum-studio space, which will host exhibitions, listening evenings or screenings, situated in the sprawling Žižkov area of Prague will shed light on the workings of the City Surfers. And they start with style – with a Polaroid exhibition by programmer and photographer Martin Baar featuring the collective's friends and Prague and Brno party lovers today, Thursday November 3, 2011 in Bo?ivojova 67.
Je trompe techno (kind of french version of Prorok) by tichodebeige