Counting with… Phil Kieran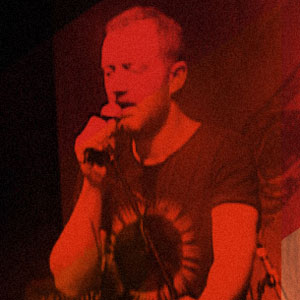 Belfast's house and techno producer and DJ jumps ship into neo-psychedelic electronica and emotive songwriting, and mixes up the numbers with us. 
While it may have slipped below a few radars, Phil Kieran's Le Carousel project's self-titled album is a fresh take on neo-psychedelic electronica and emotive songwriting. Extra surprise factor comes from his position as a leading house and techno producer and DJ in his native Belfast for the last decade. But while he probably hasn't given on up on the dancefloor, Le Carousel allows him to express a different side of his creativity; like the score to a blurred-out B-movie, Le Carousel tells stories of hot days and, er, colorful nights. Think of Broadcast, Galaxie 500, and (some) Röyksopp to get an idea of the cosmos that Kieran's circling. We asked for his digits and here's what he told us…
1 memorable line in a film or song:
"Theres nothing more sinister than ministers in dresses." (Black Grape)
2 decisions I regret:
– taking things too personally when I first heard criticism of my music.
– worrying too much.
3 people that should collaborate:
Brian Eno, Kevin Shields, Steve Reich.
4 things I haven't done yet:
– been to Japan.
– seen the Northern Lights.
– wrote the perfect song.
– lived in another country for a year.
5 things I used to believe:
– the Catholic church.
– that I would be rich.
– tooth fairy.
– food packaging.
– Santa.
6 hours ago…
I was at band practice.
7 records everyone should own:
Brian Eno – Here Come the Warm Jets
My Bloody Valentine – Loveless
Talking Heads – Remain in Light
anything by Kraftwerk
Skying – The Horrors
Steve Reich – Music for 18 Musicians
Bonnie 'Prince' Billy – Master and Everyone
After 8 p.m. …
Beer, wine, or ice-cream.
My 9 lives …
are pissing my wife off.
I wouldn't touch it with a 10-foot pole:
daytime radio.~
Le Carousel's self-titled album is out now via PKR Records. 
EB Video Premiere: Strip Steve feat. Puro Instinct – Astral Projection
Strip Steve's latest video is pure psychedelic summer bliss. The trippy visuals of 'Astral Projection' come courtesy of Judy Landkammer from Partizan, and feature the always-wonderful sister duo Puro Instinct providing vocals. Soak your eyes and your ears in some lovely poppy disco deliciousness, and be sure to check out Strip Steve's debut LP Micro Mega (from which this track springs) when it drops in July 13th!
You probably wouldn´t expect King Midas Sound to profess a love for ethereal, intimate songs that hover on the thresholds of conscioussness. However the group have recently posted a blog post entitled "The magical&fragile world of Grouper" in which they praise the work of Liz Harris, better known under her nom de plume Grouper.
The Oregon native debuted with a self-titled CD-R album in 2005 and her idiosyncratic music then catapulted her to a global sonic orbit, including supporting Animal Collective on their mega successful 2009 Merriweather Post Pavilion tour. Her reverb-laden compositions, created by Harris on guitar and Wurlitzer keys are wrapped up in a haze of psychedelia and accompanied by sublime vocals that cab be sometimes compared to Julianna Barwick. Hauntingly beautiful – as if they emanted from some distant and dark past.
Thanks to the airy qualities of her music, we can understand why King Midas Sound, equally in thrall of the echo, might like her. Harris´ latest two-part album A|A Dream Loss and Alien Observer are perfect semantic descriptions of Grouper's music – dreamy, alien, remaining in the distance in the role of the observer rather than being in the midst of action with a sense of longing.
Prince Rama explode with new single
Tribal-psychedelic sister-duo Prince Rama are one of the darlings of Brooklyn's DIY art-music scene, and the new video for their upcoming single is a testament to that love. 'Rest In Peace' was shot at Market Hotel (one of our favorite NYC spaces and sadly only semi-active these days) and shows the band releasing their single….literally. Tied to a bunch of balloons and released into the heavens, 'Rest In Peace' spirals up in a wave of mystic chants and wails, pounding drums and cymbals pushing it higher until it vanishes with a crash.
'Rest In Peace' will be released on Prince Rama's upcoming album Trust Now, due out October 4th on Paw Tracks.
Tracklist:
01. Golden Silence
02. Incarnation
03. Portaling
04. Rest In Peace
05. Summer of Love
06. Trust
Snoretex is the brainchild of Sam Willis – one half of Walls and one half of cult blog Allez Allez. As Snoretex he has released just a clutch of singles but his dreamy multi-layered soundscapes are infused with atmospheres and textures that touch the cornerstones of all that is wistful with unique, timeless quality.
A remix request from Ben Watt for a Tracey Thorn track led to Watt's cult house label Buzzin' Fly releasing his latest effort the sublime 'Strange Aeons' – a left turn in to gentler, alternative climes for the London based house label.
With the music Sam makes as Snoretex being a daily enjoyment of mine for some time now, I had to find out some more.
Hey Sam – firstly tell me how did Snortex start?
Coming off the back of the Walls album I felt really inspired to start a new project. I think writing the album with Alessio (Natalizia) really helped crystallise in my head what I wanted to do musically – I feel that my sound is a lot more honed in.
How is it different to your other project Walls?
The key difference really is that it's just 100% me. When I do Walls stuff with Alessio, it really is 50/50 – we bring our own tastes and personalities to the table and that's why it sounds like it does…It's nice in a way to be in total control, but at the same time it's a much easier process collaborating as if one of you can only take an idea so far, the other can come in and pick up the baton.
What are you trying to say that's different, musically with Snoretex?
I think just to be true to my sense of melody, atmosphere and texture. I find the endless possibilities when embarking on writing a new track a really exciting experience.
What is the inspiration behind the Snoretex sound?
I never really write music consciously. For better or for worse, it's kind of like day dreaming for me – I've always been drawn to an uplifting but melancholic sound and I find it best to leave these things open ended as it allows the listener to bring their own interpretation to what they're hearing.
How did the hook up with Buzzin' Fly come about?- a lot of Snoretex stuff is not very clubby (but its very lovely!)
Ben Watt approached us to do a Walls remix for Tracey Thorn which we absolutely loved working on. She has an incredible voice and it was really inspiring to work with – we came up with something which after the fact perhaps has shades of early Massive Attack? Anyway both Tracey and Ben liked it, and I've just kept in touch with him since then really. He got back to me quite quickly when I sent him 'Strange Aeons' and asked if I'd be interested in releasing it on Buzzin' Fly.
How do you approach recording as Snoretex? The sound is very textural
I definitely can't help but add lots of layers, much as with the Walls stuff – I'd agree that I have an obsession with texture. I guess it's an attempt to try and give the music a physicality and grounding in reality – I use a fair amount of analogue hardware as part of the process, but adding in some pitch bend and vinyl crackle always help to warm things up even more!
Do you have plans for an album?
I'd definitely like to – I have numerous sketches that I need to finish up. I definitely feel like my sound is perhaps more orientated to the album form, rather than the single, but we'll see. I'm working on some more up-tempo bits and pieces also, so don't be surprised to hear some heavier sounding stuff down the line!
Are you performing live?
Yes, it's really fun, to essentially jam on stage. It's frustrating not to be able to bring all of my equipment with me, but I make do!
How is your blog Allez Allez going?
Great! Steve and I now do a regular podcast for Bleep.com in addition to our regular weekly one from allez-allez Steve's also working on his own original music, so watch this space for more news on that!
What's your favourite record this week?
It's pretty much always Pop by Gas – an ambient techno album by Kompakt founder Wolfgang Voigt under his Gas alias. I've actually just performed a Walls solo ambient show with him (+ Jorg Burger and The Field) last Sunday as part of Ether Festival which is pretty damn exciting!
And finally. What's the best seven inch you own?
Probably my Soft Machine 'Soft Space' 7". It's kind of obscure for them – basically a long cosmic arpeggiated synth jam that's so long they had to split into two parts!
Strange Aeons is available now on Buzzin' Fly. You can check out Sam's Soundcloud with lots of free stuff to download here.