Audioccult Vol. 130: The Shriek of 2014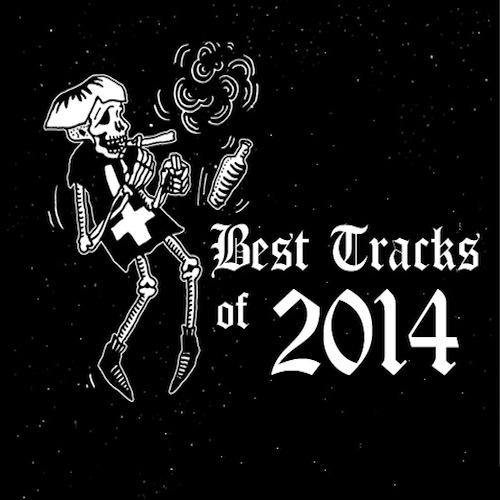 Light a candle. Draw the required sigils. Now, raise your arms above your head and slowly, gently, exhale your soul. You won't need it here. This is Audioccult, and it's time to get low. Illustration: SHALTMIRA
It feels weird to think about music when there's so many utterly fucked things happening in the US right now. I debated writing about them instead for this week's Audioccult, but I decided that others are doing a much better job at it, and they probably don't have the urge to interject with some humorous music babbling. This holiday season, I suggest that you interrupt all family gatherings by loudly placing your laptop on the dining room table and opening it slowly to this article.
Anyway…Because EB isn't doing a Best Of 2014 list, and because this column rarely focuses primarily on music these days, I feel compelled to mention my aural loves from the past year on a smaller scale by compiling my 20 favorite tracks in no particular order. Each of these songs move me in different ways at different times, and so I'm not interested in ranking them—they're all great. Next week, I'll cover 20 more, and the week after this column will just feature pictures of dogs I like.

Ballet School – "YAOI (LP Version )" [Bella Union]
The penultimate cut from debut album The Dew Lasts An Hour by Berlin-via-Scotland shoegazers Ballet School ramps up the original version with powerful vocals and perfect pop hooks that are pinned down by glistening, driving guitars reminiscent of the sort of 4AD-style post-punk I worshipped as a kid.
3TEETH – "Dust" [Artoffact Records]
I could go on about these guys for ages, so suffice to say that if you love industrial music, this song (and LP, and the remix LP) need to be in your collection. Grinding riffs, obliterating beats, and pure vocal carnage make this one a dance floor destroyer.
 Croatian Amor – "Tonic Water Bridge" [Sleeperhold Publications]
While Caviar Glowing flows like a single track, it's the first movement—all pulsating, twinkling ambiance sliding slowly into a quicksand of techno rhythms—that grabbed me the most from this beautiful little EP.
Rind – "Understudy" [Rotted Tooth Recordings]
The sound of Lee Relvas rests comfortably between early No Wave experimentalism and the mutant, electronic punk that gave us angelic weirdos like Lauren Bousfield. Foreboding piano plays tag with bursts of static noise, jagged guitar, and Relvas' commanding voice. The entire thing is available to download for free on her website, too!
The Soft Pink Truth – "Satanic Black Devotion" [Thrill Jockey]
Why Do The Heathen Rage? is possibly one of the best records, ever. Queer, shattered electronic interpretations of black metal classics like this Sargeist cover are equally terrifying and orgiastically delightful. If your face doesn't light up in a smile when that Snap! sample hits, you're 2 Brvtal 4 Lyfe.
Azar Swan – "And Blow Us A Kiss" [Zoo Music]
This fantastic track, a beautiful mixture of tribal drums, industrial-grade synthpop, and Zohra Atash's confident vocal coos, prefaces Azar Swan's sophomore LP of the same name. It's a stirring opener which made me smile so hard that a nearby cat became angry and attacked me. Zohra also recently penned a great essay on influence, which you should check out here.
The Devil ft. Johnny Cash, Pesci, Converge, Alley Boy, The Dillinger Escape Plan, Cocaine & The Grim Reaper – "KILL RADIO KILL / THE RIDE" (Self-Released)
Of all the "dark" hip-hop mixtapes I've heard this year, Violence is undoubtedly the most raw, nihilistic, and straight-up weird of them all. Packed with bleak samples and multi-genre bursts of other musicians (like the insane selection above), it's an essential listen for anyone who loves noise and rap in equal measure—or as the perfect WTF closer to a DJ set. Grab it for free at livemixtapes.
Vashti Bunyan – "Holy Smoke" [Fat Cat Records]
Somewhere between regal maturity and ageless innocence, Bunyan's final album Heartleap is a stunningly lovely Autumn portrait of one of folk music's greatest hearts.
Mondkopf – "Hadés III" [In Paradisum]
When trying to engage people who enjoy industrial music but aren't really into techno (of which I am one, sort of) there's a few albums I have found that can change their minds. Since the beginning of the year, I've added the monolithic Hadés to that list. The majestic closer, "Hadés III," with its rising ambient synths and harsh, trumpeting denouement, is a case in point.
M.E.S.H. – "Captivated" [PAN]
Despite the fact that Jamie Whipple is one of my favorite Berlin DJs, his musical output doesn't always translate to the dance floor. That's fine with me, as the excellent Scythians EP operates on the dance floor of the brain. Let his beats do the talking while your lobes do the walkin'.
Trust – "Capitol" [Arts & Crafts]
I'll admit that, at first, I wasn't convinced by this sophomore album. I'm still more into the first Trust album, because I'm a dour fuck. However, after repeated listens, it has grown a lot on me, and this particular slice of joyful synthpop deliciousness more than the rest. This is perfect headphones music for knocking your goth ass up a few notches towards positivity.
The Bug – "Fat Mac" [Ninja Tune]
The Bug's massive performance at Unsound Festival remains one of my favorite live shows ever, thanks in part due to how much I played his new LP Angels & Devils during the month leading up to his appearance. The lurching, lurking viciousness embedded above is a highlight in an album full of highlights, with Flowdan's growling verses sounding meaner than ever.
Gazelle Twin – "Human Touch" [Last Gang/Anti-Ghost Moon Ray]
Gazelle Twin's meaty new LP, Unflesh, feels almost like the poppier offspring of the classic Matmos surgical-sample album A Chance To Cut Is A Chance To Cure (though the word "pop" is used very loosely here). "Human Touch" pulses with a stuttering, after-dark synth and slightly dehumanized vocals, which makes for a delightfully weird and woozy experience.
Ariel Pink – "Not Enough Violence" [4AD]
Whatever you think about his public persona, there's no denying that Pom Pom is Pink's best work in years. Shedding many of the dull trappings of AM radio-rock, he's returned triumphantly to the stranger, cartoonish aspects of his work. "Not Enough Violence" is an infinitely catchy, washed-out, mock-goth sleaze anthem that makes me want to buy a black Ferrari and crash it into a wall, for sex reasons. "I recommend it." – Daniel Jones.
Jabu – "Empty Days" [Ramp]
The Bristol-based crew Young Echo has some insanely talented members, and you'll see more of them in the next edition. The duo known as Jabu is probably the most unexpectedly delicate act in the pack: soft-spoken word poetry with sparse, melancholic instrumentals. The pairing of guest vocalist M.S Harris with Alex Rendall's stark flow makes this a perfect tune for heartbreak, introspection, or just vibing out.
Crow and seagull attack the Pope's peace dove [Life]
Even though the current Pope is actually pretty chill (you know, for a Pope) this still counts as a major musical moment in my life. When those two flying fucklords dropped down on the symbolic emissary of peace, I heard a choir of angels scream. Currently working on the remix.
 The Body – "Hail To Thee, Everlasting Pain" [RVNG Intl.]
The Body's Haxan Cloak-produced I Shall Die Here is an exquisitely-crafted slab of hate. I don't think a week has gone by without me playing at least one track, and the above more than them all. It's pure, howling evil with low-end that makes you feel like you're being sucked into a black hole.
Marissa Nadler – "We Are Coming Back" [Sacred Bones]
Rather than showcasing the standard attitude that so many albums about lost love portray (which oscillates between "Fuck you forever," or, "I'm lost without you,") Nadler's July acknowledges the truest nature of these situations. We don't always want what's best for us. Sometimes, we simply want.
Sewn Leather – "Unclear War" [Hundebiss]
Sewn Leather (now Skull Katalog) doesn't just make some of the scuzziest synthpunk in the game; he also puts on an insane live show. I chipped my tooth slamdancing to this one, which isn't a big deal, really. The first time I saw this dude play, he broke his nose in the first minute of the show. 45 minutes later, he was still going strong. Hardcore.
Fugazi – "Merchandise (Version)" [Dischord]
Speaking of, when I heard these demos were coming out, I did a high five with my friend and our feet lifted off the ground. Ascent into heaven? This is the music of skate angels.
 Scott O))) – "Brando" (4AD)
The only bad thing I can say about Soused is: now that they've made the Perfect Album, where the hell can either of these bands go from here?
Stay tuned for Part II of our Top Tracks of 2014 — coming next Thursday!
Videodrome 131 – This week's best videos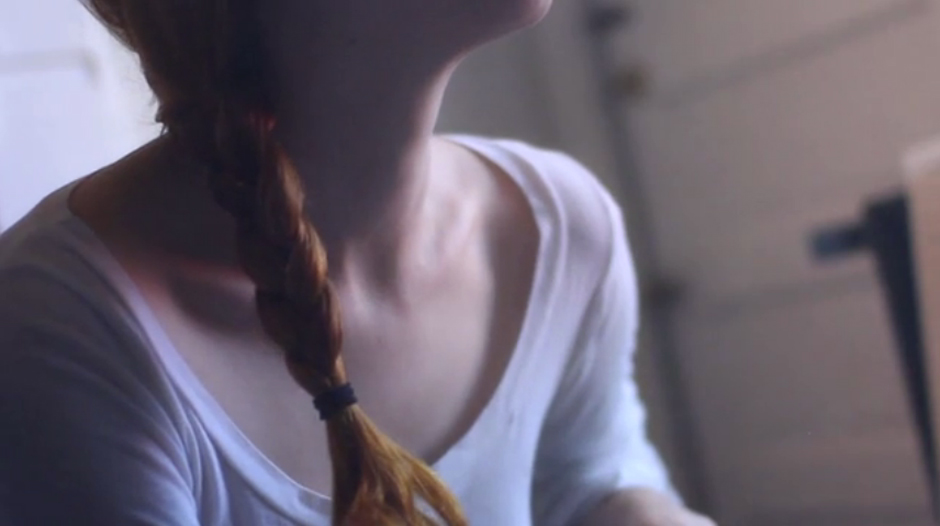 Each week Moritz Gayard rounds up the best new music videos so you don't have to.
Sitting here in the Rio de Janeiro heat, let me get this intro straight: this week I totally fell in love with Holly Herndon's new post-digital video and I found the hard techno sounds from Perc to be the perfect accompaniment for a walk through the shanty towns here. More highlights include a CGI Damon Albarn video, Marissa Nadler and the return of EMA to the world of video. Explore below.
#1 Holly Herndon – "Chorus", directed by Akihiko Taniguchi
Yup, I'm blown. This reminds me of Oneohtrix Point Never's album from last year, R Plus 7, but thank God Holly goes for a heavier dance beat. I do like this future.
#2 Perc – "Take Your Body Off", directed by Dan Tombs
This goes very hard. Taken from his forthcoming album The Power And The Glory, if you can't handle this you should probably go the the Rolling Stone website.
#3 EMA – "Satellites", directed by EMA & Leif Shackelford
California artist Erika M. Anderson's new album The Future's Void will be out later this year and we're all looking forward to it. I mean, her last tunes were dropped back in 2011 so the time is definitely ripe.
#4 Damon Albarn – "Everyday Robots", directed by Aitor Throup
As we all know, Lord Albarn has announced his first solo album, Everyday Robots, due April 29th. This little video for the title track is a total CGI affair but the track is kinda meh. Oasis where are you?
#5 Disclosure – "Grab Her", directed by Emile Sornin
How many videos are these guys going to do for last year's Settle album? Anyway, if you're in the right mood this silly, simple little video for the new single "Grab Her" can be entertaining.
#6 Austra – "Hurt Me Now", directed by M. Blash
Same here. Austra is also a big player when it comes to the power of music videos. Here's her third video from Olympia, which shows Austra playing in some sort of dance studio from hell.
#7 Marissa Nadler – "Dead City Emily", directed by Derrick Belcham & Emily Terndrup
Back in November we heard the first single off Marissa Nadler's upcoming LP July. That single is "Dead City Emily" and the new visual for it is equally sun-less.
#8 Sano – "Contonéate", directed by Kingababy & Julia Kasprzak
A mi me gusta el nuevo techno columbine. Looks like I'm on the right continent. No more baile, more bass. South America is on the rise!
#9 iamamiwhoami – "Fountain", directed by WAVE
As always the shots are amazing and the cinematography is refreshing overall, but the music is lacking. Also, be prepared for Bjork-style dance moves and sound. ~
For more episodes of Videodrome, click here.
Blondes' Ambition: An interview with Blondes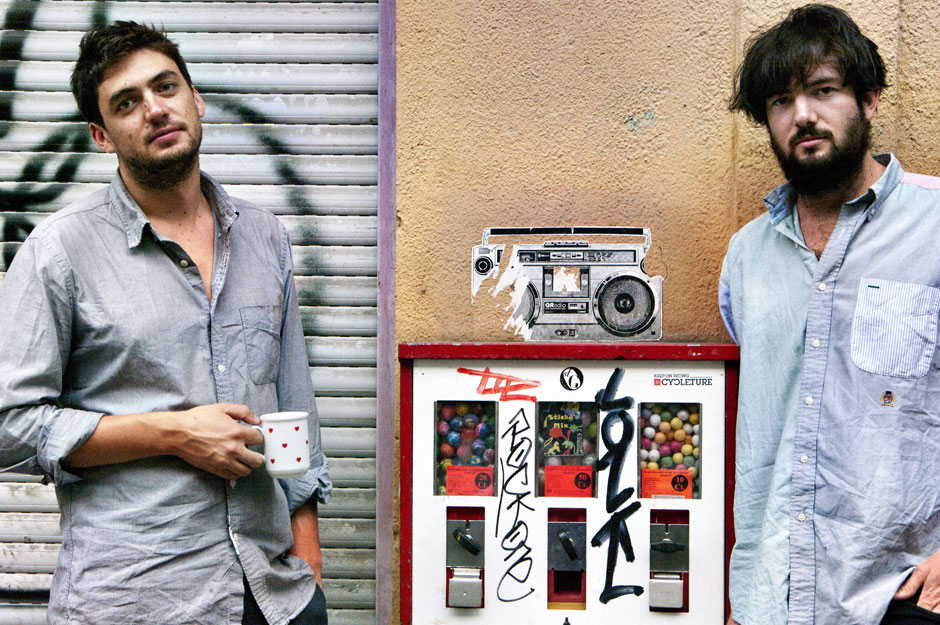 The neo-kosmische house pulse of Blondes has made their second album Swisher one of the most talked about records in the underground recently. D. Strauss met them in Berlin before their Panorama Bar appearance. Photo, left to right: Sam Haar and Zach Steinman of Blondes, by Tania Castellvi.
Sam Haar and Zach Steinman, otherwise known as the nü-kosmische duo Blondes, graduated from the Lena Dunham-endorsed Oberlin college a decade ago and one can witness a jokey conceptual side in their naming of A and B sides ("Business" backed with "Pleasure," "Hater" the reverse of "Lover"). Live, the oft-improvising duo privileges actual trance over the EDM version, with Swisher (RVNG), their latest full-length, embracing the early eighties German sounds of "Love on a Real Train"-era Tangerine Dream and Manuel Göttsching's proto-techno E2-E4, fitting in nicely with the current kozmik zeitgeist of Lindstrøm and the like, though sporting a less disco-y approach.
Considering your backgrounds, how does conceptual art figure into what you do?
Zach Steinman: I think we actually do have a conceptual art approach to our process but I don't wanna get too lofty. In college, we were in a band called Misty and it was all percussion, and it was sort of set up to…
Sam Haar: It was a drum circle [laughter]. It was sort of like a taking from Sol LeWitt. The beauty of this idea was that you could just do whatever you want with it and it would be whatever it is. It was kind of like, you just set up the rubric and then worked within it, and I think our project uses the 4/4 bass drum much the same way. "Class," off our new record, is probably the only track that doesn't have a straight 4/4 bass drum at some point. It is about limitations but also about the ability to set something up that can never be really, totally fucked up. Because the constraints give you the freedom to work.
As long as you have a house beat going underneath you can do anything that you want on top of it.
SH+ZS: Basically.
Would you consider your work more headphone than club music?
ZS: I don't know how people react. It's funny 'cause either people will say we're really good live and really not exciting to listen to on recording, or it's the opposite.
SH: "Can't see how this works in the dance club."
ZS: Yeah! "Doesn't work as dance music."
SH: We definitely set out to be doing live electronic playing—you know, synths and stuff. But it always set out to be dance music, or at least to have this sort of metronomic thump.
ZS: Right. And there's just something about the ambience surrounding dance music that's always been attractive to us.
The idea of having an immersive experience.
ZS: Well, yeah, there's nothing like it, really.
When I was first reading about you guys the term "lo-fi" was used a lot.
SH: But we kind of came out of that world, so yeah.
ZS: We've also definitely been influenced by the worlds of experimental or noise music.
SH: Yeah. Our first shows, we were playing our friend's sort-of warehouse loft, where they would have noise shows.
A Black Dice approach?
SH: Not that, but there's been a lot of shows in Europe with people who were just with tables full of gear, making shit happen. We were sort of coming up in that scene, I guess. But doing sort of a dance music version of it.
So you were subconsciously trying to create dance music in contrast to what was going on?
SH: It was communities of friends, basically.
And you had DFA, where they're trying to somehow bring dance music to crowds that don't normally dance.
ZS: Yeah. We were definitely into DFA.
SH: Gavin Russom was huge.
He was living here in Berlin for a long time. But he also seemed to have this moment where he moved from ambient sound to a more populist approach. He created a public personality that's completely different from his mad tinkerer era. It's as if he became a Scientologist.
SH: Yeah, I remember that's when he was doing these whole repetitive acid lines, and he would just like open and close a filter for ten minutes, and it was a really religious experience.
ZS: It was also the same time we got into Manuel Göttsching and E2-E4, so those were two things that really influenced us. It's kind of embarrassing to admit that we also first heard E2-E4 in this art installation at Peres Projects. Here in Berlin. In a room with, like, this neon pyramid that spun, and E2-E4 in the background.
You guys lived in Berlin for a bit.
SH: Just for a few months in 2008. I've been into kosmische and krautrock for a long time. Well, before we were in college and discovered, like, Neu! and stuff.
ZS: We actually didn't make anything that was ever released while we were here.
That motorik, rhythmic thing is more Kölsch, whereas Berlin kosmische is floaty.
SH: I found the Neu! stuff to be really floaty, though. I don't know, maybe I'm betraying my lack of understanding, but I think the metronomic, kind of pulsing, moving forwards slowly, sort of jamming out and slowly unveiling—I saw that in all those different groups, and then really got into that. And then I was into Basic Channel for a while. I was really into Pole in the early 2000s. And ˜scape Records. I was feeling Ricardo Villalobos a lot. We were living different parts of the States before then. I was living in California, he was living in New York. And we had been talking about how we wanted to start a music project.
So, you conceived the act before you created the music.
SH: Yeah, we were, like, we wanna make music together again. And then we just had to figure out what that was going to be.
ZS: Then we were all, "Yeah, let's meet. Let's go to Berlin, and—I don't know, work on something there."
SH: "It's cheap."
There's a strain of minimalism that runs through your influences. Were you also interested in the originators of the genre, such as La Monte Young?
SH: Yeah, I've always been into that, but more conceptually. La Monte Young was really into the physicality of it, really into the phenomenon of it.
He'd play for 24 hours and some people would stay for it all. While Blondes is almost a rejoinder to the pummeling ideology of dance music as a whole.
ZS: I'm not sure exactly which pummeling you're talking about: whether it's like the EDM pummeling or the techno pummeling. Are you saying it's not durational music?
The communal experience of Blondes is separate from the dancing. Of course, I don't know if you hear that in what you're doing.
SH: I don't know. To do something that's just a "dancing experience" says to me that it's just like handing something in, like a form or a language that people are preconditioned to understand as a dancing thing. We are just taking the individual forms and manipulating what we have, so it's much more about the actual process of that transformation and building something out of that. But we still do the big builds, and tension release, and pound out some stuff. It doesn't mean you can't dance to it.
ZS: I mean, you can, but what makes it cerebral is that you're listening to every little thing as we do it. All these things happen at once and then it's changed—it's like a slowly evolving sort of structure to a lot of tracks, whereas I feel like most dance music is a little dictatorial.
Where is the line drawn between composition and sound design?
SH: When we play live right now, we're mixing every element there on the board, or two small boards. You can't really hear what's going on, stuff can kind of get away from you.
ZS: Yeah, we kind of need the immersive environment ourselves. We've been toying with the idea of playing in the front of house.
SH: Where the guy sits that normally mixes the band, because they have the best sound, they're sitting in the sweet spot of the whole sound system, and why are you up on the stage?
Maybe the audience should be there.
SH: [laughs] Yeah, and you'll see it—it's like a tradition of electronic-acoustic music. The composer will sit at the back and he'll dim the lights so he can mix properly for the sound system. In some ways, yeah, we're toying with the idea because we don't really feel like a stage act, we feel more like a sound system act, you know?
ZS: The performance is not as important. It could actually be interesting to have no one on stage and just lights going, and us in the booth. Like sensory, sensual formalism.
Do you see yourselves perhaps disappearing? Daft Punk manages to put on a show somehow and yet anonymize at the same time.
ZS: There is a history of that with Orbital or…
SH: Kraftwerk too. Behind the screen, with the robots around it.
But Kraftwerk is essentially a comedy act.
SH: What's interesting to me more is Berghain. You go there and you don't see the DJ. He's not on a big stage with lights on him, you know? He's just kind of in a DJ hole off to the side. You're not staring at the DJ—you're experiencing the sort of sonic environment and the music and you're dancing and that's kind of what comes out to you, too. Some people might like seeing us turning the knobs and seeing how and what we're creating, you know? But I don't think it's necessary. I think the main reason I want to do it is to have the best spot of monitoring the sound system, because what we're doing, we're spending all this time turning knobs, adjusting sound and we're not even in the best spot to hear it.
Watching electronic music live can be an alienating experience: it's like watching a movie. Or filming a movie. I get the sense that you're trying to create a sense of group connection when you play live.
ZS: Yeah, for sure. I think there is definitely some sort of psychic feel to it. You can kind of sense it—we're not really even looking up a lot of times, but we can kind of just feel between hearing what you're playing and then how that's feeling and then seeing the audience—how the general reaction is.
SH: Especially when you're like building with loops or developing grooves, and it's really transforming them and developing them and taking them places and discovering new places. We were talking about this before; everyone's kind of on a journey together. Like, we're on a journey, and we're trying to figure out what we're doing up there too. [laughs]
So you're as confused as they are.
SH: [laughs] In some ways, yeah. They're gonna be, like, "Oh we've found something!" and we'll be, like, "Oh, let's work with this and twist this into something," and when we're all in that together it, can be this really creative spirit.
ZS: Usually, if we're happy, people will be. It'll be good. ~
Blondes' Swisher is out now on RVNG Intl.
Pattern Recognition Vol. 6: The Vanishing Frame of Blondes and Huerco S.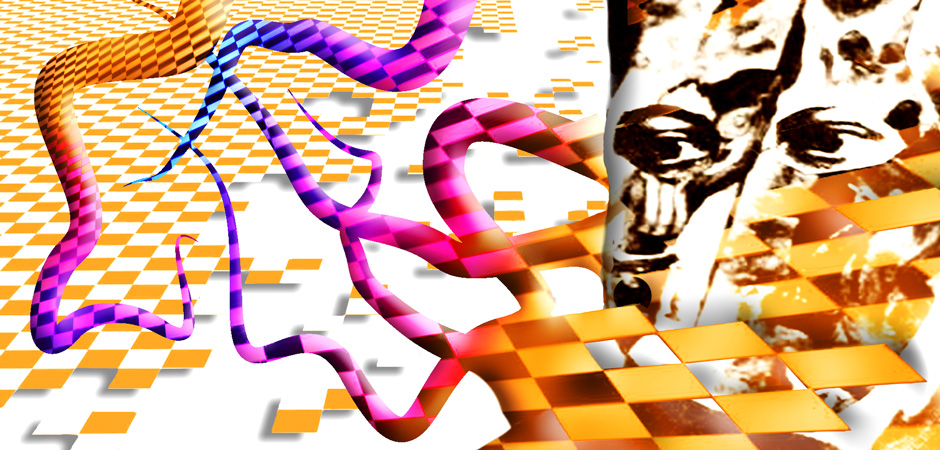 In this edition of his monthly column, Adam Harper—the premier writer on new, emergent, underground music—picks up where his last essay on the framing of music left off, zooming in on new albums by Blondes and Huerco S. Illustration by Inka Gerbert.
Sometimes the frame is part of the picture. Sometimes the gallery, too, and the city it's in, and the eyes that look at the picture. So why draw lines around where the art is? Sometimes a picture seems to know all this. Two recent albums have reframed house-and/or-techno like this: Blondes' Swisher and Huerco S.'s Colonial Patterns. Though they sound pretty different on the surface, they're complementary—both are working through the same process with different outcomes. This process involves expanding out from older conceptions of where the 'music itself' is located and incorporating the sonic and formal consequences of its context into the wider musical appeal.
Swisher, for example, is presented to you as you might hear it in a club: less individual cuts than house beats and hooks blending seamlessly into one another as if mixed by an astral DJ, tracks passing from theme to theme over their several-minute lives and not necessarily turning back. This is all the more satisfying because it's not quite something you really would hear if you did wander into a standard house set on a standard night (look at the cover—what sort of night would have a flyer like that?). It's bathed in low-Celsius streams of improvisational electronic minimalism, the kosmische microwave background. It's like stepping into the clubs of that world you always wanted to visit, the one lit by a giant blue star, the one where the humanoid creatures step along with a sad dignity and no-one quite notices or cares that you're there. There's an almost melancholy voyeurism when you visit this imaginary club, where heads are down and backs are turned.
And since it's on a recording, it's a live set that you can relive, like a memory of an evening untainted by the facts. Two and a half minutes into "Andrew", for example, when the vocal hook first came in, and the feathery organs slowly began to protrude from the backs of the clubbers' necks, and you realized you really were a sojourner. But then your upper vertebrae began to tingle.
Like a lot of the electronic music around that relates obliquely to dance, Swisher operates on several temporal levels at once, leaving you suspended between all of them, a modern consciousness that apprehends the cells in the soil and the galactic clusters riding the aeons. At the bottom of the spectrum are the sixteenth-notes, the eighth notes, then the kick drum, the dark center of gravity, and panning up through the fractal structures we get to the four-beat bar, the four-bar phrase, the eight-bar phrase, and on and on until there are drones and loops that last for several minutes (the distinction between a drone and a loop is only one of degree—speed anything up and it becomes a drone, slow anything down and it's made up of loops). To perceive time in its relativistic and grand gamut like this is breathtaking, and it's not an experience that can be easily attained on a single 12-inch. Again, this is a truth experienced over the course of several hours in the club, where the 12-inches link together to form an apparently seamless drone, a great chain of socio-musical being. Somehow, Blondes have managed to infuse Swisher with this feeling of an epic stretch of time in only just over an hour. The best albums are the ones you could spend the rest of your life living inside—stalling the heat death of the universe in the intensive, imaginary time of a virtual realm.
The stroke of brilliance is in leaving the best track—the most coagulated, alert, and urgent—until the very end. "Elise" is the moment it all makes even more sense than it did before; clarity suddenly descends. It could not have had half its effect without what had gone before. It would just have seemed like another weird house track with an attractive if mawkish refrain and, y'know, lasers and that. But after everything that you've been through, Blondes have made you worship its gawky, sloppy, plucked-string hook. It's not that they've pulled some trick that disguises an 'OK' track as a 'good' one—it's more radical than that. They slowly and carefully show you that in the right context and in the right frame of mind, there is a white hot attraction waiting for you in anything.
While Swisher zooms out to show you the club, the frame in Colonial Patterns is a zooming in, showing you the grainy physical life of the sounds themselves leaking through boxes and wires, so close up that you no longer see the wood for the trees. The forces connecting the sounds begin to weaken and they float freely as autonomous objects, and aren't trees lovely up close when we can feel the rough bark under our fingers and smell the sap? Where are we again?
With its small-scale, up-close, lo-fi techno diatoms, it's hard to imagine Colonial Patterns without the rise of Actress a few years ago, of course. But before we use this observation to dismiss Huerco S., first imagine a culture in which there are dozens of Actresses and dozens of Splazshes, each with only relatively slight differences between them. With all Actress has taught us about the endless indescribable wonder of microscopic subtlety, doesn't this sound like an attractive proposition? It's certainly a world that deserves, and probably requires, a team of explorers working together. And though it's not a competition, Colonial Patterns stands tall next to Actress' recent work.
It's the distances in Colonial Patterns that I like the most. No matter how intimate and physical the acoustic space might feel, there's always the sense of some objects in the foreground and some in the background—bizarre voices and faces peering out like some child or animal tucked into an already claustrophobic Beckmann painting. Then there are the sounds, like in the eventually more expansive "Towards the Sun", that are more than the sum of their parts, that aren't just bits of synth with hiss on them but some amazing chameleonic blend of hiss and tone sounding with a single voice. This isn't a black and white world of noise and signal, it's a smooth one gently oozing with beings that have yet to be understood.
The text of the Colonial Patterns press kit bears an uncanny resemblance to the way people used to write about early indie-rock band Pavement twenty years ago—deconstructing pre-established pop styles and flushing them with lo-fi as an anti-slick maneuver. It's as if it doesn't constitute a style itself but merely acts upon previously anointed styles (remember people, pop music stopped producing new and genuine styles sometime around 2003—any talk of a meaningfully new style must necessarily be somehow false). Does the music offer more than this? I do think there's potential. If something really is deconstructed, it's not simply parading the same old aesthetic oppositions, such as slick vs rough, picture vs frame, in an ironic manner: "Look, this might have been slick, but it's rough! It deconstructs categories!" That's not a deconstruction, it just re-emphasizes the old categories, like 'ironic sexism' does. A true deconstruction creates a world where the constructions 'rough' and 'slick' and the separation between them are entirely unlearned, were never there to begin with and are now difficult to imagine as valid—rough and slick, picture and frame have simply melted into the earth and not even their ghostly outlines remain. I can sense this process beginning to tug on my lizard brain in Colonial Patterns, caressing that place where the words, frames, and other constructions that would marshal my perception don't exist yet.
Yeah, contemporary ears are too often stuck in what you might call The Greater Hauntological Paradigm, where they hear music not as something new and open, but simply as a scrunched-up or otherwise modulated (that is, framed) version of something that we knew came before it in the Glorious History of Pop Music. The problem is, the larger and more powerful your record collection and the lazier your ear, the easier it is to hear things framed that way and the more tempting it is to make music like that. It leads to the retromania optic (literally 'retro man ear'—LMAO). So I don't know whether it's my ear or Blondes and Huerco's synths and drum machines, but, no, it doesn't seem like they're rocketing away from older styles like some other producers are. If it were a century ago, I might want to call it the 'decadent' phase of a culture, a signal that the house-and/or-techno era is declining, simply falling back in on itself, and putting its past achievements in a frame, as rock before it has long been doing.
But it's not a century ago and goddamn it, we've been coasting on post-modernism for at least thirty years now—and the idea of it spreading into house and techno only seems fresh and interesting for about 0.2 seconds. Blondes and Huerco S. don't need to be casualties to the assumption that their music is simply a reaction, because every time I listen the music seems to get more abstract, not less. Clearly, they're different from the retro house of Octo Octa, Pharaohs, Miracles Club, or Scuba—they don't have that palpable sense of quotation marks around the music—and it is in that difference that the openness remains. It's a place to start. Though the frame might be part of the picture, Blondes and Huerco S. make it less and less easy to see where the one ends and the other begins. ~
Blondes' Swisher and Huerco S.' Colonial Patterns are out now on RVNG and Software, respectively. Adam Harper is the Rouge's Foam blogger and author of Infinite Music: Imagining the Next Millennium of Human Music-Making. You can read previous editions of Pattern Recognition here.
Videodrome 113 – This week's best videos

New week, new videos. Road-tested in yesterday's live Videodrome screening in our office, we present a selection of music video art by directors such as Tom Haines, AG Rojas, Saman Kesh, Emilie Serri and more below.
#1 The Civil Wars – "The One That Got Away", directed by Tom Haines
Quite a captivating video for TCW's "The One That Got Away", where an itinerant woman hits the devastated city of Moore, Oklahoma, which was hit earlier this year by a fierce tornado.
#2 Gardland – "Syndrome Syndrome", directed by Jannah Quill.
Abstract trailer for the latest RVNG signing Gardland. Not really a music video, it's been labeled as an album teaser. But I do like it a lot.
#3 Portugal. The Man – "Modern Jesus", directed by A.G. Rojas
Not sure about the song and the video feels a little messed up, but it's still visually interesting. The description of the video says that they filmed in 15 states across 20 days, with zero stock footage.
#4 GOLD ZEBRA – "Love, French, Better", directed by Emilie Serri
Up for some dark disco? Then try the beats from Montreal-based duo GOLD ZEBRA who have just released their first official video for the song "Love, French, Better". The track was originally released in 2011, but came back on the radar as part of the movie soundtrack for The Canyons. It will also appear on the upcoming full-length via Montréal label Visage Musique.
#5 Meyhem Lauren ft. AG Da Coroner & Action Bronson – "Drug Lords", directed by William Child & Declan Creffield
Meyhem Lauren drops his new visual for the track "Drug Lords" featuring frequent collaborators AG da Coroner & Action Bronson. The track is taken off his latest mixtape, Respect the Fly Sh*t, which is out now.
#6 Dinner – "Overtake"
Danish musician Anders Rhedin aka Dinner keeps it psychedelic in his latest music video "Overtake". Hilarious.
#7 Belle and Sebastian – "Your Cover's Blown" (Miaoux Miaoux Mix), directed by Graeme O'Hara
Last week the Scottish indie pop veterans Belle and Sebastian dropped their compilation album, The Third Eye Centre. The Miaoux Miaoux Mix rework of "Your Cover's Blown" is a surprisingly groovy take.
#8 Placebo – "Too Many Friends", directed by Saman Kesh
Director Saman Kesh invites you to check out your powers of observation and deduction in his brilliantly analytical clip for the new Placebo track "Too Many Friends". Song starts at 1:20, by the way.
#9 Young Braised – "Murakami"
Ace track from Vancouver rapper Young Braised, who offers this lo-fi video which fits to the track nicely. Off of Japanese Tendencies, out September 3rd on tape label 1080p.
#10 Banks – "Waiting Game"

Banks has premiered the official music video for the SOHN-produced lead single from her recently announced album London. Nice, nearly industrial-sounding electronica.