10 x 4 – Prince of Tennis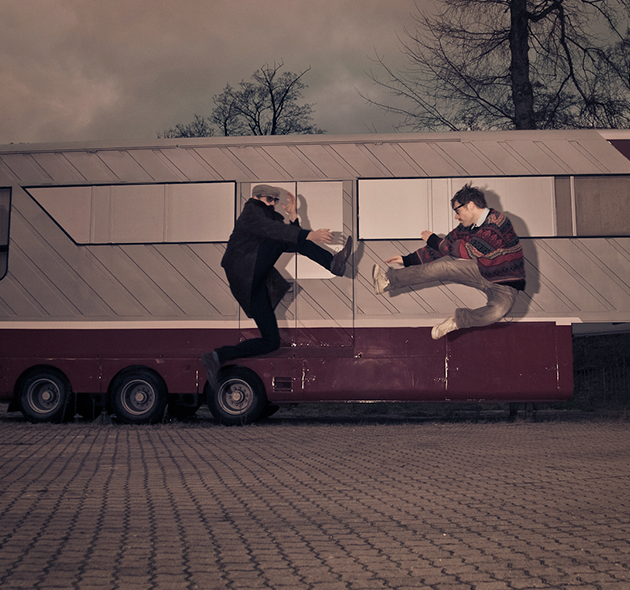 Even though Prince of Tennis is a fairly new band on the Czech sonic cosmos, the members of this electropop outfit David Volenec and Jan ?echtický are seasoned musicians, having been in the famous Czech '90s bands Colorfactory, Sebastians and Ohm Square. They debuted in 2010 with the plaintive Camping in North Ikea EP, which includes songs with titles like 'MILF Island'. This was followed by their LP Urbi and Orbi, released on vinyl this year by the local label Starcastic Records.
Prince of Tennis play the now sold-out Electronic Beats Festival in Prague this Saturday, 5 May 2012, alongside Grimes, The Whitest Boy Alive, Woodkid and Mike Skinner.
1. Is any aspect of fame important and if yes, why's that?
I think it's important not to succumb to it.
2. If you were still in high school, which clique would you belong to?
Honestly, I wouldn't want to be back in high school.
3. An album that changed the way you thought?
It's really hard to answer. I guess there's been some but what comes to my mind right now is Velvet Underground. Not a particular record of theirs, but I remember, when I've first listened to them, it really put things into a different perspective.
4. What does underground and mainstream mean to you?
Too much attachment?
5. Should music be free?
Some of it.
6. Better show: Buffy or X-Files?
X-Files.
7. Do you believe in the paranormal?
I believe that despite that label, such phenomena are often totally normal.
8. Raging or chilling out?
Chilling in the rage.
9. One thing you can't live without?
No such thing.
10. Together, or alone?
Forever.
Knowledge is best shared. And music lovers do this best, exchange their hottest tips, bands and labels. Indpendent music labels, fans and audiophiles will have a chance to show their music luv on today, Friday 23 March 2012 at the Chapeau Rouge club in Prague. Visitors can download music by local independent labels or support – buy – records and other related ephemera.
What is more, fans can exchange their music collections. Some of the best local labels will also showcase their ouevre – including the electronic-pop-indie imprint Starcastic, DIY label Bleeding Ear /who published the coldwave influenced Prague-based project Moduretik/ or hip hop stable Big Boss. So get away from all the ones and zeroes and enjoy a bit of analogue IRL niceness.
After you will have swapped all your 12″, tapes and CD´s (if you´re lucky enough to get rid of your 1999 best of), an assortment of Czech underground bands from electronics through post-rock will provide live entertainment.
Audiomart
Chapeau Rouge, 23 March 2012
Win a Prince of Tennis vinyl
Prince of Tennis are hardly novices on the Czech music scene. Seasoned musicians David Volenc, the singer of the now legendary Czech dreampop band Sebastians and Colorfactory and Honza ?echtický from the renowned outfit Ohm Square joined forces and created their new project Prince of Tennis out of "pure joy and without any ambitions".
Their debut EP Camping in North Ikea appeared in 2010 and two years later, their papal LP Urbi and Orbi sees the light of the day courtesy of the Prague-based label Starcastic. Prince of Tennis make unadulterated and light-headed electro-pop, recalling the likes of Hot Chip in their melancholic guise or bands of Scandinavian origin.
You can now win their Starcastic-released LP Urbi and Orbi on vinyl. Simply fill in the form below by Friday, 23 March, 10am.
Prince of Tennis play tonight (21.3.2012) in Prague at the MeetFactory alongside DFA's Prinzhorn Dance School in what must be one of the most semantically noteworthy lineups:)
– – – Competition is closed, winners have been notified – – –
Even though the life of independent labels is pretty fragile at the moment – and this is even more evident in Eastern Europe – there are several examples that demonstrate that with an ample dose of enthusiasm and perseverance, these imprints can continue to release records even after ten or more years. The Slovak label Deadred is case in point. Established at the dawn of the millennium, Deadred was set up by designer and bass player Martin Turzík and singer, guitar player and former medical student Richard Imrich.
The oldest DIY record label in Slovakia championed and nurtured the independent music scene in the country over the noughties with a diverse roster oscillating between beats, guitars and electronics. In 2008, a new phase in Deadred's history was inaugurated after merging with the Prague-based label Starcastic. Deadred commemorates its ten years with a compilation featuring ten recent tracks by ten artists affiliated with this imprint, and among others, includes Foolk's Oak Tree which has recently received radio airplay courtesy of the mighty Mary Ann Hobbs or the recent winner of the Apollo music awards Bonus (read our interview with him here).
Bonus – Kidding about street zen
Martin H?la, member of the now defunct band Ememvoodoopöká, and subsequently the popular indie-electronic outfit Sporto, is a staple in the Czech independent music scene. His latest solo endeavour Bonus sees him weave observations from society into his music. On Bonus' debut release 'Konec civilizace' he was branded as alt-hip hop artist using samples and rapping. His sophomore offering 'Nám?stí míru' might be his most approachable to date, and has been just released by Deadred/Starcastic.
Could you describe the story behind making your new record?
It was more of an accident than a concept. I brought a guitar and microphone to my workplace and recorded some ideas whenever I had some spare time. I tried to minimize the use of synths and samples. Most of the sounds I created and used, including percussion, were acoustic. After a few months I realized that I had more songs than I had expected, so I picked out eleven demos and asked my friend Gaex (who runs the fabulous label Surreal Madrid) to make the footage into a record and mix it. He added some beats and electronics and extracted a beautiful sound from my lo-fi recordings.
Why is it called Namesti miru? (The Peace Square in Czech)
The title is not related to any specific location. Every bigger city in the Czech Republic has a place called Namesti miru. It is more like a state of mind for me – I don't want to fight in senseless wars, but I also don't want to hide from public space, since activism and politics are an important part of my art. You could hear me kidding about street zen, too. Whatever that is.
Could you say something about the sonic structure of the album?
Most of the sounds originate from acoustic sources, instruments (acoustic guitar, piano, double bass, violin, pedal steel guitar…) or field recordings (you can hear a "percussion" loop made by a xerox copy machine on that record), but the structures are more familiar with electronic or hip-hop music – even the acoustic instruments I have recorded are combined and layered as loops rather than in the style of traditional songwriting. I've tried to formulate new genres to fit the record and I think some of them are so cool you could even start a whole new scene: urban sickfolk, hip-pop, flow-fi or offscene beats.
And what about the lyrics/texts? What sort of topics/life observations did you deal with? You are known as an avid sonic observer of contemporary times.
I think the new record is a lot of about passion, both on the level of personal intimacy and public space. It might sound simple, but I try to describe what it means to be 32 years old in post-soviet capitalism. Living in absurd hope, without passion. In my songs I look for something real and strong – love or life.
How is the album different to your previous release Konec civilizace (End of Civilization)?
Konec civilizace was a conceptual and very political manifesto, and also much more closer to alternative hip hop. The music was built from hundreds of samples taken from various records, like a huge supermarket robbery. The new record is not that straight, although the activism is not absent. It is much more projected on a personal level – and I think it is somehow more intense here – "the personal is political".
Do you consider yourself a rapper, singer or a spoken-word sonic poet?
What about a musician in a subway station? Except that my instrument is not an old guitar, but a portable recording studio.
What is it in music that you like the best?
Emotions. Whether the music makes me freeze or raise both hands in the air, I am always fascinated by its power.