10 x 4 – Renaissance Man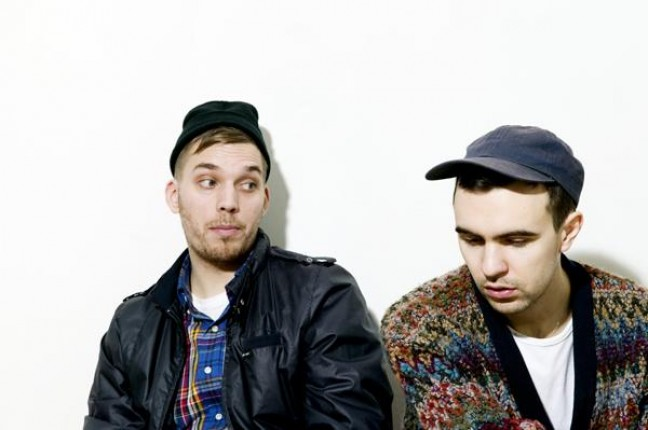 There's some big love for Renaissance Man at Electronic Beats. Over the last couple of years the pairing of Finns Downtown & Jaxxon have released a clutch of increasingly sophisticated, jacking house tracks and one killer album – The Renaissance Man Project – on Tiga's Turbo Recordings imprint. We just had to get down with a 10 x 4. Not sure which half the answers come from, but they are as straight to the point as the duo's music.
Favourite part of the day to create?
Morning, the earlier the better.
Method or madness?
Both, 50%/60%
Last musical love?
Hardhouse.
Favourite instrument?
ESX24
Your biggest break so far?
Amen.
Eureka moment?
Last Friday on a plane: Millex Plateux = A Thousand Plateaus
Biggest surprise?
Wait and see!
Secret tip?
Think before doing.
A place to create?
On a run.
Last thing that inspired you?
BIll Drummond's book "45"
EB Exclusive: Gesaffelstein remixed by The Hacker, Dave Clarke and more
We are big fans of Mike Levy, aka Gesaffelstein. His muscular, techno-funk makes our blood flow and feet twitch in the best possible way. With just a handful of releases on Turbo Recordings, the Frenchman has been making waves with expertly produced, precision engineered dance-floor bombs. So with that in mind, we are very excited to present the premiere of his latest remix E.P which features Gesaffelstein's tracks remixed by The Hacker, Dave Clarke (as Unsubscribe), Brodinski and more. Really what else can we say? Sick? Hot Shit? Get on them now!
Scottish producer Sei A is getting ready for the release of his next single 'Flux' which will arrive via Canadian imprint Turbo Recordings. Containing three original tracks and a stunning remix of the title track by everyone's favourite Dutchman Martyn the single will be released on January 23rd. Careering through post-discoid techno funk and agit-house, Sei A has been a one to watch for a while now. Making a name for himself with an assured approach to his productions, his latest offering has "essential" written all over it. Trust us. No clips yet but lot's of other fun stuff to check on his Soundcloud page.
EB Listening: ZZT's 'Partys Over Earth' album streaming in full
ZZT is the side project of Zombie Nation (Florian Senfter) and Tiga . The pair have come together to create what is one of the most potent dance records of the year. Arriving through Tiga's Turbo Recordings on November 7th, the new album entitled Partys Over Earth and is sure to make heads turn. We couldn't wait to get our hands on it and so we arranged the next EB Listening to be the premiere of their new album. Listen to it exclusively first right here.
Click below for our EB Listening Party featuring ZZT:
Sei A is one of Turbo Recording's brightest stars in the making. With a background in electronic music that leans towards the spectrum of house, his latest effort for the Canadian label takes things to another level- Frozen Flower is a stunningly emotive piece of electronic music – you can stream it at the bottom of the page. However before that, there is just the small matter of our 10 x 4
Method or madness?
Method is good. Madness is better.
Most influential person?
Pele
Last musical love?
Jai Paul
One thing you cannot live with out?
Hankies
One thing you would live without if you could?
Hankies
Favourite instrument?
Midi
Your biggest break so far?
147
Eureka moment?
Being on Dale Winton's Supermarket Sweep
Favourite Tumblr?
Seinanmusic