Videodrome #56 – This week's best videos
Enjoy seventeen new videos from around the world in today's 55th episode of the music video filter, aka V I D E O D R O M E.
#1 Collarbones – Missing
Collarbones teams up with Dro Carey to create this strange music video for their latest single. We like strange.
///
#2 How To Dress Well – Ocean Floor For Everything
New jam from Tom Krell off of his upcoming LP Total Loss. AMAZE.
///
#3 Azealia Banks – Liqourice
I love Azealia. Not sure how I feel about the whole video, but still like the track though.
///
#4 El Perro Del Mar – Innocence is Sense
This is so so different from the El Perro Del Mar of just five years ago. In a good way.
///
#5 Slow Magic – Fortyounce Mixtape
Glo-fi mixtape for the UK clothing site Forty-Ounce. The 29-minute tape including artists like Burial, Baths, How To Dress Well, Balam Acab and Girrafage. Slow and dreamy.
///
#6 Torn Hawk – "Mark of the Hound
According to the Rose Quartz blog, Luke Wyat is the source behind this video as well as the musician. His new album is out this week on Ron Morelli's L.I.E.S. label.
///
#7 Twin Shadow – Five Seconds
Based on a novel called Night Of The Silver Sun, written by frontman George Lewis Jr. and Eric Green. Would love to get ahold of a copy.
///
#8 Only Real – Cinnamon Toast
It's like King Krule and The Streets had a baby, and Robin Guthrie from Cocteau Twins produced it. Fucking awesome.
///
#9 LV and Okmalumkoolkat – Sebenza
Taken from the Get A Grip EP Out on Hyperdub July 23rd. It makes me excited for the full album Sebenza, set to drop in August and featuring Okmalumkookat, Spoek Mathambo and Ruffest.
///
#10 Sigur Rós – Fjögur píanó
A surreal experimental music video with a dancing naked Shia LaBeouf; what else do u need? Taken from the "Valtari Mystery Film Experiment". More details here.
///
#11 Zambri – All You Maybes
Twisted, dreamy sounds on a creepy animated video from NYC experimental band Zambri, off their album House of Baasa. A worthy, witchy listen.
///
#12 Gecko Afterlife HD – ? Earth Jump
This is supposed to be the latest brainchild of avant-sound enthusiast and multi-monikered James Ferraro. The story simply goes on and on.
///
#13 Two Inch Punch – Moonstruck
Electronic, experimental R&B with some beautiful drums and vocals. Their Slow Jams EP will be released on July 16th.
///
#14 Fear of Men – Green Sea
Super rad. Favorite new artist of 2011/2012. Cannot cannot cannot wait for a full length.
///
#15 Radiant Dragon – Landor
New visuals from Awe IX on Radiant Dragon's video for 'Terminal' – a new song from forthcoming LP Screengazers, are bringing you into an intergalactic feel.
///
#16 No Ceremony – HoldOnMe
Not just a video, but a free download on their website too. Sweet.
///
#17 Ssion – Earthquake
"A coming-of-age love story between an enigmatic instigator and an alien-brother-lover resulting in the purest form of magik with a bit of feminism and Las Vegas showmanship thrown in for good measure" is a description that makes us drool. Ssion is so god.
4AD releasing Sessions compilation featuring Gang Gang Dance, Deerhunter, and more
4AD are always full of surprises, and now they've sprung a new one on us. Since 2008, the groundbreaking UK label have been recording private sessions from some of the biggest names on their roster, and now they're finally giving it to the world. 4AD Sessions 2008-2011 is a compilation of ten of these sessions, hand-picked and pressed on beautiful white vinyl. The album is limited to 1,000 copies and, as of now, is not planned to be repressed. To prevent yourself from being depressed, order your copy right now. It's available. Do it.
What, you're still here?? Ughh. Okay, check out this killer tracklist that you have to look forward to:
ARIEL PINK'S HAUNTED GRAFFITI – Menopause Man
BLONDE REDHEAD – Here Sometimes
TWIN SHADOW – Forget
GANG GANG DANCE – Chinese High
DEERHUNTER – Never Stops
tUnE-yArDs – Powa
EFTERKLANG – I Was Playing Drums
BROKEN RECORDS – Home
STORNOWAY – Here Comes The Blackout
IRON AND WINE – Big Burned Hand
Now go.
CANT preps debut with Twin Shadow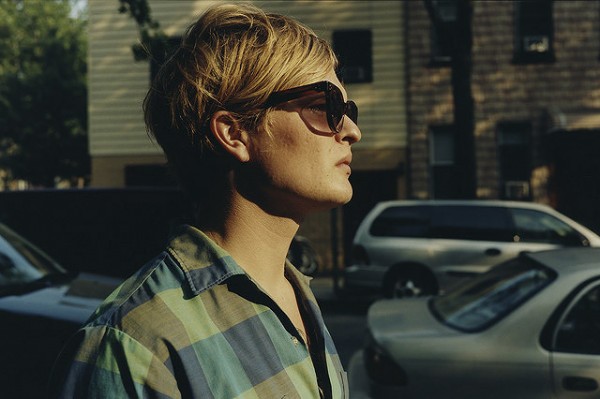 We haven't heard much from CANT since his haunting late '09 track 'Ghosts', but that's all about to change. The solo project of Grizzly Bear bassplayer Chris Taylor will soon have a full album to his name, titled Dreams Come True. With ten tracks and collaborations with Twin Shadow's George Lewis Jr., we think this is going to be perfect for fall. Lucky then that it drops September 13th on Taylor's label Terrible Records in the US and on Warp for the rest of the world. Check out the tracklist below, and listen to 'Ghosts' as well if you haven't already.
01 Too Late, Too Far
02 Believe
03 The Edge
04 BANG
05 (brokencollar)
06 She's Found a Way Out
07 Answer
08 Dreams Come True
09 Rises Silent
10 Bericht
Having a Field Day with enormous line-up
Niche English festival Field Day have snapped up some of the most exciting names in the music world for this years festival in Victoria Park in August.
The now five-year old festival snapped up a whole host of new names including lo-fi beatmakers Hype Williams, the soulful Jamie Woon and the very much hyped Oneohtrix Point Never. But they can also add established names like Matthew Dear, Tortoise and the most excellent art-rock troupe Wild Beasts to their line-up.
The full line-up can be seen here:
Actress
Ariels Pink's Haunted Graffiti
CocknBullKid
Ducktails
Electrelane
Factory Floor
Gruff Rhys
Hype Williams
Jamie Woon
John Cale
Konono No.1
Mark Kozelek
Matthew Dear
Mount Kimbie
Omar Souleyman
Oneohtrix Point Never
Pearson Sound
Roska
Sun Ra Arkestra
The Coral
The Horrors
Tortoise
Trophy Wife
Twin Shadow
Wild Beasts
Willy Mason
Field Day will take place on August 6th at Victoria Park, London. For tickets and more info go here.