How Weather Festival is Revitalizing Parisian Nightlife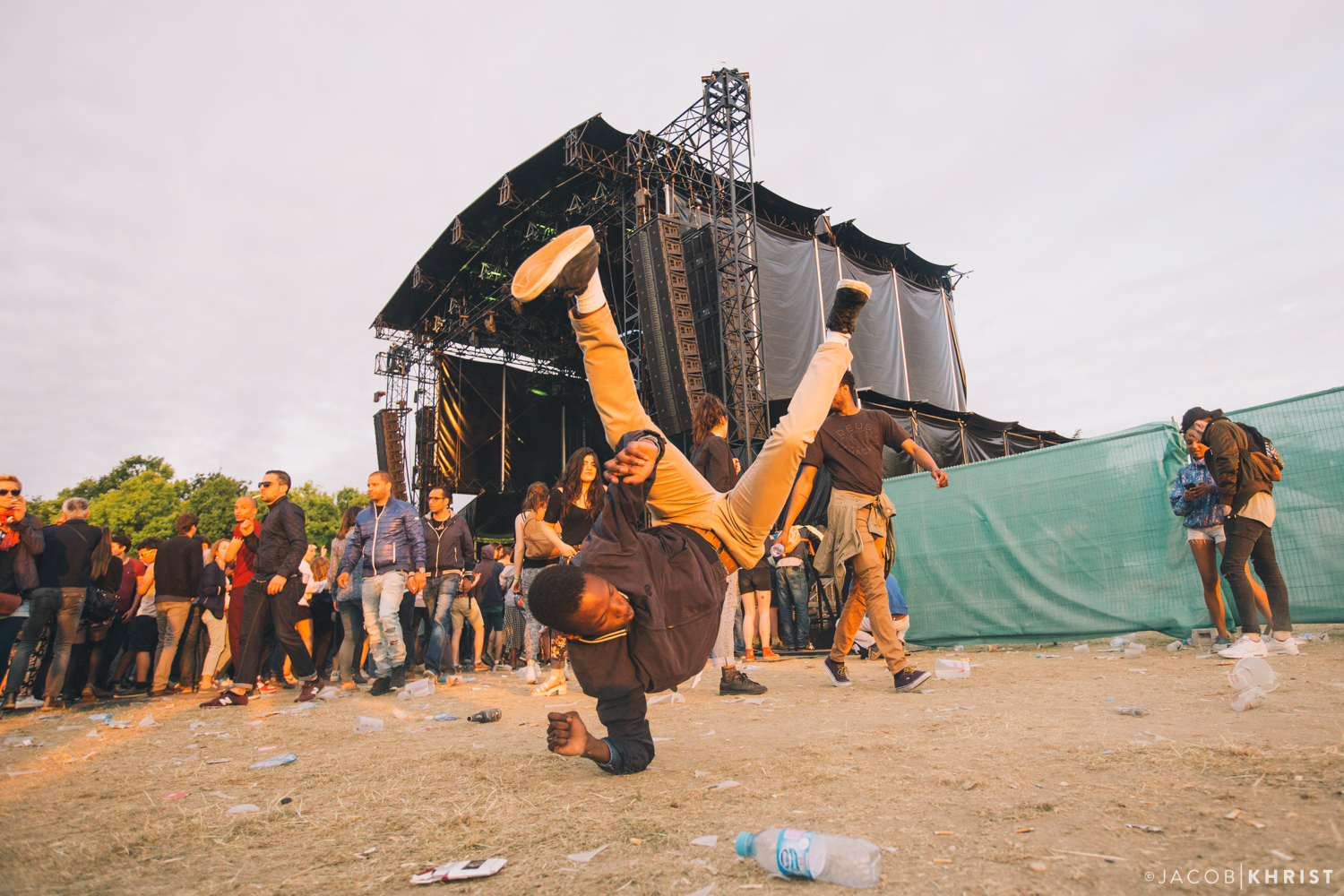 When I told some festival-loving friends that I was heading to Weather Festival in Paris, I got puzzled looks that said, "I go to festivals a lot, and I'm clearly supposed to know about this. Why don't I?" But when they learned that it was co-run by the founders of the local boat-as-nightclub Concrete, their looks softened. In the few years since it first moored on the banks of the Seine, Concrete's international reputation has mushroomed thanks to its storming All Day Long techno and house parties. Its collaboration with a hometown festival with similar tastes, then, is not just fitting, but necessary.
The dance music festival circuit in Europe is now less of a circuit and more of a marathon, so clubs-as-institutions ground homegrown scenes in a crowded market, and Concrete gives Weather a much-needed edge. The closest point of comparison is Amsterdam's Dekmantel (which I reviewed for EB last year), where a crew of promoters and DJs took their ethos out of the club and into the fields of the Amsterdamse Bos. But the relationship between Weather and Concrete is perhaps more pragmatic than romantic, because Paris has had a hard time standing out as a world-renowned clubbing destination alongside other European dance music cities, like London and Berlin.
The struggle can be traced back to Baron Haussmann's top-down "rational redesign" of Paris in the 19th century, which contemporary critics maligned as a military-minded architectural imperative to disrupt social gatherings and push the working classes into underdeveloped banlieues. The project has had an incredibly long-lasting impact on the how the city socializes; a 2010 study by the French School of Economic Warfare (snappy, right?) detailed the issues facing Parisian nightlife, such as how crowded neighborhoods fall victim to mounting noise complaints without permanent and legal clubbing spaces, a situation that worsened thanks to the 2008 ban on smoking in commercial entertainment venues. Other detrimental factors include a complicated web of licensing laws for venue owners and promoters, a lack of late-night public transportation for revelers, rapid gentrification exacerbated by the high cost of inner city living and the perceived risks of traveling to the outer districts in search of bigger, less restrained spaces. It's all doubled-down on the electronic music scene to the point that, a few years ago, French national newspaper Le Monde declared Paris a city in the throes of clubbing death.
But more recent years have shown promise. The Paris episode of Resident Advisor's Real Scenes video series in late 2012 showed a new breed of producers, DJs and promoters teaming up with enthused veterans to hunt for new spaces, open up dialogue and push the image of Paris as a city on the mend. In 2015, Concrete is perhaps the most visible example of how those efforts have worked to the scene's benefit, and a festival like Weather has duly positioned itself as a hub for local fans and artists, as well as a tourist destination that will bolster its reputation abroad. Now in its third year, Weather's got its work cut out, so as my friends and I headed to opening night, we deliberated on how the festival might carve out a unique space for itself.
Rather than wrestle with the issues that would come with hosting an inner-city festival in the style of Barcelona's Sonar, Weather is situated in a field clearing on the edge of a nearby town called Joinville-le-Pont. The site is entirely open air, with five stages of varying sizes and production value dubbed Spring, Summer, Autumn, Winter and—oddly out of theme—Modular, which are spread along the outer reaches of a large central thoroughfare. The organizers took measures to keep the grounds as unspoiled as possible: the toilet facilities are "dry," (let's not go any further with that one), and drinking cups cost 1€ each in a bid to cut down on ubiquitous festival litter. Beyond that, though, the overall set-up is fairly unremarkable to the point of cutting back on expected facilities. There's nowhere to charge your phone, there are criminally few bars for a site planning to host tens of thousands, and the food on offer is limited and rushed compared to the more considered offerings at comparable European events. Woe forbid if you're a vegetarian—you'll be eating fries for days.
The best indication of a festival's mood—besides the music, of course—is the crowd, and the Parisian one is particularly young. People in their late teens to mid-20s seem to dominate, and at first it seems that age is all that unites them. There's little trace of the techno Death Eater aesthetic popular among Berlin clubbers, nor the aspirational streetwear sensibilities of various UK-centric scenes. In fact, for a city globally acclaimed for its easy but refined style, any sense of youth fashion is low-key to the point of becoming forgettable. I got the sense that Weather is a more of a big weekend out for locals rather than a musical destination for ardent followers from the city's underground.
But the bookings do glow. The opening night was headlined by a performance of Derrick May's legendary techno material as conveyed by the 60-piece Orchestre Lamoureux, and it was one of the finest manifestations of live techno instrumentation I've ever seen. Helmed by May and conductor Dzijan Emin, the orchestra did away with the vast cheeseball brass that can overpower the bass-driven core of similar projects. The xylophone in particular was a masterstroke, and its subtleties chimed beautifully through the deep 4×4 heartbeat. Nearing the end of the hour-long performance, pianist Francesco Tristano teased the crowd with a five-minute solo, riffing on the melody of May's most famous track, "Strings of Life." Emin took a confident, baiting pause before the whole ensemble launched into a 10-minute explosion that made the previously measured crowd scream. It was classical and techno music rendered vital and modern, and we left on a high, pumped for the Friday and Saturday onslaughts to come.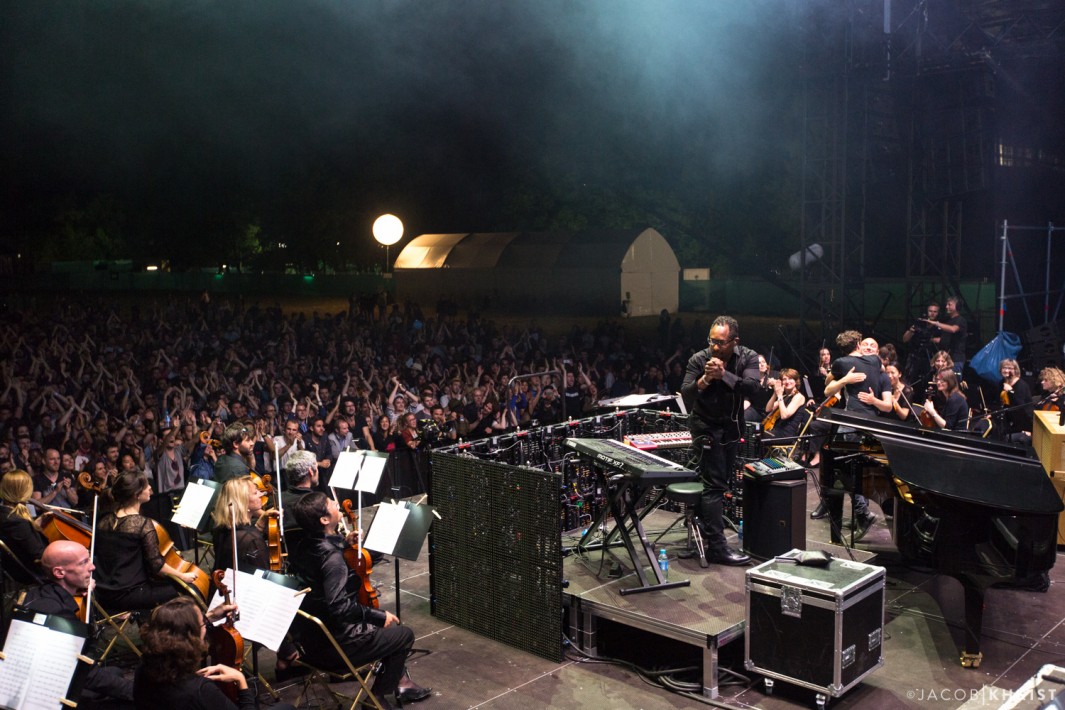 Derrick May and Orchestre Lamoureux. Photo by Jacob Khrist.
Since Weather ran from late evening until 8AM on both nights, we committed ourselves to the long haul, but the mood of the music on offer tested our sense of pace as well as our patience. Paris, it seems, is in the thralls of deep and dark techno, as if nipping at the heels of a Berlin calling card. When we walked onsite at 9 p.m. to see Ricardo Villalobos' three-hour set of wriggling post-punk, trippy house and techno oddities, we knew these would be the most relaxed and varied vibes we were likely to experience that weekend.
Wringing out my clothes in dark rooms to punishing techno is a hobby that I've cultivated over the years. But due to premature summer sunrises and unpredictably balanced open-air sound systems that often lacked chest-rattling low end, sets that should have torn the festival apart occasionally felt stifled. The depth and power that DVS1 and Rødhåd are capable of was somewhat lost in the chattering of the wider crowd. Xosar's playful selections of abrasive, psychedelic techno—including cuts from her excellent new LP, Let Go—were rid of nuance because of the criminally quiet sound levels. And one of the prize billings, the world premiere of a collaborative live set by L.I.E.S. labelhead Ron Morelli, The Trilogy Tapes' Low Jack and noise god Vatican Shadow (who screamed and leapt on tables), was battered so far into the red that it made our ears glow purple.
After repeatedly inconsistent experiences with sound on the various stages, we relaxed our pre-planned schedules and wandered across the site to catch acts less beholden to mass appeal. One such act, and perhaps the most rewarding of the entire festival, was a live modular performance from Minimal Wave's In Aeternam Vale. While the far larger Autumn and Winter stages boasted top-tier, large-scale lighting and visual production value, the smallest Modular stage had the most consistent, bass-heavy sound and comparatively studied bookings across the weekend. Before Blawan's brand-new live set (which was more languid than his usual hard-as-nails style, tumbling around the mid-to-high 130BPM range) and the founders of Britain's cult festival Freerotation, Stevio and Suzybee, In Aeternam Vale subtly stunned the crowd into submission. Live modular techno has become a by-word for relentless abrasion in the recent "industrial" techno revival, but this was a varied and absorbing articulation of how bass can be a gravitational pull, rather than a tool to keep tired feet moving.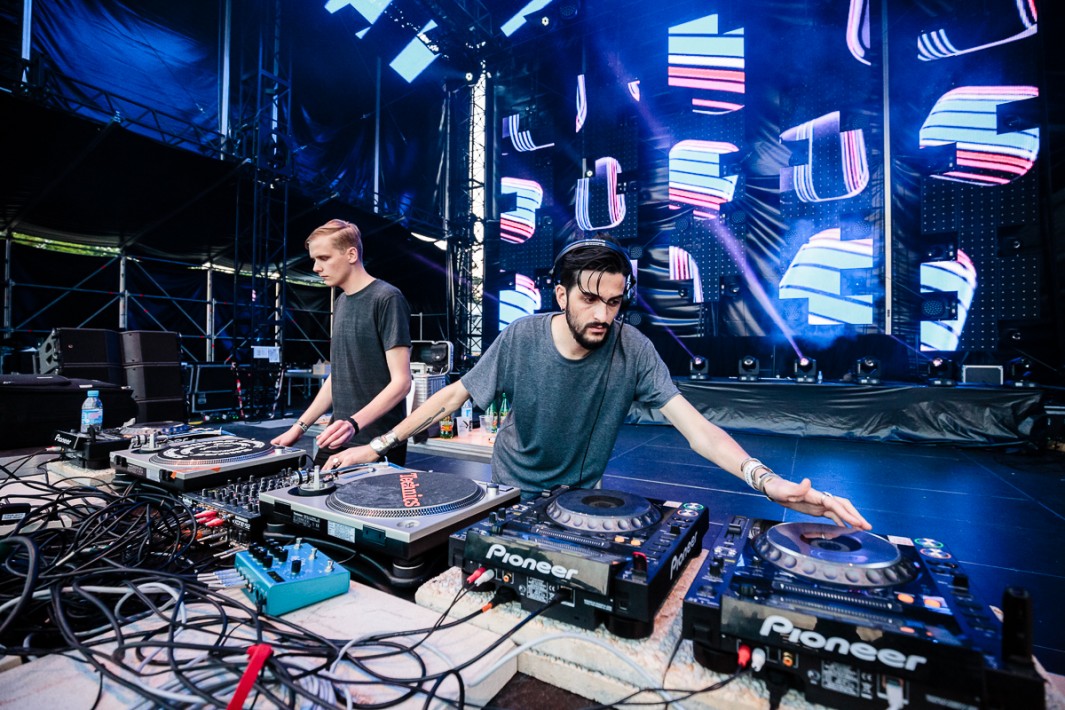 Antigone and Abdulla Rashim. Photo by Brice Robert.
In fact, barely a body moved throughout the hour and a half he played. Instead, awkward New Wave vocals were distorted past androgyny and into hypnotic streams of thought, with low-slung, smutty struts of electro peppering the bass with long-studied practice. It rinsed us of our high, but left us with a steady flow of adrenaline that lingered throughout the night. The Modular stage kept those who wished to slam through the night to harder offerings like Antigone, Abdulla Rashim, Mr. G, or the glorious pairing of DJ Deep and Roman Poncet separate from the bodies who just wanted to float in the modular weirdness and warm, mid-morning ether.
Heading home in the baking Saturday morning sun, after Jeff Mills inexplicably played "The Bells" twice in his three-hour set, my team compared notes. We heartily agreed that, musically, Weather Festival and Concrete did a fantastic job booking some truly strange electronic music in a huge public setting; nearly 50,000 people attended across the three nights-into-mornings. Considering that its critically acclaimed counterpart, Dekmantel, hosted 10,000 per day last year, it's a testament to not only the appetite that Parisian crowds have for quality house and techno music right now, but the sense of scale, ambition and investment in this underground music as a tourist draw. The ease with which we could float from stage to stage, from memorable set to equally memorable set, shows that the crews behind the operation have excellent, on-the-money taste.
We observed no violence among the huge crowd, appreciated the watchful but mercifully subtle security presence and couldn't help but smile to see young teenagers re-group—with bubbling energy, even after 12 hours of relentless fist-pumping—to playfully argue about who really was the shit. If Weather organizers can hold down their tastes next year while honing some of the more logistical aspects of the overall festival experience, particularly the consistency and quality of the sound, then it won't be long until international audiences start flocking more readily to a city revitalized, once again, by the techno-loving masses.
Header image by Jacob Khrist
An Insider's Guide to Paris's Best Summer Music Festival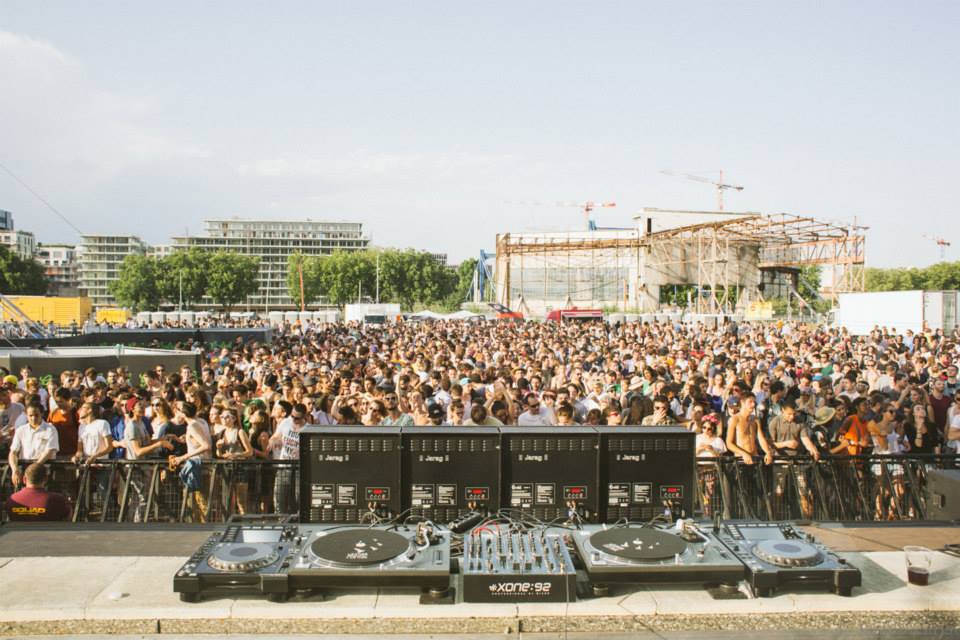 Photo by Jacob Khrist.
There are two parts of Weather: OFF, which runs May 27-31 in venues around Paris, and ON, a three-day music festival in the Plain de Jeux du Polygon park that starts June 4. The main idea for OFF is to show a little bit of the Parisian scene and the active artists in it to people who come from other countries. For the first two editions of Weather, we did the OFF events during the same week as the main festival, but this year we decided to separate them and do OFF one week before ON. We thought it would be good to split them because we're not able to be involved enough with the shows as we're so busy the main events, and also because ON ends up competing with OFF. Most people were going to Weather Festival ON, and that took away from the audience that would have gone to OFF, which wasn't fair because both are great. Here are some OFF and ON events I'm excited about.
Wednesday, May 27 @ Institut du Monde Arabe, 19:30
On Wednesday, we're opening the OFF Festival with a special private event at the Institut du Monde Arabe. We're used to working with them because we did a Weather Festival special on Boiler Room at that location, and it's really beautiful there. We'll start the evening with a screening of the movie Man From Tomorrow by Jacqueline Caux with original compositions by Jeff Mills. Mills will be there with Caux to do a conference. People will be able to ask them questions, and maybe they'll do a little debate or conversation. After that, we'll go on the rooftop of the Institut, where DJ Deep and Roman Poncet will do their first-ever joint live performance as Sergie Rezza. We're collaborating with RBMA on this event, so we're going to live stream it so that everyone can attend and see it live on the Internet. And to end the night, Pepe Braddock will play.
Thursday, May 28 @ La Gaîté Lyrique, 21:30
We got permission from the government to host OFF events, like debates and master classes, at La Gaîté Lyrique, which is a cultural center that does a lot of very experimental live performances. They're setting up a room for us with a 360 degree screen all around it to project VJed visuals. It's going to be a real experience, and Voices from the Lake is the best live act to see in those conditions. Donato Dozzy and Neel will do a special two-hour set for it that will go from ambient to techno. I think it'll be really trippy. Heleen Blanken, who used to work with Ben Klock on his Klockworks show, will do a special video performance just for that night.
Saturday, May 30 @ Concrete, Port de la Rapée, 12:00
The most important event of Weather's OFF Festival is the Mini-Weather. It'll be an afternoon event at Concrete dedicated to kids and families with a roller disco park, karaoke, and games while some artists play for the kids and their parents. We've done some events for kids in the past, but they were mostly master classes; last year we had Margaret Dygas teach them about music. This year we wanted to do something a little bigger, like a real party for kids. It's free for them and five euro for their parents, so the parents can go and dance while their kids take a class in vogue dancing or play games.
Thursday, June 4 @ Bois de Vincennes: Derrick May Live Orchestra
Weather 2015's opening concert is going to be really huge—there will be 45 people onstage. It'll be Derrick May, pianist Francesco Tristano, and Dzijan Emin, the conductor of the Orchestre Lamoureux, which is a very old Parisian orchestra founded in 1881. They're very interested in working with techno music and adapting it to classical instruments, and it's going to be a very impressive performance. The main festival starts the day after.
Friday, June 5 @ Scène Automne: Jeff Mills
For me, one of the most exciting artists to play at ON is Jeff Mills. He's doing a regular techno DJ set, and I think just before his set he'll be giving autographs to people for one euro or so. The money will go to a charity, probably one that helps the poor, although it's not confirmed which one.
Friday, June 5 @ Scène Hiver: Herbert Live
Matthew Herbert is one of my favorite artists ever, so I'm really excited to see him play at Weather. He stopped making music under the name Herbert years ago, and since then he's released music under different names. Now he's back with a new album, The Shakes, which comes out on May 29, right before Weather Festival. He's going to present the record with a live band of 10 musicians.
Friday, June 5 @ Scène Hiver: Ron Morelli & Low Jack & Vatican Shadow
https://soundcloud.com/electronic-beats-radio/electronic-beats-prurient-megamix
My third recommendation for ON is another exclusive live show by Ron Morelli, Vatican Shadow and Low Jack. The performance doesn't even exist yet, so they're going to come to Paris two weeks before the festival and go into the Red Bull studios to create a live set for us. Those three artists have a really special musical vision, and it's a pretty crazy one, so their live set is going to be really interesting.
Saturday, June 6 @ the Scène Modular: Blawan Presents Ternescan Chambers
This year I wanted to have a special stage at the festival that's dedicated to modular synth performances. At first I booked Blawan for his live act with Pariah, Karenn—they're going to play on Friday. Then Blawan's manager told me that he was working on a live set with his modular gear, and that he was really interested in presenting it at Weather. I'm a big fan of Blawan so I immediately said yes, but I don't have much information about it. I don't really know the direction he'll take, if it'll be rhythmic or ambient. It'll be a surprise, and I think it's cool like that.
You can buy tickets to Weather Festival here and follow Weather Festival on Facebook here.