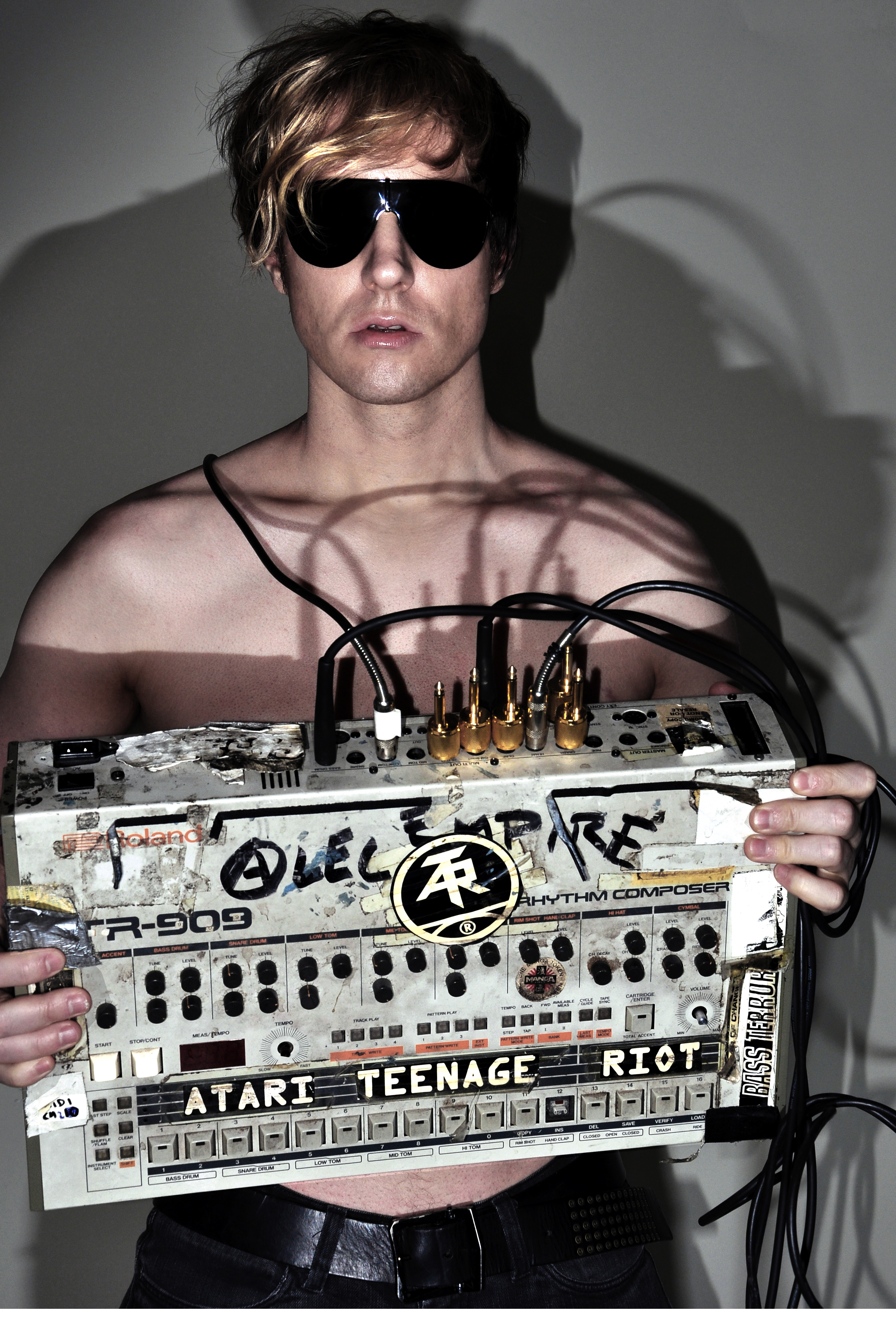 Alec Empire
German producer and DJ Alec Empire is the acclaimed originator of "Digital Hardcore", a highly aggressive and politicized strain of techno which he has pursued, along with more experimental side projects, to critical acclaim both as a solo artist and with group Atari Teenage Riot since the early '90s.
Empire's outlook has been shaped significantly by his relationship to his hometown of Berlin, whose peculiar mixture of radical left wing politics, industrial presence, and musical innovation is analogous to his own artistic principles. He is perhaps best known as a member of Atari Teenage Riot, the group Empire founded in 1992 with Hanin Elias and Carl Crack. ATR's potent utilization of sampled frenetic breakbeats, screamed political lyrics, and slabs of overdriven guitar was a dystopian riposte to the decadence of Berlin's '90s rave scene, and came to be defined as "Digital Hardcore".
An astonishing run of releases both solo and with Atari Teenage Riot in the couple of years following the founding of Empire's "Digital Hardcore Recordings" imprint in 1994 evidenced an impressive variety of approaches, which nonetheless amounted to a powerful artistic vision. Empire's '94 debut album Generation Star Wars and its '95 follow-up Low On Ice range impressively from unnerving, propulsive cuts like "Maschinenvolk" to the eerie ambience of Low On Ice's title track, and were recorded for Mille Plateaux, the experimental sub-label of the Force Inc imprint which had played host to brutal early Empire cuts like "Totenposse Rides Out". With the release of ATR's first album Delete Yourself! in '95 on Digital Hardcore Recordings, and Empire's solo debut for the label, The Destroyer, the following year, the producer gained an international reputation, cemented by subsequent invitations to tour with Wu-Tang Clan, Rage Against the Machine, and Beck.
The implosion of ATR at the close of the '90s has far from quelled Empire's output and capacity for invention since. The producer has increasingly adopted a sleeker sound on albums like 2001's "Intelligence and Sacrifice" and 2005's "Futurist", and the Eat Your Heart Out label he founded in 2007 is dedicated to this refreshed musical vision. Alongside solo performances and a restless advocation of contemporary music, Empire continues to build upon a formidable remix catalogue, with his volatile reworkings of Bjork's 1997 single "Bachelorette" remaining a career highlight in their combination of sampled sultry lyricism and crashing mechanics.