Róisín Murphy and ADI Talk About Feminism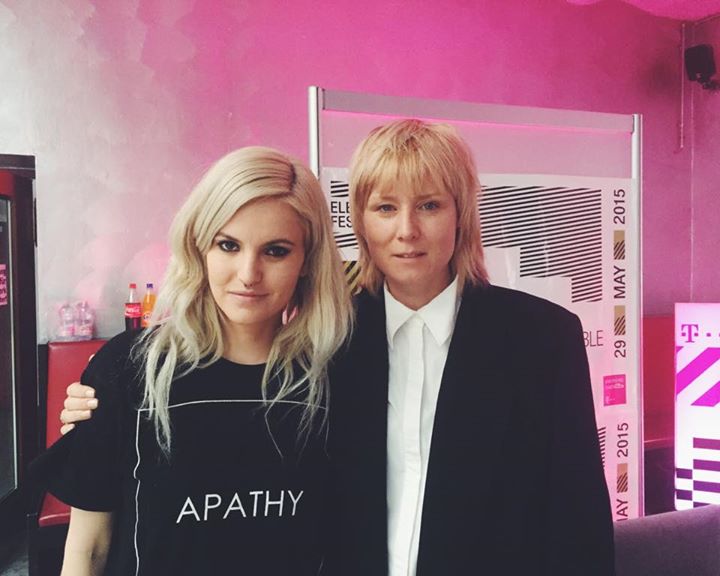 At the recent EB Festival in Cologne, headliner Róisín Murphy of Moloko fame met backstage with TMTS breakout star ADI, the singer and producer who opened the concert at E-Werk (as well as our spring festivals in Warsaw, Bratislava and Prague). The two recorded their exchange, which dissected their songwriting processes, their feelings on feminism and the pros and cons of making music with their ex-boyfriends. Then they handed the audio over to us so we could share it with the world.
ADI: When I was growing up, a lot of people told me that it sounded like I was influenced by you. It was maybe the same atmosphere.
ROISIN MURPHY: Well, there's a funkiness about what you're doing—it's not just electro-pop. It's got a bit of soul to it, which I think is great. Your songwriting is very strong. I bet you're gonna write some amazing songs.
A: Thank you. It's endless work, but that's how it is.
RM: What's your writing process like?
A: Up until now I produced most of my stuff by myself, so it's just me in the studio alone. I mostly start from the beat, and the last thing I do is write down the lyrics for the melody. I used to write lyrics and then try to…
RM: Make a melody around it.
A: Yeah, and it just didn't work for me. It felt like I was forcing something.
RM: It depends. You might do that again another time, because the situation's different. You've got to be open, otherwise you'll run out of steam. For me personally, the one thing I can't do is sit down and [make music] on my own. No way.
A: So you need people to inspire you?
RM: Well, I don't know how to use the gear. I know what the gear does because I've been around it for 20 years, and I know what I want it to do. But I don't play or do anything.
A: It's quite amazing that you can really concentrate on what you should do. I'm always thinking about where I should put the snare or add compression and all this technical shit, but at the end of the day, what's important is the overall thing. Maybe having people around me would be interesting because I wouldn't try to do that.
RM: Anything different is good. Healthy.
A: Lately I started working with a friend, and it's so unnatural for me. I get stressed.
RM: It's hard to do the first thing in front of people because you're at a very delicate stage: the beginning of a creative process. But you get used to that. I have to do that because I don't play anything or program anything.
A: And you never played?
RM: No. Time and time again, I've had to to get used to a new scenario or a new group of people.
A: And was it hard?
RM: I love it. I was in a relationship with the first person I made music with, in Moloko, and that went on for eight years. The fact that I was able to work with other people at all was kind of a shock to me. I thought all I could do was be with my boyfriend in Sheffield, away from the industry, where there was no pressure. I've been in the business a long time, but I'm not that experienced. When I was in Moloko, I was kept in a naive space, a bubble, and then there was another bubble between me and Matthew Herbert. And then on the last record I did, Overpowered, I worked with lots and lots of people. I worked in the way that you make pop records: all sorts of different producers, mixers, writers. In different stages of a song, you'll be working with different sorts of people.
A: Composers as well?
RM: Yeah, writers and producers. With me, the producer is always a writer, a bit like yourself. [Making Overpowered] was one of my first experiences of being out there in the real world.
A: For me, that sounds so exposed.
RM: It's a more industrial process. Less cottage industry, more industry, I'm quite proud in the sense that Overpowered has some unity, some identity. Although it was made in the way a lot of pop records were made, it doesn't sound like them.
A: You have your unique sound, and it's interesting to see all of the different vibes. Your voice is cool.
RM: I've been slightly envious of your ability to sit down with your gear and write whenever, wherever, however you like. But the music business requires collaboration at every single point, and you have to really embrace those collaborative efforts.
A: The more I grow up, I realize that I started from a place where I felt like I need to prove something to the world—that I'm a girl, and I can do it by myself. I've never played [an instrument] either; I just knew the most basic chord progressions. But the more I try to open myself to other people and new experiences, I realize how many amazing artists there are and how interesting and inspiring it is to work with and learn from them.
RM: For me, every single step is one off the side of a cliff, especially with the way I started with music, which was by accident. I chatted someone up, and he was a producer, and he wanted to put my chat on the piece of music. So the night we started our relationship, we were just messing about with me talking over tracks. I signed a record deal before I ever sang, and I started to sing because we got bored of just doing the stupid voices. In the beginning, we said we wouldn't have our faces public, we'd just use these three dolls to be representative of the band. The first time I had my picture taken, the first time I did a video, the first time I sang, the first time I wrote a song—everything was always new, like, "What am I doing? How'd I fuckin' end up doing this?"
A: What did you want to be?
RM: A visual artist.
A: I could have guessed that from your videos.
RM: I do like the fact that you can do a bit of [art] with this. Singing is a very pleasant thing to do, and then you've got all these other things connected to it. You can take a little space for yourself and make all sorts of imagery. It's a great job for me. I love this job.
A: I always kind of hate when people say to me, "So you sing, and you also love fashion." I don't look at it as fashion; it's another way to express what I want to express. It's not like I watch fashion shows and criticize them—that's not my thing. But because we're girls, people have this way of looking at these things and judging them.
RM: I don't know if you know an artist called Cindy Sherman, from the '80s? She took pictures of herself. The first images she made looked like film stills. She was playing characters in all of her own imagery. When I found her as a teenager, I was extremely relieved, because I felt like feminism took a bit of the fun out of being a woman—the enjoyable bits, like roleplaying and fantasy and dressing up.
Obviously I consider myself a feminist. But typical old-fashioned feminism sucked the complexity and the joy of the feminine experience a bit. When I was growing up, I wanted to do what Cindy Sherman was doing: to create those fantasies, and revel in them, and own them. To tell stories, to say something complex that you can't say in words and can only say in a performance. I always think about that when I'm making imagery, and I totally embrace clothes and whatever it takes in order for me to kind of… I think that men are held down in that way. They have to play a certain role, and a very dry one as well. I can be much freer in that direction, if I want to be.
A: Yeah, and it's considered totally cool and okay to do it.
RM: I'm very hesitant to talk about feminist issues because obviously once you state, for example, that a woman's work is not considered in the same way as a man's work… It's not judged on the same level playing field. There are certain assumptions. Certainly there's an assumption that [a female artist] wasn't really 100 percent in control. I'm always in control of what I do. Then, on the other hand, if a woman is in control she's told she's a control freak.
A: And if a man does it, it's like—
RM: "Oh he's a genius. Visionary." But to say it also puts it in concrete. You feel like you almost put yourself in chains by saying it. But it's bullshit not to say it, too. It is frustrating at times.
A: One of the reasons I wanted to play all on my own on stage was because I used to play with my boyfriend. He was drumming, and each show we had, people came to me and were like, "Oh, he makes amazing music, his productions are so good." And I wondered why they assumed that he made the music, and I just sang. On the other hand, I really don't like coming off as a feminist who fights for her rights as a woman. I believe that the best way to make a change in that area is just to prove people wrong and be who I want to be without any connection to my gender.
RM: You don't want to be stuck with any of those ideas. You want to have a bit of fluidity, which you could say that men don't have either, for various reasons—that ability to adapt. To be considered [as a woman] as having the ability to be pragmatic would be great, because none of us would be here if we didn't.
A: It's a tough world.
Looking Back on EB Festival Cologne 2015 with Róisin Murphy, Howling, David August & More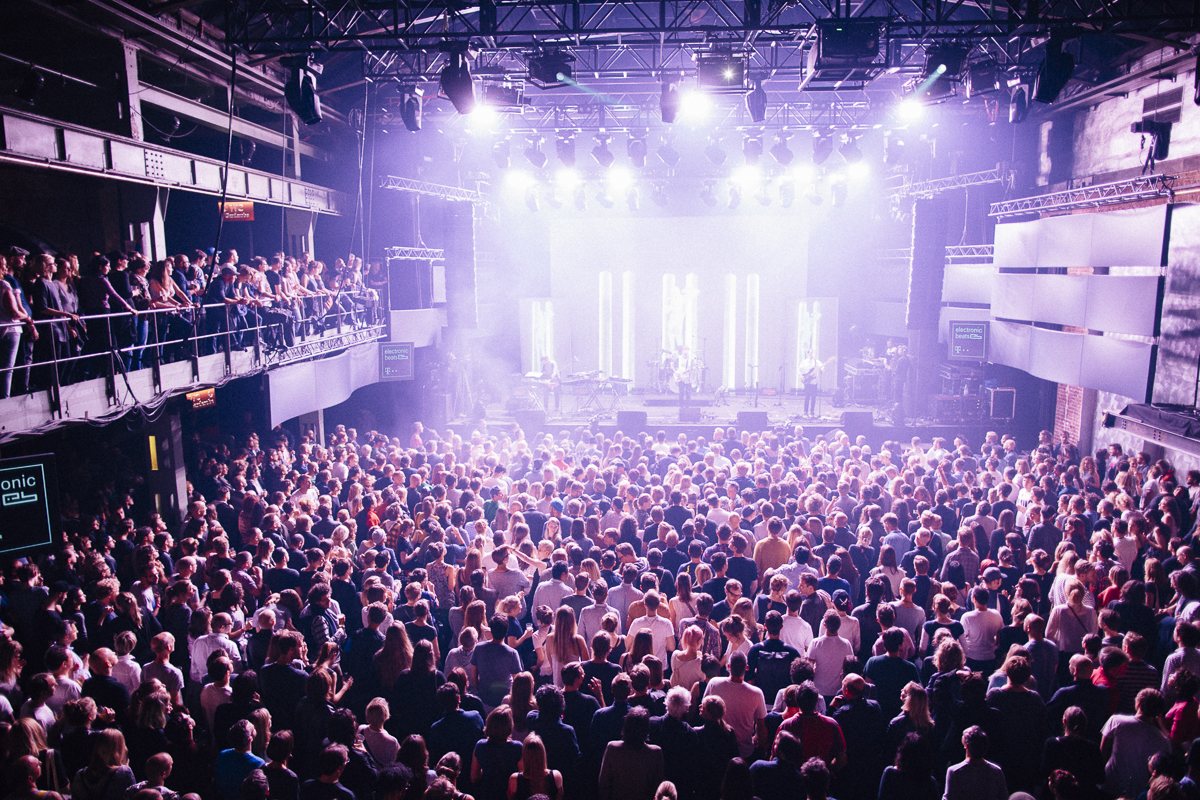 Starting in Bratislava and moving on to Warsaw and Prague, EB stages have played host to some memorable performances throughout spring 2015 as part of our annual European tour.
And on Friday, we celebrated 15 years of EB concerts in Cologne and the end of the spring festival season with a bang. Luckily, photographer Peyman Azhari was on hand to snap some of the standout moments from the event, from Howling's smoke-filled stage to Róisin Murphy's crazy costumes.
A very special thank you to everyone for donating so heavily at our merch counter for the  Allerweltshaus foundation. We'll let you know how much we ultimately raised next week.
Broken Luxury
Discovered by the EB booking team last October in New York, Broken Luxury kept us entertained during the pre-show warm-up and changeovers throughout the night. The duo's eclectic choices alternated between hard bangers and soulful interludes, offset by pumping visuals from Julliard-trained artist Amariko.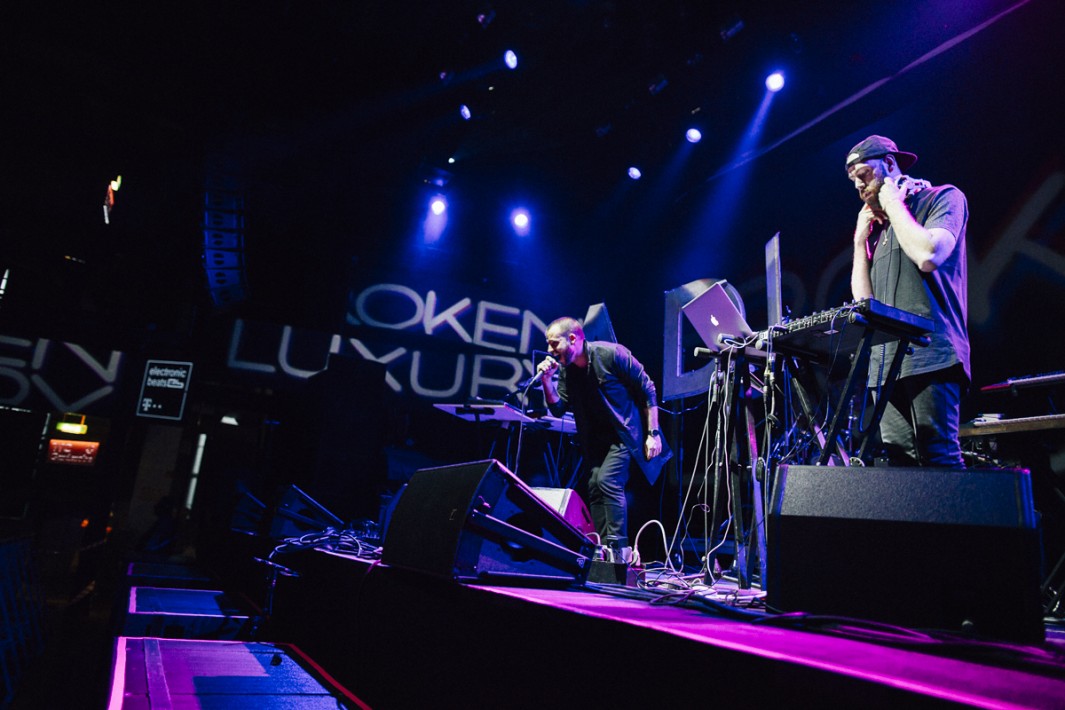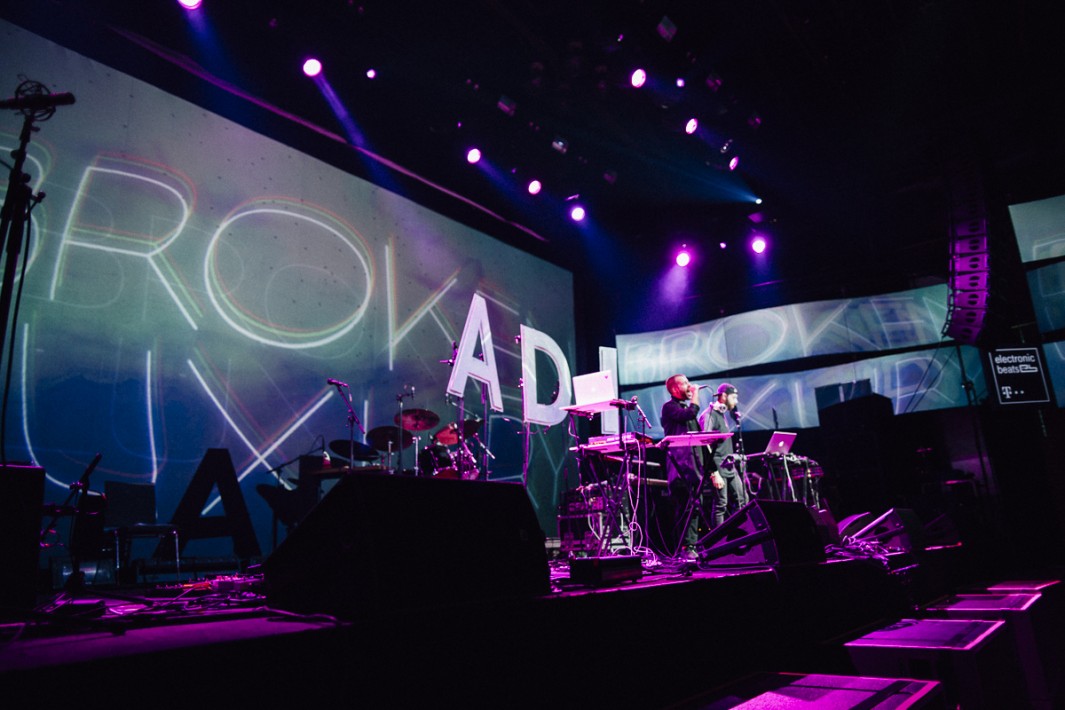 ADI
Back on the EB stage once again, the Israeli artist impressed with her growing oeuvre of new material, which included recently released material like "Chinatown " and her brand-new single "No More," due out in late summer 2015. ADI returns to Germany in July to kick off a nationwide tour.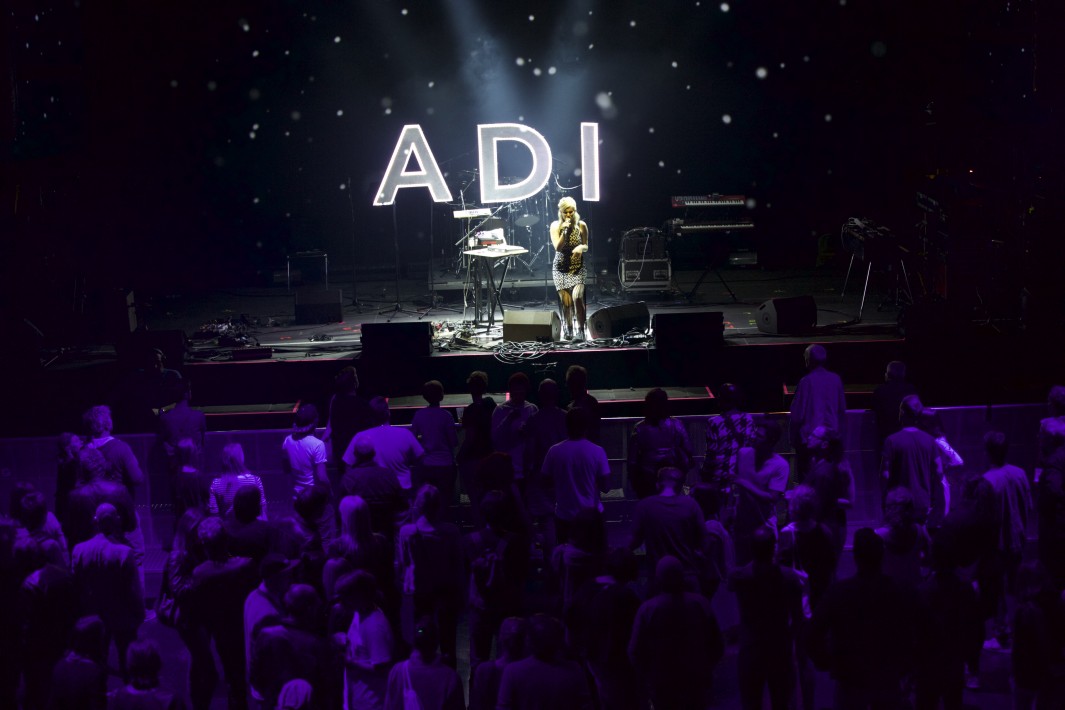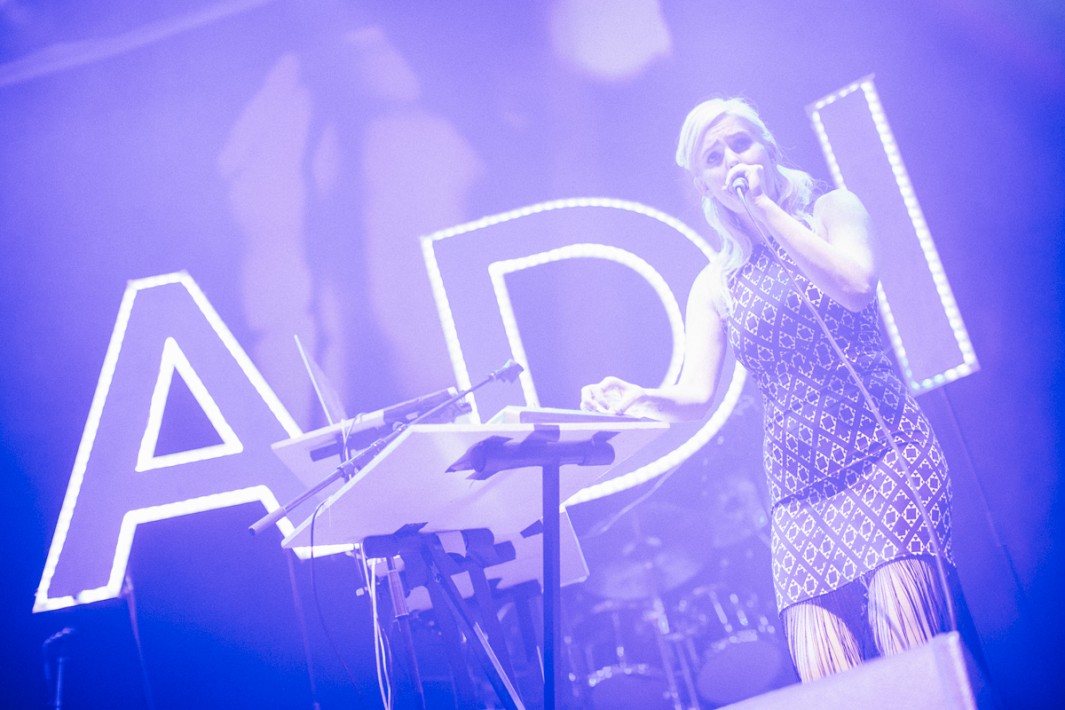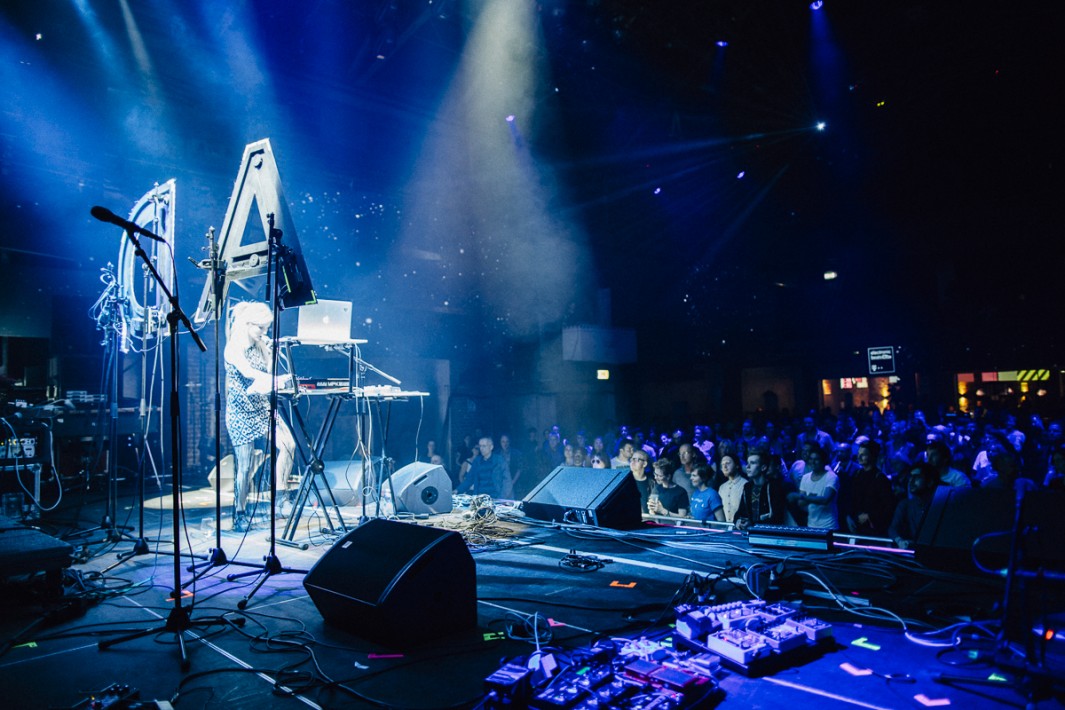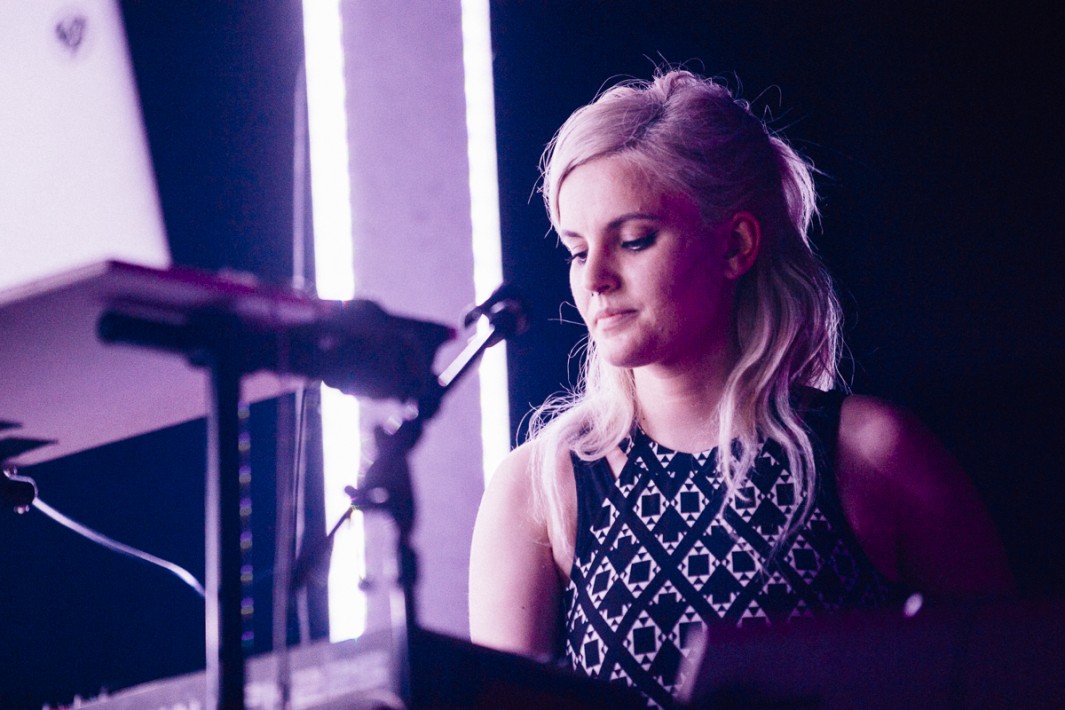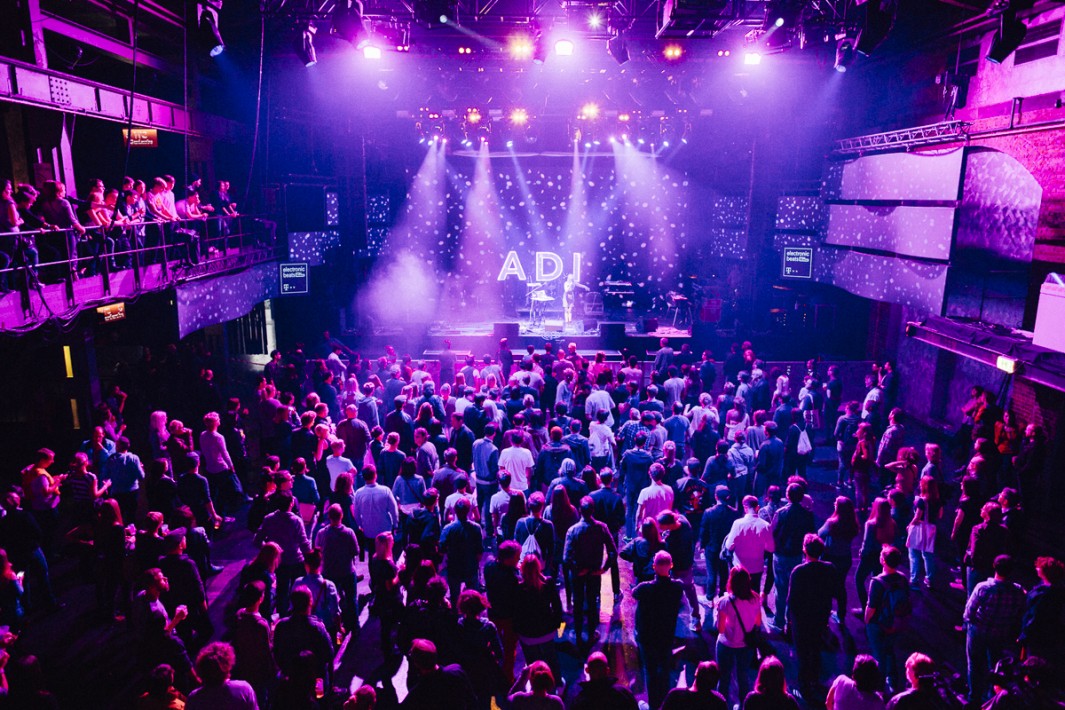 David August & Ensemble
Appearing live for only the second time ever alongside friends he's known since university—their debut gig was at Berlin's XJazz Festival last month—the performance from David August & Ensemble was groovy and slow. While the group never quite managed to secure a studio space to practice in, and is still in the process of fine-tuning, they were met with a warm, enthusiastic reception.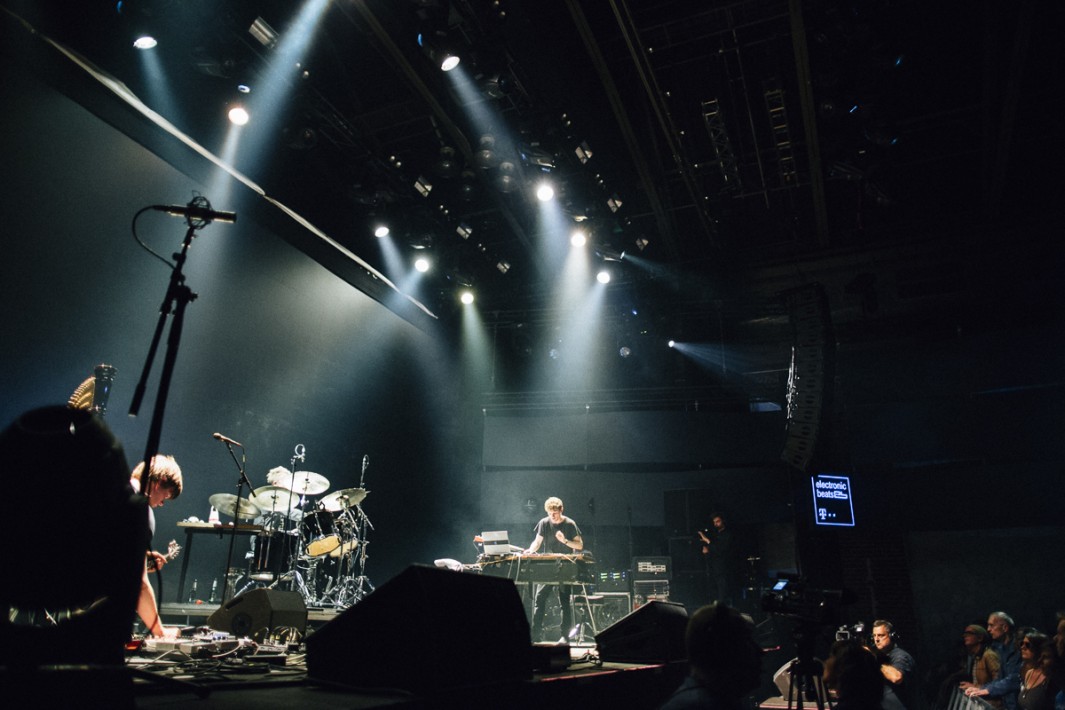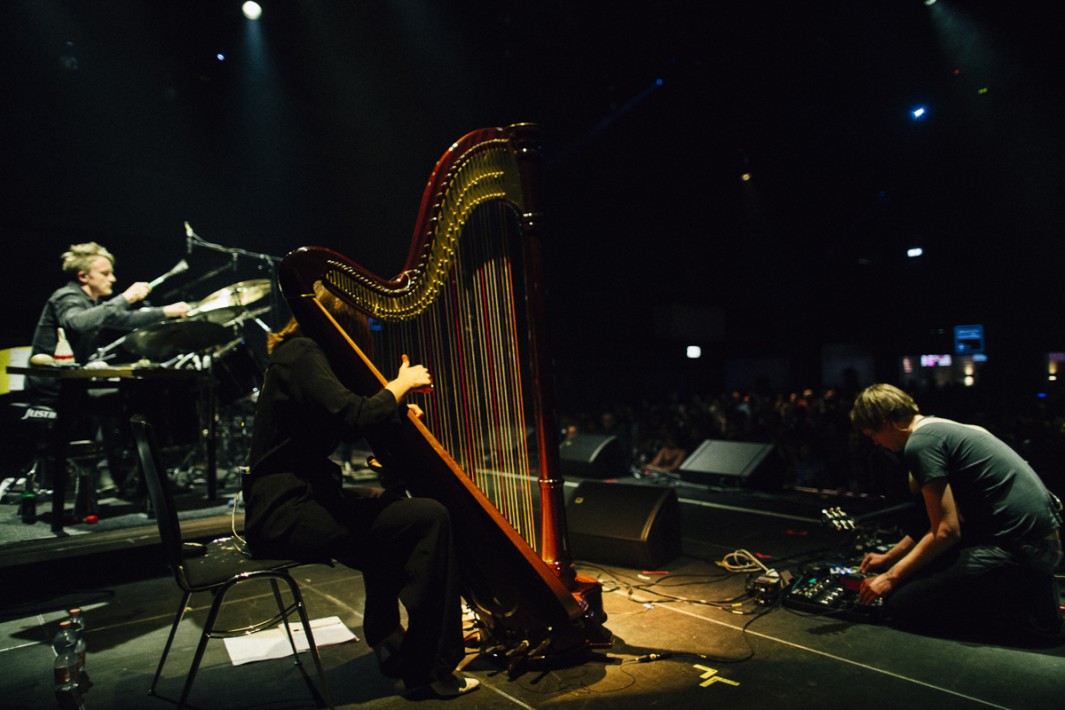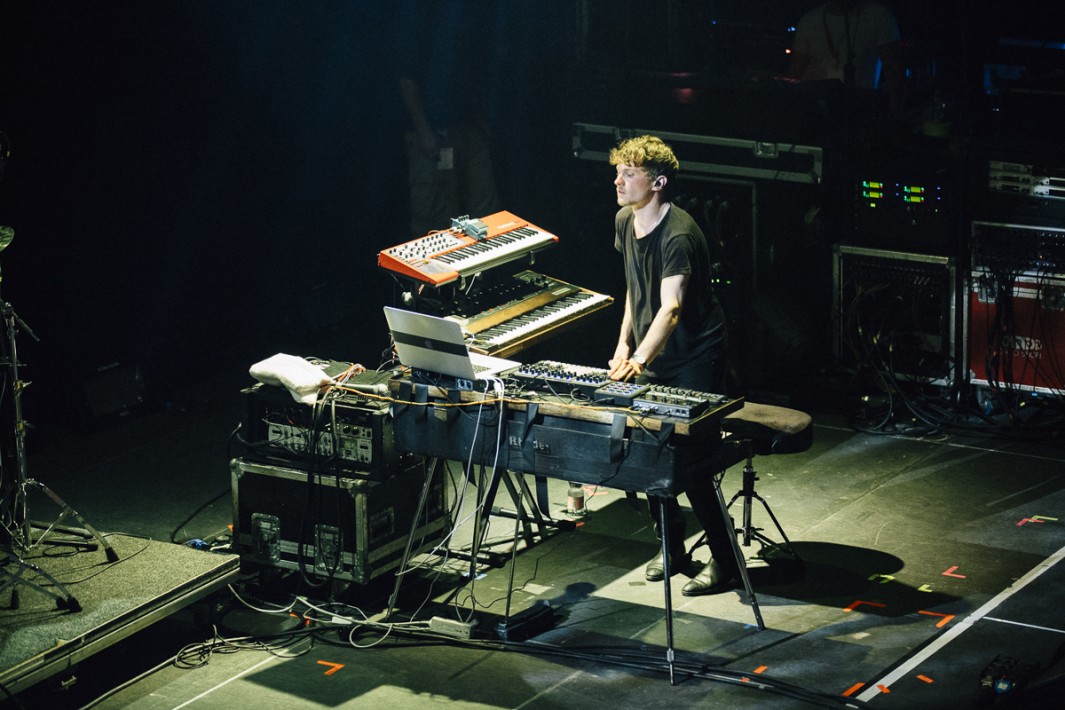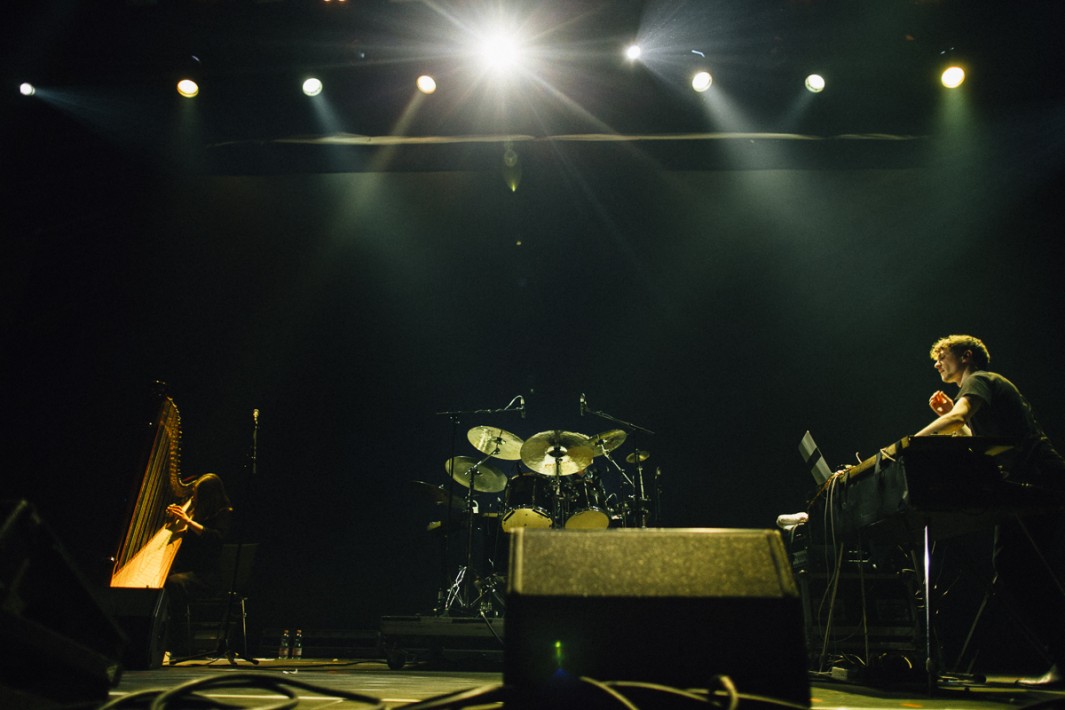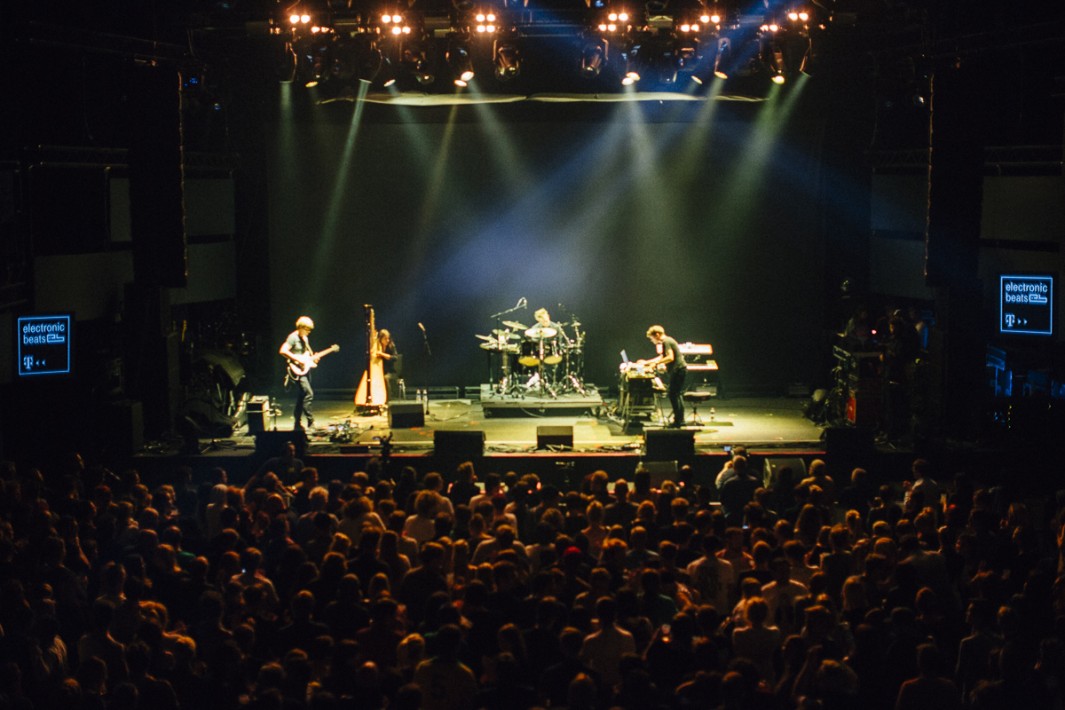 Howling
A smashing performance by Howling's Frank Wiedemann (of Âme) and The Acid singer Ry X got the crowd moving, with the switch to more upbeat, dancefloor-focused selections a welcome change. An impressive new light show suffered some slight technical difficulties and, from behind the haze created by the smoke machine, Ry acknowledged that this was one of the first tour dates. New interpretations of their material were performed in the good old slow-to-fast order, ending with the much-loved, slow-burning yet highly vibrant anthem "Howling."
Howling's current tour is being presented by Electronic Beats; find more details here. Catch them if you can—it's worth it!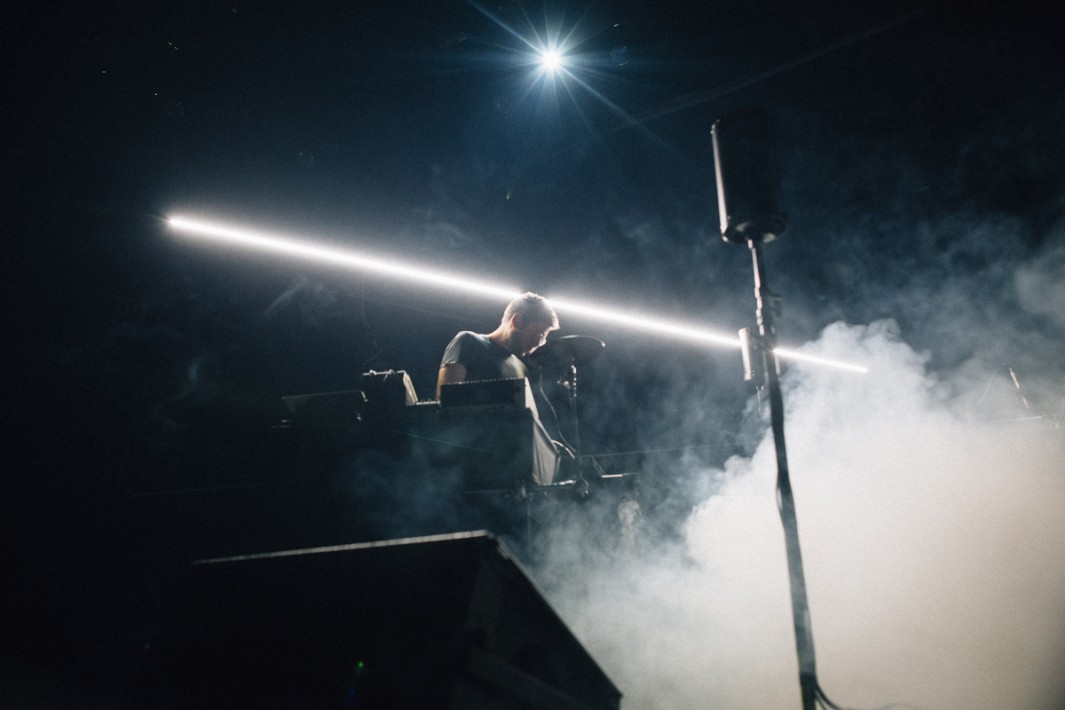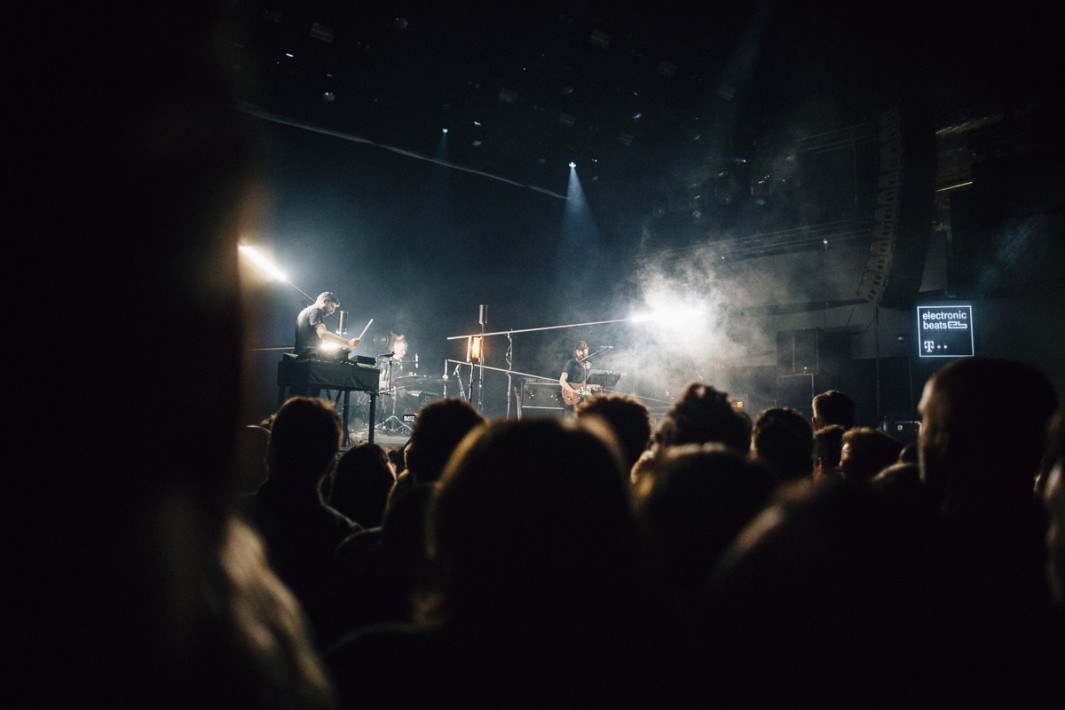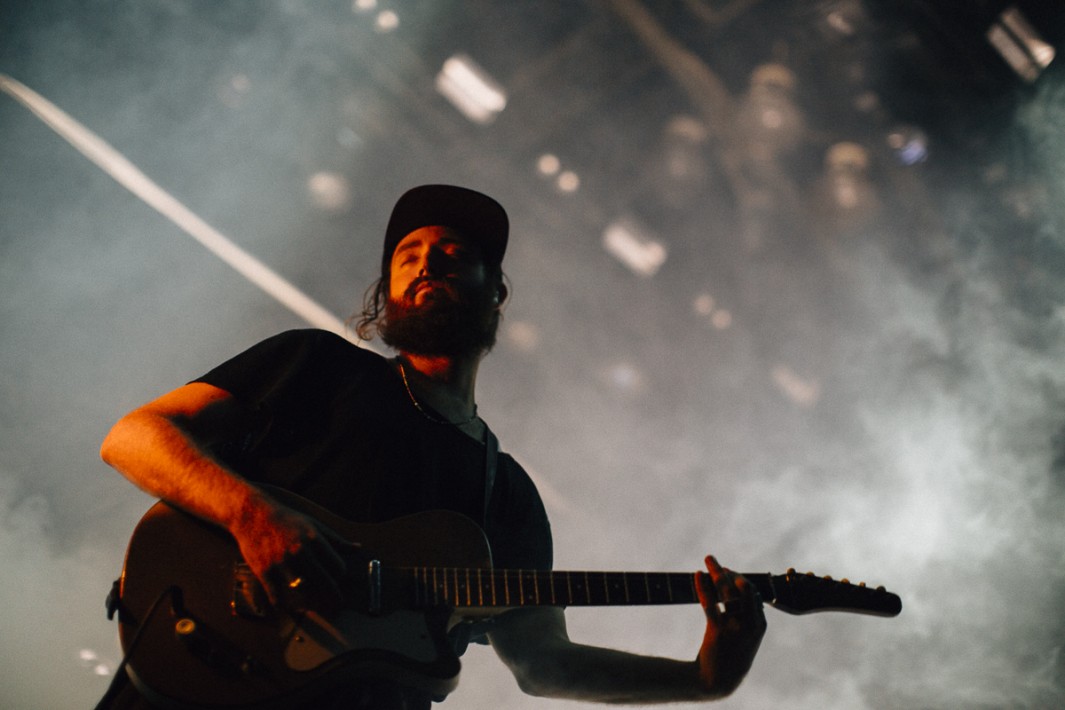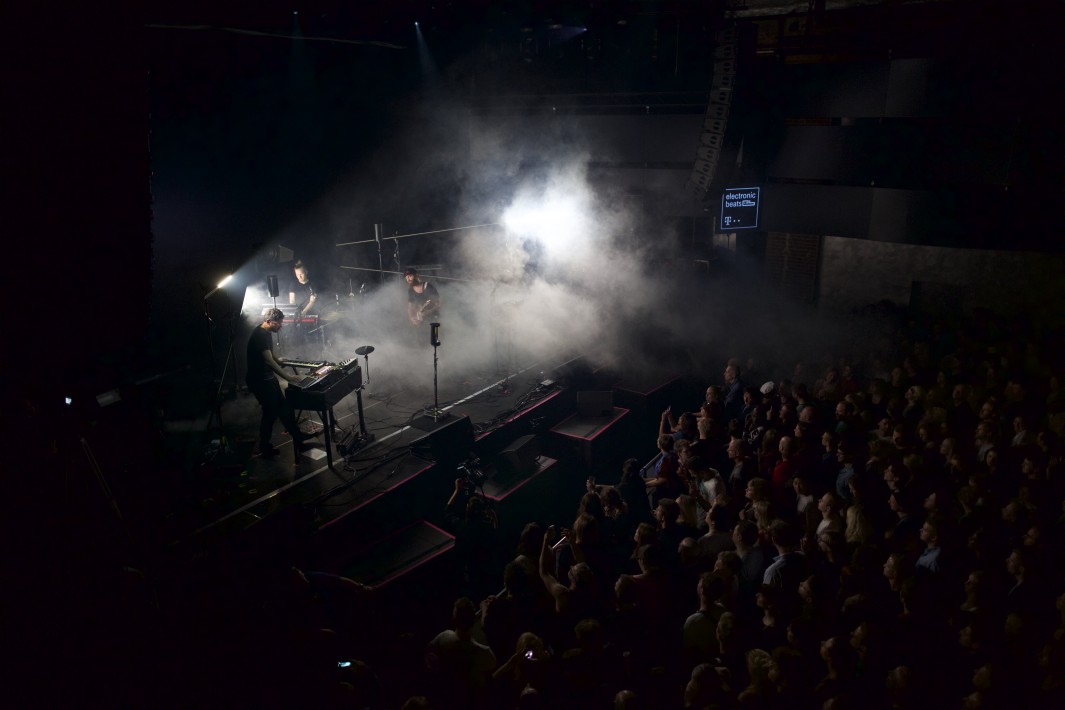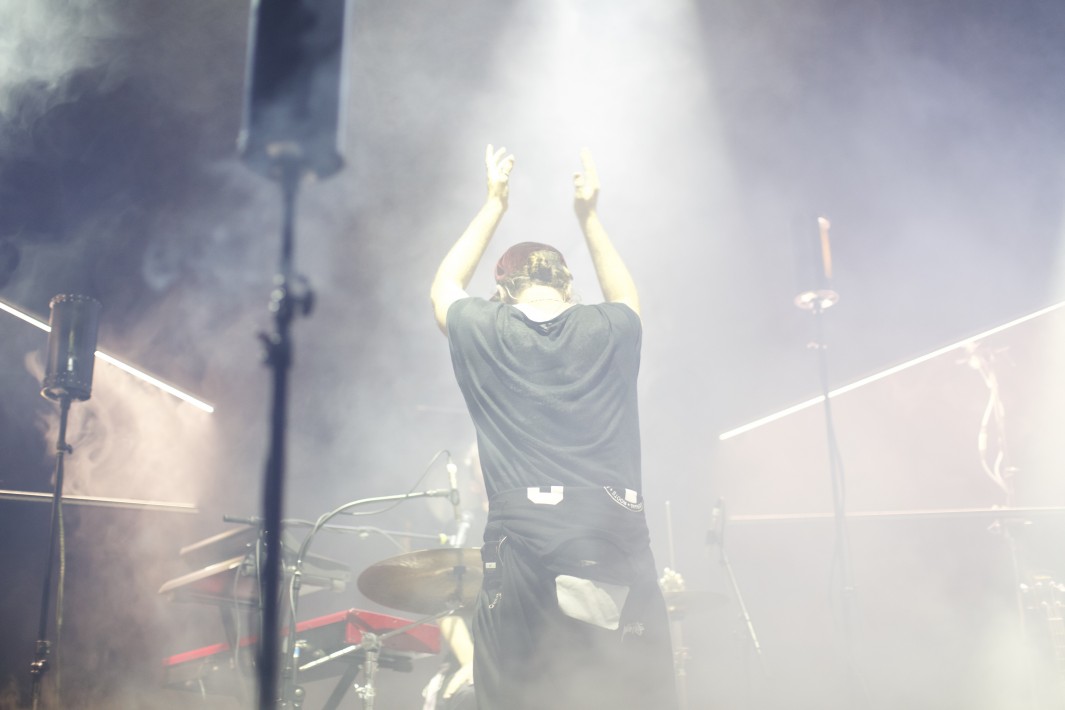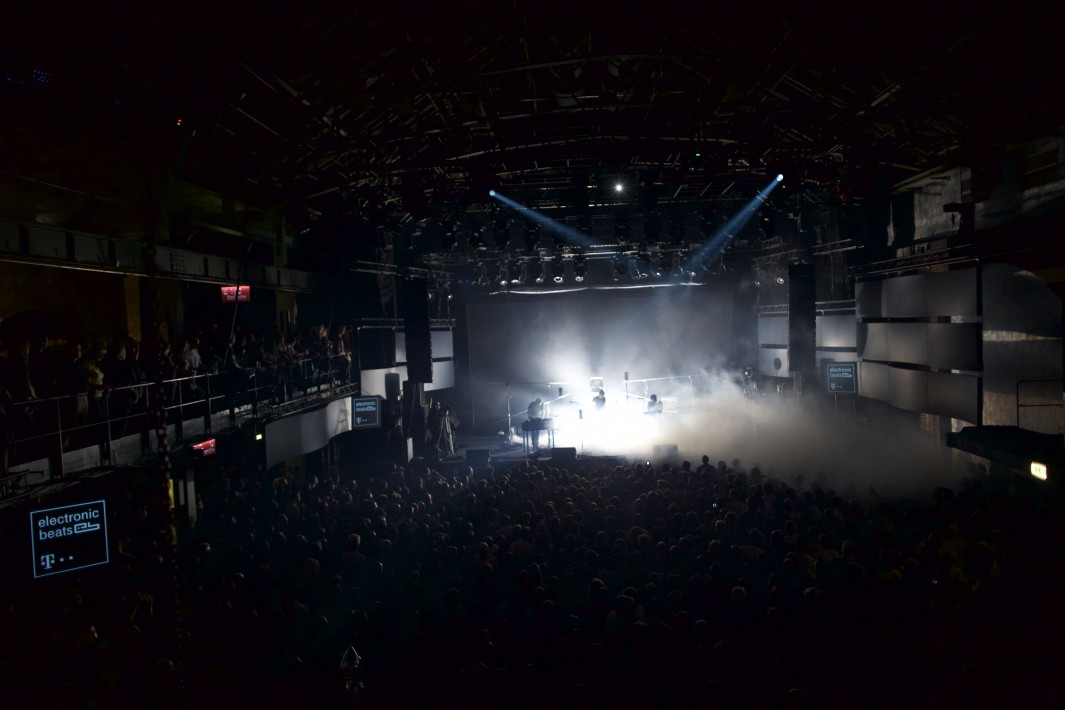 Django Django
A highly energetic performance from Django Django kept the crowd moving, with percussionists wielding cowbells and dynamic drum routines. The four members of the Scottish band are excellent performers, offsetting guitar riffs and heavy bass and drums with quirky banter and Beatles-style harmonies. For a quick glimpse at Django Django live, head here; for the crowd's response, head here.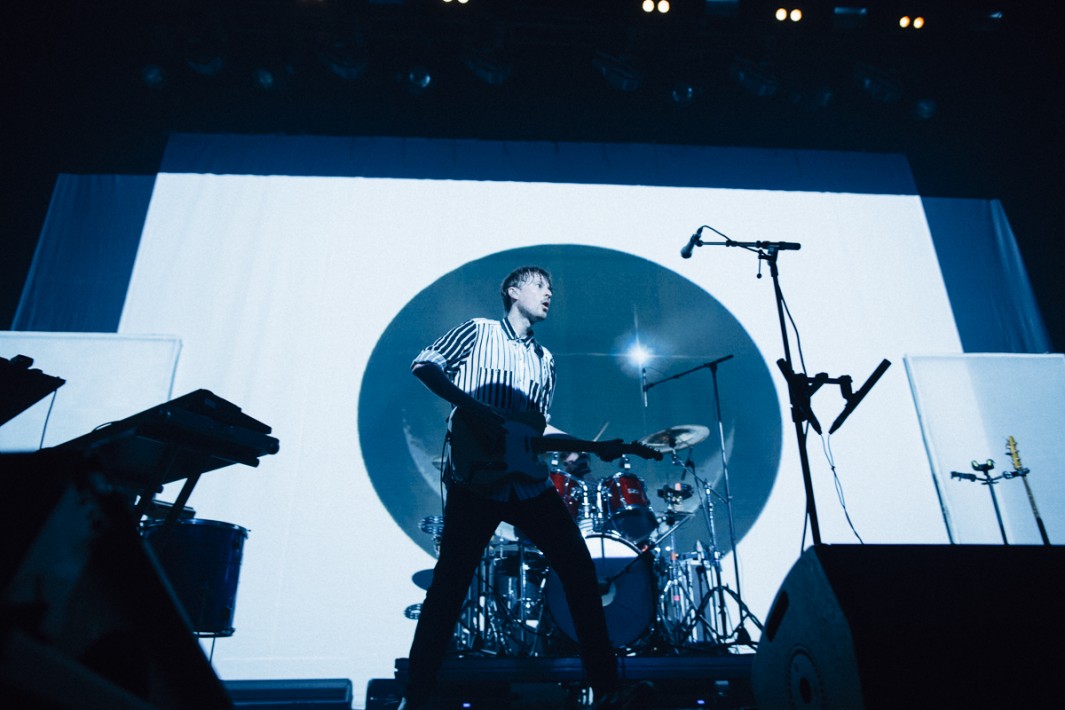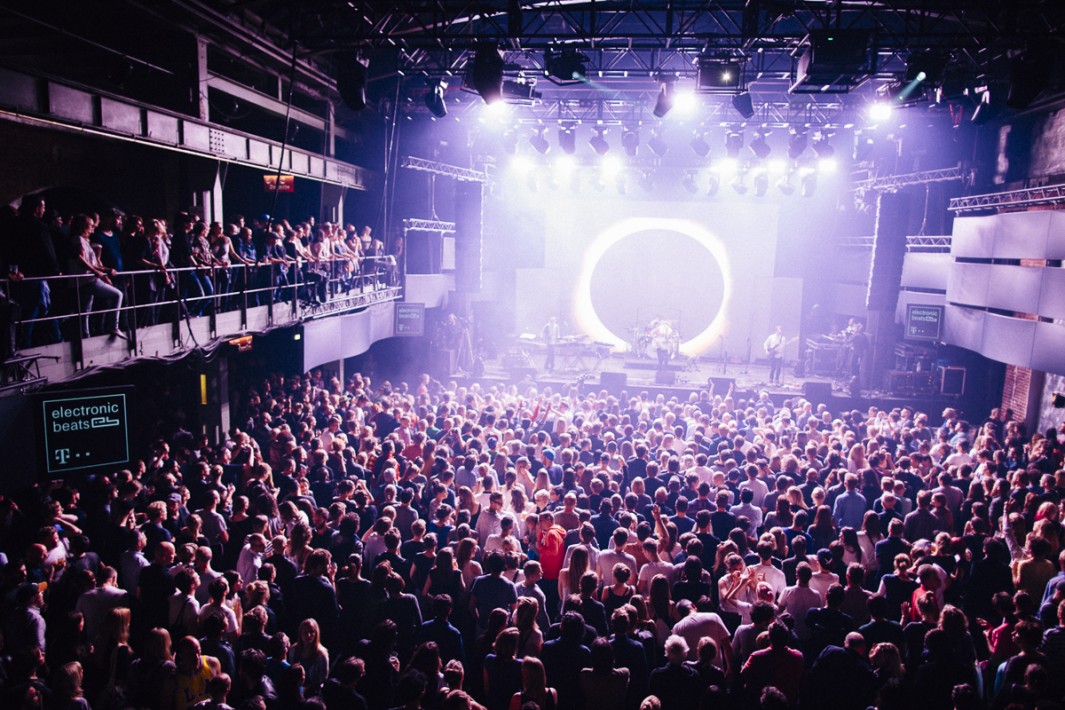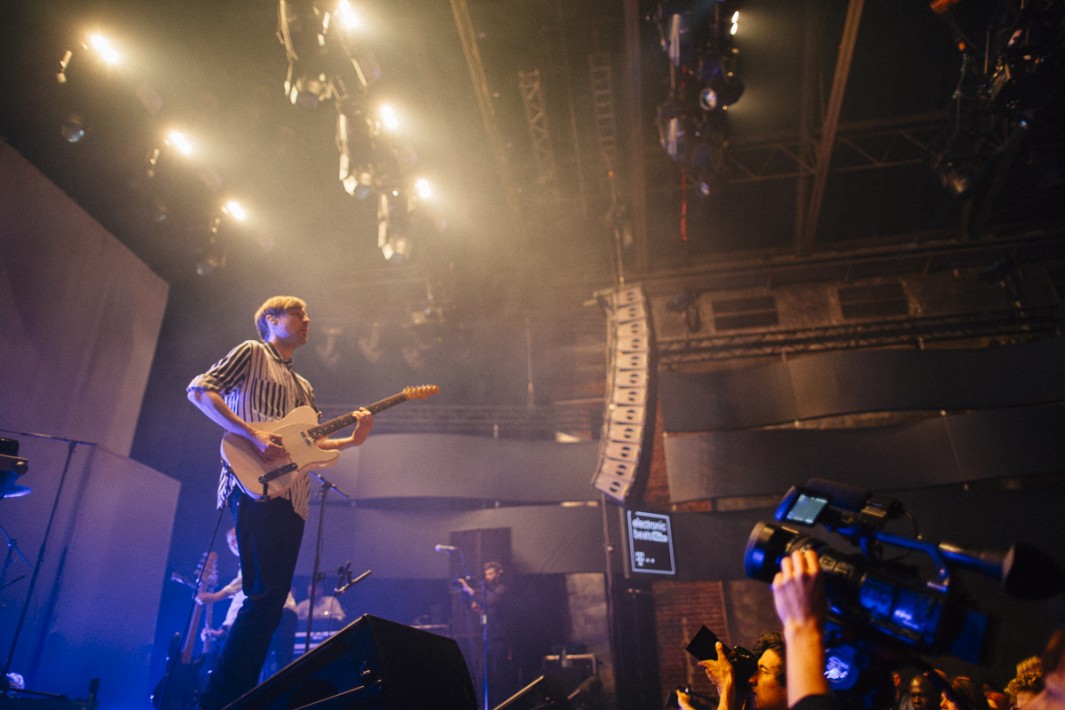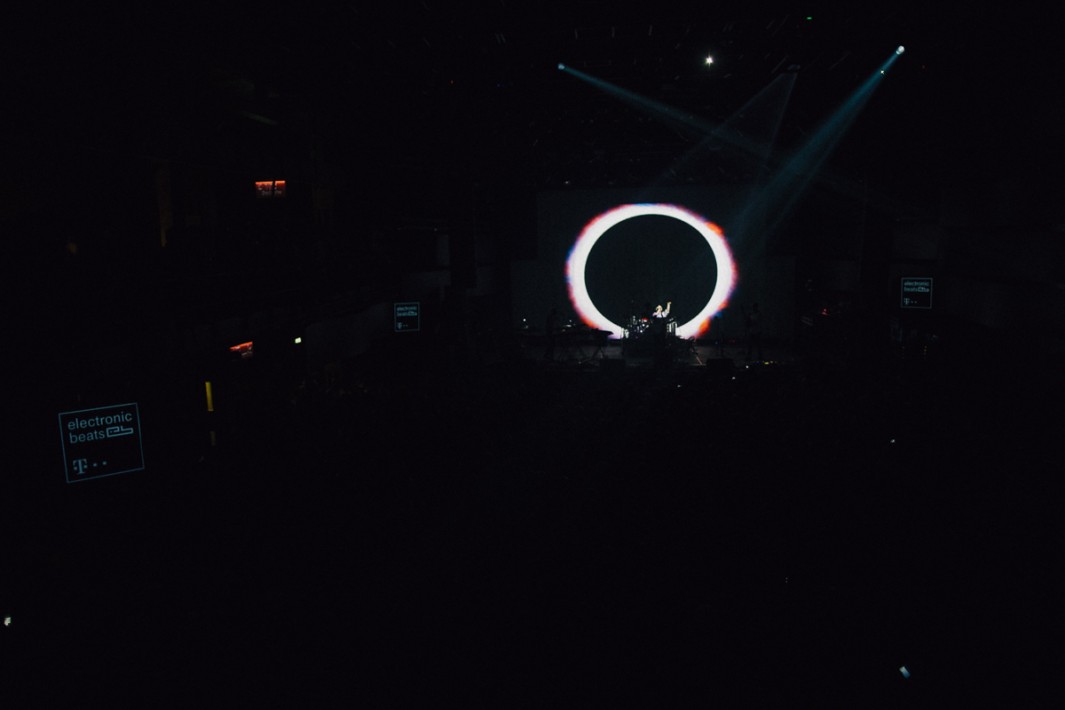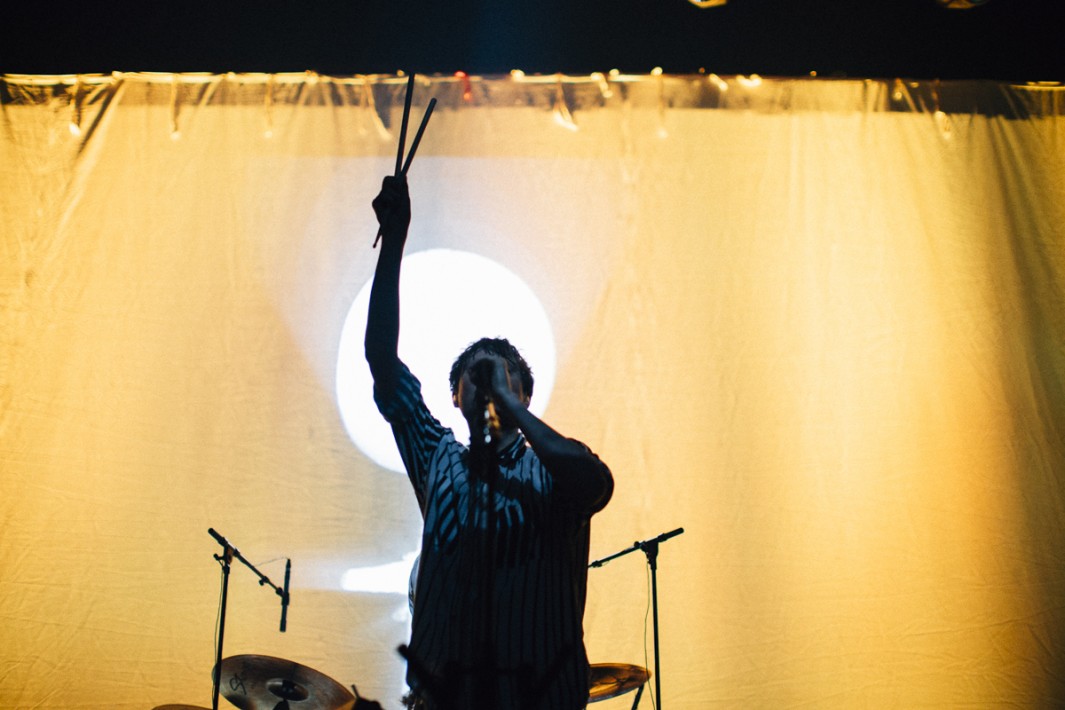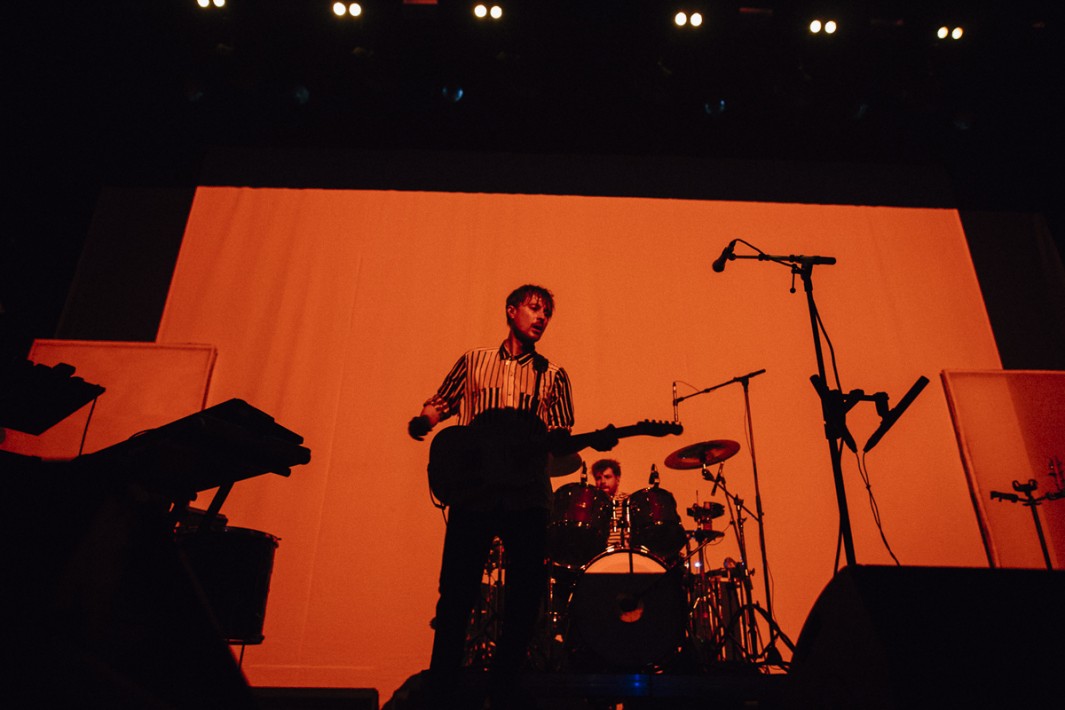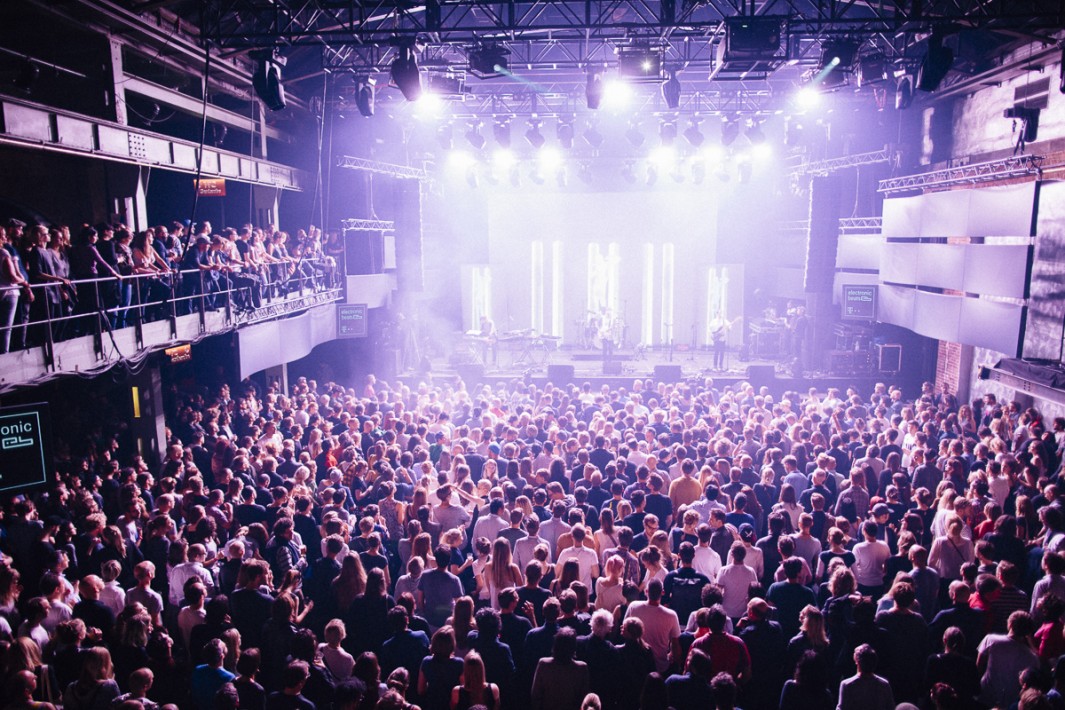 Róisin Murphy
Closing out the night, Róisin Murphy's jazzy electro-pop show was backed by a full live band. A seasoned performer, Murphy kept things interesting by appearing in various masks and costumes and with props throughout her show. At one point, she danced with a teddy bear, which she then tore open to pull out a scarf. Musically, her set included frequent minute-long instrumental interludes but relished in sensory overload overall: an art show-concert hybrid.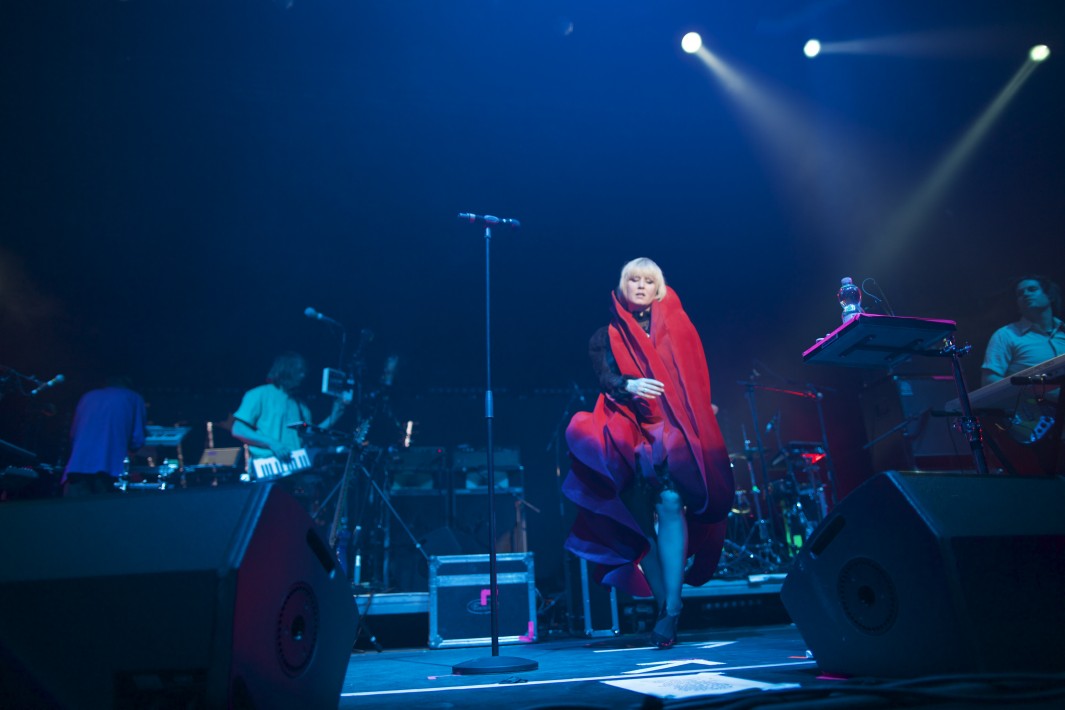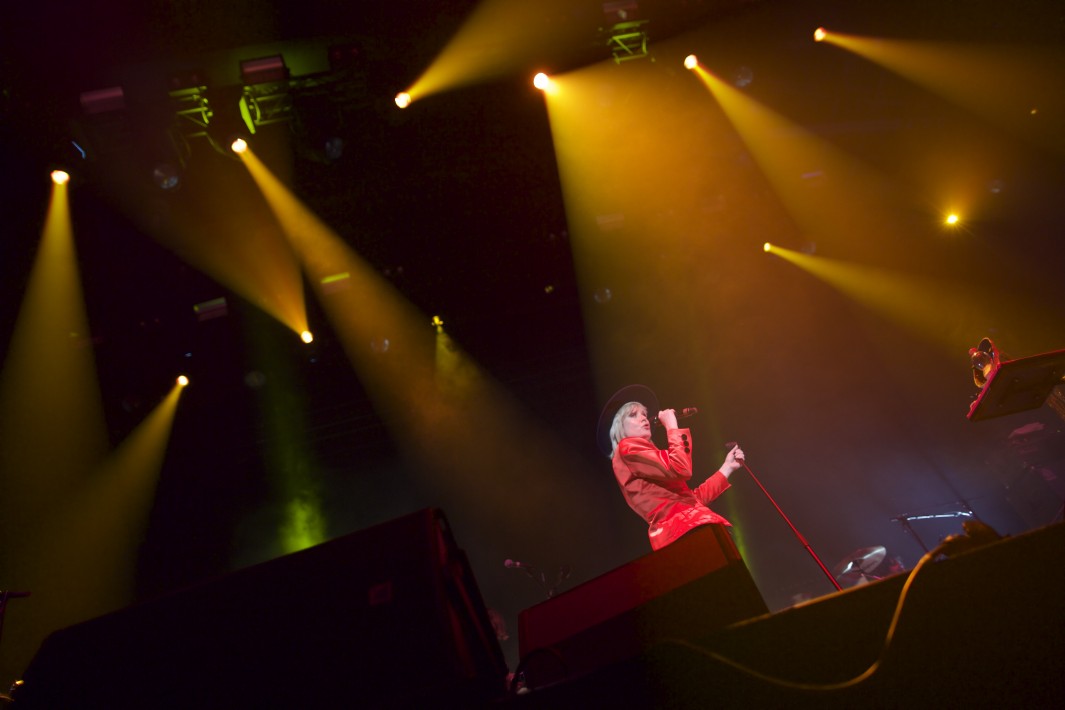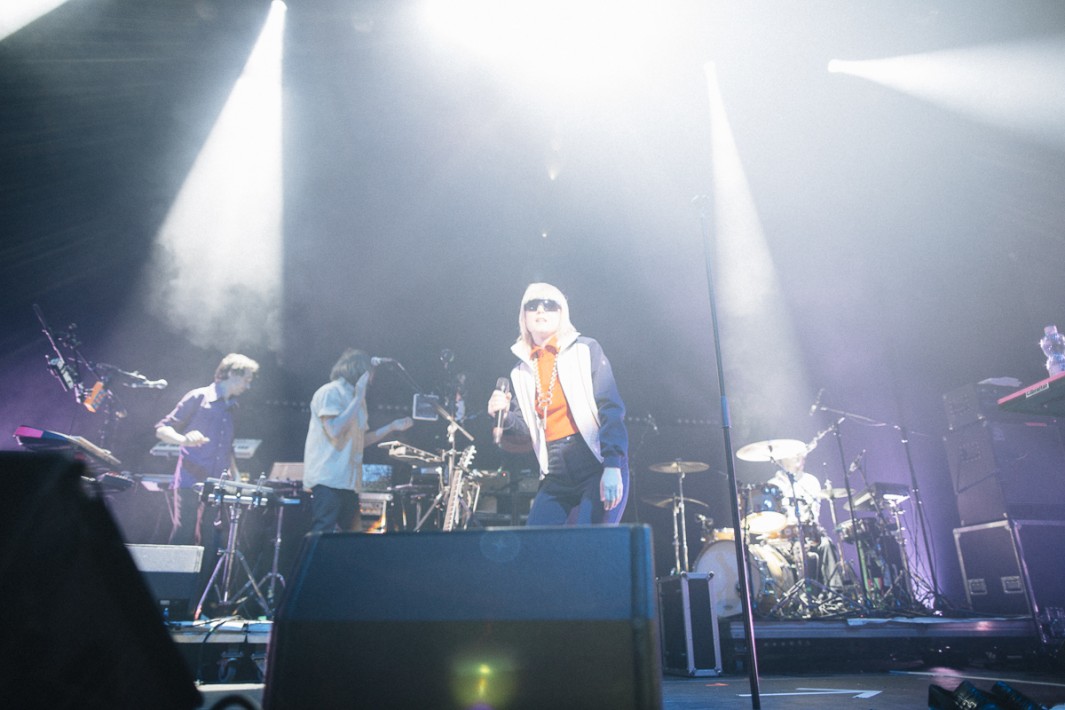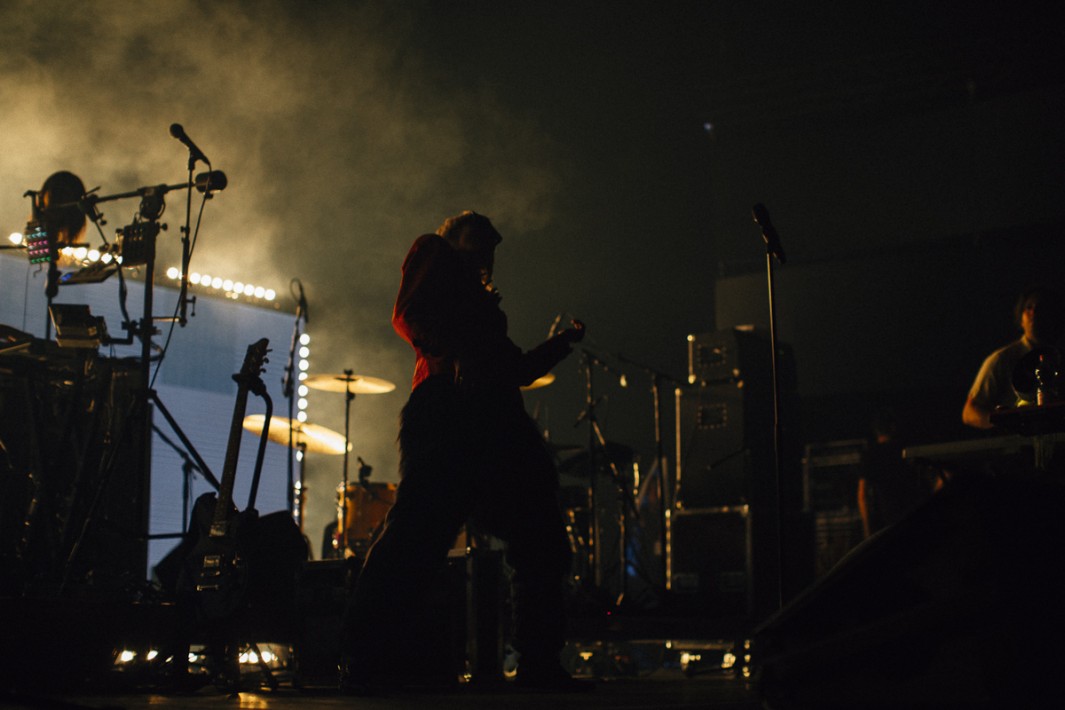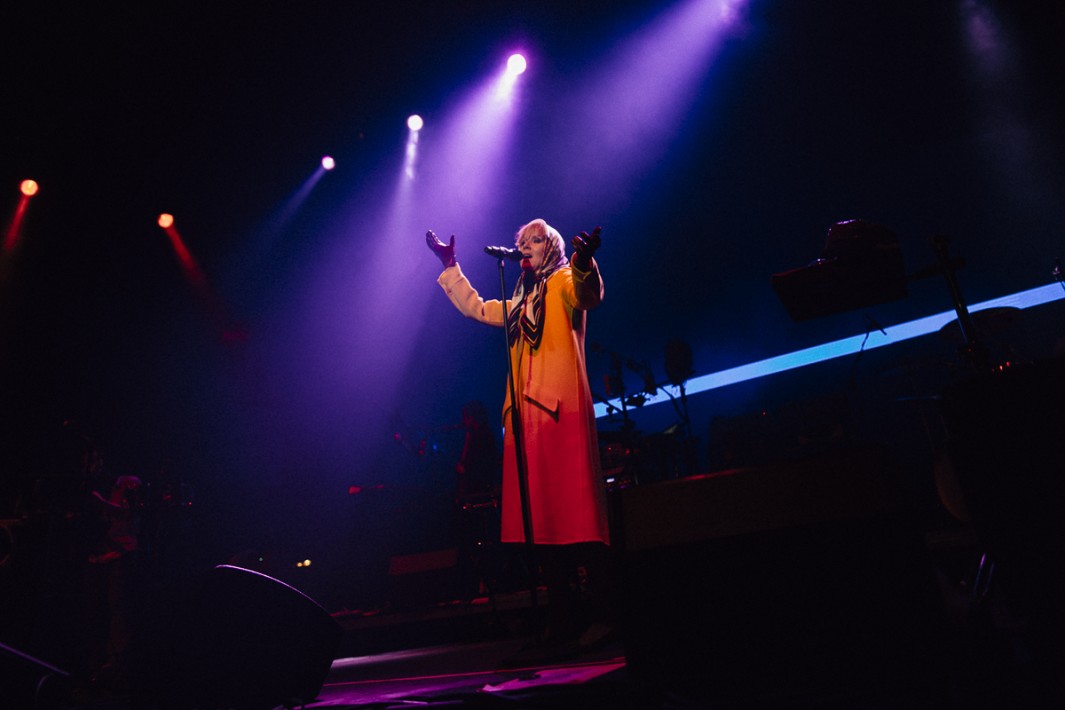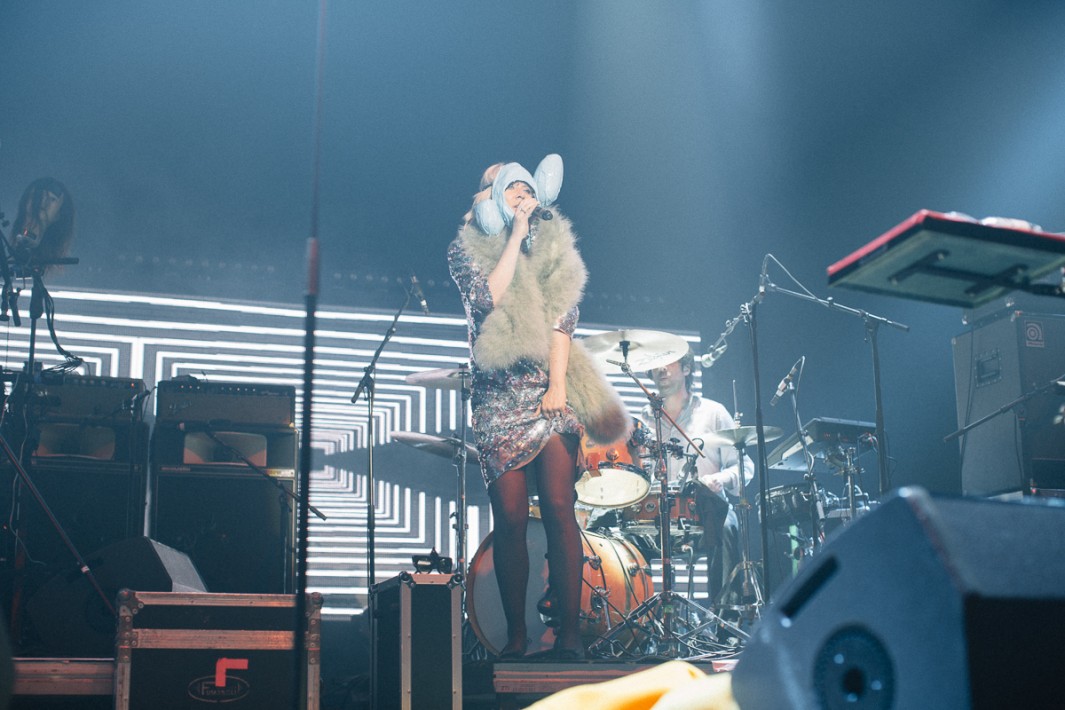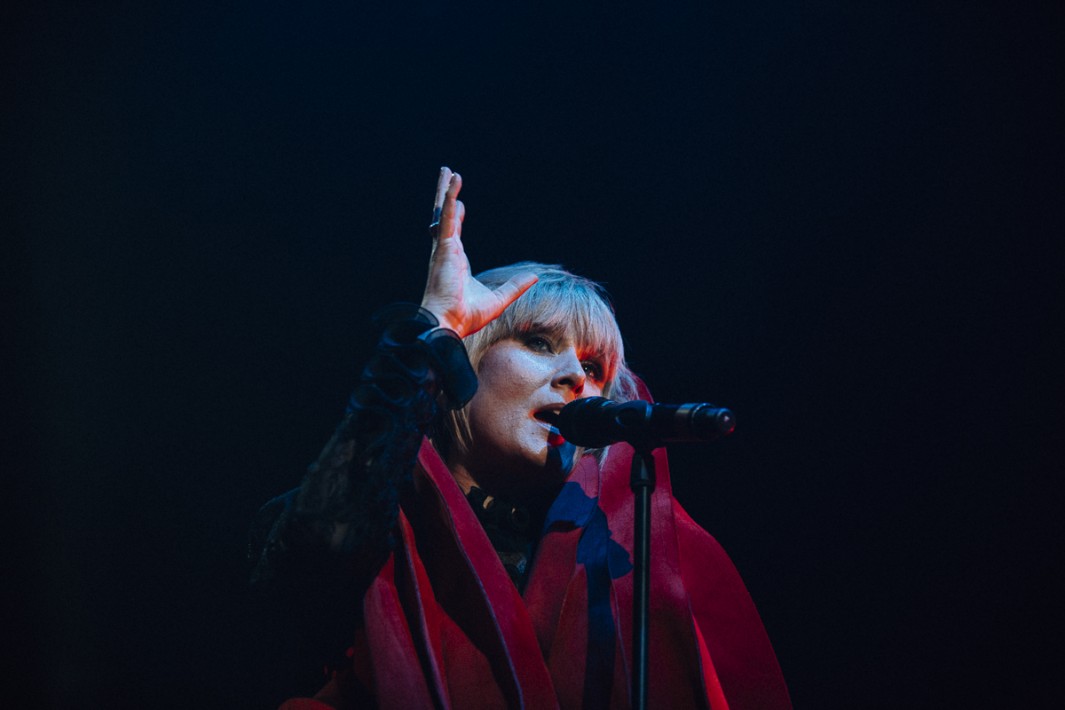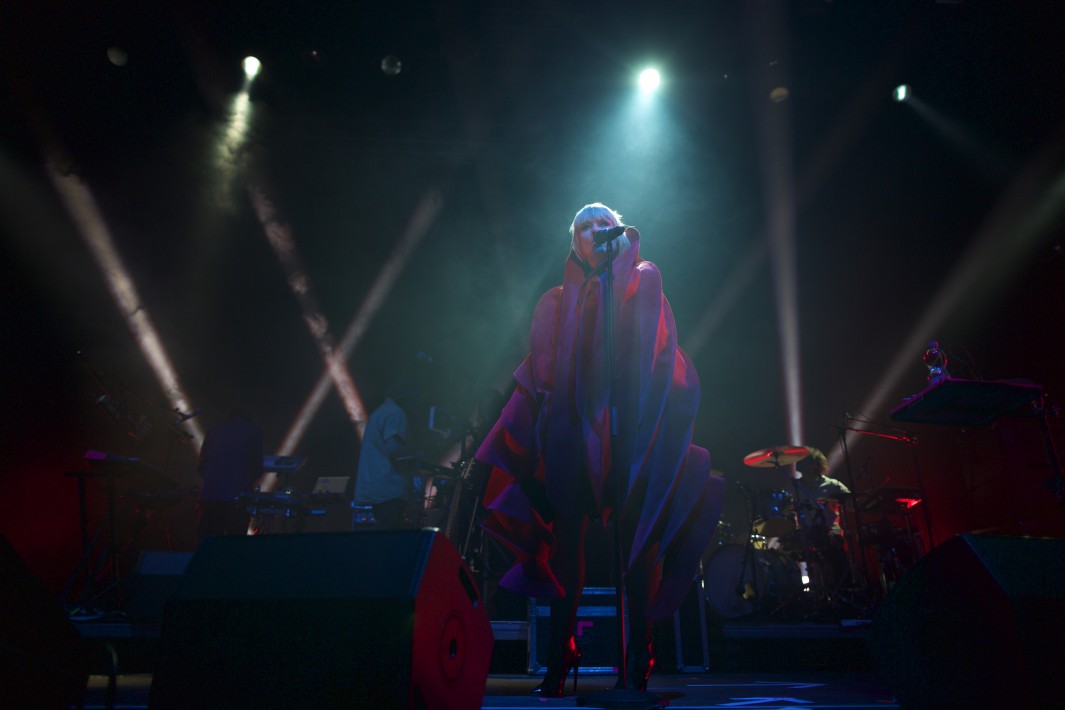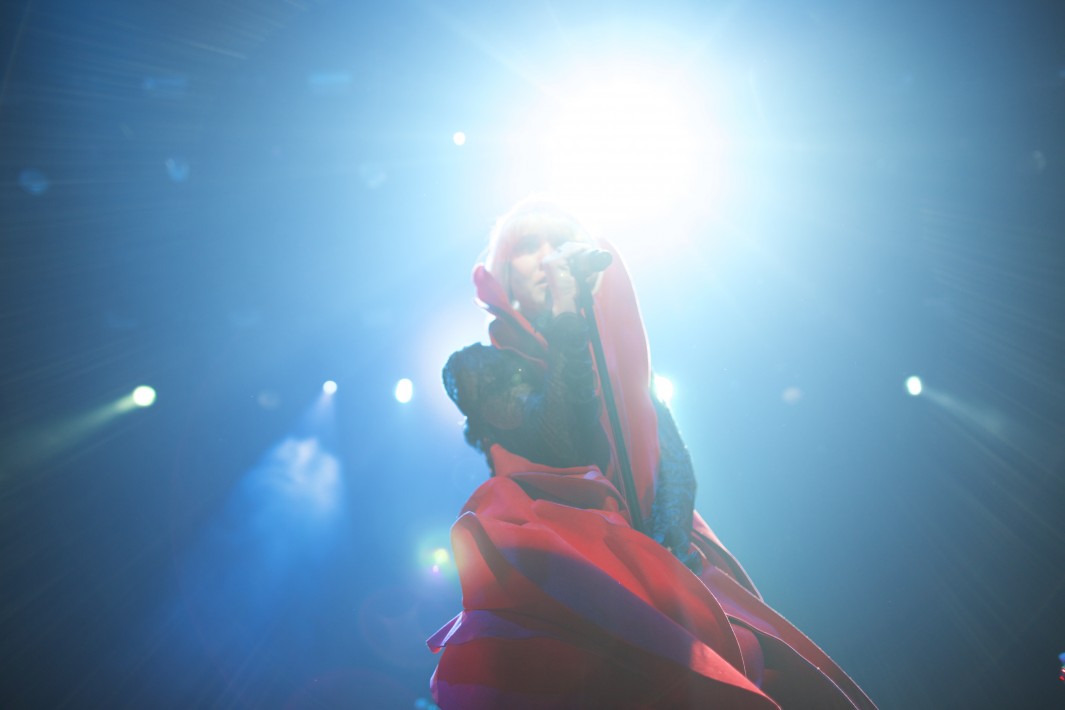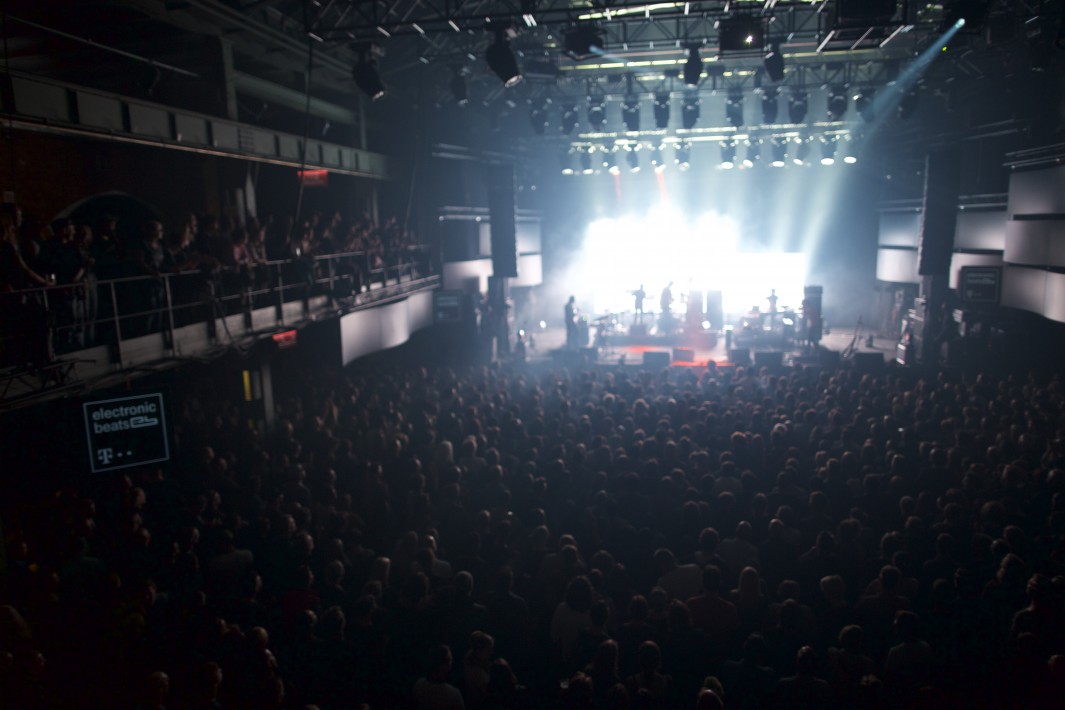 Video from all the performances will be uploaded to the EB site in the coming weeks, and we'll be announcing the fall festival program very soon!
15 Years of Standout Concerts in Cologne

This weekend, the Electronic Beats festival series in Cologne celebrates its 15th anniversary with an extravaganza bringing Róisín Murphy, Howling, Django Django, ADI, and more to the stage. Over the years, we've hosted everyone from Major Lazer to Caribou and James Blake, so in anticipation of the upcoming milestone, we've compiled the videos of 15 of our favorite performances from the EB vaults.
Jon Hopkins in 2014
James Blake in 2013
LTJ Bukem & MC Conrad in 2002
Goldfrapp in 2014
Trust in 2013
Milky Chance in 2014
Caribou in 2010
Little Dragon in 2010
Dan Deacon in 2013
Mac Demarco in 2014
Major Lazer in 2010
Moderat in 2010
Mount Kimbie in 2010
Karl Bartos in 2000
Animal Collective in 2011