Daniel Jones recommends Fat White Family's <i>Champagne Holocaust</i>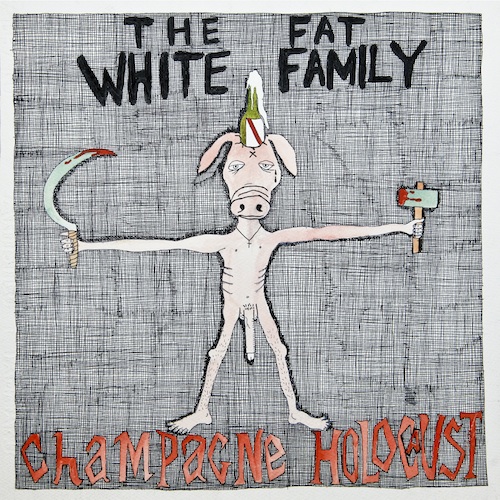 While many may decry rock music as dead, Fat White Family's garage-punk sleaze proves it has at least one more filthy road to travel, says Daniel Jones.

Rock music has pretty much hit a wall in terms of forward-thinking; there's just not many places for it to go at this point, if any. Even the phrase 'rock music' sounds like something your grandpa would say. So when a rock band comes along with even mildly catchy music, it's easier to just shrug and go, "Well, sure, okay; that's fine." How else can you possibly explain the success of Mumford & Sons? Once in a while, however, some bastard sneaks into the musical ice cream factory and dumps toxic waste in the vats of vanilla. That's where things like Fat White Family are born.
The Fam have been called the best band in London right now, with comparisons ranging from the unchained weirdness of The Birthday Party to the swampy lovelorn Gun Club. While those are certainly apt starting points, the 11 tracks on their debut album Champagne Holocaust have a modernist decadence to them that speaks of eyes more empty than bright—this isn't music for thrashing, but rather for shambling. From the opening psychedelic licks of "Auto Neutron", The Fam's bluesy, disinterested punk shimmies beneath the skin. You can almost hear the down-heel boots clomping along to the beat on the dirty bar floor, struggling against that moment when they know they must leave their ass-warmed chairs and head back into the hateful sunlight. There's a lot of the Americana romance to the album, be they songs postulating the nature of Lee Harvey Oswald's death or gold rush-era prairies. It's a fascination I didn't really get back when I was listening to all those Theatre of Hate albums, and I'm not sure I get it now—so I ask you, British people: why do you guys romance our past so much? Aside from the whole inventing R&B thing, I mean.
There's more than a touch of the soundtrack aspect to Champagne Holocaust, the tracks arranged to form a modern outlaw tale of dirty desert deals gone wrong, a sweat-drenched paranoia like the offspring of Quentin Tarantino and David Lynch. "Without Consent" swaggers like the most disreputable gigolo in town, giving way to the hog-killin' squeals and shrieks of "Special Ape". By this point, the album has hit a stride of garage-punk monsters, so as much as tracks like "Heaven On Earth" and the manic "Bomb Disneyland" make the nasty drunk in me rise up on shaky legs, it's the touches of gentleness that stand out a bit more—gentle like the breeze of old cigarette smoke, anyway. "Cream Of The Young"' floats about on a simple Casio beat and raw chords, while album closer "Garden Of The Numb" cements the theme of nodding-off hatred apparent throughout: "I see you on the corner with your friends. I can only hope it won't be long for them." Smash-cut to filthy, yellowed curtains sliding closed.
Fat White Family's sound is special not because of any particular uniqueness; aside from the aforementioned older comparisons, more modern acts like Bird Blobs, Preacher & The Knife, New Thrill Parade, and myriad others have poked and prodded at various levels of nihilistic garage and Americana. What set the Fam apart is the wonderfully ugly use of musical mythology in their sound and performance—it's almost like a parody story of all of the overblown nastiness that makes up rock's history, which I suppose would make this a soundtrack after all. To be honest, I can't think of one more appropriate.
Fat White Family's Champagne Holocaust is out April 1st on Trashmouth Records.
Editor's Choice: March 9th, 2013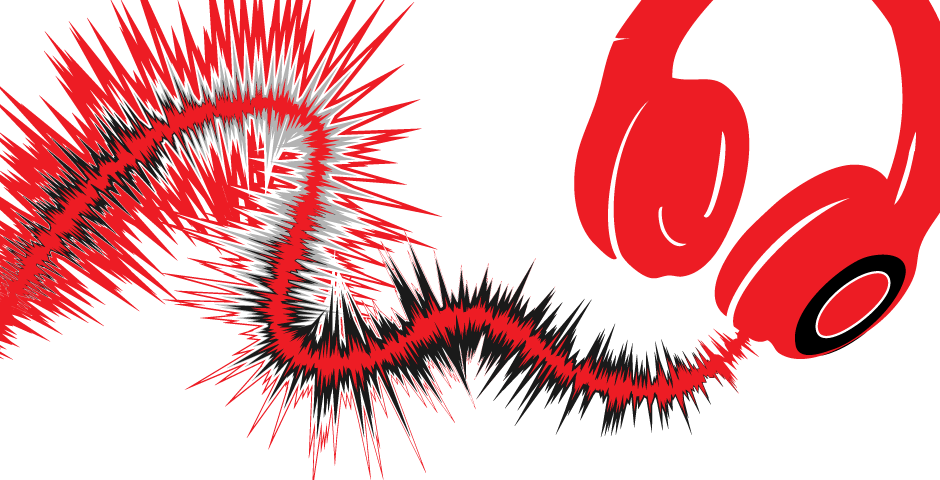 Rather than operate as a music news source, Electronic Beats operates as a music information source. One of the things about being incorrigible music geeks is that we need our enablers—we want to share with you; we want you to know what we're into and to spread the boundless enthusiasm for new music that bounces off the walls of EBHQ. Welcome, then, to Editor's Choice.
Michael Aniser (Online Contributing Editor)
DJ Richard – Nailed to the Floor
This is probably one of the sickest tracks I've heard this year! I just can't stop putting that track off again, tatatatatata. You should keep an eye on DJ Richard and his label White Material where simple house structures transform into something entirely new—think L.I.E.S.
Delroy Edwards – Drop Dead
That's what I mean. I think this is the time, I've officially started to like house again.
Dasha Rush – Interception of Arts
This doesn't really need a comment.
/
Lisa Blanning (Online Editor)
DJ Q – "Trust Again" featuring Louise Williams
This single actually dropped last month, but I'm including it now because I didn't mention it at the time, and I think DJ Q is severely underrated. Although he came up in bassline, his recent work with more garage flavor is just the right amount of skippy swing and pop sweetness.
/
Louise Brailey (Deputy Online Editor)
Sega Bodega – Konerak
Glaswegian artist Sega Bodega overlays reticent piano across a percolating and glassy synth motif. What makes this track so splendid is its incessant build and release (accompanied by illustrative "whoooooosh" sound). These dynamics, to ears adjusted to the now, recall the adrenalin bulged, neck-vein-poppin' dance pop filling up the charts. If this is a good or bad thing depends on what side of the feedback loop you're on.
Mount Kimbie – Made to Stray
I heard this on Hessle Audio's Rinse FM show on Thursday. It sounds a little like Foals—or perhaps more accurately, Friendly Fires—crushing on Plastikman. Now there's a fanfic I'd like to read (I wouldn't).
/
Daniel Jones (Online Contributing Editor)

Zebra Katz – Y I Do
Y? Because we like u! *ahem* As with most of the blog-concious web on Wednesday, I was all over Zebra Katz's new video, projecting it on my walls, disturbing my neighbors with horrible vogue attempts (forgive me, Willi Ninja) and making loads of gifs. Fuck an album; Katz needs to release a DVD.
Hundebiss 4 Babylon Mixtape
Hundebiss label boss Simone Trabucchi recently put together this amazing mixtape for the Italian radio station Babylon packed full of rare, unreleased and classic cuts from (amongst others) Sewn Leather, Angels In America, and Stargate. There's even a skit! More mixes need skits.
/
Michael Lutz (Magazine Duty Editor)
VED – Spectra
Did I ever mention my devotion to psyched-out static jamming? Here's VED, a promising five-member band from Malmö, Sweden, who apply themselves to a vintage sound design and lull you in like sweet smoke. The 30+ minute mini-LP Spectra is out just now via Adrian Recordings on vinyl only, and here's your chance to grab it.
Life Of Grime: An interview with Wen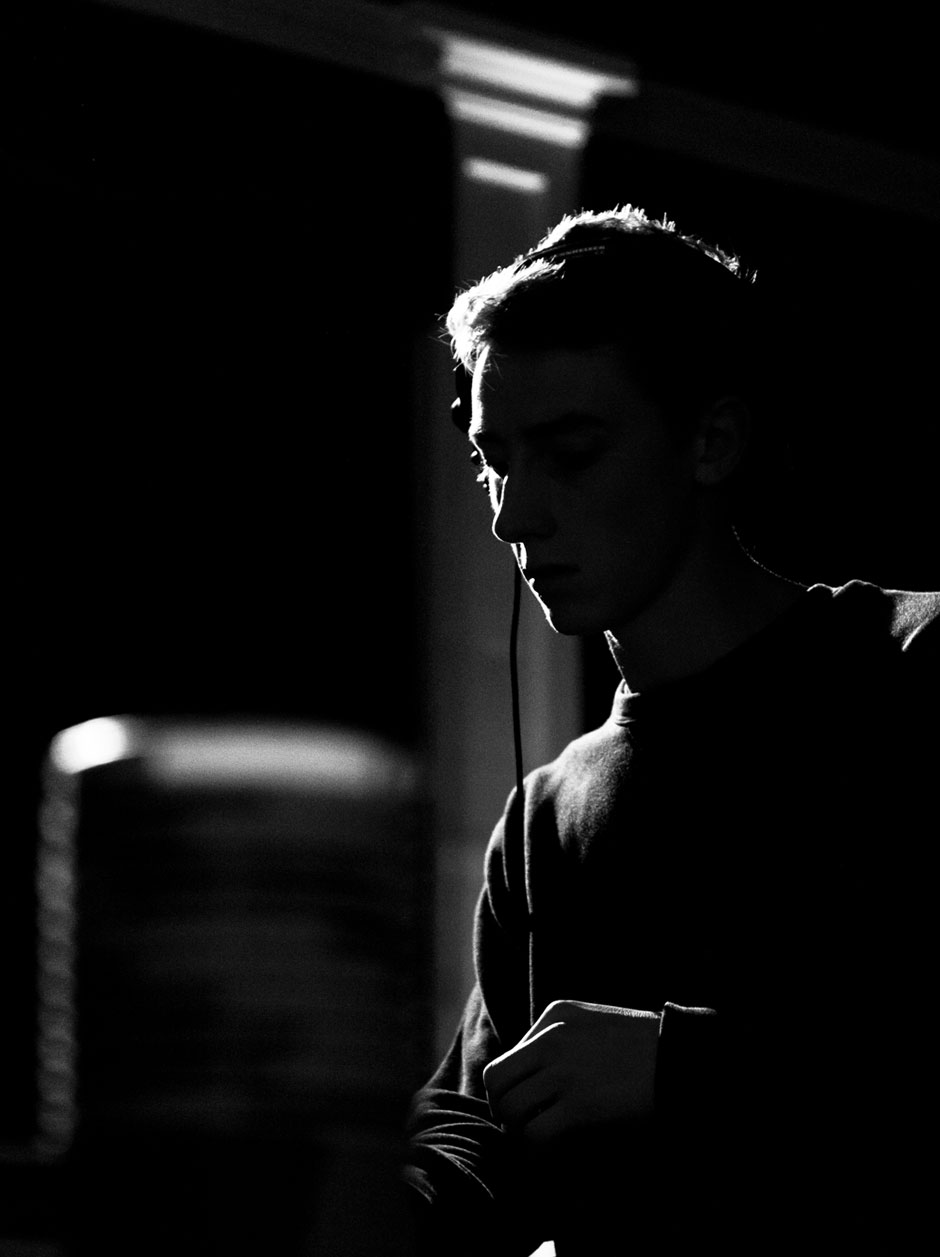 If you scan London's airwaves these days, or trawl the various forums and YouTube channels associated with the capital's nightlife, you'll most likely find two things: house and techno.
London's club scene has a rich history of spawning its own musical forms, running from UK hardcore, through jungle and garage to grime, dubstep and UK funky. But recent years have, for better or for worse, seen young British producers look increasingly to Europe and the US for cues.
A sea change might be on the horizon, however. Alongside the recent resurgence in instrumental grime, a new clutch of producers are reworking the sensibilities of dubstep and grime at a house-friendly 130 bpm, and putting a fresh spin on London's sonic signatures in the process. The nascent movement is spearheaded by influential dubstep blogger Blackdown and his production and DJ partner Dusk through their Rinse FM show and Keysound label, but at its forefront are a triumvirate of young names: Beneath, Visionist, and Wen. Of the three, Wen, aka Owen Darby, is perhaps the least known. He's also—as the Commotion EP, out this month on Keysound, reveals—the most promising. Darby brings a distinctive grime flavor to the table, fragmenting its signifiers and redistributing them in cold, weightless space. With a Keysound compilation, This Is How We Roll, set to shine the spotlight on this emerging sound, Angus Finlayson caught up with the producer to discuss his formative experiences with dubstep and grime, and the lasting appeal of darkness.
First of all, whereabouts are you based? Am I right in thinking you're outside of London?
Yeah, I'm about an hour away from London, in a place called Thanet. Which is a collection of 5 towns, Ramsgate, Broadstairs, Margate, Westgate and Birchington – I grew up in Ramsgate, I currently live in Broadstairs, but Margate is the most recognised so I tend to say that's where I'm from.
Given you weren't living in the capital, how important was pirate radio to your musical upbringing? How do you feel about the changes that pirate radio has gone through in recent years?
Rinse was the main one I listened to live 'cos they had the internet broadcast and it was the biggest station for the kind of music I wanted to hear. I listened to quite a lot of grime from pirate radio but it was short, ten minute recordings from Deja [Vu FM]or Pyro [FM] that I got sent by infra-red at school. So, it was short, gritty glimpses that I heard, which probably has filtered through to my music now. When I use three word vocals or short synth stabs it's a nod to that, I guess.
Then I started listening to Logan Sama and Westwood on Kiss and 1Xtra, which was probably Bluetooth era [laughs]. I think it was 2007/08 when the scene was really strong; every week there was a crew going into one of the studios and freestyling for about an hour, sometimes there were two crews and it was kinda tense—fighting over the mic to announce their new mixtape release date, which basically got really heated and escalated into a clash. Hearing that on the radio was exciting. The videos got uploaded a week later too—so visually it became interesting. Grimeforum and Puregrime [web forums] were really lively then; you could go on there and ask for instrumentals from the sets. Most of the producers were on there while it was broadcasting, so you could rely on finding out, or being told, "Nah that's a special for so and so's mixtape." For me, this was more of an influence than pirate radio.
I feel like it's come back around recently, 'cos I get just as excited listening to Dusk and Blackdown on Rinse and hyping with all the producers on Twitter. Chances are I'm eagerly waiting to hear my track, which samples that previous time—the vocals all come from that '07/'08 era in grime – so making music is a bit nostalgic for me at the moment.
Your music feels to me like it's reviving the spirit of early dubstep to an extent. At what point did you start going to clubs? What's your relationship to that scene and sound?
I'm 21 now. I first got into production when I turned 16, so that was late '07. Dubstep was established but it was probably just blowing—as in getting well rowdy—then, I'm not really sure. I think I was lucky at the time I heard about it. I was listening to Youngsta on Rinse, which led me to his [Dubstep] Allstars CDs, then I heard Hatcha's one and Kode9's. The further I went back to 'early dubstep' the more I liked it. The first proper club I went to was a FWD>> & Rinse night at Matter, which was the first night that came up once I was old enough. They had the new under-floor sub system in there, Youngsta, Kode9, and Plastician were playing. Plastician had most of the grime scene with him in room two—it was crazy. So yeah, I went away from that night and wanted to make stuff that would create an atmosphere in that situation.
In relation to the music you, Beneath, Visionist, etc are making, darkness seems to be a prevalent theme. Did you follow & enjoy the more colorful music coming out of, say, Hyperdub and Night Slugs in '09-'10, or have you always carried the torch for darker sounds?
[Laughs] I do enjoy a lot of the synthy colorful stuff. It's just not me, though—that's why I don't make much of it. There's definitely color in my tracks, but it's quick, vivid, and abrupt. Dark has always been cool to me—speaking literally too—I like music that sounds cold. I don't like being in clubs when it's sticky. Certain music feels cold in that environment, when the beat is empty and has some haunting sounds, you get some space to yourself.
You seem to be trading ideas and tracks with a lot of like-minded producers at the moment: Beneath, Visionist, Epoch, J-One, etc. How important is it for you to feel part of some coherent scene or musical movement? Would you be doing what you're doing if you were the only person doing it?
To be honest with you, I feel like I am the only person doing my style at the moment and that's probably the reason my music has been voiced by a respected label like Keysound. I've done my imitation stage in production. It was useful to reference tracks when I was starting out, but when I got to a stage of feeling confident in my beats, I got tired of people saying it sounded like other producers. If some producers emerged doing exactly the same thing as me, and I lost my identity, it would slightly put me off that style. Although I imagine it would give me some fire to evolve it—so it's all positive really.
But yeah, spot on with the like-minded producers you listed, it's definitely coherent, but there's a strong individuality at the same time. All of those guys are the only ones doing their style, which I'm sure they want to keep that way. Anyone can climb on a bandwagon—truth is you're only gonna get noticed if you're the one driving it.
The This Is How We Roll compilation seems like a statement of intent for you guys. Where do you see this sound going in the coming year? Are you trying to take it in any particular direction?
The sound is flourishing right now. The compilation only provides a glimpse at some of the moments in the scene, there are so many producers at the moment that are a part of it. Just check the track lists on Blackdown's blog, him and Dusk must have had a tough time deciding which tracks to include—but that's positive right? I don't think we're trying to force anything with it; it's just a way of showing what we're doing, currently—which is a really exciting time.~
Wen's Commotion EP is out now via Keysound Recordings.
Becoming Real shares free Snow Drift Love
Becoming Real aka Toby Ridler put the witch into UK bass when he created his anthem 'Closer' early in 2011. Since then the South London producer has consistently impoved his profile by releasing sinister time capsules on labels such as Ramp Recordings or going on tour with SBTRKT, and is finally on the verge to bring out a mini album named Solar Dreams / Neon Decay. To celebrate the imminent birth of his latest effort he now wants to share one of the album tracks with you: hear, see and download 'Snow Drift Love' below and try to catch the young Mister Ridley in a club near you.
Wolfey and Hanetration- new faces /new music
A brace of new producers today offering up some very agreeable music to wrap around your ears. First up is Hanetration who hails from London. The Tenth Oar EP is free to download (get it below) and contains four tracks of compressed fuzz and dense reverberations that would make for a perfect accompaniment on headphones whilst you wander deserted, post-apocalyptic streets. Then there is Wolfey, a Canadian who sent us his Sleep Country E.P on his own label Blenheim & Celtic. More ingrained with club music's DNA (he DJ's too) Sleep Country is a woozy syrup of bittersweet synths and mournful drum machines that could send us to sleep like a baby. Both artists tip their hat to Burial but each has managed to infuse their ethereal creations with their own personality. Hence why we are telling you about them, because no one likes a rip off right?
Download both E.Ps for free below.