The Top 8 All-Female Lineups Of 2016
Earlier this year we published a feature by DJ Courtesy, a former member of Copenhagen's all-female DJ collective Apeiron Crew, in which a number of fellow selectors and bookers shared thoughts on the pros and cons of all-female lineups. It was the only article we posted all year that inspired more than a short-lived argument on social media, but a reasoned letter-to-the-editor response from a reader. The avid discussion around the article indicated to us that, although the idea of a party that books mostly or entirely women didn't originate in 2016, it did pick up steam over the past 12 months. We've observed an increased interest in the idea both IRL, where female DJ collectives and booking crews like Discwoman and Siren organized such events, and URL, where heated discussion took place over the very concept and whether it constituted "reverse sexism" against men—and, of course, all the usual condescending mansplanations of the very logical reasons why so few women are booked on festival programs and how they can earn the respect they apparently don't yet deserve.
So while last year we made the surprisingly controversial decision to recount 2015's most important moments for feminism in DJ culture, we've decided to reflect on recent developments by zooming in on one of the more distinct trends in "techno-femnism": the all-female lineup. Below we've gathered some outstanding examples of club activism that took place around the world.
Tresor Meets Female:Pressure: June 10 in Berlin, Germany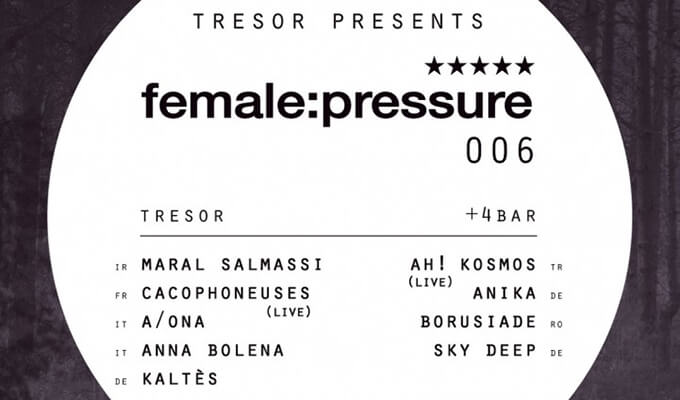 The semi-regular event series curated by DJ Kaltès reached its zenith this summer with a heavy-hitting roster of proven talents like female:pressure founder Electric Indigo and fellow techno acts Mary Velo and Adriana Lopez. In the fall, Kaltès responded to our feature on all-female lineups with a sharp defense of her decision to always and only book women on her female:pressure bills. And it's ace nights like these that prove her points.
She Makes Noise Festival: October 20-23 at La Casa Encendida in Madrid, Spain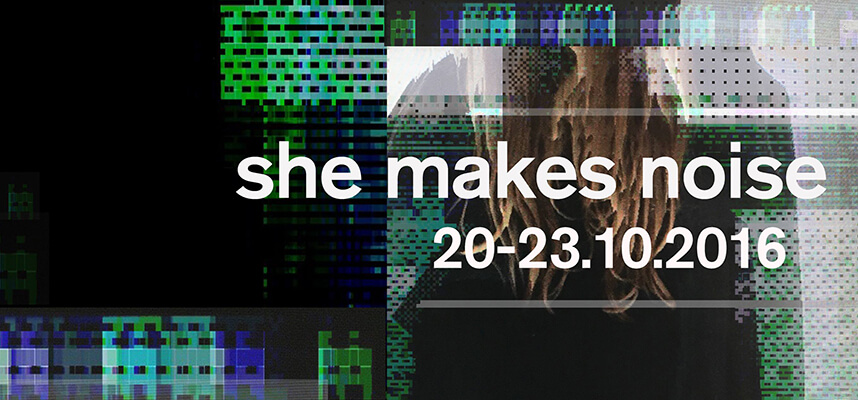 Any festival that uses Laurie Anderson's seminal debut album Big Science album for its poster artwork is worthy of closer attention. For its second edition in October, Spanish festival She Makes Noise celebrated similarly innovative women who are active within DIY electronic music, sound experimentation and alternative cinema. The four-day program of concerts, audio-visuals, workshops and screenings brought together some key names of contemporary music—organ maestro (or rather, maestra) Kara-Lis Coverdale, So Unreal label boss LANOCHE and Nikka + Alba G. Corral, among others—to make the kind of collective noise that refuses to be drowned out.
Picnic Presents Powder: November 13 in Sydney, Australia


In 2017, the touring and events company Picnic will take on promoting women in Australia's electronic music scene with an all-female party series called HER, the inaugural edition of which will feature Salon Des Amateurs' Lena Willikens. The idea for HER was born in November, when they threw a BYOB warehouse party with eclectic Tokyo-based DJ Powder that also featured the same cast of resident women who will support Willikens: Picnic staple Kali, rising techno talent Hannah Lockwood and local residents Nat James, Jemma Cole and Valerie Yum.
Heroines Of Sound Festival: December 8-10 in Berlin, Germany


Berlin's third annual Heroines Of Sound Festival continued to lift the profile of female pioneers past and present. Not one but three trailblazing women served as the festival's thematic focus this year: multifaceted classical composer Beatriz Ferreyra, Sorbonne-trained electroacoustic musician Christine Groult and the late mezzo-soprano Cathy Berberian, who defined new vocal practices in the 20th century. The festival's 2016 participants operated across chamber music, sound art, noise and experimental electronics; the lineup included Uta Wassermann and Anna Clementi, theremin virtuoso Dorit Chrysler, producer Lucrecia Dalt and installation artist SHIROSHI.
No Show x Modul: October 8 at Institut für Zukunft in Leipzig, Germany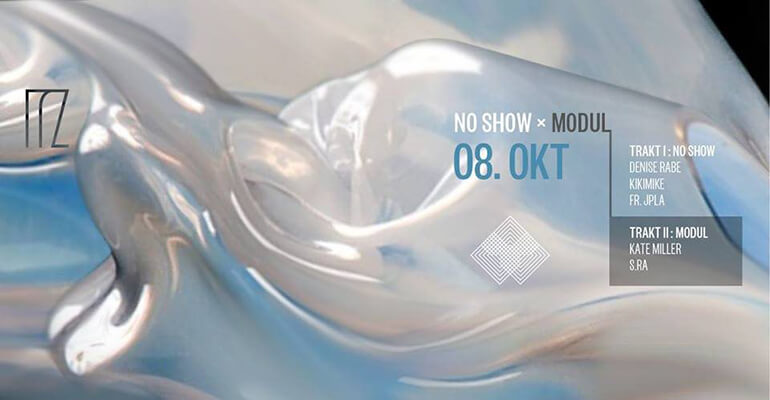 The team behind the No Show nights at Leipzig's top venue Institut für Zukunft don't explicitly bill themselves as an all-female or feminist-minded event series—in fact, they don't seem to bill themselves as anything or anywhere at all. But the lineups the crew put together throughout 2016 suggest that increasing visibility for women is an important part of their mission. No Show regulars Kikimike and fr. JPLA curated lineups that mixed local women like IfZ's s.ra with headliners from other cities. In the fall, they brought out Australian transplant Kate Miller from her current home in Berlin to round out a bill they constructed with Modul, which seems like another likeminded Leipzig promotional crew. But both parties' low-key social media presences make it hard to know anything about No Show and Modul for certain.
Mint Berlin Club Night and Room 4 Resistance Day Party: July 23-24 at ://about blank in Berlin, Germany


Berlin is a city with a high number of club events compared to perhaps any other in the world as well as a high volume of activist-minded locals, and so it follows that Berlin also has a disproportionate number of activist club nights. Over the summer two of the most prominent parties that aim to promote women intersected at ://about blank for an especially powerful evening. Mint Berlin programmed the nighttime with resident Ena Lind alongside Australian vinyl evangelist Claire Morgan, New York's Lauren Flax and Berlin-based Swede Johanna Knutsson with a token guy (which isn't an uncommon booking practice for Mint, as they explained in our feature on all-female lineups). When morning dawned, ://about blank's other feminist-minded promotional team, Room 4 Resistance, took over in the garden with the likes of Rroxymore, Mo Probs and Demian Licht. Both Mint and Room 4 Resistance hosted strong events throughout the year, including a panel discussion co-organized with Discwoman and a series of club nights that featured an impressive roster of talent: SHAPE alumnus Borusiade, La Fleur, Eli Verveine, DJ Sassmouth, Jane Fitz, Machine Woman, .noncompliant. and more.
SIREN x Apeiron: April 14 at Rye Wax in London, England


In April, two breakthrough female DJ collectives joined forces in London for one of the year's most badass club nights. The lineup united current and former members of Copenhagen's Apeiron Crew (Mama Snake, Solid Blake and Courtesy, who spearheaded our feature on all-female lineups later in the year) with the resident DJs involved in London's local SIREN collective, which amounted to a natural fit and solid collaboration. The event also functioned as a launch party for SIREN'S new zine, which you can find on their Bandcamp page.
Discwoman Mexico City: January 8-9 in Mexico City, Mexico
https://www.youtube.com/watch?v=xtqoHTpedfY
New York's techno-feminist crew and agency Discwoman kicked off an impressive year with a mini-festival across two days and several venues in the Mexican capital. In collaboration with local bookers Derré Tidá, the collective stocked club night bills with local women like Demian Licht, Esamipou and Nina Sonik as well as imports from abroad like The Black Madonna and Discwoman's DJ flag-bearers Volvox and Umfang. The event also included daytime workshops, and 20 percent of the profits benefited the GIRE foundation, which protects reproductive rights in Mexico. Throughout the year, Discwoman honed this multifaceted format with similar activities around the world, including a debut European tour that involved DJ workshops at OHM in Berlin, and furthered the cause with in New York with its Technofeminism party series.
Published December 14, 2016.