Why We're Stoked About Eastern Europe's Cassette Scene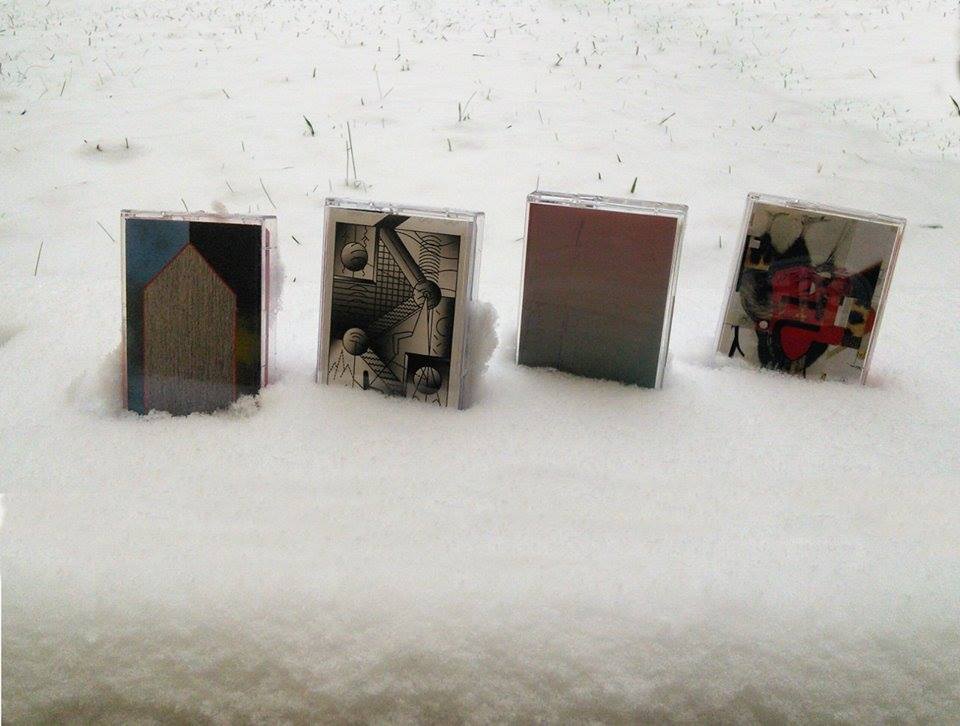 After extensively covering prominent tape scenes in the Western world, we've decided it's time to explore its eastern fringes. To glean an expert's insight into Eastern Europe's cassette scene, I contacted Slovakian native Lucia Udvardyova, who investigated the area's compelling electronic musicians in her now-defunct Eastern Haze column for Electronic Beats. She continued the project with the her blog, Eastern Daze, and cultivated hands-on experience in the field through her work with one of my favorite cassette imprints, Baba Vanga. For further research, I had a quick chat with David Šmitmajer, founder of a small tape production company in the Czech Republic called Headless Duplicated Tapes. With their help, I've crafted the most comprehensive list of 10 Eastern European cassette labels that I know of.
Hungarian label Farbwechsel is a good starting point if you're interested in Eastern Europe's underground scene. Its roster includes Lobster Theremin alumni like S Olbricht, Imre Kiss and Route 8 as well as a ton of little-known local acts. It's definitely one of the best tape labels I came across in my studies.
Polish imprint Sangoplasmo has been a bit quiet over the last year. Label manager Lubomir Grzelak was busy with his side project, Lutto Lento, crafting an amazing Boiler Room set and making a cassette that arrived on UK label Where to Now?. After shooting him a concerned Facebook message, I can officially announce that the label is not dead. In fact, he says that it'll wake from a deep sleep in the coming months.
Wordless Songs By The Electric Fire by Wilhelm Bras
Mik Musik is one of Poland's longest-running DIY Labels, if not the longest. Wojciech Kucharczyk launched the project in 1994 with some cassettes, and to today it churns out "records of every kind books, exhibitions, talks, lectures, demonstrations, solo, in groups, at a distance, on-site at meadow, in the mud, in the palace" [sic]. My personal favorites from the roster are RSS B0YS (whom Lucia interviewed for us a few months ago) and exciting Polish producer Wilhelm Bras.
I've listened countless times to the Wake up in Bits tape by Foundling, a beautiful and haunting collage of found sounds, lush beats and small sonic artefacts. It came courtesy of Slovakia's Proto Sites label, which just released an S Olbricht 12" on vinyl. Hopefully more music will come soon on any format.
This Bratislava-based outpost is run by Jonáš Gruska and focuses on experimental electronics and field recordings. Gruska also runs the local ZVŮK festival, which from the looks of it will return to the Slovakian capital this September.
https://soundcloud.com/aluphobia/your-lies-free-download
Bukko is a super exciting new label from Brno in the Czech Republic that showcases screeching and distorted dance music for pre-apocalyptic parties. Harrowing sounds for harrowing times—count me in! They apparently also just released a floppy disk.
Klangundkrach (stylized as KLaNGundKRaCH) is a noise/DIY tape label from the Czech Republic that brought us the wonderful Sister/Body, Czech experimental duo No Pavarotti and many more. I'm totally into their latest release from Mooncup Accident.
Lucia's aforementioned label Baba Vanga was (we're assuming) named after a blind Bulgarian mystic. The compelling name fits for an outpost responsible for a catalog of compelling and obscure music, my favorite of which is a tape from Superskin titled Decent. The Vanga crew followed it up with groundbreaking records from the likes of Ratkiller, CVN and Střed Světa.
https://soundcloud.com/trash-can-dance-1/fear
According to Lucia, Trash Can Dance is "total DIY spirit." She goes on to say that the label is "run by this guy who releases Estonian music and duplicates at home and sells very cheaply," which sounds pretty cool to me. Ranon's release Africa Edits sounds like a very weird interpretation of The Lion King soundtrack run through some post-Soviet tourism ad. This is the kind of vaporwave I can get behind.
If you love the physicality of tapes, this is the one label you can't miss. Serbian/Belgium outpost No Basement creates art objects, as every cassette tape comes in a unique and quite weird packaging. I'd recommend you check out Posset, Fleshtone Aura and Sigtryggur Berg Sigmarsson to get an idea about its eclectic output.
Cover photo via Baba Vanga's Facebook.
A Guide to Tijuana's Eccentric Electronic Underground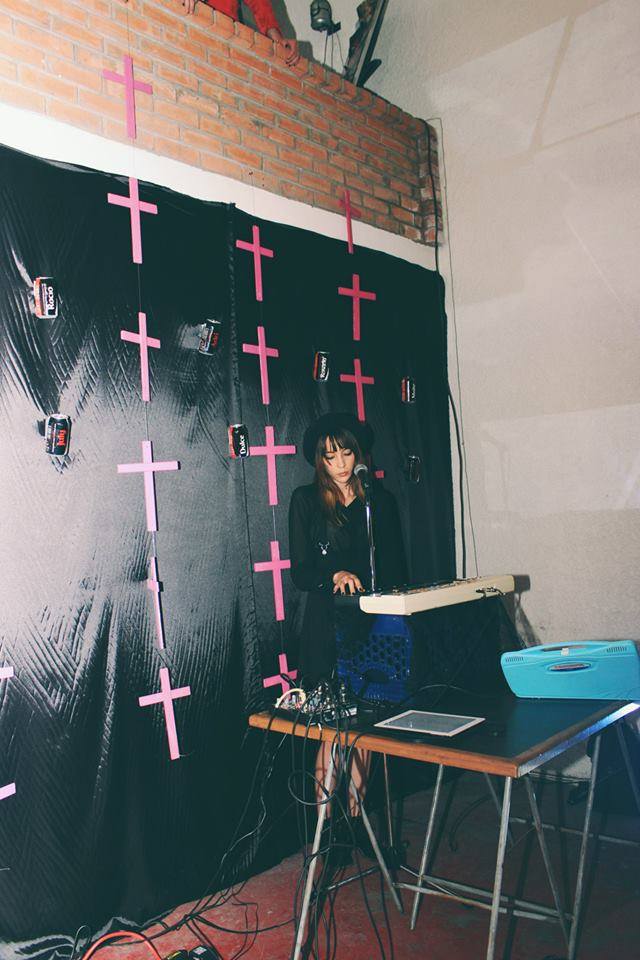 When Tijuana ends up in the international news, it isn't usually for it's local music scene.
"In Mexico, everything is organized around Mexico City," explains Ejival, co-manager and founder of the longstanding local label Static Discos. He says that, while the Baja California border town is a "great place for experimenting," it's seen as provincial, so Mexico City functions like a giant black hole for the city's creative types.
Brain drain notwithstanding, Tijuana's small electronic underground has generated a disproportionately large number of visionary artists in recent years. The city even has its own regional sound, ruidoson ("ruidoso" means "noisy"), which merges Mexican traditional music with punk aesthetics and techno tools. I compiled the selections you'll find here—a combination of people who were born there, lived there for a period of time and/or still call the city home—through recommendations from friends and contacts on the ground, and together they suggest a strong goth streak in the region's musical tastes. Perhaps that penchant reflects the rather dark history of the city itself: the savage violence that flared up in the late '00s due to conflicts between rival drug cartels and authorities, rampant addiction and the violent effects of the militarized U.S. border that stands at the city's northern edge.
But its seedy reputation constitutes only one of the many faces of Tijuana, says Ejival. "There's the dangerous Tijuana," he admits, but there's also "the vanguardist Tijuana, the entrepreneurial, the commercial, the normal." As the brutal cartel conflicts have more or less subsided in the last few years, the city has begun to draw renewed international interest in its audacious contemporary art world. It's also become home to a booming craft beer brewing industry. "In that sense it's full of contradictions. It's an ugly city, but its border dynamic makes it feel really sexy too."
Thanks to Conejito Colvin of Los Macuanos, as well as Paulina Méndez from Dealer's Brand clothing in Chihuahua for their help in researching this guide.
Braulio Lam and Rodrigo Luviano make droning, shamanic industrial music that leaves the listener with a lingering and unshakeable paranoia. Their five-track ISO EP from last year is the perfect soundtrack for a little bit of dark magic, so press play, light three black candles, and wait for the storm clouds to cast evil shadows across your bedroom.
When it comes to ominous, lo-fi bedroom pop made with malfunctioning toys, Dani Shivers is at the top of the heap. Her discography's predominant themes include dark alleyways, night terrors, ghosts, death, magic and candy, which should give you a better idea of what you're in for. The singer, producer and performer was selected to participate in the next Red Bull Music Academy program in Paris this fall, and is preparing her forthcoming album, Syzygy, due out on the France's Cranes label.
Benfika
https://soundcloud.com/infinitemachine/benfika-catarsis
Benfika is one of the newest signees to Infinite Machine, a broad-minded bass music label anchored in Montreal and Mexico City. His debut EP for the imprint, 121214, reveals a knack for scalpel-sharp sound design as well as a deeply haunting sense of melody. What would trance arpeggios sound like at the bottom of a frozen ocean? Click to find out.
https://soundcloud.com/santos-1/soles
Santos brings the techno hammer down on Northern Mexico's regional pop music. The result is ruidoson, the aforementioned local movement that he helped build alongside other Tijuana acts like Maria y José and Los Macuanos. It's a wonderfully chaotic micro-genre that cannibalizes many of the iconic sounds of the US-Mexico border, feeding cumbia rhythms and banda brass sections through a warped, surrealist filter.
https://soundcloud.com/losmacuanos/el-u-ltimo-desafi-o
Five years ago Los Macuanos dropped El Fin, a groundbreaking and loosely conceptual debut LP that weaves together samples and live instrumentation to channel Tijuana's strange psychic energy. Like Santos, the three-piece band's early catalog draws upon the tinny whispers of the Mexican radio dial, offering distorted reflections of old and scratchy cumbia records—though their sound is unmistakably more sinister. However, band member Conejito Colvin says the group has turned toward a more industrial and overtly political aesthetic on its forthcoming album. "El Último Desafío" more closely resembles what you'll hear on their long-awaited follow-up LP, which is due out this year.
https://soundcloud.com/staticdiscos/lostoys-preview
This Tijuana-based imprint was founded in 2002 by the mononymous Ejival, who offered his take on the Tijuana music scene in the introduction. The label's wide-reaching catalog emphasizes Latin American artists and charts a course around the outer reaches of house, techno, avant-garde pop and sound collage. Macario's Topure LP from last year is a crowd favorite, and a great introduction to the label sound.
Ejival recommended that I check out Hidhawk, the noisiest artist on this list. The Tijuana native makes glitchy, zero-fidelity sound collages with what sounds like damaged or circuit-bent instruments and occasionally veers into more rhythmic or dance floor-oriented territory. She also recently launched Mundotheque, a blog that archives field recordings of traditional music from various countries for remixing purposes.
Marco Antonio Jiménez Gallardo first rose to prominence as a pioneer of the regional ruidoson style under the name María y José. However, his newer releases have moved towards a sound that straddles electro-pop and raw acid techno. His 2009 debut LP as María y Jose, Espiritu Invisible, is a kaleidoscopic journey through electrified folk sounds, and it's absolutely worth visiting for those who haven't yet. He also recorded a 50-minute mixtape of the rambunctious Mexican party music known as tribal guarachero that serves as a great primer for the genre.
If you live in Tijuana, you've probably seen El Muerto—The Dead Man—posted up in the park, singing along to chintzy drum loops from his vintage keyboard. He's very likely dressed in a leather trench coat, with his bleached shoulder-length coif, Gene Simmons-style face paint and a heavy silver crucifix dangling from around his neck. I was first introduced to him by the semi-fictional triple-X mockumentary Navajazo, which paints a sordid picture of the communities living on Tijuana's fringes. Book him for your next party!
No guide to Tijuana music is complete without a mention of the Nortec Collective, a group of local producers and performers that formed in the late '90s and quickly rose to legendary status across Mexico. Today, plenty of Latin American artists merge regional or traditional music with electronic textures and tools, but at the time, Nortec's fusion of techno rhythms with border town pop called norteño was revolutionary. Bostich and Fussible are two of the most accomplished members of the now dissolved unit, and last year's video for their track "Camino Verde" is a hallucinogenic tour of the Baja California coast.
Cover photo from Dani Shivers' Facebook.
10 Berlin Club Toilets in Review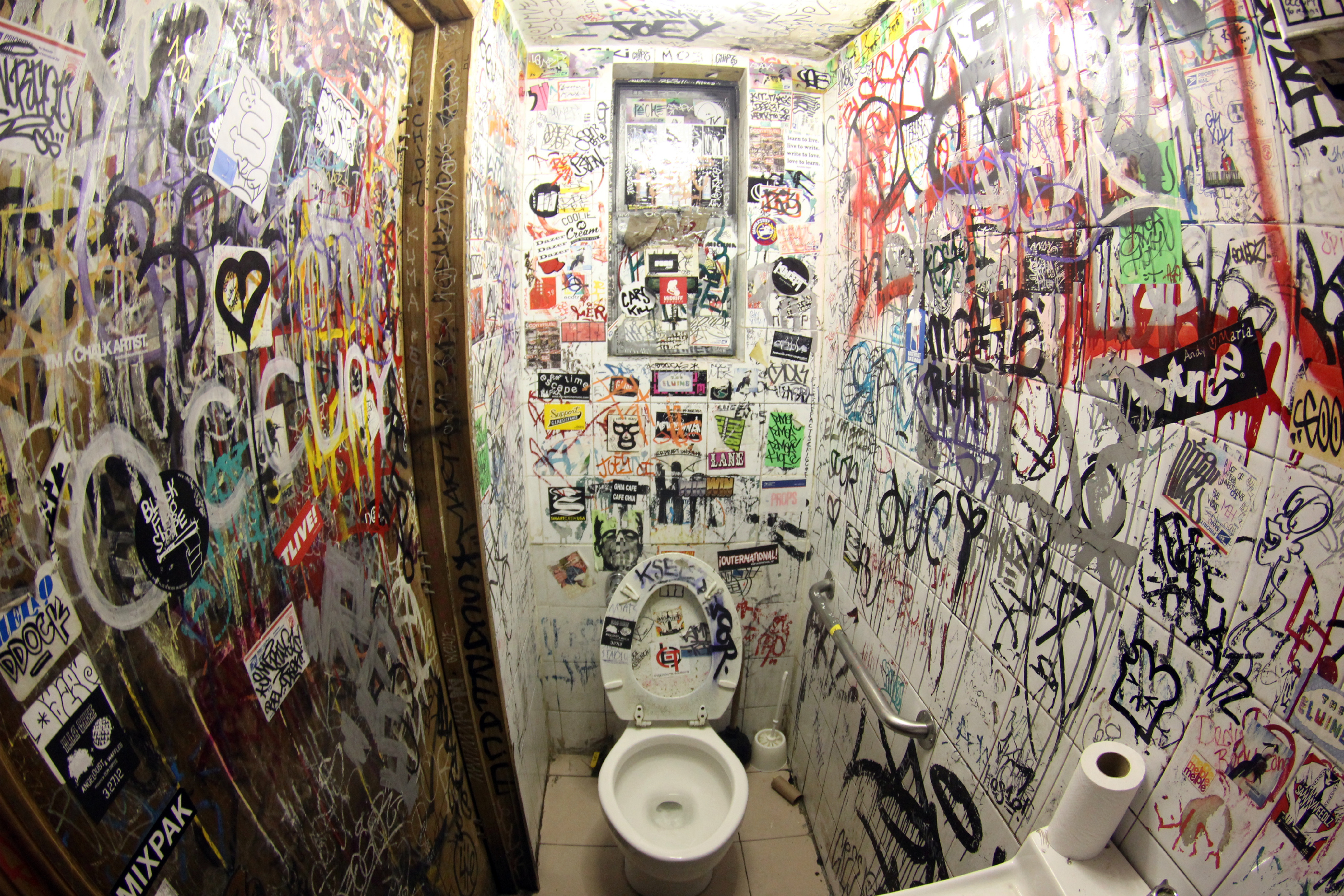 Years of research went into this list. While at one point there would have been no real demand for it, the listicle has become a key instrument of modern lifestyle journalism. When it comes to ranking toilets, our general rule of thumb is: the bigger the club, the bigger the toilet. However, size doesn't automatically imply quality, as you will see when you visit the toilets included here. In general, I advise you to make up your own mind and form opinions based on experience rather than blindly following this list. It's simply a starting point—and it's also highly personal.
1. SchwuZ
SchwuZ has literally the best club toilet I've been to in my whole life. There are probably fancier potties out there, but this bathroom makes an astonishing first impression. When you enter, you're immediately blown away by the hundreds of stalls. There are stalls EVERYWHERE. They could open a whole other club in there. The interiors have nice little tables to leave things on while you're hanging out. The booths are also decently sized, which is a plus if you like to take a crowd in with you.
2. Berghain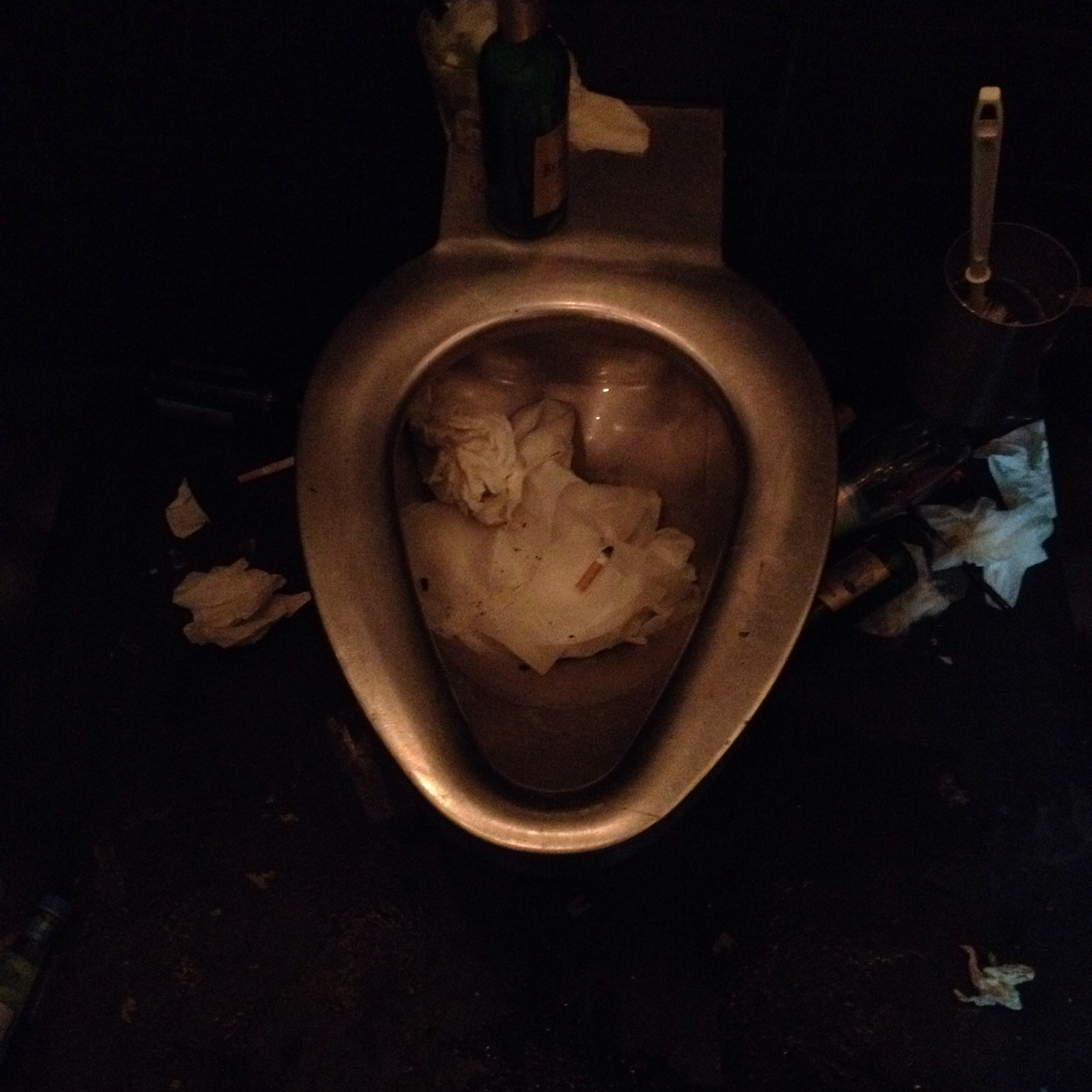 The Berghain toilets are where it's at. They have their own lore and legend—including that there are secret potties stashed all over the place—so let's take an in-depth look. All of the main restrooms in Berghain have a minimalist, utilitarian design: there are no shelves, which means you can't lay a phone down anywhere, and the bowls are made of metal, which makes them easy to hose down. On most nights, the staff does a stellar job of cleaning those puppies every few hours, and that alone sets them leagues above most other club toilets.
Panorama Bar's main WC is a social hub, a place to meet people, a place to talk and lounge on ratty couches and smoke and cheer. Many music industry deals have occurred its bowels. It's easy to get a conversation started and chat with an amazing new acquaintance for hours while someone who actually needs to pee pounds desperately on the door. The downstairs restroom next to the main Berghain dance floor is a classic—I mean, who among us hasn't passed out there on the sofas while trying to decide to whether to go home or have another dance? The toilets on the ground floor are suuuper chill. You can peek out the window at the queue and lol at everyone down below.
Berghain is a very unique club, and by now probably everyone has heard tales of expats' sexual adventures there, but people are still super secretive about what's going on in the toilet stalls. This is a bit weird.
3. Tresor
Hegemann's is a classic club toilet. There's nothing bad about it and nothing really special. The locks work well and the compartments are spacious. I would recommend this one to pretty much anyone who loves clubs and toilets.
4. Kit Kat Club
If you have ever dreamed of being REALLY CLOSE to a throng of unfamiliar bodies, this is your Eden. Once you wedge yourself through the sweaty people crowding the entrances, you can find some eloquent conversationalists. Security checks the cabins pretty frequently, which is both a pro and a con. They may interrupt whatever's going on in there, but they're not trying to arrest you. Plus, if you really need to go, the group in the cubicle that's been standing around an iPhone and chatting with their AirBnb guest won't be there too long.
5. Salon Zur Wilde Renate

Have you ever wondered what would happen if you gave a whole house to those kids that you see at all the parties K-holing in some corner? Well, here it is. Renate is a house: some rooms, some beds and some toilets. There is no real distinction between the actual toilets and the dance floor in this maniac mansion. Be careful where you step/sit. It's an ubiquitous, kind of eclectic approach to toilets. Some love it, some say, "This was funny for a bit but now is just so over." You decide.
6. Club der Visionäre
The whole club is kind of a toilet, because it's next to the water. And the toilets are kind of like the whole club, because they're derelict, tiny and full of old people on K.
7. Griessmühle
This one is for the connoisseur, so you must be somewhat adept in the world of club toilets to fully enjoy it. Not for the faint of heart, this is the true underground: grimy, gritty and kind of groundbreaking in its simplicity. The locks are often broken so you have to hold them shut with your foot while you hover-pee, and in that position it's hard not to number one on yourself. You might find yourself in a huge queue at first, unaware that there are more toilets down the hall. That's where the real magic happens. You have to experience this for yourself to understand the elation and glee one feels when he finds three empty stalls in a club at five in the morning.
8. OHM Berlin
Technically this club is Tresor's little sister, so it's in the same building—in fact, the whole thing used to be a bathroom back when the building was a power plant, isn't that ironic? It's cozy, cute and nice. This one's for beginners, and a welcome entry point into the world of club toilets.
9. Golden Gate
There's a rumor going around that Golden Gate has a storage room full of fresh new johns so they can replace the broken ones after every weekend. It can get quite wild here, and parties last way into Tuesday. This is your real Berlin experience, something to write home about.
10. Chesters
Glass doors? Seriously? WTF?