DVA talk about their SXSW 2012 experience
DVA – aka the husband-and-wife duo Bára and Honza Kratochvíls – are one of the hottest Czech music exports around. Captivating audiences with their idiosyncratic audio world, they weave a magical sound which they've dubbed "folklore of nonexistent nations" and "pop from nonexistent radios". Their sonic accompaniment to the video game Botanicula has been awarded the prestigious Independent Games Award in San Francisco. En route – and on the road driving from Frisco through Arizona to Texas – back to the Czech Republic, they popped by Austin to play the sprawling music showcase SXSW.
Bára: There are three ways bands get to the festival. They either have to cover their own expenses and in addition 'pay to play'. Then there are bands who went through some sort of programming selection and don't have to pay to be able to play there – only the expenses – which was our case. The last group is invited by the festival. We were supposed to attend the awards ceremony in San Francisco so we thought we might as well play 2,500 miles away on the same continent, no?
Honza: Officially, about 3,000 bands play at the SXSW and unofficially in the many bars and hangouts the numbers swell. The program is as thick as a phone book and bands which share the first letter in their names spread on two A4 pages. Thus there are also three ways to get noticed:
1. You're an American and live in the States, or you are European and are good with contacts and lucky enough to invite some music industry people before they put you in their spam folders.
2. You hire a PR agency who invites these people and hopes that they will like the gig and write about it.
3. A PR agency won't get involved but instead, the cultural institute of the country of your origin will. For instance, after our gig an Austrian band played. Everything was sorted out for them by somebody from the Austrian cultural institute who also paid for their flights, as well as the flights for the label and manager. Most of the European countries had a promotion stand there. A Czech band could get a Danish bandmember, for instance, and try to promote themselves through Denmark.
4. If you are going there without making use of any of the above, it's probably best to consider it a sort of a holiday. We were lucky that we primarily flew to San Francisco and SXSW was more or less a bonus.
We stayed with some hippies on the outskirts of Austin who made perfect margaritas. We arrived in the evening. In the morning, somebody from a Texas radio station took us to the registration spot and interviewed us in the car. After having spent several hours in the registration process, we checked out and met Longital (a Slovak band) by chance. This was great, since they had already been at SXSW before and explained everything to us. Hideout, the venue, was a nice place, a former theatre perhaps. We realized they didn't have some of the things we had asked for but we could luckily borrow these from other bands.
Bára: A local project played before us. He had about eight people in the audience – three of whom played with their iPhones throughout the gig. After witnessing this, we thought it was pointless, that we'd have nobody at our concert. Our worries didn't materialize and we had quite a lot of people at the gig who stayed until the end. Usually people go in and out of shows there. On big festivals one experience is overshadowed by the next one each hour. It's like the Internet. In a way SXSW reminded us of Facebook, MySpace, Twitter all in one place.
SXSW is a valuable experience for every band. To get out of the familiarity of the clubs where the audience adores you is the only way to find out whether its allure only works in a safe environment. I'm looking forward to the time when bands from planet Earth will play at the Spacevision on Mars and witness what the aliens find rad and drab.
Honza: We experienced a road movie surrounded by amazing nature, slept in a motel straight out of a Coen Brothers film by the Mexican border, learnt to make margaritas, and won an award. America is a big country that doesn't really need Europe. Still, all the musicians told us how great it is for them to play in Europe, as the entire infrastructure at clubs and festivals is much better here. So actually it's okay to be European.
Modeselektor announce Melt!Selektion, Apparat announces new Moderat
Busy days for Modeselektor: besides being on tour with their Monkeytown album and preparing the release of their second Modeselektion compilation, they've just been honoured with the critic's award during Echo 2012. And now there's even more news regarding their summer plans, since Modeselektor just announced the billing for their upcoming Melt!Selektor stage at this year's Melt! festival in a fun short press conference video. For the third time around, Szary and Gernot will be curating the sea lake stage's line-up, and for 2012 they just confirmed sets by:
Schlachthof Bronx, Lazer Sword, Brandt Brauer Frick, Mouse On Mars, Floating Points, Hudson Mohawke, AraabMuzik, Gaslamp Killer, Rustie, Shed as well as the Modeselektors themselves. Watch the announcement video below for mor insight into their booking process, more information + tickets here.
On a different note: we're already very excited about the end of the year, since everything seems to be set for a new Moderat album. In our recent 'Electronic Beats presents Apparat at SXSW' video documentary feature, Sascha Ring announced that Modeselekor and Apparat plan on working on a sophomore album to the self-titled Moderat record from 2009:
"We will definetly do a new Moderat album. And we already knew it when we finished the first one. Now we decided to work on it in autumn, to take some time and try to do the same thing again – which might sound completely different, who knows …" Watch the whole interview below.
And on another different note: Schlachthofbronx are celebrating the release of their new album Dirty Dancing at Horst Kreuzberg Berlin tonight, make sure to stop by for party mayhem by Schlachthofbronx, Daniel Haaksman, and Finckobot, rsvp here.
A$AP mobbing on SXSW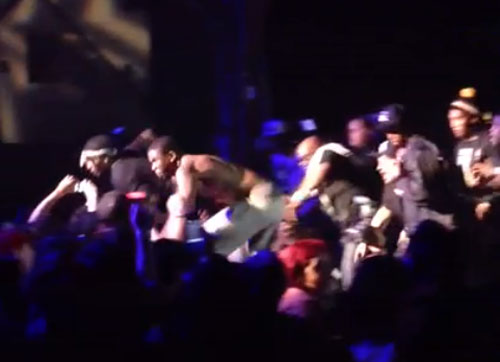 When you're one of the most "innovative" leading lights at your 40K a year art school living off the extensive trust fund set up by your grandparents who quite literally broke their necks after WWII to amass substantial wealth to pass on to future generations and spend the little money you do earn from weekend shifts at your local vegan/only-locally-sourced-produce café on booze and cheap "designer" drugs cooked up from remnants of battery acid, Sprite and plant flood, holding on to reality can be a pretty tough.
Fortunately, you tell your friends, you've been to Harlem once before. After all, you used to live in Bushwick a couple of years ago and were best friends with a dealer there that sold "mad weight". He took you uptown once and everyone said that you were pretty chill. So when you find yourself in Austin, Texas at a Vice Party, molly coddled into a feeling of safety, your drug addled suburban mind says, "But we're not in the hood now. I can throw my beer onstage." Sadly, you are wrong. And to be honest after viewing footage of the ASAP Rocky brawl at SXSW, I was quite impressed that a warning was given at all. This isn't a zoo, there are no cages or glass casings. This is really happening, please keep your hands inside the vehicle. Thanks.
Diplo's new track features Nicky Da B
Even though some may argue Diplo is on the dark side now, for me the Gringo from Philadelphia still represents the more positive aspects of globalization. Sure, we've got the Internet, which is a never-ending fountain of different musical styles from all around the globe, but a curator like Diplo really helps. He is the one, who comes up with another promising artist from a region you probably haven't even heard of yet.
As it happened with his new ass-bouncing track 'Express Yourself' featuring Nicky Da B. And as fate would have it, the young guy who thinks of himself as the next generation of Bounce Rappers like Big Freddia and Katey Red will play a show with Diplo at SXSW. Later this month his entire album Please Don't Forget Da B will be released for free.
EB Exclusive – Apparat remixed by DJ Koze
We think it's pretty well known how much we love Apparat at Electronic Beats. That said, whilst the man known as Sascha Ring keeps making such beautiful and enchanting music we can't help but take notice. It's in that vein today that we bring you an EB Exclusive; DJ Koze's remix of 'Black Water'. Taken from Apparat's Mute released The Devil's Walk, Koze works his usual Hamburg magic into the 'Black Water' taking the original's heartbreaking melodies to make a slow burning dance-floor jam.
Check it out below and if you are going to be heading over to SXSW, why not come and say hello to both the EB team and Apparat at our showcase event. Also, make sure to get your hands on Sascha's new 12″ single 'Candil de la Calle' (out on Mute on March 26th) and to catch up with Apparat Band live during their current tour – see all dates below.
Apparat Band Live:
March 12 US-Los Angeles – El Rey Theatre
March 14 US-Austin – Paste / KCRW Stage @ SXSW
April 7 RO-Bucharest – Atelierul De Productie
April 12 DK-Aarhus – Train
April 13 NO-Oslo – Blaa
April 14 DK-Copenhagen – Koncerthuset
April 16 DE-Cologne – Bürgerhaus Stollwerck
April 17 DE-Bremen – Spedition
April 18 DE-Hamburg – Kampnagel
April 19 NL-Amsterdam – Melkweg
April 20 NL-Rotterdam – Hotel Mosaique Festival
April 21 FR-Paris – La Machine du Moulin Rouge
April 22 BE-Gent – Vooruit
April 26 CH-Bern – Dachstock
April 27 CH-Aarau – Kiff
April 28 DE-Erlangen – E-Werk
April 29 DE-Jena – Kassablanca
April 30 DE-Berlin – Berghain
May 27 US-George – Sasquatch! Festival 2012
July 5 PT-Prala Do Meco – SBSR Festival
July 6 UK-London – Bloc Festival
August 8 DE-Kassel – Kulturzelt
August 9 DE-Haldern – Haldern Pop Festival
August 18 CH-Winterthur – Musikwochen
Apparat DJ-Shows:
March 13 US-Austin – Element
March 14 US-Austin – Electronic Beats supports DJ-Kicks, Kingdom
April 20 NL-Den Haag – T Paard
May 4 IL-Tel Aviv – The Block
August 11 DE-Saalfeld – Sonne Mond Und Sterne Festival