The 10 Most Diabolical, Gut-Wrenching Techno Tracks According To VTSS
The Brutaż resident shows us the industrial, EBM and techno cuts that she likes to throw down on the dance floor.
Published on April 5, 2019 09:32 Berlin Time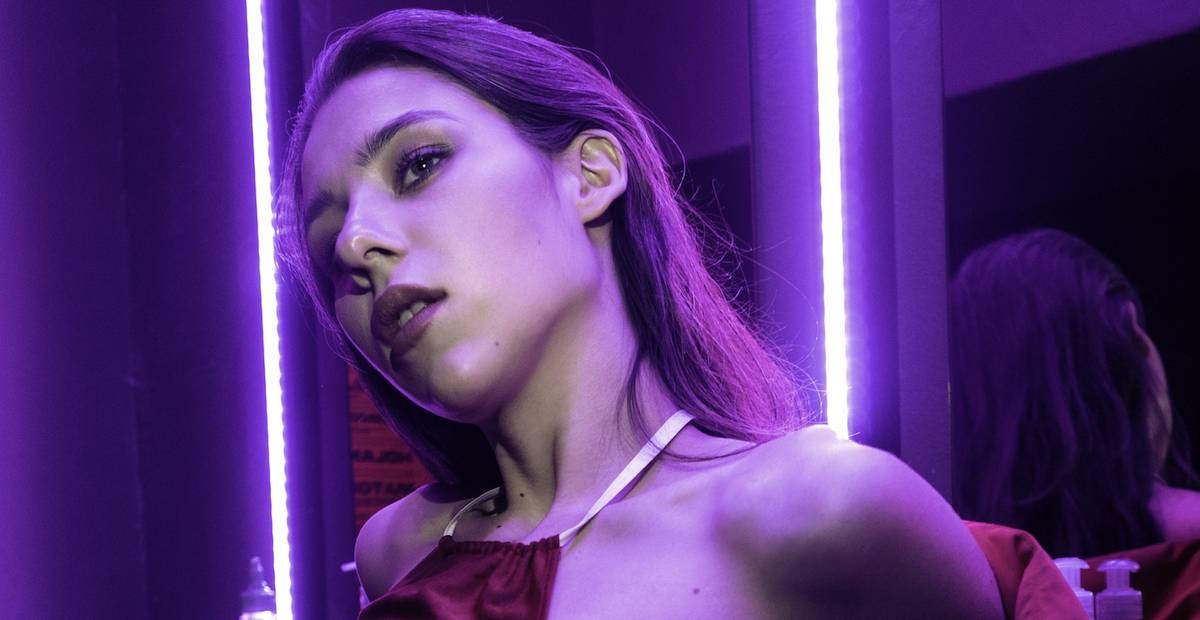 Polish artist VTSS—who recently relocated from Warsaw to Berlin—has been on the tip of the music industry's tongue for the last couple of months. The Brutaż resident's meteoric rise comes on the heels of her first two EPs, which appeared on SPFDJ's new Intrepid Skin imprint and Berlin-based Haven Records in December 2018 and February 2019, respectively.
But she's not just applauded for her brooding productions. The artist is known for her technically skilfull DJ sets, which pair brutal hardcore, EBM and techno. So when we asked her for a playlist of her favorite demonic cuts to throw down on the dance floor, she was more than happy to comply.
Her selections include tracks from French artist UVB, Berlin label aufnahme + wiedergabe and Adam X's Sonic Groove (which we recently covered in a feature here). Strap in and check them all out below.
UVB, "Masculinity" (Body Theory 2018)
"This track is taken from UVB's 2018 LP, Testosterone, on his label, Body Theory. I must have played every single one of these tracks at least once over the last few months. It was hard to pick a favorite. 'Masculinity' is strong and filled with testosterone without being barbaric or too straightforward."
December, "Night Of Nights" (Pinkman 2019)
"Here's a fresh one on Pinkman from my beloved dark French romantic. He's one of the few men I would trust to just lead me into the darkness, hehe. I went to see Tomas at Berghain couple of months back, and he impressed me with how true he stayed to his sound. Instead of trying to adapt to the typical big-room aesthetics of the night, he smashed his not-too-rapid, hedonistic, EBM-rooted sound with true punk attitude."
Crystal Geometry, "Appropriating The Means Of Production" (Sonic Groove 2018)
"Another French gentleman on this list, and my absolute favorite producer at the moment. His EP Red Faith Militia, on the almighty Sonic Groove label, comes highly recommended. My first encounter with CG was through his electrifying modular live set in the New Brvtalism No. 144 – Crystal Geometry (Live in Rennes) podcast. His music gives me everything I could ask for from 2019 techno and EBM."
Monolith, "Ghost Cities" (Sonic Groove 2016)
"Here's another one from the dark ground zero—Sonic Groove, the label that probably had the most impact on shaping my and my best buddies' music taste back in Warsaw. Monolith is an absolute Belgian industrial-EBM legend, deserving way more attention nowadays. For techno and rhythmic industrial fans, another fave from Monolith is 'Crashed'."
The Horrorist, "RIOT" (Riot Radio 2018)
"'I WILL USE MY MOLOTOV/BURN THE CARS BURN THE BRIDGE/WHEN I RAISE MY HAND RIOT' My most-played track by the hardcore legend The Horrorist, released last year with a bunch of remixes (listen to the one by my bro Ayarcana!) on RIOT Radio Records. This stripped down, fun-to-mix banger never leaves my DJ bag."
IV Horseman, "Judex" (Aufnahme + Wiedergabe 2019)
"Nothing says diabolical like—and there's no label I own more records from than—aufnahme + wiedergabe. Here's the newest one by IV Horseman, as goth and dark as it can get on a techno dance floor."
Minimum Syndicat, "5400 Degrees" (Acidcore 2017)
"The syndicate was born to reactivate the fierce euphoria and weird energy of no-nonsense rave music. The acid rave stabs over the overdriven hardcore-sounding kick drum are pure vicious vibes. Gives me chills every time."
SHINOBY, "Lurking Around Mere Coffins feat. Le Chocolat Noir" (ISTHEWAY 2018)
"A seductive and brutal one from ISTHEWAYLP002 by Verona-based producer Omar Contri."
Rave Creator vs. The Mover, "Atmos-Fear" (Cold Rush 1994)
"A couple of years back, my friends started WIXAPOL—the neo-gabber party and collective that's responsible for the revival of uptempo genres in my home country of Poland—and together with a friend, we formed a semi-serious hardcore collective. We bonded over our fascination and appreciation of Marshall Masters (A.K.A. Rave Creator A.K.A. Marc Acardipane). PCP is still one of my favorite labels, and implementing early hardcore techno, the ultimate devil's music, into my techno DJ sets gives me so much joy every single time."
Lokier, "Screws In Paradise" (Pinkman 2019)
"A beautiful record on Pinkman by my fellow dark lady. Her mix for Digital Tsunami is definitely worth checking out."
VTSS, "Up & Down" (Haven 2019)
"Here's the final one, new by yours truly with Karolina Bartczak from the punk band URIN on the mic. It's the opener of my new EP on Haven, with a title sampled from not the most elegant gabber track from of the '90s. ;)"