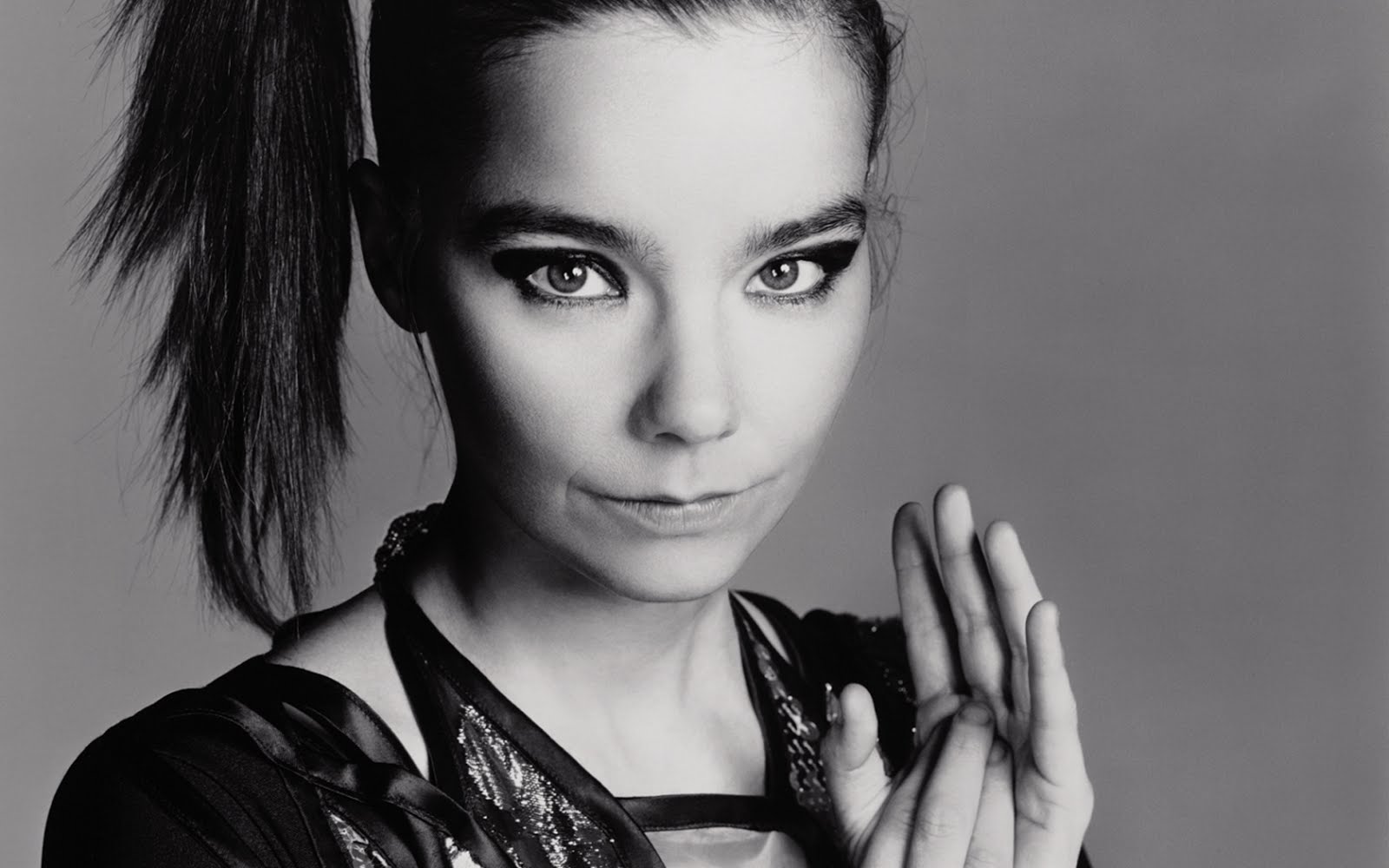 Bjork
Bjork is an Icelandic avant-garde pop star whose wildly ranging work has encompassed influences from jazz, glitch, hip-hop, and modern composition. Over a more than twenty-year solo career she has consistently produced innovative, challenging records by working with the most forward-looking musicians of her time, and embraced cutting edge trends in fashion and technology.
Bjork's solo career began in 1992, but she had been in the public eye as a child prodigy since 1977 with the album Bjork, and been touring for more than a decade with riotous punk outfit The Sugarcubes by the time she released Debut. Debut showcased the singer's gymnastic vocal ability on songs like "Human Behaviour", where she was at once violent and fragile in her delivery. Bjork has consistently sought to collaborate with the most challenging musical minds available, often at early stages in their career. 2015's Vulnicura saw her call on burgeoning producers The Haxan Cloak and Arca for production duties, adding to the rich lineage of underground musicians who have helped shaped her records and live shows. For 2001's Vespertine, experimental duo Matmos made the icy, prickly electronics both on record and on tour, Homogenic in 1997 featured work from Mark Bell of LFO and Howie B, ex-Soft Machine member Robert Wyatt and British beatboxer Shlomo helped define 2004's Medulla, and Anthony Hegarty featured on "The Dull Flame Of Desire" from Volta in 2007. On her eighth studio album Biophilia, she was remixed by Syrian pop star Omar Souleyman and restless composer Matthew Herbert.
Though Bjork's music is pioneering, it is often paired with equally stunning visual counterparts. Bjork has had a long and fruitful relationship with acclaimed director Michel Gondry, who directed the quirky video for "Bachelorette" in 1997, and has also worked with experimental filmmaker and Aphex Twin collaborator Chris Cunningham on "All is Full Of Love" in 1999. Live, Bjork often appears dressed as one of the colourful characters which adorn her album covers in specially designed costumes. This live design reached its apex with 2011's Biophilia, a science inspired album premiered at Manchester's Museum of Science and Industry which was subsequently released as a series of interactive apps designed to be both educational and musically gratifying.
Bjork continues to be active outside of music, appearing as an actress in films such as Lars Von Trier's Dancer In The Dark and dedicating her energy to environmental and political issues on singles like 2008's "Naturra" with Radiohead's Thom Yorke. In 2015, New York's Museum of Modern Art will honour her ambitious and multifaceted career with a retrospective exhibition.