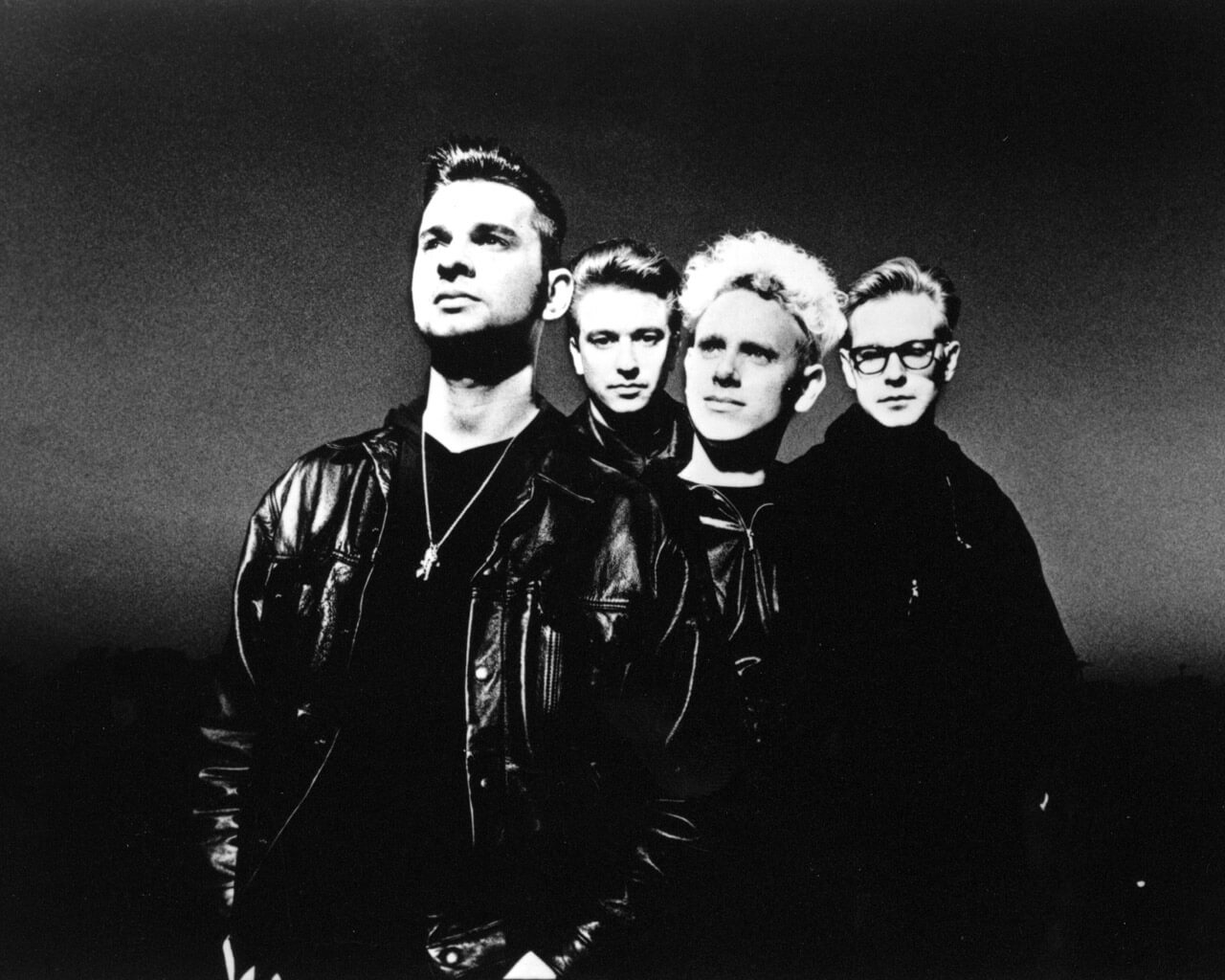 Depeche Mode
Basildon's finest Depeche Mode (Dave Gahan, Martin Gore, Andrew Fletcher and Vince Clark) are provocative pioneers of electro, synth, and gothic pop and remain creatively potent after over three decades of refusing to chase trends in the music industry.
Signing to Daniel Miller's then-fledgling label Mute in 1981, Depeche's debut LP Speak And Spell was packed with chirpy hooks inspired by contemporary outfits like The Human League and Orchestral Manoeuvres In The Dark. Cuts from the period like "Just Can't Get Enough" "Dreaming Of Me" and "New Life" were hits and remain iconic, but they often lacked the lyrical daring and sonic experimentation which would come to define the group's seminal releases from 1984's Some Great Reward through to 1987's Music for the Masses and onwards. The 1984 tracks "Master and Servant" and "Blasphemous Rumours", for example, deal with sadomasochism and religious rejection over a soundtrack of sampled industrial sounds.
The band's gothic end of decade smash "Personal Jesus" crowned a superlative decade , and has been covered by the likes of Johnny Cash and Marilyn Manson since its 1989 release. From the early '90s onwards, Depeche Mode enjoyed extravagant success in both Europe and America, with their 1990 World Violation tour reaching an estimated 1.2 million fans. Their popularity has rarely dipped since, and the group have continued to adapt to new musical styles, working with LFO's Mark Bell on their 2001 release Excitor and touring with raster-noton supergroup Diamond Version in 2013.
Depeche Mode's enduring influence of the group was acknowledged by Electronic Beats in 2013 when the magazine, coinciding with the release of Depeche's latest album Delta Machine, covered a series of Depeche Mode fan exhibitions in Berlin, Budapest, and Zagreb and commissioned a wealth of new writing on the band's legacy. Depeche Moments featured key musicians and writers reflecting on their relationship with the group, and included contributions from maverick author Simon Reynolds, trance star Timo Maas, Rick Jordan of hardcore group Scooter, and techno auteur Matthew Dear.