Step Inside Darklands, The Berghain of Shopping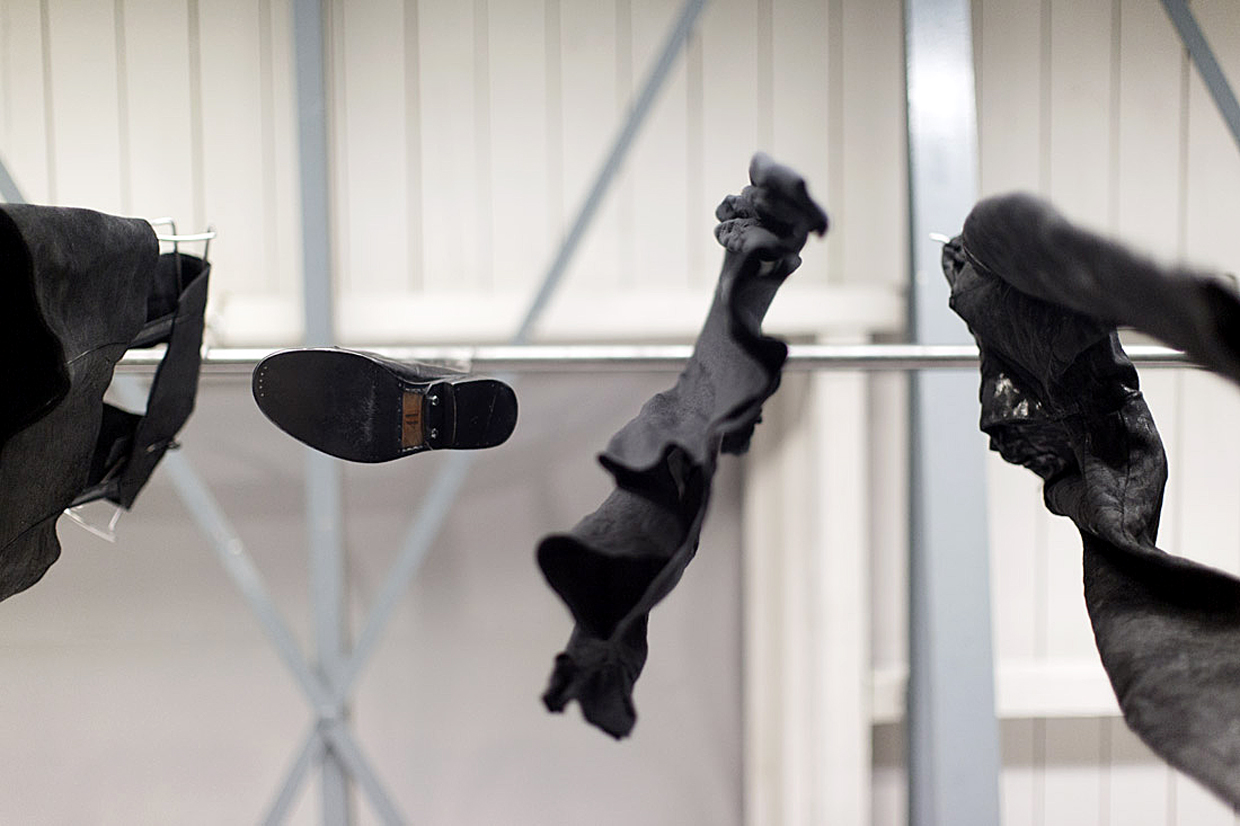 With music and art fueling its pitch black aesthetic, Darklands stands at the helm of Berlin's wearable avant-garde. Daniel Jones explains why the techno world and fashionistas alike flock to the showroom and chats with the store's owner, Campbell McDougall.
Not long ago I walked into a wide, open warehouse near Berlin's central station and I was greeted with the primordial sounds of Lustmord's "Babel." Five minutes later, I was hearing the new Objekt record. No, I wasn't at some mutant rave—I'd just entered Darklands, a high-end shop specializing in the blackest ever black clothes available. Much of its merchandise is in the four-digit price range, making it rather beyond my day-to-day means. But Darklands is as much a place to consume with your senses as with your wallet, and accordingly, it has nothing to do with high-end mainstream fashion. This is the frontier of the wearable avant-garde, though much of the clothes ride the border of wearability, hard. I often have the impression of being surrounded by textile sculpture.
Besides drooling at the rare beauty of the garments and jewelry hanging around the store from the likes of Ann Demeulemeester, Raf Simons, Parts of Four, and of course the demigod Rick Owens, Darklands itself is a pleasure to look at and listen to. The music playing as you peruse the store is carefully curated by owner Campbell McDougall and his staff, and their mixes change frequencies frequently, traversing terrain from jazz to industrial and—importantly for Berlin—ultra-current underground techno.
The atmosphere is almost that of an art gallery, and indeed central to the shop's identity is its use as a space for art of various kinds. On my recent visit, a few weeks after a Ben Frost solo performance to celebrate a sculptural installation by designer Boris Bidjan Saberi, the shop's cave-like basement was temporarily housing Anima-Sound, an exhibition by Evan Sugerman, who is the mind and hands behind the aforementioned Parts of Four. The space was filled with a patched modular synthesizer hooked to a massive black case of sub-woofers dubbed "The Beast." The hand-built rig functions as a display for his latest PoF collection, triggered through several variations of sound by the proximity of the viewer.
This marriage of art, couture and music makes the store one of the most unique shopping—okay, browsing—experiences I've ever had. These days, Darklands is often seen as a kind of Berghain for shopping and counts numerous musicians and famous DJs as regular clientele, among them Trent Reznor, Ben Klock, Function, Richie Hawtin, and Chris Liebing. As McDougall put it in the interview published below, "It wasn't that long ago that big techno DJs would just wear a T-shirt and jeans, but a lot of these guys are realizing that you have to up your game a bit. It's taken a while, but once a couple of those heavyweight DJs started to come in, word got out and eventually it took on an organic path."
Darklands has flourished due to selective purchasing, a keen sense of style, a deep love of art of all kinds, and that ever-so-important rule for a business: unpretentious customer service. Visitors inevitably seeking techno tips will be readily supplied, but McDougall is pleased to offer more well-rounded inquiries. "I see it as an extension of the brand that visitors can get information about a variety of things, be it an art fair, a Swans show or the new Nick Cave movie—which was excellent. Increasingly in this world, everything is driven by a bottom line, by numbers. We're about the craft."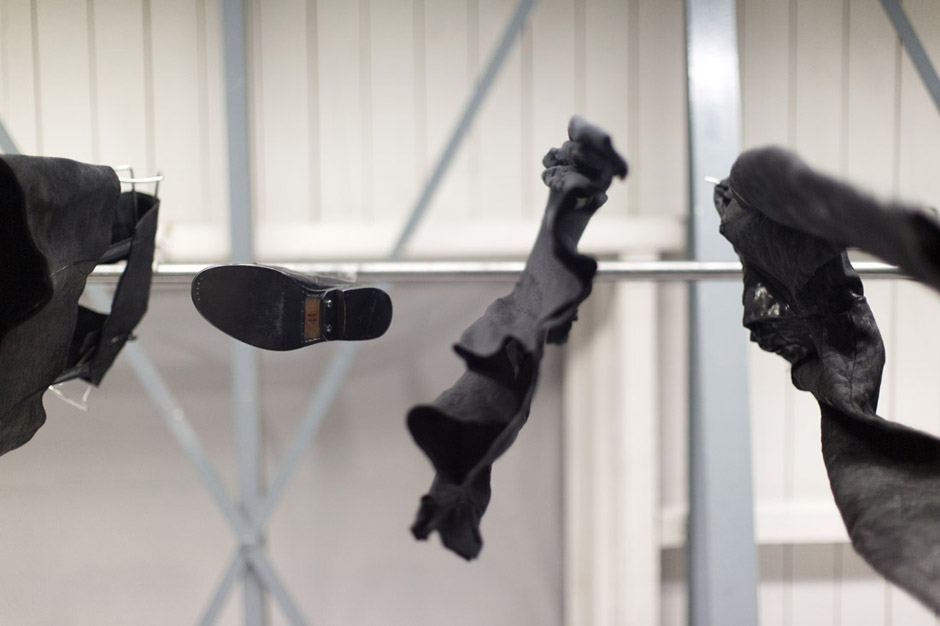 Next, Daniel Jones Sits Down With Campbell McDougall.
Daniel Jones: I saw Ben Klock play once, and he was totally wearing something that he must have gotten from you. It was a big, Maleficent-style collar, and something that looked like a bug's carapace.
Campbell McDougall: In the beginning, I thought some of these heavyweight Berlin DJs might shop with us, but it actually took a long time to happen. It's taken a while, but once a couple of those guys started to come in, word got out and eventually it took on an organic path. That's where we're at today. Ben Klock, Chris Liebing, Function—they all shop at Darklands. It's really cool. The competition is fierce, and for a lot of veterans, there's some cool young guys snapping at their heels, and I think they tend to be a little more ingrained with image and style. Even if you're just behind DJ decks, it's a show.
There should be some kind of visual aspect to it.
It's the same in the rock world. I've seen bands before, and they have that kind of rolled-out-of-bed look. You pay to see the band, and regardless of the music, it's really deflating when you get up there and they walk out and they're wearing a t-shirt and a pair of jeans and some ratty old sneakers. It's unfair.
It has its place, for sure. In the punk scene, nobody gives a shit about that, really—as long as you have the right non-uniform. But for something like Berghain, you're expecting to be blown away on all levels, especially if you're coming in from out of town. When I first went to Berghain, I was really disappointed, because it was so hyped. Everyone was like, "Oh, it's my church." I was actually way more impressed with the Atonal space, Kraftwerk. But when you have somebody wearing really cool clothes, that adds to the whole mythology of the experience, and to your mythology as a DJ as well.
I think most of these guys have realized this, and I've seen it have an impact on our business. It's really cool. Now we get visiting DJs. Mondays are, generally speaking, our busiest days. Everyone's been in LA or New York or wherever, they've been in the clubs all weekend playing, or maybe they're visiting Berlin. When Monday rolls around and they finally wake up and recover a little bit, they have a day or half a day in their hands, and they roll by, sometimes just to check it out, sometimes to shop. It's a really interesting part of the culture. When I lived in Canada, Monday wasn't exactly a day that you prepared for, but it's one of the strange aspects of Berlin. Tomorrow in the shop, I'll be talking to visitors all day long. We have to coach them on what to do and where to go, and you try to explain to people that yeah, you go at 10, 11, 12 in the morning or 2 in the afternoon. At first they look at you blankly, like they misheard you. They can't really grasp that.
Last time we spoke, I appreciated what you said about how you don't consider yourself a "fashion person." You're more like somebody who's curating something. I thought that was really appropriate for Berlin, because it's not a fashion place.
Definitely not.
It's more of an art place. Incorporating fashion and music into that makes more sense than simply trying to sell somebody something.
That's true. When I meet people in Paris that are in the same field as us, or sometimes even what people consider the same "genre" as us, I realize that we, collectively as a company, stick out a little bit. Generally, they, for the most part, are "fashion people." They live in a capital of fashion, read the magazines, follow the trends, and that's not how I spend my free time. For me, it's more about film, or art, or music. That is something that, at the end of the day, is really something that I think defines us and separates us from the other shops.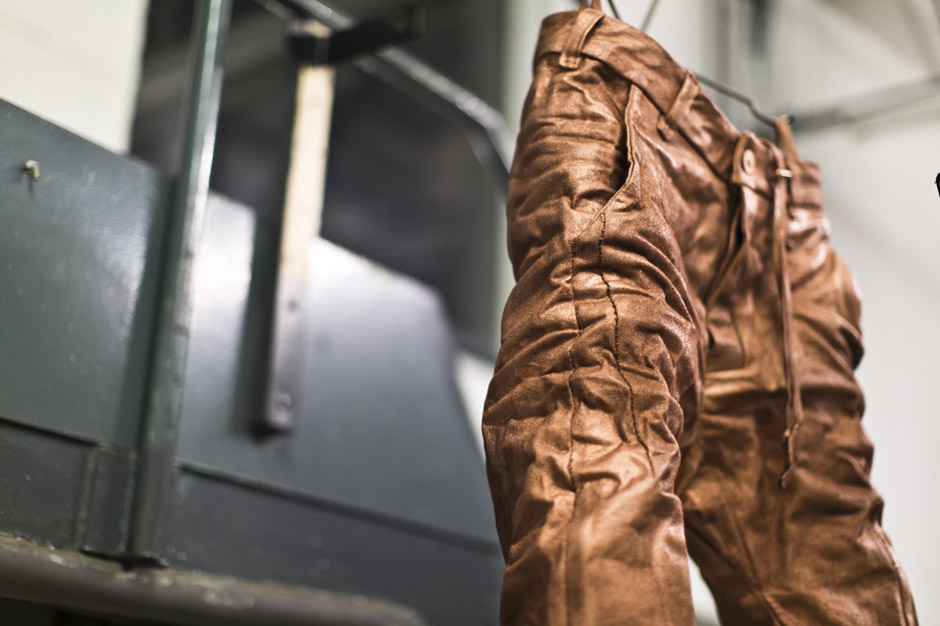 That's really rare, especially in the fashion field. It's really interesting when people twist their medium in a certain way, and make it about their own interests while still going down the same pathway. I like that I can go into Darklands and not feel like I'm in a shop, but rather an art gallery with a great soundtrack. Every time I've been in your store, I've heard great music, and I've been blown away by the displays and by how the clothes are arranged.
Darklands is really an extension of my direction and my personality, and that's not my personal orientation. We don't stand in front of the till having lengthy conversations and gossip about fashion designers—it doesn't interest me or us. I like to talk about Berlin. We're like ambassadors in our own small way for this city. If we're not talking about that, it's very common for us to stand in conversation with clients about film, or about whatever current art fair is on now, or music. Inevitably, a big part involves talking about music, because that's kind of the heartbeat of what Berlin is up to.
That's a passionate topic for me, and also something that benefits us. It's obviously in our best interest to try to contribute to people having a good experience in the city. If somebody leaves Berlin after five days and they really discovered that Berlin that they were hoping to find, they go back home to wherever and they start gushing about the city, and that causes five other people to book flights here. So we try to contribute to visitors having a good experience.
This article originally appeared in the Winter 2014/2015 edition of Electronic Beats Magazine. To read more from this issue, click here, and to read Counting With columns from Helena Hauff, Jackmaster, and more, click here.
Visual Feels: Lily Gatins Murders Blog Fashion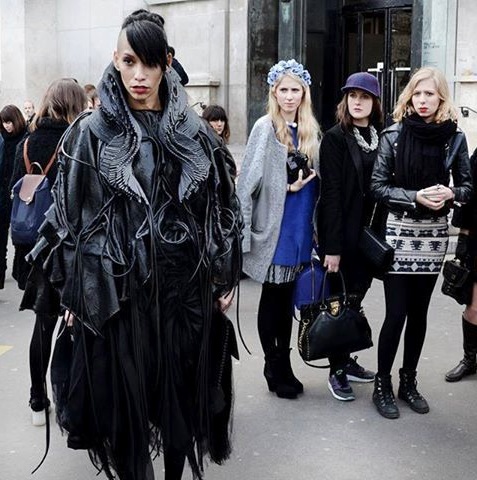 One of my favorite visual moments of 2014: The always-amazing Lily Gatins strolls through Paris Fashion Week like a beast, getting photographed and making basic fashion bloggers eat it. The WTF faces behind Gatins are just gold.
See you later, face cowboy….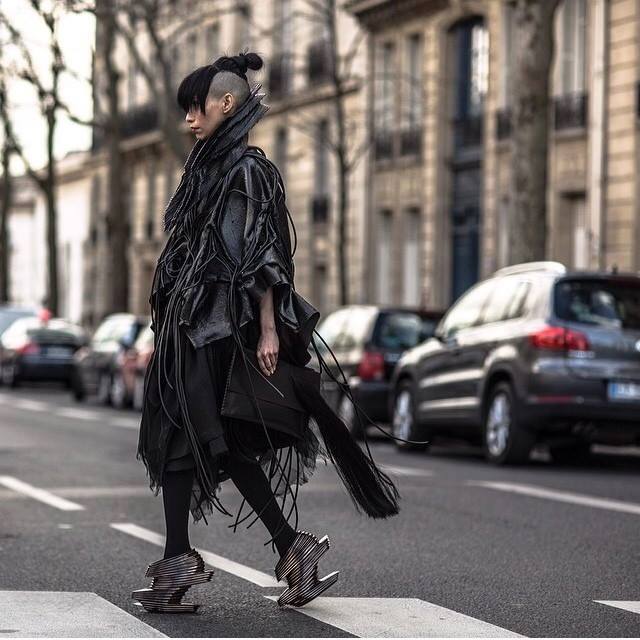 For more feels and exclusive material, check out the Electronic Beats tumblr.
Audioccult Vol. 88: Fashion Week '14 Music Trend Predictions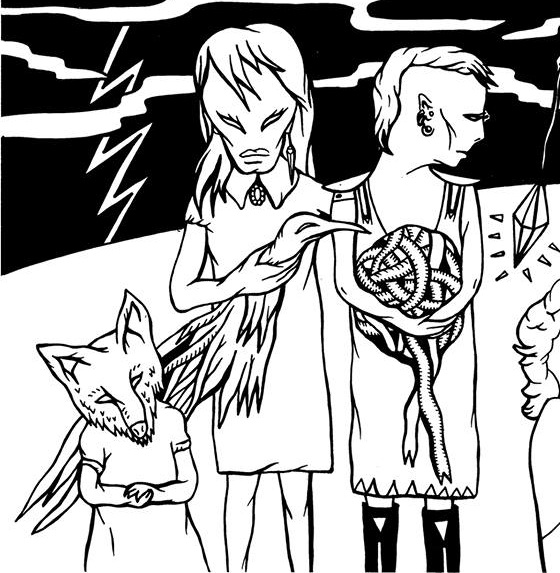 Light a candle. Draw the required sigils. Now, raise your arms above your head and slowly, gently, exhale your soul. You won't need it here. This is Audioccult, and it's time to get low. Illustration: SHALTMIRA. Kay Kwok photo: PA Images
As the last remnants of 2013  fall away from us and we shrug off our hangovers and social malaise, we turn our attention to another year filled with the things that matter: soundtracking high-end looks that you'll never be able to afford. While many trend analysts are looking toward the visual elements of this year's styles from new and established designers, there's an even more important task to be done. How many times have you been watching beloved names like Raf Simons, Ann Demeulemeester, or buff rowdyman "Hacksaw" Rick Owens sledge their hired stylebodies down the runway to wild, Arsenio Hall-style hooting—only for everything to be ruined by yet another hardcore gabber remix from Daft Punk? Too damn many, and that's why specialists are being sought out this year to help better shape what we listen to in conjunction with all these nice boots and capes.
Continuing their shameful trend of ignoring hot-button issues, repeated requests for Top Runway Music Selections from recently-released Pussy Riot has led only to silence (referred to as "deafening" by MTV). Therefore, I'd like to throw my hat in the ring and suggest soundtrack options to go along with some of the trends cropping up recently. I'd like the hat back at the end, though. It's from Actual Pain.
Alien Bodywear: Trust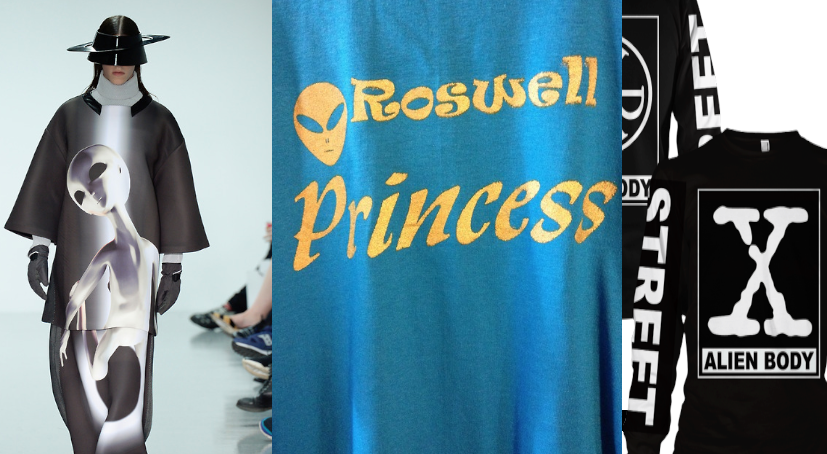 As evidenced by designers like Kay Kwok, Pictureplane, and Roswell Giftshop, one of the greatest ways to pay tribute to the gray angels who watch over us is by putting them on our sweating, disgusting mortal bodies. Who better to soundtrack such a presentation than Trust, who recently released the first single from his highly-anticipated sophomore album Joyland. Watching Robert Alfons move across the stage, his voice pitch-shifting itself for accompaniment, you can't help but feel like you're being taken to a place where only cool pumpy space music exists and all pants are drop-crotch to accommodate the genital transformations that will take place when our alien overlords select us for their breeding programs.

Bootcut Jeans: Mondkopf
The bootcut jean redefined how we wore our jeans (over boots) and swiftly made a name for itself as the world's Most Chill Pants. My last pair were so fucking chill that they repeatedly fell off of me and hung out all over town; fortunately I turned them into a hat. In 2014, the bootcut jean will dominate the runways. Don't you think they deserve a dominating soundtrack as well? French producer Mondkopf is the perfect choice here, particularly his upcoming album Hadès. Ominous and foreboding yet regal, it embodies the very essence of the bootcut jeans wearer.
Fractal Bodypod: Blvck Ceiling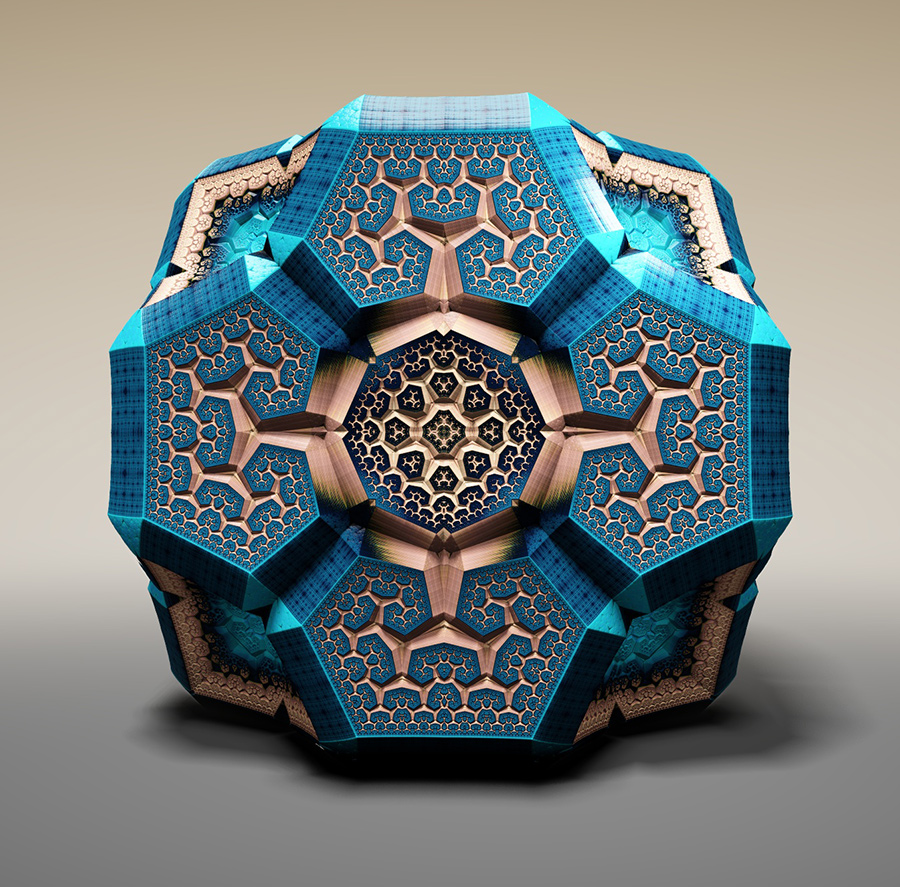 Envisioned by laser physicist and web developer Tom Beddard, these fractal-formed Bodypods eliminate the need for clothing. In fact, they eliminate all needs: once the head-cervix has tightened, the filament-thin fiberoptic cables attach easily to your nervous system. Your humanity is obsolete. Fractal Bodypod is the New. Over time, your skin becomes nutrients for the Bodypod and renders tissue, bone, and (some have theorized) the soul into a gelatinous paste which will eventually be used, Play-Doh Fun Factory-style, to make new and terrible vests for Karl Lagerfeld. This Lana Del Rey remix by Blvck Ceiling plays incessantly and unbearably loud as you are liquified, but for 12K more you can adjust the volume levels to merely ear-splitting.
Gangsta Doodoo Pants: SD Laika
More than ever before, the machismo-heavy and predominately heterocentric hip-hop scene is being challenged—both by the media and by new, young rappers. The latest trend to emerge on runways, as seen in a dream I had about Kanye West and Big Hawk's ghost, is dropping beats while you drop a load in your pants. Messy, you say? I say to you that revolution is always messy. Leaked concept proposals from Saint Laurent's Spring/Summer line reveal an elaborately designed stage replicating the climactic showdown in Revenge of The Nerds. At the key moment, Hedi Slimane stands up and says, "I poop my pants", prompting the rest of the crowd to stand up in solidarity. The grinding tones of SD Laika's futuristic grime make cleanup fun. ~
For more editions of Audioccult, click here. 
"I tend to dwell on things a lot" – An interview with Sigha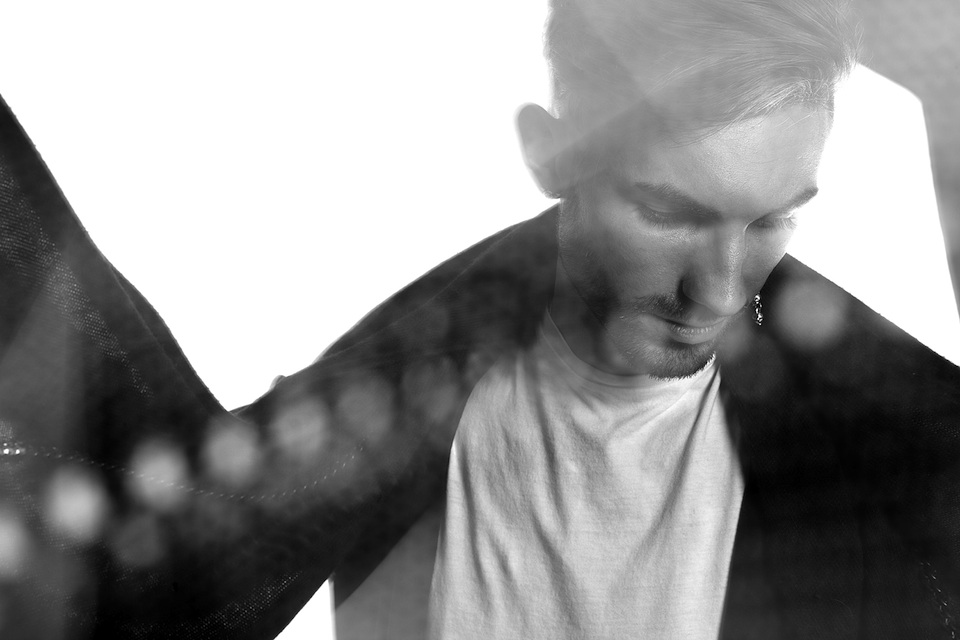 A couple of weeks ago Berlin resident James Shaw, better known by his alias Sigha, dropped by the EB office.
His latest album Living With Ghosts, released through Scuba's Hotflush imprint, had caught our attention with its pulsating, granite-cold rumination on techno purism with tracks like "Puritan" "Dressing for Pleasure and "Scene Couple" capturing a particularly British sternness: this is music made for massive spaces, for bodies slick in chemical sweat, for six feet-thick concrete walls and Monday mornings that could be Saturday nights or Sunday afternoons. There has been, of course, a recent appetite for techno of a more pummeling stripe, with the continued influence of Regis' bruised limbed industrialism (and, of course, the return of British Murder Boys) and Blawan's subterranean schlock gaining traction. Living With Ghosts, despite its citations of techno past, feels, in its mood, distinctly contemporary. We wanted to find out more, so when we invited James to come by to do an interview we decided to add a twist: ever-inspired by visual art he suggested he would bring some pictures of his favorite pieces with him. The only brief we set was that they must have some resonance for him and his own art. The hope was that by appealing to a more personal narrative we might trigger discussion on subjects that you never expected to broach and in turn gain greater insight than a usual Q&A session might usually allow. We hope you agree that it was a successful experiment.
You're from south London originally. Right now there seems to have been this swing towards south, in terms of a party scene.
99 percent of my friends when I left were living in North London and were all, "Yeah, I don't wanna go south of the river" and now everyone's relocating to Peckham. It's the new East London.
What brought you to Berlin?
The thing that first brought me here was definitely music; I was coming out to play and to hear techno, but the more time I spent here the more I started to realize how cheap it is compared to London. There you're struggling if you're an artist, but here it's possible to really live. Since then I've started to fall in love with the city. Since I've moved here, I've also thought of living in different cities as well for short periods of time—taking the opportunity to soak up different atmospheres that you might not normally see when you just come to a place, play a show and leave. Berlin is the first city I've lived in abroad, and it's opened my eyes to that massively.
Last night someone asked me what was going on in the Berlin scene, a question that I actually found quite difficult to answer. Is there a Berlin sound anymore? 
Everyone's going to have a different idea of what a certain place sounds like. Maybe my idea of it is ignorant; I've only been here a year, but it seems to me that if you're looking at the broader electronic landscape in Berlin, techno and house still have a massive stranglehold on the city. I can only compare it to London, where people are so obsessed (consciously or unconsciously) with newness, freshness. That has positives and negatives, of course. It means that some scenes never get a change to grow or develop in a way that would allow them to reach their potential. Suddenly, all the followers disappear because the sound or scene isn't hip anymore, and it collapses. On the other hand, it's so inspiring creatively. You get something like dubstep, which has completely changed the musical landscape.
You started out making dubstep, but you've moved into the realms of almost purist techno with your new album Ghosts. How do you feel about dubstep, about what happened to it?
For me, the early wave of dubstep, the sounds that were just emerging out of the collapsing garage scene, the sort of sparse halfstep sound was what drew me in. In a way that's also what attracted me to techno. Producers were doing so much with so few elements. Every week I'd be down at Plastic People and, for me, that time was so exciting. It was this amalgamation of sounds I loved: huge amounts of bass, sparseness, it was hypnotic… it was like a drug, you'd get drawn into this deep sound in a black room, losing yourself to it. But quite quickly, and I suppose this was when the genre was still developing and people were finding their feet, it grew in popularity and started to follow certain rules and patterns. Unfortunately this kind of energy that had drawn me to it started to disappear.
Maybe this is just me, but I feel like people started to lose interest in that halfstep sound when the smoking ban hit. I've always wondered how much of an impact not being able to smoke weed in clubs anymore had on people not wanting to listen to slow, spacious music. Suddenly, the energy changed, the whole wobble thing picked up and the mid-range vibe came in.
And what about your own development?
It was a natural progression, really. Even around the first time Scuba hit me up, and I sent him the first load of tracks that resulted in the first EP,  I was more interested in playing and writing techno than I was dubstep. At times it's been frustrating because for a long time I've played what I would call purist techno, but people I guess have had this perception of me as something different. Even after the first few Hotflush releases, there were a couple of EPs like Rawww, which was dubby kind of house, and then Shake. Those two EPs I actually made after a trip to Berlin to see Cassie play in Panorama Bar and losing my shit at ten in the morning.
How did you first get into electronic music? 
My first electronic epiphany came when I was wandering into a warehouse squat party and just hearing techno blasting in this massive room. I was 16 at the time and had never heard club music in a club environment. I'd played in bands and was studying guitar, and that was what I was into then: more traditional music, however abstract you want to consider it. I'd listened to some Warp records and such, but I had a bit of a low opinion on club music. I remember hearing the cool crew on the bus playing their garage mixtapes and thinking, "I just wanna hear some Nirvana."
But when I stumbled into this party—I had just come to pick a friend up—it just blew my mind. I'd never heard that music in the right environment. It totally changed the way I thought about electronic music. I started hanging out with more producers than guitarists, and I was picking up bits and bobs from different people. My knowledge of electronic music was next to nothing, and suddenly this whole vast sea of unknown sounds was opened up to me. When I started making sounds it was honestly the result of taking too many drugs and the result of that was some very strange music.
In what way?
I wanted to make music not for parties, but for after-parties—things that would mess with people's heads, basically. That was my logic.
Art is an important influence within your work and the first picture you've chosen is a very familiar one.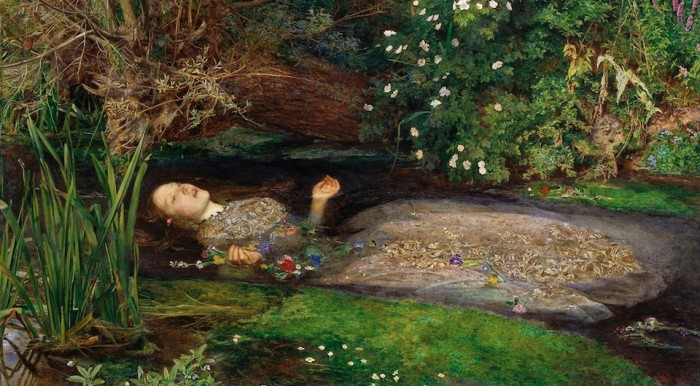 Sir John Everett Millais, Ophelia
This, obviously, is Ophelia by Sir John Everett Millais which is one of my favorite pictures ever. Maybe it's a bit weird because it's not the sort of image you'd ascribe to techno, but I just think it's so lovely. I'm a massive fan of pre-Raphaelite art, and this is the painting that started that. The story of her singing while she's drowning, and her expression while it happens has such a melancholic beauty to it.
Do you have a tendency toward melancholic impulses in your work?
Massively. I don't know if it's a good thing or what it says about my psyche, but I tend to dwell on things a lot. I'm a solitary person and I spend a lot of time thinking heavily on things. I guess my way of getting it out is in music and writing. There's something i just find incredibly attractive and appealing about this beautiful sadness.
This is a picture of a sculpture by Cornelia Parker called Mass (Colder Darker Matter)and it was nominated for the Turner Prize. I remember going to see the Turner Awards with my mom in 1997, and she was always really into art and galleries—that's where I get my obsession. This piece has resonated and stuck with me. A church in Texas was struck by lightning, and Parker collected the charred wood and suspended the pieces in a way that looked like an exploding cube. It took up this whole room in the Tate, and the negative space between the charred wood… the impact was incredible.
Next, this a still from Kenneth Anger's Scorpio Rising. Anyone following me on Twitter will recognize it as my default pic. I'm just a big fan, basically, and I think this photo is such an incredible capture of male strength and beauty. So I hijacked it for my Twitter profile.
I've always been intrigued by that version of masculinity fetishized in leather boy culture.
I think when you're not involved with a way of life that's sufficiently different from your own, it makes the fascination toward it even stronger.
This is perhaps the most striking, unsettling image.
This is by David Noonan, a multimedia artist who works with prints and embroidery. I stumbled across him last year at the Great British Art Show last year. There were a couple huge, grayscale and sepia embroideries hanging there and they were incredible. I think he sources images from all over, film, photography, anywhere he can find and just makes this surreal pieces. I find them very evocative.
The final picture I've chosen is Kohei Yoshiyuki's Untitled, Plate 18  by Japanese photographer Kohei Yoshiyuki, who in 1980 released this book called Dokyumento: Kōen (Document: Park). There was this park in central Tokyo that people would go to at night and just hook up, and he documented this scene. And it wouldn't be just couples; there'd be three or four people sometimes, or people actively standing there and getting off on watching others, and basically he just immersed himself in this culture. I'm fascinated by how people can just let go, not worry about the judgments of others. I'm also interested in the work of Miroslav Tichý, who was a Czech photographer and a real voyeur—if he was taking the portraits he did today, I reckon he'd be locked up. He basically went around with a homemade camera and took pictures of women when they didn't know he was looking. He's now become an incredibly influential photographer. I love the voyeuristic attitude of the pictures but also the composition, the untouched rawness of the shots due to the nature of them and the rough equipment he was using as well as intentional processing mistakes meant to dirty it up further. He once said, "If you want to be famous, you must do something worse than anybody in the entire world." And it worked for him.
Your last choice is a video.
This is a collaboration between Gareth Pugh and Nick Knight. It was also used for the imagery for a feature that Dazed & Confused did on Pugh—who I absolutely love. In a kind of similar way to art, fashion is influential to me. Not all of it, but someone like Pugh… The clothes he makes and the ways in which he showcases them are amazing. He has this vision of a universe, and he creates it. ~
Hotflush Recordings released Sigha's Living With Ghosts on November 19th, 2012.
"There are rarely good people in films who are cunts as well" – A.J. Samuels interviews The Kills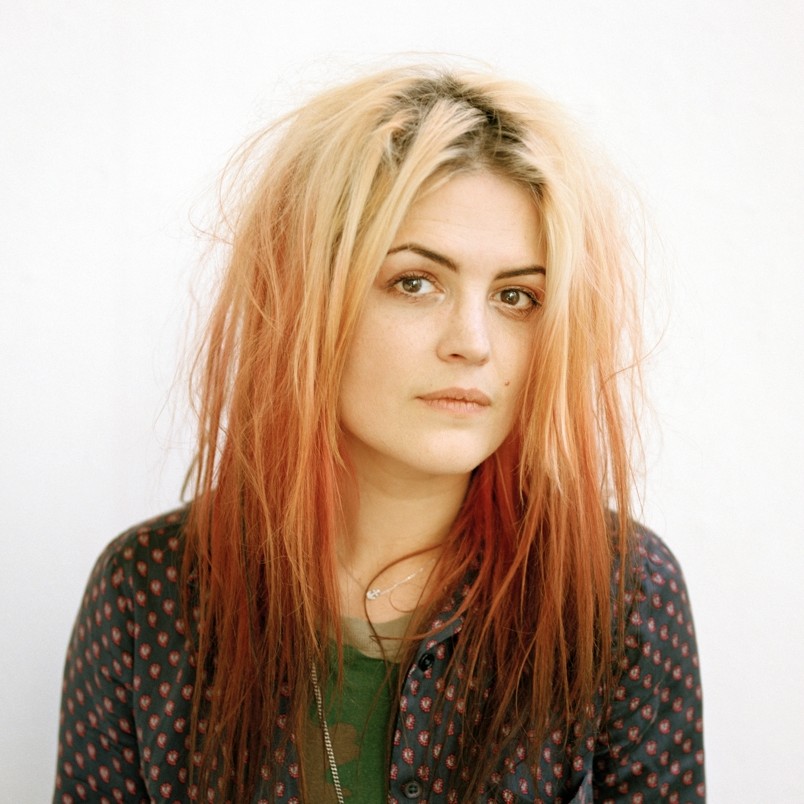 With last year's Blood Pressures, The Kills' Jamie Hince and Alison Mosshart ventured beyond the well-trodden primitive blues-punk path towards broader songwriting vistas of halcyon balladry and sampling experimentation. Recently, they've continued their trip into uncharted territory with the photo book Dream & Drive—a glimpse into one of the hippest and unrepentantly retrospective bands on the planet.
Jamie, you studied to become a playwright. Are there dramaturgical similarities between writing songs and writing plays, or do they require entirely different compositional approaches?
Jamie Hince: I think lyric writing for rock and roll, which is usually 4/4, is pretty restricted, really. Luckily, the music behind it gives it meaning, but trying to actually express yourself lyrically is quite hard. Or at least more limited than, say, in writing a play. But I've always been a big Steven Berkoff obsessive and I've always loved Greek tragedy, which, of course, places immense rules and restrictions on what you can write and how you can write it. So I suppose meter is a similar kind of restriction to rock and roll. I just don't think rock and roll is the greatest way of expressing yourself with words.
The Kills are often associated with vintage everything—from recording equipment, old amps and guitars, to primitive sounding drum machines and writing lyrics with typewriters. Your artistic influences also focus on artists past, or artists present referencing artists past. Is there something about the art, aesthetics and technology of the present that turns you guys off? 
JH: The aesthetics of beauty can be found more easily in old things. Maybe it's because of the rarity, because there aren't so many of them anymore. For me there's often a craft and care in the construction and design of old things. People had an idea of beauty that was simply different than now. These days things aren't built to last—they're built for mass consumption. It's all been cheapened in order to sell to as many people as possible. And it goes hand in hand with "professionalizing" the hobby artist. Who would have thought it, but companies have managed to convince everybody that you too can be a photographer or a filmmaker or a producer or a musician, because professional equipment is affordable for the guy who drives the Veg Van and takes pictures in his spare time.
Alison Mosshart: You also have to remember how old we are. I mean, I started using typewriters because I didn't have a computer, and it wasn't until I was way older that we had computers in school. We grew up using "old" stuff, so there's a preference there—maybe even a loyalty in some way. I hang out with people who are ten years younger then me and they don't know how to re-ink a typewriter ribbon, or clean a camera properly, and they don't give a fuck. And that's interesting too . . .
JH: Also, poverty has changed these days. Ten years ago, cell phones and computers were luxury items, so we recorded on a broken reel-to-reel.
AM: And it wasn't too long ago that you would never ask Jack Kerouac about his typewriter or a musician about recording on tape, because that's what everyone used. That's what we used on our first records too. Now it's suddenly thought of as retro, but actually this is simply tried and tested technology.
Well, people did ask Kerouac about writing entire novels on single type rolls . . .
JH: Look, old amps weren't built for everybody to use or afford, and to me, it's a really simple explanation for why they're better. Also, typewriters don't just replicate words on a page. They have a feel and a depth to it I happen to like.
Does this aesthetic sensibility extend to how you consume music?
AM: I listen to music every different kind of way.
JH: We're not purists. I don't think there should be one or the other exclusively. I love the rapidity of dragging and dropping and playing new music in iTunes.
AM: To back up a sec: the amps the Velvet Underground used were made in the same era. It's only recently that we want to use the amps they played. There was a time when people always wanted the newest stuff. But that's changed.
I know Lou Reed went to great lengths to get his mid-nineties Magic and Loss-era guitar sound, choosing all the gazillion preamps and new technology. There are insane pictures of his specially designed guitar rig online. Ironically, all the gear sounds way shittier than when he was using old beat-up Velvets equipment.
JH: [laughing] I'm not a total tech-head, but I know what sounds good.
The influences and sounds on your last album Blood Pressures seem more disparate than previous albums – occasionally veering away from minimal blues stomp towards more pop experimentation. The changing melodic trajectories of "Baby Says" and Alison's starlet-past-her-prime vocals over skipping records on "The Last Goodbye" immediately come to mind. Is this the beginning of more sonic branching out?
AM: When we write, our only objective is to write something that's not like the record before. We started Blood Pressures pretty soon after we finished Midnight Boom and were still fucking around with MPC and stuff. But I felt we certainly focused more on songwriting, even though we put together Blood Pressures really fast.
JH:I think Midnight Boom was the record where we first decided to move away from the punk-blues stomp rhythms. Not to demystify something that people find romantic about our music, but a lot of that simple stomp sound was a product of trying to make records quick without money and good equipment. By the time Midnight Boom came around, I had fallen in love with making rhythms and programming.
But your beat programming still often mimics live drums more than perfectly straight electronic syncopation. The occasional unsteadiness and imperfection adds to your groove in a mysterious way.
JH: I've got quite spazzy rhythm, actually. I used to say it with a laugh, but my drum sensibility is more lurching than straight. It's totally in tune with the way my body works.
Alison, you live in London but you're from Florida, which is always a pretty important swing state, especially in the upcoming election. Do you vote?
AM: Absolutely. I always send in my absentee ballot. I might be in Tennessee in November, so maybe I'll vote from there. That's a swing state, right? Lots of Republicans. But then I think I would have to be a resident there, no?
JH: Do you vote?
I always send in an absentee ballot, even though being from Massachusetts it doesn't mean a hell of a lot for federal elections. Speaking of occasionally meaningless activities, Jamie you said in an interview that, "People are so stumped by things that have no meaning; it's a pretty powerful weapon." I think you were referring to the Dada manifesto, but do the Kills also utilize the power of meaninglessness? And what's so powerful about meaninglessness anyways?
JH: Well, I don't think hard about making vacuous statements, but what I said was a response to questions about a song we did called "Fuck the People". Everybody wanted to know what it meant. Was it nihilist? Was it fascist? For me, I always liked the fact that it maybe never meant anything. And if I wasn't honest I could try and infuse it after the fact with all sorts of meaning, but it was really only the depth of a feeling, a reaction to majority stupidity. The same thing happened when we put Florence Rey on the cover of the Black Rooster EP. She and her boyfriend lived in Paris and were just tired of being dumbed down, so they stole a car, ended up in a chase and then shot loads of people. It was all "Viva anarchy!" and what not. People wanted to know what it meant and why they'd done it. For me, one of the most important aspects of using her on our cover was that she was beautiful. I don't mean it in a superficial way, but she was more palatable to people because she looked like a film star, with her orange bob cut and chiseled face. It was like art imitating life imitating art. I like the chaos in that.
But focusing too much on aesthetics can also be problematic when it comes to ethics—Holocaust literature and film immediately come to mind, especially the stereotype of the "beautiful Jewess". It's not too cool to communicate that doing bad things to Jews is only wrong because their women are hot.
JH: Yeah, people do that to make it absolutely clear. But there are rarely good people in films who are cunts as well. It's always so clear-cut. Say you have sympathy for a main character, but at the same time he's the guy who punches his girlfriend's teeth out. Because that's the kind of thing that does happen, of course.
Do you hear new rock and roll, or is it a genre that resists updating? Do you think of yourself as genre innovators or more as art- ists working within rock's established confines?
JH: My mind changes, but I generally don't think new things can happen, really. That's why rock and roll is fucking dead, or at least dying—because it can't be renewed. People say there's nothing good happening in rock and roll and that's probably because there's nothing left happening in rock and roll. And why uphold this idea that there is? People talk about their shirts being rock and roll, or, like, "You'd love my friend, she's so rock and roll!" I certainly don't want to uphold that.
Speaking of shirts, you guys have strong connection to fashion. Is that something you actively pursue or is just an inevitable part of being who you are and who you're close to?
AM: Well, I'm sort of interested in clothes. Wait, no—I'm really interested in the clothes that I like. But fashion is something that's pursued us since we first started the band. There was a time when the music press didn't pursue us and the fashion press did . . .
JH: But not like Vogue or whatever. Rather more the cultural magazines, which were far more cutting edge than the music press. Dazed and Confused, ID, Sleezenation, Self Service—they were always mixing up articles about music, fashion, Rimbaud and Nietzsche . . . And they really liked us at a time when music press wouldn't give us the time of day. There's a big cliché about the fashion world, and people are afraid of the term "fashion". It connotes superficiality. Of course, most people would give value to poetry and say how important it is, but if you went to a poetry reading these days, it would be the most embarrassing, pretentious thing in the world. Fashion for me was vitally important in terms of getting into music because I always picked out albums based on the covers and what the people looked like—whether it made the hair on the back of my neck stand up.
I recently walked past the Mozambique Embassy in Berlin and saw their flag for the first time: it was an AK-47 crossed with a hoe on top of a book, and in the background was a star. What would be on the Kills flag?
AM: Designing one would be a project and a half . . .
JH: I'd like to do one right now, but I'd want to put as much thought into it as Mozambique did. I think I'd have Florence Rey and an MPC . . .
AM: On top of a giant cup of coffee.
Were you in London during the riots?
AM: No, we were in America. But the whole thing was just so shitty. People just went into stores and stole Nikes and shitty things like that.
JH: People took the power themselves and ripped off sport shops. It's like, have you been dumbed down so much that that's all you fucking think you want anymore? This wasn't the power of the people. It was just the power trip of a few people.
Jamie, you do sort of have a protest background—you were one of the first people to squat Berlin's legendary Tacheles. Can you tell me a little bit about that?
JH: Well, I had been in a band active in the anarcho-punk scene, and we toured all around the Eastern Bloc countries at the end of the Cold War. We ended up in Berlin in 1989 and played Tacheles around three days after it was first squatted. We built a stage and worked on the plumbing and all that. In the past, Alison and I used to make a point of going back to Tacheles everytime we were in Berlin, but now it's kind of pointless. Just tourists, really.
I know you grew up skating, Alison. That's been a really important part of so many people's musical upbringings. The t-shirt ads in the back of Thrasher were my first introduction to so many bands. The same goes for early skate videos. What kind of influence did skate culture have on you musically?
AM: Don't forget the stickers! Both Thrasher and Transworld were hugely important for me growing up. There were essentially no music venues where I lived, but there were a lot of skaters. Or at least enough for me to learn from. And they were mostly older, so they already had their boomboxes at the sessions. Of course, the visuals and graphics were also incredibly important to me—especially Powell Peralta decks. I was completely obsessed with skate art.
You're about to release a coffee table book of Kills photos, Dream & Drive…
JH: [laughing] Don't you dare call it a coffee table book!
I was actually wondering if you'd find the term offensive.
AM: No, we don't really care, but I still think it's not a coffee table book. I mean, it fits on a shelf. Our dear friend Kenneth Cappello collected photos of us all from around the world over the past eight years, and there are just so many pictures that capture that brilliant cocktail of dreaming versus reality. It's a trip, and it's one that's really, really intimate. From our very firsts shows, it's all sweat and glare and drink and dressing rooms.
Did you hear about the new study showing that driving while tired is as dangerous as driving while drunk?
AM: No, but I believe it.
JH: Hell, we should have just called it Drink & Drive. But we get along drunk or sober.
Do you work more productively as a band in conflict or when you're getting along?
JH: With Keep on Your Mean Side I was proud and confident and loved the record. No Wow I was paranoid and disillusioned and loved the record. Midnight Boom I was heartbroken and destroyed and I loved that record. For Blood Pressures I was happy as hell and I loved that record . . .
AM: That's Jamie over the years in pictures.
JH: No, in flags. ~