A 3-Hour Long Mixtape of Goth History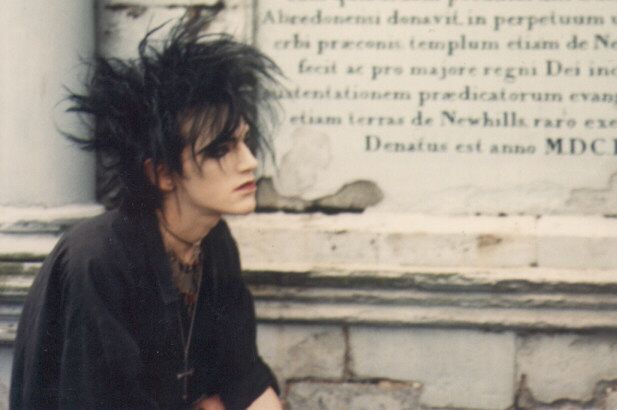 A while back, our sadly-departed Audioccult column did a three-part guide to finding the right album for your goth teen. As with most Audioccults, it was fairly facetious, though it did give some solid tips beneath the silliness. A better recommendation, however, might be this three-hour long mixtape exploring the various musical facets of music which could be considered 'gothy', as in you're likely to enjoy it if you also like Docs and cloaks.
Curated last year by the always-intriguing S13, the mix delves into the dark territories—we're talking the deep cuts, none of this 'Bela Lugosi's Dead' stuff. The boisterous deathrock of Mighty Sphincter, Specimen's Batcave trashiness, the artsy weirdness of Red Wedding and early 4AD stalwarts Mass, evocative and angular sounds from Skeletal Family and Red Temple Spirits and touches of propulsive EBM all feature in this massive mix. Highly worth revisiting—or discovering for the first time.
By loading the content from Mixcloud, you agree to Mixcloud's privacy policy.
Learn more
01. John Carpenter & Alan Howarth – Mrs. Alves [Varèse Sarabande, 1981]
02. Mighty Sphincter – Waltz In Hell [Placebo Records, 1985]
03. Skeletal Family – Far & Near [Anagram Records, 2001] originally released in 1985
04. Rehearsed Dreams – The Only One [Creep Records, 1985]
05. Myrna Loy – Sing Garden [Normal, 1989]
06. No More – Kalo [Wishbone Records, 1984]
07. Parálisis Permanente – Autosuficiencia [3 Cipreses, 2001] originally released in 1981
08. Kronstadt – Kalachnikoff [New Wave Records, 1985]
09. Abwärts – Beim Erstenmal Tut's Immer Weh [Mercury, 1982]
10. Kommunity FK – Something Inside Me Has Died [Cleopatra, 1994] originally released in 1985
11. Birthday Party – Wild World [4AD, 1992] originally released in 1983
12. Brain Damage and Death – Revive [IRA Records, 1993] originally recorded between in 1986-1992
13. Cyan Revue – The Retire [Yellow Ltd., 1986]
14. Gina X Performance – Nice Mover [LTM, 2005] originally released in 1978
15. Blood & Roses – Enough Is Never Enough [Anagram Records, 2007] originally released in 1985
16. Limbo – Spiritual Night Fly [Spittle Records, 2008] originally released in 1987
17. Advanced Art – Black Roses [VUZ Records/Subtronic Records, 1995] originally released in 1988
18. Click Click – Mercy [Rorschach Testing Product, 1985]
19. Remain In Silence – Lonesome Hours [Fountainhead Records, 2001] originally released in 1985
20. Yell-O-Yell – Death Pirouettes [Creep Records, 1984]
21. Katharsis – Skeleton In Your Closet [Not On Label (Katharsis Self-released), 1988]
22. Mass – Ill [4AD, 1981]
23. Phaidia – Dead End Love [City Rocker Records, 1985]
24. Red Temple Spirits – Nile Song [Fundamental, 1988]
25. Public Image – Religion II [Virgin, 1986] originally released in 1978
26. Specimen – Kiss Kiss Bang Bang [Jungle Records, 1997] originally released in 1983
27. Da – Dark Rooms [Autumn Records, 1981]
28. René Halkett & David Jay – Nothing [WEA Records, 1982] originally released in 1981
29. Voo-Doo Church – Eyes-Second Death [Second Death Records, 1982]
30. Vex – Sanctuary [Sacred Bones Records, 2014] originally released in 1984
31. Siela – Fosforo Rate [Dangus, 2003] originally released in 1994
32. Red Wedding – All Dressed Up [Bemisbrain Records, 1982]
33. Horsemen – Mr. Sunrise [Hommage Records, 2009] originally released in 1987
34. False Confession – Feline [Mystic Records, 1984]
35. Die Form – Deadline II [Metropolis, 2001] originally released in 1986
36. à;GRUMH… – Generation [Play It Again Sam Records, 1987]
37. Psyche – Black Panther [SPV Records, 1993] originally released in 1986
38. Janitors Animated – Drunkula [Mr Dusty, 1986]
39. Chrome – Anorexic Sacrifice [Cleopatra, 2008] originally released in 1982
40. The Nuns – Suicide Child [Posh Boy, 1980]
41. Unlimited Systems – My Bed Is Thorny [Schnick-Schnack-Tonträger, 1985]
42. Virgin Prunes – Deadly Sins [Baby Records, 1986]
43. Leningrad – Meatfactory [Animalized, 1986]
44. Marquee Moon – Don't Go Out Tonight [Sub Terranean, 1994] originally released in 1984
45. Twisted Nerve – When I'm Alone [Sacred Bones Records, 2014] originally released in 1982
46. Paranoia – Dead Man's Dreams [Rot Records, 1984]
47. Sinking Ships – Strangers [Dead Good Records, 1980]
48. Sleep Chamber – The Nun (Fetish Convent) [Inner-X-Musick, 1987]
49. The Product – Almost Afraid Of It [Dark Entries, 2012] originally released in 1984]