Become a virtual modular synth sensation. 
Want all the thrill of jamming modular synth without breaking the bank?
There are few things as fun as patching a modular. For most of us, however, the demands of money, space and time make it almost impossible. If you fall into this category, then maybe the virtual realm is best place to unleash all your patching fantasies.
Thanks to a new piece of software designed by escornabois called the Synthmulator, that's now possible. The concept is simple but brilliant. You enter  a virtual world simulator—that is, a video game—where you are alone in a room with the PROTO-1 modular and a bunch of cables. All that's left for you to do is patch to your heart's content.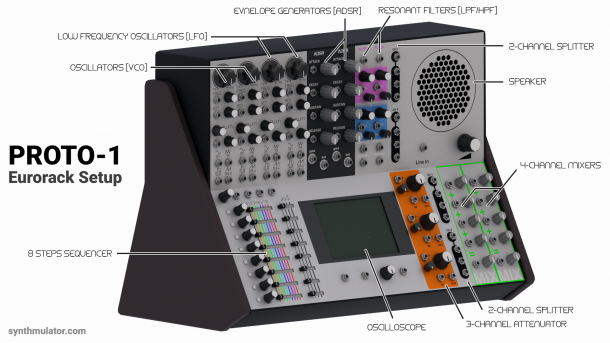 The PROTO-1 is equipped with 2 oscillators, LFOs, filters and envelope generators, plus an attenuator and sequencer, giving you plenty of versatility with your patches. While more a "game" than a sound-shaping device, it definitely channels the spirit of a real jam session. Check out the video demo above, then download the program here.
Read more: Learn about Mark Verbos' approach to modular synthesizers with this in-depth video