News
Electronic Beats Reveals Full Details For Budapest Festival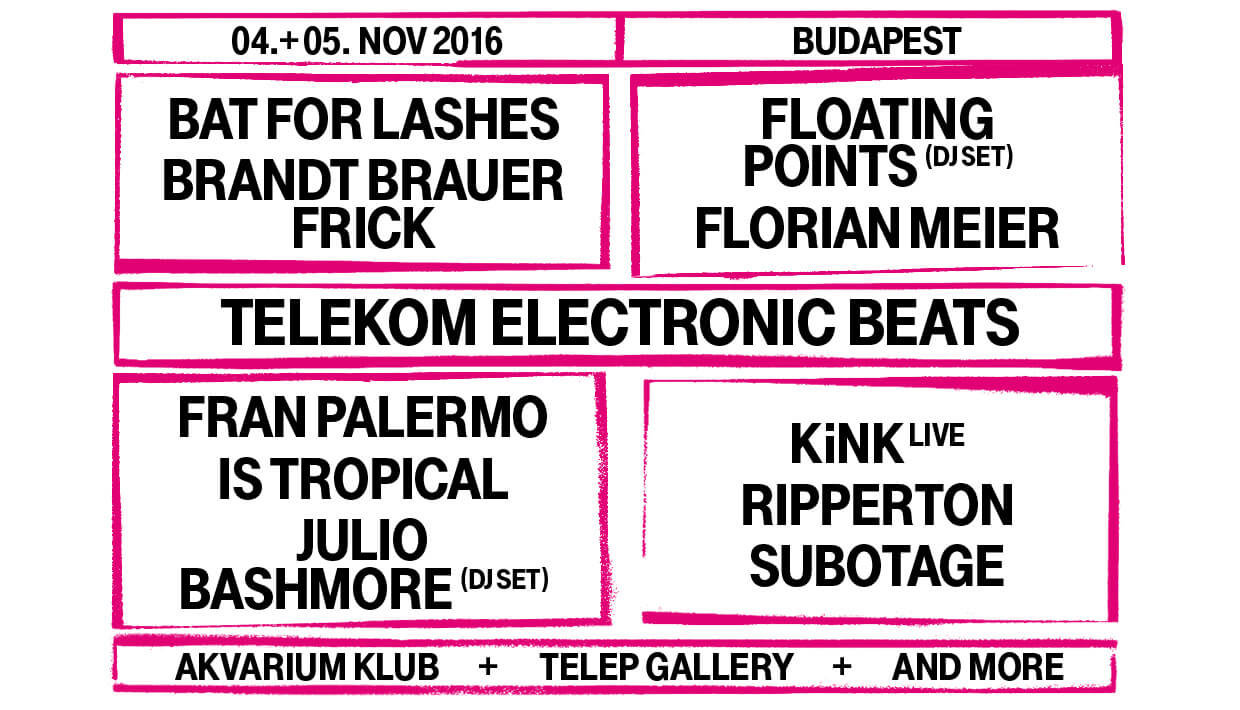 Here's a full rundown of all the exciting things happening at Telekom Electronic Beats Festival Budapest.
Telekom Electronic Beats is headed to Hungary, are you ready? Our previews and teasers have whetted your appetite, but now we're ready to show you everything we have planned for our festival in Budapest. As you already know, we have an exciting music program scheduled, but we have even more artists to announce: we've added Hungarian electronic audiovisual duo Changing Grey, Budapest-based electronic pop producer Mïus, local indie rock outfit Fran Palermo and Berlin minimal maestros Brandt Brauer Frick plus DJs Ripperton, Subotage and Florian Meier.
We also have a cultural calendar stuffed full of tech workshops, fashion events, movie screenings, gallery exhibitions and more. The whole festival kicks off on Thursday, November 3 and runs through Saturday, November 5. Head to Premier Kultcafé for a screening of Raving Iran, the first in our EB Cinema series—and an excellent documentary that we've covered here previously. We'll also be showing Werner Herzog's new internet documentary Lo and Behold: Reveries Of The Connected Wold and Davide Manuli's mysterious The Legend Of Kaspar Hauser.
The majority of our program happens on Friday and Saturday at Akvárium. There you'll not only be able to hear the bands and DJs we've got on deck, but also be able to take part in the tech portion of our program. Local recycling startup Ususty will be on hand to take your old phones and show you how to make music with their spare parts. Jump into a new world with Samsung Galaxy Studio's Gear VR virtual reality station. Or step into the Analogue Zone—a Hungarian synth studio—for workshops on modular synthesis and a live set by local artist Banyek. You can also learn about Ableton Live from certified training center imPro, check out 3D light painting with Kitchen Budapest and get into 3D printing with 3DPrintBudapest.
More of an art lover? Then be sure to check out Omnivore Gallery's Fetish Nip collection and Központ Bar and Telep Gallery's retrospective on Roki, one of Budapest's most active graphic designers of the past 15 years. Or, alternatively, get a fix of fashion: Just steps from Akvárium you'll find Art On Me, a small boutique specializing in comfortable women's clothing. On Thursday they'll be throwing a "Welcome Winter Party." On Friday head to The Garden Studio to shop its Hungarian and Scandinavian collections while listening to live acoustic sessions. Also, you can get your vintage fashion fix right at Akvárium thanks to Antifactory X Schatzi Crazy Glitter Pop Up.
Throughout the week, Központ Bar will also be offering a musical program that features Rotterdam's Selected Sounds label and Budapest's own Farbwechsel imprint. Check below for more details.
Head over to our Facebook event and click "going." Check out our event website. And buy tickets here.
Music Program
November 4, 2016 – Akvárium – Doors at 19:30
Changing Grey
Fran Palermo
Bat For Lashes
Club night begins at 00:30
Florian Meier
Floating Points DJ Set
Julio Bashmore DJ Set
November 5, 2016 – Akvárium – Doors at 19:30
Mius
Brandt Brauer Frick
Is Tropical
Club night begins at 00:30
Subotage
KiNK
Ripperton
Cultural Schedule
November 3, 2016
Cinema –  19:00 – Raving Iran – Premier Kultcafé
Fashion – 19:00 – Art on Me: Welcome Winter Party – Art On Me
Art – 20:00 – Fetish Nick Nack Exhibition – Omnivore Gallery
Music – 22:00 – Selected Sounds showcase – Központ
November 4, 2016
Tech – 15:00 –  Ususty E-Waste Collection – Akvárium
Tech – 15:00 – Samsung Pop-Up – Akvárium
Cinema –  19:00 –Lo and Behold: Reveries Of The Connected Wold – Premier Kultcafé
Fashion – 19:00 – Live Music Shopping Party – Garden Studio
Music – 22:00 – Farbwechsel label showcase – Központ
November 5, 2016
Tech – 13:30 – TECHMARKET: imPro – Akvárium SmallHall
Tech – 14:00 –  Ususty E-Waste Collection – Akvárium
Tech – 14:00 – Samsung Pop-Up – Akvárium
Tech – 14:00 –  3D Print Workshop – Akvárium
Tech – 15:50 –  TECHMARKET: Analogue Zone Workshop + Live Act – Akvárium
Tech – 18:30 – Ususty Hardware Hacking – Akvárium SmallHall
Cinema –  19:00 – The Legend Of Kaspar Hauser  – Premier Kultcafé
Fashion – 19:00 – Antifactory and Schatzi: Crazy Glitter Pop Up – Akvárium
Tech – 19:00 – Kitchen Budapest Light Painting Demonstration – Akvárium
Art – 18:00 – Roki: Hungarian Poster And Flyer Art 2005-2015 – Központ And Telep Gallery