News
The Full Scope Of EB Fest Cologne Programming Is Now Online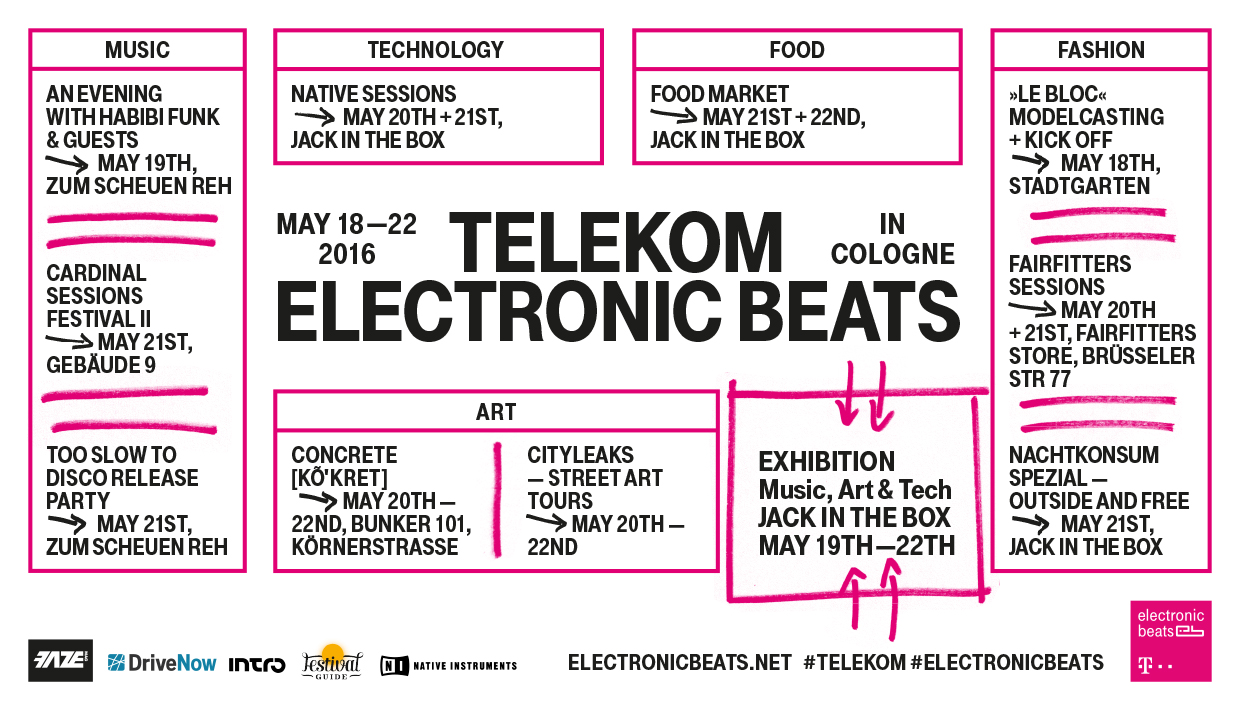 Electronic Beats Festival in Cologne is fast approaching. In addition to an extensive music program, which includes headliners Grace Jones, Tony Allen, Kerri Chandler, Wiley, Chilly Gonzales, and a secret gig with Honne, we've also teamed up with local partners to put on a huge variety of special events. We'll have everything from food and vinyl markets to film screenings, Native Instruments sessions, street art tours, two exhibitions and many more great parties. The complete program can be accessed on our new EB Festival website, where you can get the lowdown on just about everything festival-related, but for now, here's a sampling of what's in store:
The Telekom Electronic Beats Exhibition will feature installations and artworks that bring together music, art and technology. Under the thematic umbrella "Life is for Sharing," the exhibition offers visitors new ways of interacting with electronic music.
The Concrete [kõˈkrɛt] Art Exhibition, a site-specific light and sound installation by Robert Stokowy, was conceived exclusively for the Bunker k101, a three-story WWII bomb shelter in Cologne's art quarter Ehrenfeld.
Get in on exclusive workshops and discussions with Native Instruments product specialists and power users exploring the future of music production and performance in two Native Sessions. House originator Kerri Chandler and Berlin-based selector Grizzly will be onhand to share some tips of the trade.
In addition to the tasty vinyl (and food) on offer at our Food & Vinyl market, which opens on May 19 and runs all through the festival, 20 selected merchants from Jack in the Box's almost legendary nighttime flea market, Nachtkonsum, will be onhand to show off some of their most unique items.
We're partnering with legendary Cologne label Kompakt for an open-air, Jakarta Records' North African retro funk and psych outlet Habibi Funk, and VOID, one of the freshest new parties in Cologne nightlife.
We're also joining up with eco-fashion and jewelry retailer Fairfitters. They'll be screening The True Cost, a documentary on the price of clothing on human and environmental welfare and leading a chain-making workshop.
And finally, there's our awesome street art tours through Ehrenfeld and Belgisches Viertel. See some cutting-edge art from graffiti specialists from around the world.
Want to find out more? Head here.