Culture
Read This Interview With EB Mural Artist Martin Bender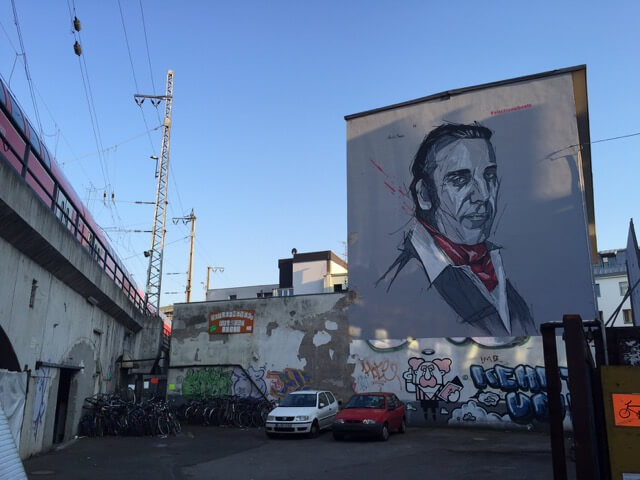 A little while ago we gave you a sneak peek of the beautiful murals being prepared for Electronic Beats Festival Cologne. Now we've got pictures of the murals themselves and a special interview with Martin Bender, the street artist behind them. Check below for the interview plus pictures of the murals in their element. Want to take a tour of all the street art on offer in Cologne? Be sure to take one of our many tours running throughout the festival.
How long have you been working on these murals?
It all starts with a draft on paper, which took me about four hours for each. I usually draw a pencil sketch first, which I scan and treat digitally. I use Photoshop for the retouches. The process of painting the portraits on the wall takes at least one full day for each, depending on the size of the piece.
Capturing faces is not the easiest discipline. Which of these five portraits challenged you the most?
That was certainly Grace Jones. The costume she wore on the master image was hard to realize. It threw my image into disarray. Finding the right image section to make Grace look plastic and vivid was the hardest part of the project.
Tell us a bit about your drawing technique.
In general, I use a mix of different techniques. For the five EB portraits, I started with a grey primer that I applied with a large brush. The picture itself was mainly done with spray cans.
How much color did you need in total?
It was a whole car full of paint. I used at least 30 liters of primer and over 30 spray cans.
Now that the artworks are done, how do people react?
Most people like them a lot. I receive emails and pictures from people who've discovered them on their way through the city. Several newspapers have gotten in touch to learn more about the pictures and the ideas behind them. I have not received any negative feedback, which is nice. When doing the Mø piece some passersby thought I was drawing illegally, and they were kind of irritated, but I just told them that it's okay, and they believed me.
When talking about the street art scene, things a bit more complex. Some hardcore peers see it as a commercialization of street art and graffiti. Others accept the fact that artist have to live too. For me, it's all about the picture. How and why it came into existence is secondary.
What are your upcoming projects?
At the moment, I'm living in Hagen, so I focus on work there. I'm busy with painting the front of a whole 5-story building. Also, I'm designing the Schlachthof, a center for culture and arts in Hagen. And I do a lot of live painting, too.