Culture
Is Thom Yorke Unholy? These Christians Think So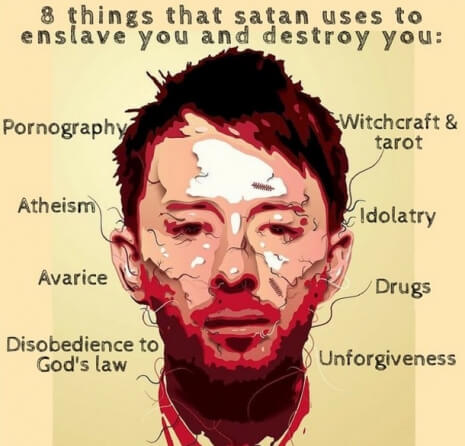 A Christian fundamentalist group is portraying the Radiohead frontman as crippled by satanic vice. 
If he isn't busy releasing albums, headlining festivals or releasing deep dreaming mixes, it seems that Radiohead's Thom Yorke is a debauched, godless, sex-riddled drug addict who can't be trusted in his marriage. Well, that's if you trust Iranian book covers or Christian fundamentalist promotion.
Last year, Thom Yorke's mug somehow found its way onto the cover of an Iranian sex manual called Marital and Sexual Problems in Men. Now a Christian fundamentalist group known as Generation of God have gone on to portray the star as suffering from a cocktail of things "that satan uses to enslave you and destroy you." Must have one of those faces, we guess.
(via Dangeous Minds)