Culture
Check Out The Very First Buchla 100 Modular System In Action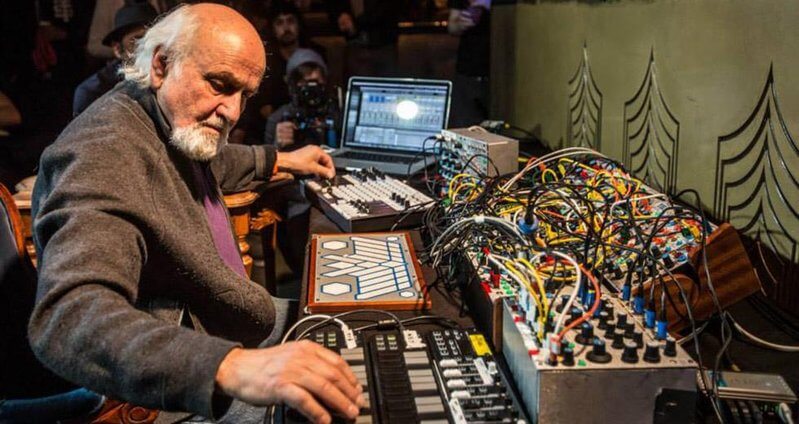 Morton Subotnick returns to Mills College, the home of the modular system that started it all.
Few albums can lay claim to entering the Pantheon of great electronic oeuvres more than Morton Subotnick's Silver Apples of the Moon. The 1967 album was not only the first electronic composition of its kind to bring the "West Coast" synth sound to sophisticated listeners, but it demanded that synth music be treated as a genuinely pioneering musical moment in contemporary music.
Subotnick not only composed the record, but worked closely with Don Buchla in delivering a synthesizer that radically departed from traditional instruments. According to Subotnick, upon meeting Don Buchla, "The first thing I told him was that we didn't want a black and white keyboard: this was not a new way to do old music. The idea was that we were 20th century cave men, and we were going to create a tool to make a new kind of way to make a new music. Not just a new old music." The result of their collaboration was the Buchla 100, which kickstarted a furiously rich era of electronic musical invention that shows no sign of slowing even 50 years on.
The story is being relived in Subotnick: Portrait of an Electronic Music Pioneer, which features interviews not only with the great man himself but with many of the wonderful avant-garde luminaries emerging at the time of Silver Apples, like Suzanne Ciani and Maggi Payne. In a new clip from the documentary, Subotnik and fellow San Francisco Tape Center founder Ramon Sender return to where the magic happened. Meeting up with Maggi Payne at Mills College, Subotnick is reunited with the first Buchla 100 and discusses the secrets to his Silver Apples patches and the genius of the machine. Watch both videos below.
Read more: Suzanne Ciani's 1975 Buchla concerts to be reissued