Tech
Watch Mouse On Mars Experiment With Robots In The Studio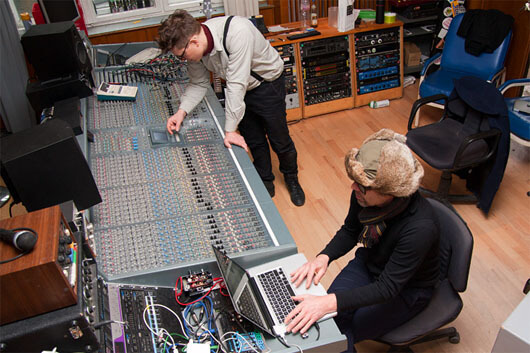 The German avant-garde duo is pushing into wacky new electronic music territory.
What happens when men and robots collide? Putting aside doomsday scenarios, these collaborations are starting to lead to some pretty interesting results.
Case in point is this recent jam between Mouse On Mars and Moritz Simon Geist's bizarre electronic music creation, "Sonic Robots". The confluence of the German producers' manic creativity and the robots' immense kinetic power led to all kinds of weird encounters, like acoustic drum sequencing and drum duets between a trashcan and pieces of scrap metal. But there is order to the chaos as well, with the duo turning the crazy glitches and clangs from their recording sessions into new music.
Below you can find footage of the jam session in question. Scroll further down for EB.tv's feature on Geist's amazing Dada-esque music-making devices.
Read more: Mouse on Mars member Jan St Werner talks Native Instrument's innovative new Reaktor 6 program