Culture
Germany Just Legalized Gay Marriage: Party At These Clubs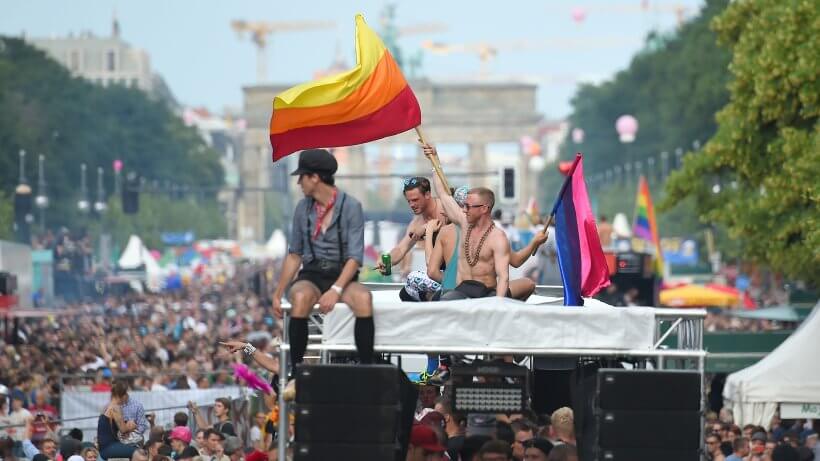 It's Friday, and Germany just legalized gay marriage. Time to party.
LGBTQ+ activists in Berlin have taken to the streets to commemorate a huge milestone victory for gay rights in Germany: the country's parliament voted to legalize same-sex marriage earlier today. While those rejoicing in the streets have brought their rainbow flags and "CHOOSE LOVE" banners, clubbers in Berlin who want to celebrate will be strapping on their black leather harnesses and heading to the clubs.
The German capital, of course, probably has the most robust gay party scene in Germany. We'd imagine that the local techno temple known for its roots in gay fetish culture will be packed tonight for its "Pet Shop Bears" event. If you don't get in or can't make it past the line, we'd recommend heading to the long-running LGBTQ+ venue SchwuZ or the sex-positive Kit Kat Club—home to Berlin's boldest queer sex party, Gegen. And in the coming weeks you'll have a chance to enjoy the culture at popular gay parties like Herrensauna, Cocktail D'Amore, Homopatik and Buttons. You can find more information about all those parties in our list of Berlin's best parties. And for those who are more into inclusive queer parties—look no further than Room 4 Resistance, whom we recently interviewed.
But we wouldn't want to leave out the rest of Germany, where people will surely want to celebrate as well. Virtually every city has its own LGBTQ+ night. For instance, Munich's Harry Klein sometimes hosts "Garry Klein" events; Frankfurt and Offenbach have their own Fries Before Guys night at Robert Johnson; Leipzig recently launched a queer feminist techno festival that will run at  Telekom Electronic Beats Clubnight venue Institüt für Zukunft and Conne Island, which will return in March.
And, psst: if you're still up and in Dresden Sunday morning, come kick it at our big Click Clack Open Air with Âme, Dixon and more.
Read more: The 10 best clubs in Germany that aren't in Berlin