Music
Explore The Bass-Heavy Sound Of Berlin's Wax Treatment Party With This Mix By DJ Akanbi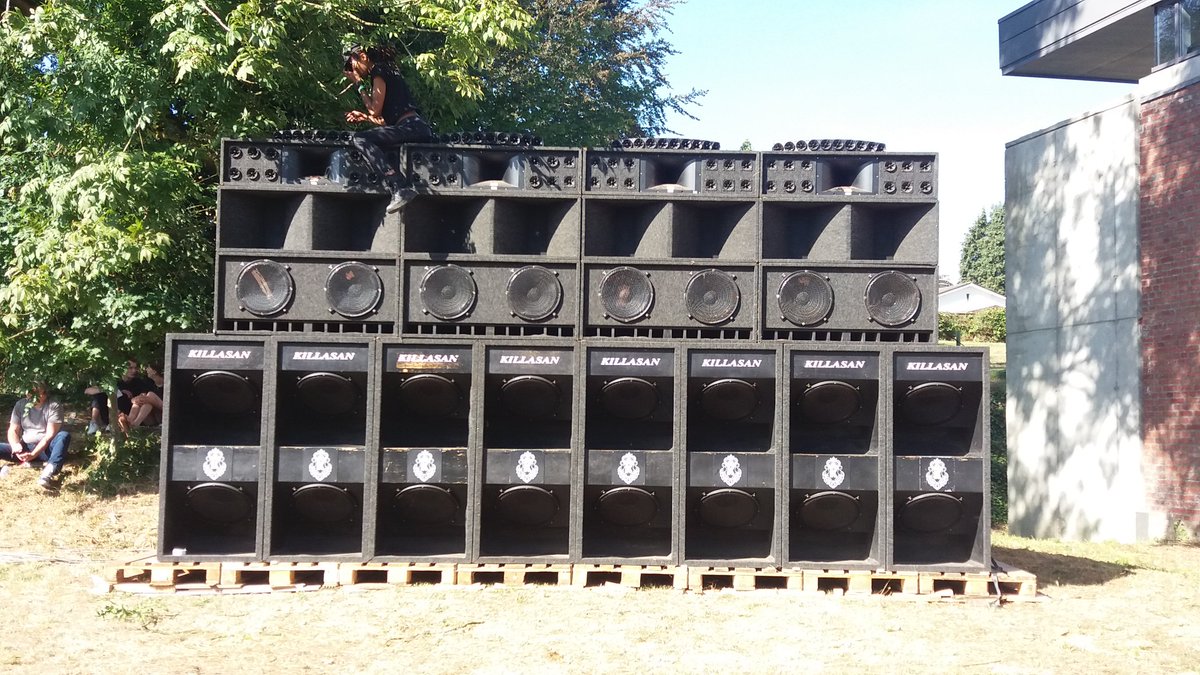 Wax Treatment is a Hard Wax-affiliated party that blasts dub, bass and other UKish sounds from its custom-built Killasan soundsystem
This coming Sunday, the Hard Wax crew will roll out their fabled Killasan sound system (pictured above) once more. Yes, it's time for another edition of Wax Treatment, Berlin's hub for bass-heavy club sounds from reggae to dubstep and beyond. Like previous editions, the party, which starts at 6pm, will go down at Griessmühle. As usual, the lineup won't be announced beforehand.
Leading up to Sunday, Wax Treatment has just posted a new episode of their podcast. The mix comes courtesy of Brooklyn-based Nigerian DJ Akanbi. It's an eclectic 90 minute session that stays true to bass music in all it's genre-defying cross-pollinated forms. Will Akanbi play on Sunday then? You gotta flock to Griessmühle to find out.
You can listen to the mix and check out the track listing below.
By loading the content from Soundcloud, you agree to Soundcloud's privacy policy.
Learn more
Tracklist:
01. Actress – Hubble (Honest Jon's HJRLP49)
02. Rainer Veil – FM2 (Modern Love 112)
03. Burnt Friedman – Self Supreme Dub (Nonplace 048)
04. Actress x London Contemporary Orchestra – Surfer's Hymn (Ninja Tune 251)
05. Perko – Grace (Numbers 061)
06. Dan HabarNam – The Machine – Track 2 (Self Released)
07. Oli XL – Clumsy (Bloom 001)
08. Four Tet – Only Human (Text 048)
09. Off The Meds – Belter (Studio Barnhus 060)
10. Ingrate – Crypto Poser (W – I 10)
11. DJ Plead – Crush and Burn (Nervous Horizon 008)
12. Yak – Zephyr (Le Chatroom 002)
13. DJ Plead – Salt and Pepper (Nervous Horizon 008)
14. Bergsonist – Gaza Border Violence (Optimo Music)
15. Taso & Siete Catorce – California Sunshine (Naafi 028)
16. Massacooramaan x Niki Minaj – Lookin Ass Implosions (L-Vis 1990 Edit)
17. Lil Uzi Vert – 444+222 (L-Vis 1990 Edit)
18. Giant Swan – Celebrate The Last 30 Years of Human Ego (Timedance 012)
19. Metrist – Auld Flaurist (Timedance LP 001)
20. Scratcha DVA – Baga Drmz (Hyperdub 126)
21. Basic Rhythm – Yeah, I Like It (Planet Mu 413)
22. DJ Delish – Musical Chairs (Sweat Equity 028)
23. Blackboy – What You Want – Jammin' Entertainment
24. Mighty – Outta Yuh Back – Jammin' Entertainment
25. Alva Noto – Uni Mic B (Noton 045)
26. Atom™ – L.T.B.C.Y.B. (AtomTM_Audio_Archive)
27. Joy O – Tennov6teen (Hinge Finger 8681)