Culture
We Saw Jeff Mills Score The Sci-Fi Classic 'Metropolis'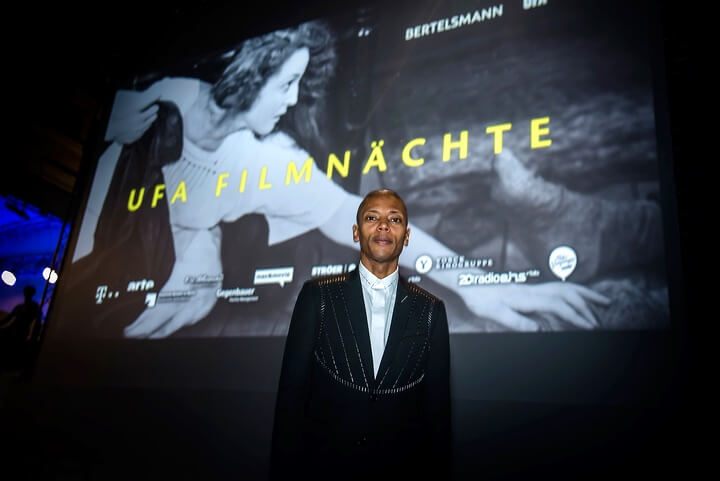 The Berlin screening marked the first time that the producer has scored the film live in its entirety.
Fritz Lang's German expressionist epic, Metropolis, has exerted a profound influence on the world of sci-fi-leaning cinema and music since its creation in 1927. The two-and-a-half-hour-long silent film culls heavily from Bauhaus and art deco, painting a monochromatic depiction of a futuristic city divided between wealthy industrialists and the underground-dwelling workers who operate its underlying machinery. The movie's penchant towards pictorial drama and functionalist modernism has long made it appealing to electronic musicians seeking to compose original scores, notably, Giorgio Moroder in 1984, and more recently, Jeff Mills, who released a preliminary iteration of the Metropolis soundtrack in 2000 and performed a new version last night at the Bertelsmann and UFA Filmnights in Berlin.
Mills' live rendition was special not only for its incredible rarity—the last time that he performed a live scoring in Berlin was at Electronic Beats' showcase of Walther Ruttman's Die Sinfonie der Großstadt in 2015—but for its length: historically, Mills has performed to a one-hour-long abridged version of the movie instead of its full duration, which was presented last night. In contrast to his 2000 score, which made generous use of pastel-hued melodic interludes and high-timbred synthscapes, last night's composition was replete with moody, droning pads, dark noisy soundscapes and creepy atonal sequences that moved as a fluid, shapeshifting whole. Whether or not the allusion was intentional, it also seemed that the Detroit producer nodded frequently to the mid-century Austrian composer Arnold Shoenberg, whose work was heavily associated with expressionism in German music and art.
"The movie was shot in the dark," Mills told The Wire of Metropolis in an interview from 2011. "It's full of shadows, so I used that aspect, but also the facial expressions and the climax, to write the soundtrack. We don't hear electronic music in cinema, even if it's a movie about science fiction, or space travel, you just hear classical as a standard. It got to a point where I just thought somebody has to do something…I just wanted to make something that was an example for the music we know and deal with, up against a movie."
Mills' decision to weave classical sensibilities with his own brand of dark and pulsating techno, then, comes as no surprise. His work has long been tied to the aesthetic and philosophical underpinnings of Afrofuturism, a movement towards science fiction and Afrocentrism championed by Detroit's old guard, as well as to the Western musical heritage upheld by traditional classical orchestras (as witnessed in Mills' multidisciplinary projects such as 2004's The Exhibitionist or 2015's Exhibitionist 2). And while it's unfortunate that these performances are so rare, we can certainly be thankful for Mills' seemingly endless supply of creativity and fierce dedication to post-genre pursuits.
To hear more about Mills' soundtrack work first-hand, watch EB.tv's interview with him below. If you're craving more, you can also watch his scoring of the 1902 piece A Trip To The Moon and read his interview with art star Ólafur Eliasson here.
Read more: See a mind-melting Jeff Mills and Jean Michel Jarre Collab